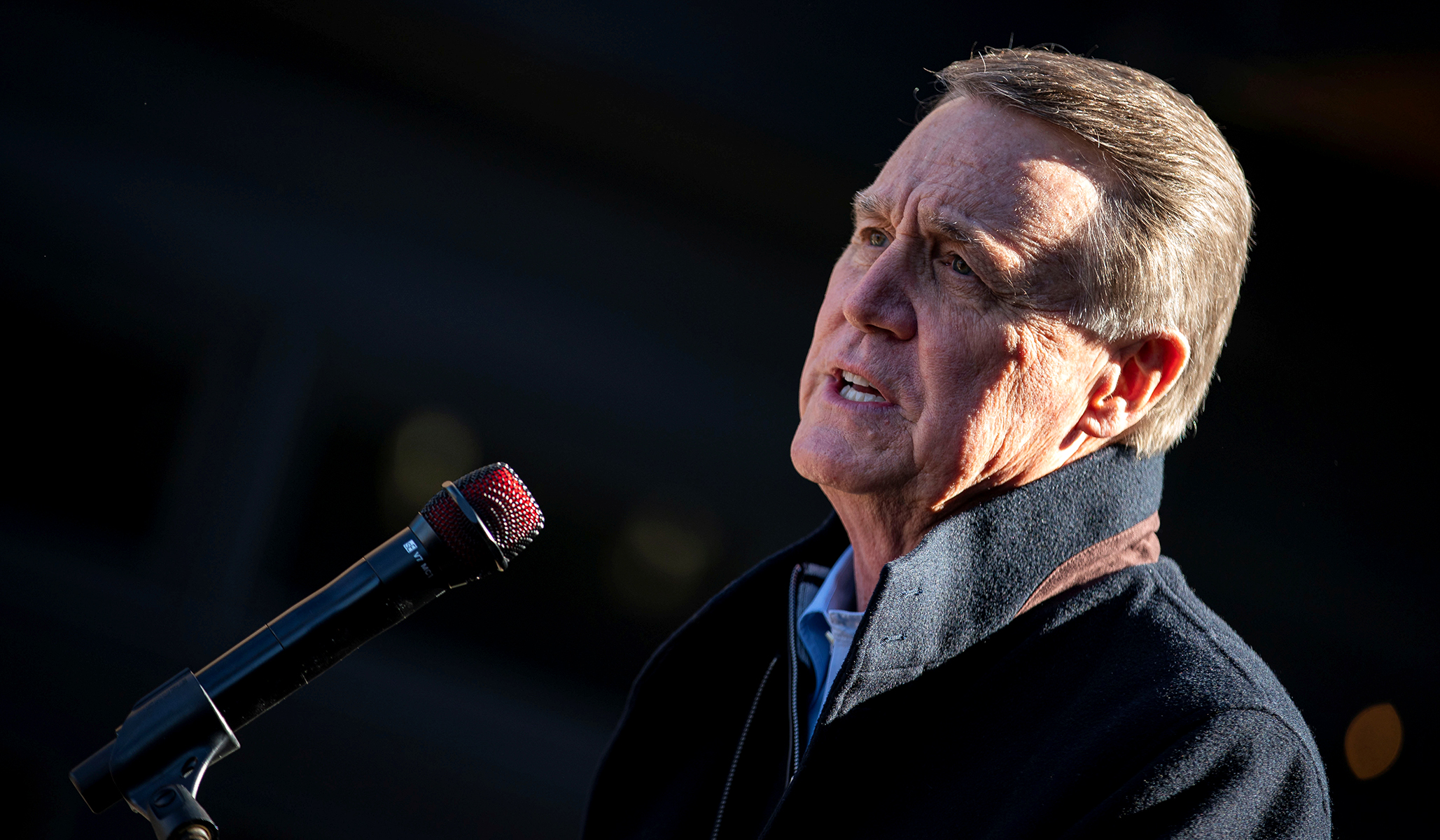 On the menu today: With David Perdue jumping into Georgia's GOP gubernatorial primary, Peach State Republicans face a huge and consequential choice; a report from South Africa indicates that the Omicron variant may not be all that virulent; wondering whether any public defender of either Cuomo brother will now admit they were wrong; and a quick observation about those of us who are allegedly insufficiently well read, insufficiently traveled, and insufficiently observant parents.
A Test of Unity for Georgia Republicans
Georgia Republicans, what do you want to do with your life?
After Georgians voted for the Republican candidate in every presidential election from 1996 to 2016, elected Republicans in every gubernatorial election from 2002 to 2018, elected Republicans to control the state general assembly in every election since 2004, elected two Republican U.S. senators in every race since 2002, and electing Republicans in just about every statewide office during those same time periods . . . everything came crashing down in 2020.
Joe Biden won the state by 11,779 votes — yes, they counted, recounted, and audited the vote — and in the January Senate runoffs, Democrat Jon Ossoff beat David Perdue by 54,944 votes, and Democrat Raphael Warnock beat Kelly Loeffler by 93,272 votes. The fact that you may not like those results does not make them any less true or accurate.
One of the reasons that Ossoff and Warnock won was that a lot of white, rural Georgians who had voted in the November presidential election did not think it was worth voting in the Senate runoffs — after the president of United States had spent the past months insisting the Georgia election results were rigged:
Over 752,000 Georgia voters who cast ballots in the presidential election didn't show up again for the runoffs just two months later, according to a new analysis by The Atlanta Journal-Constitution of recently released voting records. More than half of the no-shows were white, and many lived in rural areas, constituencies that lean toward Republican candidates. . . . Meanwhile, 228,000 new voters cast ballots in the runoffs who hadn't voted in the Nov. 3 election. They were more racially diverse and younger voters who tend to back Democrats.

The AJC's analysis found that the drop in turnout was most severe in northwest and South Georgia, areas where Trump held rallies, in Dalton and Valdosta, to bolster support for the state's Republican senators.

At those events, Trump both reinforced his criticism of Georgia's elections, with unsubstantiated allegations of fraud, and urged voters to support the state's Republican senators.
The Georgia runoff results are why we have Senate majority leader Chuck Schumer instead of Senate majority leader Mitch McConnell. Had Republicans won either of those two Senate seats — or both of them — Xavier Becerra would probably not be secretary of Health and Human Services. If Republicans controlled the Senate, no one would be wondering if Senators Joe Manchin and Kyrsten Sinema will eventually come around on Build Back Better legislation. The infrastructure bill probably would have passed, but perhaps it would have been smaller and more targeted with the GOP controlling the upper chamber.
Now, former Senator Perdue is running for governor as a Republican, challenging incumbent Brian Kemp, on the key policy issue that Donald Trump really hates Brian Kemp. Not only is the former president seething with rage at Kemp for not overruling the election results and appointing pro-Trump electors, but he contended yesterday that any Brian Kemp victory in the upcoming primary must be the result of voter fraud:
Wow, it looks like highly respected Senator David Perdue will be running against RINO Brian Kemp for Governor of Georgia. David was a great Senator, and he truly loves his State and his Country. This will be very interesting, and I can't imagine that Brian Kemp, who has hurt election integrity in Georgia so badly, can do well at the ballot box (unless the election is rigged, of course). He cost us two Senate seats and a Presidential victory in the Great State of Georgia.
Unsurprisingly, Donald Trump does not think that Donald Trump had anything to do with Republicans losing "two Senate seats and a Presidential victory in the Great State of Georgia."
Perdue is echoing Trump's arguments in his primary challenge, arguing that the governor and Secretary of State are to blame for GOP defeats in 2020. "Unfortunately, today we are divided, and Brian Kemp and Brad Raffensperger are to blame," Perdue said in a video posted on his Twitter account on Monday. "Look, I like Brian. This isn't personal. . . . Instead of protecting our elections, he caved to [Stacey] Abrams and cost us two Senate seats, the Senate majority, and gave Joe Biden free rein."
At a September rally in Georgia, Trump facetiously endorsed Democrat Stacey Abrams while decrying Kemp. "And Stacey Abrams, who still has not conceded, and that's OK. Stacey, would you like to take his place? It's okay with me. . . . Of course, having her, I think, might be better than having your existing governor, if you want to know what I think. Might very well be better."
As of September, Kemp's approval rating looked pretty solid, and he seemed like a relatively safe bet in a midterm year that is likely to be good for Republicans:
The Governor of Georgia, who will seek re-election in the November 2022 Gubernatorial Election, elicits a more positive net approval rating of +10 percent. 44 percent approve, 34 percent disapprove, and 16 percent neither approve nor disapprove of Brian Kemp's overall job performance as Governor. A majority (53 percent) of Joe Biden voters disapprove, but a substantial 30% approve of the Republican Governor's performance.
Don't forget that there's a Senate election in Georgia in 2022: Warnock is up for reelection because he was elected to serve the remaining two years of Johnny Isakson's term.
There's no law that requires Georgia Republicans to have a messy demolition derby of a gubernatorial primary. They could unite around the 58-year-old incumbent, who signed an election-reform bill into law in the face of furious demonization by national Democrats and the departure of the Major League Baseball All Star Game from the state. Or Georgia Republicans could unite around the 71-year-old Perdue, who just lost his runoff election. A unified Georgia Republican Party would be extremely difficult for Georgia Democrats to beat.
But if the party doesn't unify behind whoever wins the primary, Stacey Abrams is probably going to be the next governor of Georgia. Her comeback narrative will be complete, she will instantly become a top-tier Democratic Party star, and there is an excellent chance that she will end up on a Democratic presidential ticket someday, perhaps as soon as 2028.
Choose carefully, Georgia Republicans.
Omicron, the Rorschach Test of Virus Variants
[Coverage of the Omicron variant] sounds really ominous. But a more contagious virus is not necessarily a more virulent virus, and so far, some top health officials think that Omicron might spread faster but have a milder effect on the body. . . . Omicron could turn out to be the next Delta, or it could turn out to be a footnote in the history of this pandemic. As WebMD summarized, the Mu variant made a splash, and then disappeared without a peep. Similarly, in late summer, some scientists warned that the Lambda variant had a better chance than the Delta variant to escape vaccines . . . but Lambda never "caught on," so to speak; as of earlier this month, 99 percent of the identified strains of COVID-19 were the Delta variant.
The New York Times, this morning:
There are early indications that Omicron may cause less serious illness than other forms of the virus. Researchers at a major hospital complex in Pretoria reported that their patients with the coronavirus are much less sick than those they have treated before, and that other hospitals are seeing the same trends. In fact, they said, most of their infected patients were admitted for other reasons and have no Covid symptoms. But scientists cautioned against placing too much stock in either the potential good news of less severity, or bad news like early evidence that prior coronavirus infection offers little immunity to Omicron. The variant was discovered just last month, and more study is needed before experts can say much about it with confidence.
Public-health officials and elected officials really fear underreacting to a new variant. But they show almost no fear of overreacting to a new variant and underestimate the long-term risks that the public will tune out warnings about future variants if they start to sound like Chicken Little.
Hey, Has Anyone Admitted They Were Wrong about the Cuomos?
As I asked yesterday afternoon, has anybody seen any comment from anyone who defended either Cuomo brother in the past two years which says, "Wow, I was totally wrong on that. These guys are ruthless, amoral, unethical jerks, and their critics were right all along"? Or is this the part where everybody, left, right, and center, in and out of media, looks at their shoes and pretends that they never liked or defended either of the Cuomo brothers?
Because you know in another month or two, we're going to get long essays from feminists and media critics wondering about "the mystery of how the Cuomo brothers escaped accountability for so long" or asking, "Why is it so hard to hold abusive powerful men accountable, even in the aftermath of MeToo?" The same sorts of discussions that occurred after Bill Clinton and Eliot Spitzer and Eric Schneiderman and the scandal at Time's Up and so on. . . . It's always a variation of, "This political or cultural figure that we thought was a good person because we agreed with their politics turned out to be a horrible human being . . . how could we have possibly been so blinded by partisanship?" And then they resolve to do better . . . until the next time a political ally gets accused of misconduct, and then the pattern repeats itself all over again. Sisyphus achieved more lasting results.
Molly Jong-Fast probably comes closest, and good for her, even if her essay isn't exactly everything we would want:
"Why We Are Crushing on Andrew Cuomo Right Now," which I wrote for Vogue, may have been my worst take. . . . My take was the subject of some ridicule from various smart people back then but here's the thing about back then: I was really really really scared. I was convinced I would die of coronavirus.
ADDENDUM: The cheapest, easiest way for a columnist to get clicks is to make sweeping generalizations about groups of people and declare one group superior to others. Over in The Financial Times, Janan Ganesh writes that, "The most adult conversations I have are with the childless. They read more, attend more, travel more and (through lack of mental distraction, I stress, not higher intellect) notice more."
My first reaction to those sentences would never get past the NR editors. My second reaction is that not everyone is cut out to be a parent, so maybe it's for the best for everyone when someone announces their unsuitability for that responsibility in such a vivid manner.