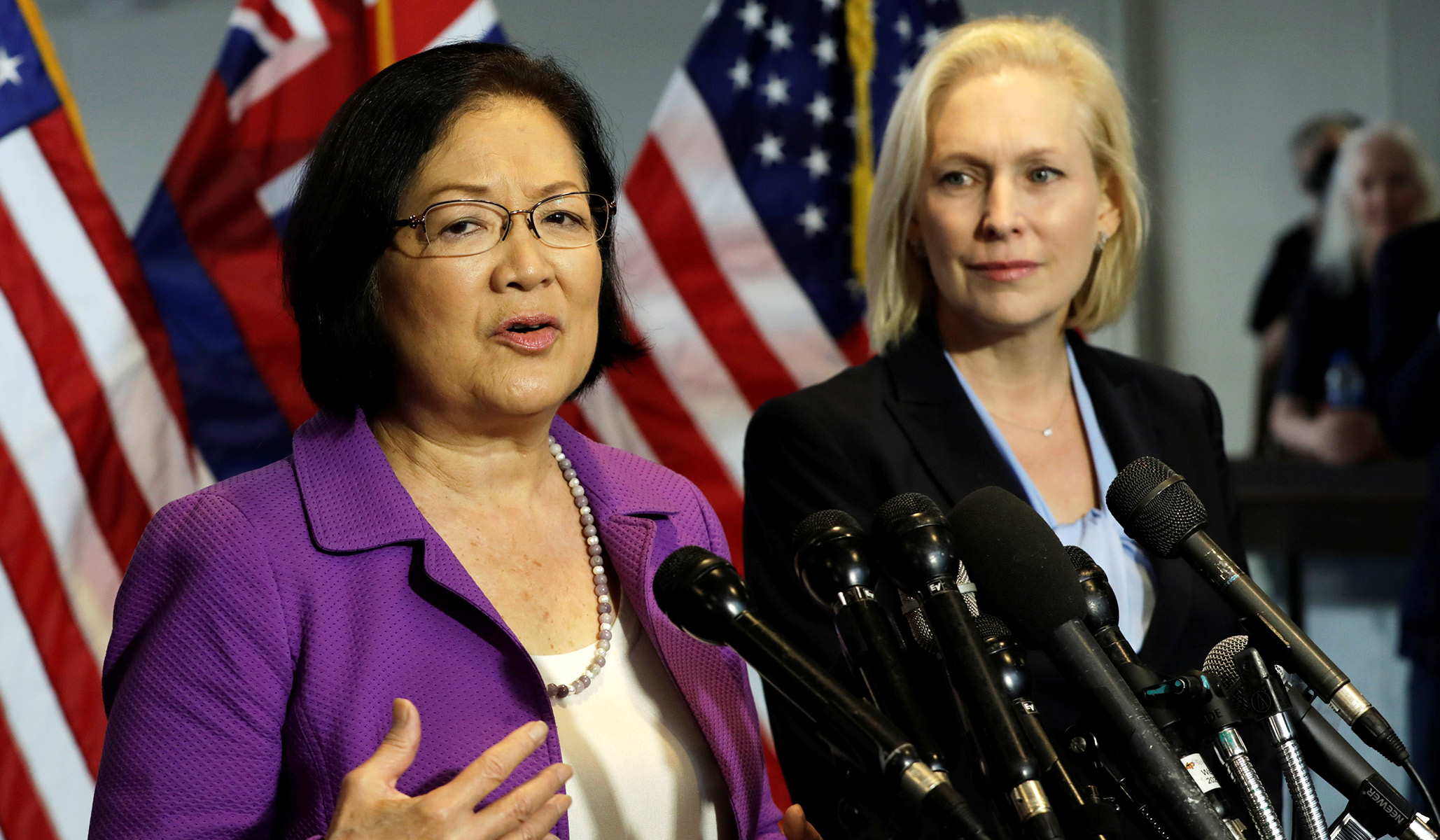 Making the click-through worthwhile: Judge Brett Kavanaugh now faces two accusers with no witnesses, a showcase of how journalism standards have changed in just 15 years, Senator Hirono's conditional belief in the rights of the accused and the allegations against Representative Keith Ellison, and tales from the third-grade soccer field.
Two Accusers, No Witnesses
We now have two named women accusing Judge Brett Kavanaugh of acts that are, if not crimes and are beyond any criminal statute of limitations, repugnant and reflecting a poor character. If either accusation was definitively proven, it would be difficult to picture Judge Kavanaugh serving on the Supreme Court. There are plenty of fine judges and legal minds who haven't committed acts like this.
But we're still a long, long way from proving either accusation. Both allegations stem from the accuser's memory of events of 35 or 36 years ago. In both cases, the accusers say they had been drinking alcohol before the actions; in both cases, the accusers admit they cannot recall key details.
The second accuser, Deborah Ramirez, offered her description of events in The New Yorker in an article published last night. The article includes an explanation of a changing account:
"She was at first hesitant to speak publicly, partly because her memories contained gaps because she had been drinking at the time of the alleged incident. In her initial conversations with The New Yorker, she was reluctant to characterize Kavanaugh's role in the alleged incident with certainty."
The magazine says she named Kavanaugh "after six days of carefully assessing her memories and consulting with her attorney."
Last night's report included the stunning line that the magazine has "not confirmed with other eyewitnesses that Kavanaugh was present at the party." That's a pivotal point to nail down, and the magazine actually did the opposite. All of the witnesses listed by the accuser are denying that the event occurred:
In a statement, two of those male classmates who Ramirez alleged were involved in the incident, the wife of a third male student she said was involved, and three other classmates, Dino Ewing, Louisa Garry, and Dan Murphy, disputed Ramirez's account of events: "We were the people closest to Brett Kavanaugh during his first year at Yale. He was a roommate to some of us, and we spent a great deal of time with him, including in the dorm where this incident allegedly took place. Some of us were also friends with Debbie Ramirez during and after her time at Yale. We can say with confidence that if the incident Debbie alleges ever occurred, we would have seen or heard about it—and we did not. The behavior she describes would be completely out of character for Brett. In addition, some of us knew Debbie long after Yale, and she never described this incident until Brett's Supreme Court nomination was pending. Editors from the New Yorker contacted some of us because we are the people who would know the truth, and we told them that we never saw or heard about this."
Today's New York Times helps illustrate how much The New Yorker has gone out on a limb:
The Times had interviewed several dozen people over the past week in an attempt to corroborate her story, and could find no one with firsthand knowledge. Ms. Ramirez herself contacted former Yale classmates asking if they recalled the incident and told some of them that she could not be certain Mr. Kavanaugh was the one who exposed himself.
In both cases, the accusers are calling upon the Federal Bureau of Investigation to investigate their claims, despite no claim of a federal crime, nor supporting evidence or witnesses with similar accounts to theirs.
Also since Friday, we've learned that everyone that Christine Blasey Ford listed as being at the undated party somewhere in suburban Maryland has denied witnessing or hearing anything to support her account: Mark Judge, Patrick Smyth, and Leland Keyser. Of course, Kavanaugh denies not only committing the act but ever attending a party like the one she described. And all of them have said so in communications to the Senate Judiciary Committee under penalty of perjury. Ford is, as of this writing, scheduled to testify Thursday.
It is easy to forget that Kavanaugh worked in prominent legal positions on Ken Starr's team investigating Bill Clinton, the 2000 recount, was staff secretary in George W. Bush's White House, and was nominated to the U.S. Court of Appeals in 2003. He was confirmed in 2006 after a lengthy and fairly contentious confirmation hearing. Neither accuser chose to come forward at that point.
All federal judges serve until they choose to retire, die, or are removed from office.
Why News Consumers Hate Anonymous Sources
One unnamed source told The New Yorker "another student told him about the incident either on the night of the party or in the next day or two," and the unnamed source calls Kavanaugh "aggressive and even belligerent" when drunk.
Let me take you back to 2003, when I was working for a small wire service that occasionally did work for the Boston Globe, covering the small, region-focused stories that the Globe's Washington Bureau didn't have the time or manpower to do themselves — fishery regulations, announcements of EPA cleanup sites, stuff like that. I developed a source close to then-senator John Kerry, and the Massachusetts senator was starting to warm up his 2004 presidential bid. For one story, both Kerry and then-senator John Edwards — also warming up a presidential bid — were mentioned, and my Kerry source had strong opinions on Edwards. I don't remember the exact criticism, but picture it as something along the lines of, "Senator Edwards is a doody-head who talks a lot, but he's done nothing useful on this issue." My article included the line with something like, "Not all Democrats see Edwards as leading the way on this issue; one aide to another senator says he's a 'doody-head who talks a lot, but he's done nothing useful on this issue.'"
I sent along my article about the senators to the Globe, and the Washington Bureau chief sent back an edited version with the quote taken out, and the note that the paper would not let an anonymous source trash someone like that in print. (For the record, I have no reason to think this editor was a fan of Edwards. He, and the leadership of the paper at the time, simply believed that if a source wanted to slam somebody, that source had to put his name next to it, barring some really good reason.)
Times have changed, huh? Now you can anonymously call Kavanaugh an "aggressive, belligerent drunk" and The New Yorker is fine with that.
Hirono and the Keith Ellison Allegations
Senator Mazie Hirono's full answer when asked by CNN's Jake Tapper, "Doesn't Kavanaugh have the same presumption of innocence as anyone else in America?"
HIRONO:  I put his denial in the context of everything that I know about him in terms of how he approaches his cases. As I said, his credibility is already very questionable in my mind and in the minds of a lot of my fellow Judiciary Committee members, the Democrats.   So he comes, and — when I say that he's very outcome-driven, he has an ideological agenda, is very outcome-driven.  And I can sit here and talk to you about some of the cases that exemplifies his, in my view, inability to be fair in the cases that come before him. This is a person that is going to be sitting on our Supreme Court, making decisions that will impact women's reproductive choice.  He has a — he very much is against women's reproductive choice. And I can tell you two very important cases in which he applied the same standard, but came to totally different results to make it much harder for women to get this kind of coverage. So there's — there are so many indications of his own lack of credibility.  And I put that in a context.

TAPPER:  It sounds to me like you're saying, because you don't trust him on policy and because you don't believe him when he says, for instance, that he does not have an opinion on Roe v. Wade, you don't believe him about this allegation about what happened at this party in 1982?  Is that fair?

HIRONO:  Well, without — this is why it is so important that there be at least an investigation, so that there's some effort at collaboration.
Many conservatives spent Sunday decrying Hirono for effectively admitting that she believes Kavanaugh doesn't have the same presumption of innocence as anyone else because of his ideology. She's concluded that he's more likely to be guilty because he's a conservative. As Josiah Neeley put it, "They don't oppose him because they find the accusation credible. They find it credible because they oppose him."
Many conservatives have pointed out the wild disparity in coverage between the allegations against Kavanaugh and the allegations of abuse by Democratic congressman, DNC vice chair, and aspiring Minnesota attorney general Keith Ellison.
Karen Monahan, an organizer with the environmental group the Sierra Club, told CNN in August that Ellison was emotionally abusive and on one occasion physically abusive near the end of their relationship in late 2016. Three friends of Monahan "told CNN she had confided in them about the bed incident in the months after she had moved out of Ellison's apartment." And Monahan showed CNN a text message to Ellison saying, "We never discussed — the video I have of you trying to drag me off the bed, yelling get the f*** out now, calling me a bitch and saying I hate you bitch." She also gave an on-camera account to CBS News. She has posted a medical document.
This is not the first allegation of abuse against Ellison.
In 2005, Ellison sought a restraining order against Amy Alexander, saying she was making harassing phone calls and threatening to "destroy" him. The following year, Alexander petitioned the court for a restraining order against Ellison, writing in an affidavit that they had been in a romantic relationship and that he pushed, shoved and verbally abused her, and had a lawyer intimidate and threaten her.

District Judge Robert H. Lynn dismissed the request by Alexander, then a St. Louis Park resident.

Asked if he was confident that no one else would come forward with more allegations, Ellison said, "in this political environment, I don't know what somebody might cook up."
But it's not quite an open-and-shut case. Monahan claimed she had a video of Ellison pulling her off of the bed, but then said she misplaced it when moving, and then said she would not share the video even if she found it.
For what it's worth, a poll of Minnesota likely voters conducted last week found that 21 percent believed the allegations of abuse, 22 percent did not believe the allegations of abuse, and 57 percent weren't sure. Only 18 percent of women believed the allegations, while 25 percent of men did; 42 percent of Republicans believed the allegations, while just 5 percent of Democrats believed them.
Do Republicans find the allegations against Ellison more credible because they oppose him politically?
ADDENDUM: Those who have followed me on Twitter for a while may recall my autumn offerings of "#soccerdadlife," the occasional moments of hilarity that occur when you're trying to get a bunch of grade schoolers to learn "the beautiful game," and/or stop chasing butterflies or lying down and look at clouds while they're playing the game. You would be amazed how many great plays get disrupted by untied shoelaces, knowing which direction is right and which one is left, or who's ended up playing goalie because the zipper on his windbreaker is stuck and he can't get it off.
I haven't tweeted about soccer this fall because I've been promoted to assistant coach. The league announced they needed coaches, then a few days later reiterated that they really needed them. Then a few days after that they announced that if they couldn't find volunteers, they would have to disband some teams, cancel some games, and pay refunds. At that point, I volunteered, cautioning them that I last played soccer when Reagan was president, (okay, maybe George H. W. Bush) and my expertise consists of mocking the flopping during the World Cup, but that I can set up cones with the best of them. Thankfully, they found another dad with experience coaching in another kids' league and now I'm the assistant coach of the Thunder, or Fairfax United, or the Fightin' Yellow Clump, or whatever our team will be called once we all agree on a name.
Now this year I'm one of the coaches who has to differentiate between Aidan, Jayden, Brayden, Kaiden, Hayden, Peyton, and — oh my God, my wife and I were so convinced we were being original when we named our sons. I think the opposing coach last week had a team of boys entirely named after cities in Texas. "Austin! Dallas! Irving! Move up, you're strikers! Tyler! Allen! Move back, you're midfielders! Avery, Bryan, you're on defense! Bryson, you're in goal!" Just wait until next year, when their younger brothers San Antonio and Waco are old enough to join the team.
So far in this young season, it's been about 90 percent delightful and 10 percent maddening as the kids keep finding new ways to surprise me. The kid who initially seemed like a ball hog suddenly remembers to pass to his teammates. The kid who never seemed to listen suddenly wakes up and demonstrates hustle. We've made amazing strides in every area of the game, from passing to throw-ins to corner kicks to remembering which goal we're supposed to aim for when we get the ball. In any given moment, easily more than half of our players know what position they're playing and many of them have at least a vague sense of where they should be on the field.
We won this weekend, which put a big smile on my face, even though we're trying to teach the boys that it's not about merely whether you win or lose but about how you play the game. Seriously, the kids really did seem to remember what we practiced, and I felt ready to burst. It more likely reflects the influence of our head coach, who actually knows what he's doing. My wife gently reminded me that the terminology I use in my coaching advice from the sideline — "spread out, you're playing soccer, not holding a staff meeting!" — may not match the frame of reference of third-graders.