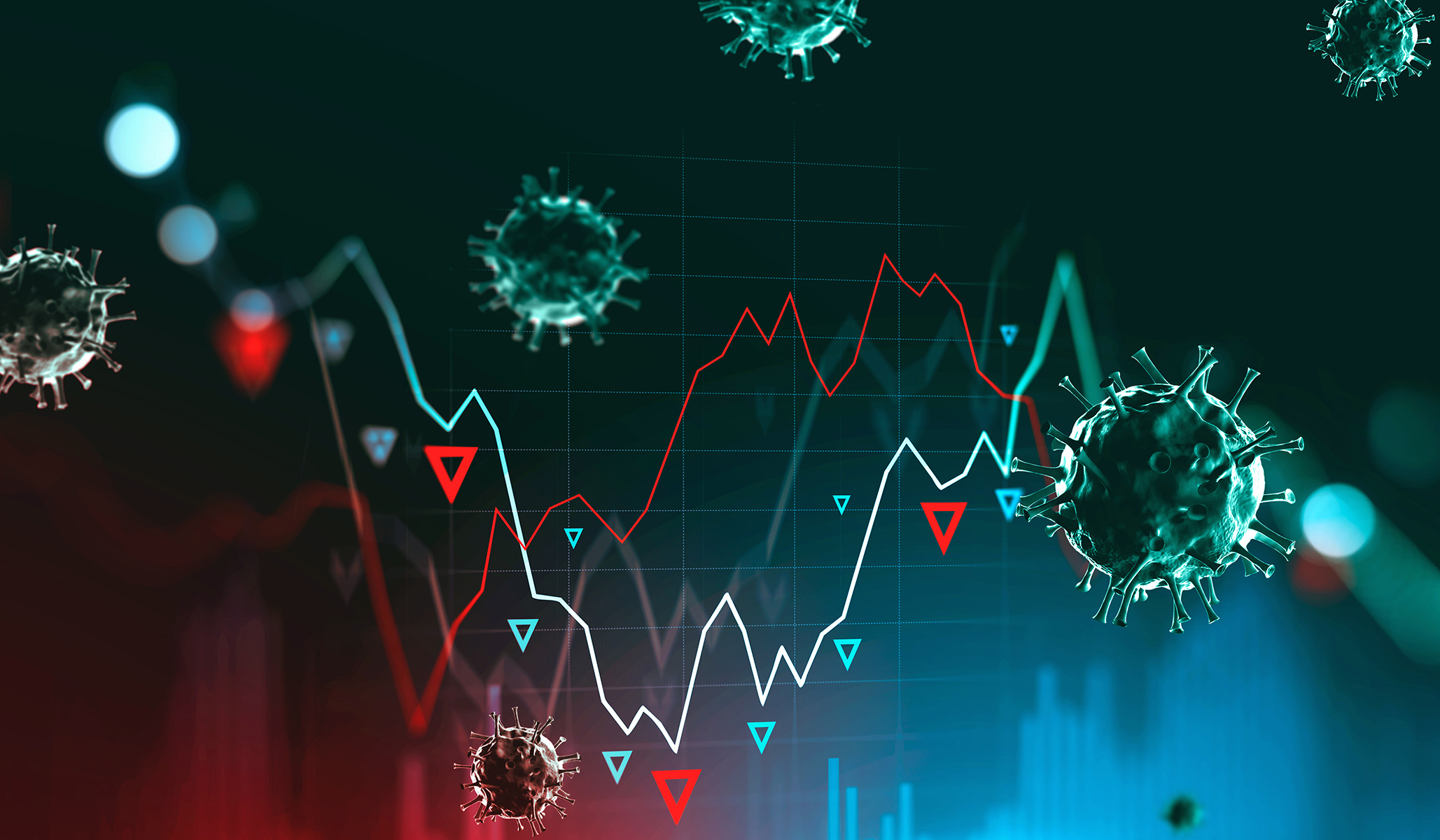 On the menu today: This morning, a lot of news institutions are going to breathlessly tell you about the latest spending negotiations on Capitol Hill, or the latest on the congressional January 6 commission, or the latest infighting within Facebook about politics. Whatever you think of those stories, there's a hugely consequential story coming down the pike that is getting much less attention: Evidence pointing to a coming U.S. recession is starting to pile up.
Recession Concerns
Last Friday morning, the attendees of the National Review Institute gathering in Dallas heard from a handful of our editors and contributors at the library of Harlan Crow, which could just as easily be a museum of American history. Our Kevin Hassett, who was the former chairman of the Council of Economic Advisers under President Trump and a senior adviser to him, offered a fascinating contrast between his usually cheerful and amiable personality and an economic assessment that was darker than Rembrandt's Night Watch viewed through sunglasses at midnight during a power outage.
At 8:30 a.m. on Thursday, October 28, the U.S. Bureau of Economic Analysis will unveil the Gross Domestic Product numbers for the third quarter of fiscal year 2021, which covers July, August, and September. Economists expect the third-quarter GDP to be a significant drop from the previous few quarters: "Buffeted by the delta variant, supply shortages and inflation, the world's largest economy is projected by economists to have expanded by an annualized 2.8 percent, amid a sharp slowdown in spending by American consumers. That's less than half the 6.7 percent gain of the previous three months."
Less than 3 percent growth would be pretty lousy for an economy that is supposed to be rebounding out of a pandemic. But it sounds as if Hassett thinks it could be even worse, and he's not alone: "IHS Markit, the gold standard among Wall Street forecasters, estimates GDP is on track to grow just 1.5 percent. The Atlanta Federal Reserve's GDPNow forecast is even weaker: 0.5 percent."
Those projections are perilously close to zero growth in the third quarter!
We should also expect worse in the fourth quarter that we're currently in. Businesses can't find workers — we have 10.4 million unfilled jobs. You've probably noticed that everything you buy seems to be getting more expensive, and every time you fill up your car, you wonder if they're making gasoline out of diamonds these days. The supply-chain problems are just catastrophic: There are more than 100 cargo vessels now anchored off the California coast, waiting to unload their goods — about 200,000 20-foot containers, according to CNN. Factories are temporarily shutting down because of a lack of supplies.
Oh, and there's one other factor that the Biden administration would probably prefer everyone ignore:
The National Association of Wholesaler-Distributors, an influential trade group that represents an industry with nearly 6 million workers, is pleading with the administration to delay a December 8 deadline for employees of federal contractors to get vaccinated.

"If tens or hundreds of thousands of employees are terminated just two weeks before Christmas . . . the result could be nothing short of catastrophic for the newly unemployed and their families and for the US economy," Eric Hoplin, the NAW's president and CEO, wrote in a Wednesday letter to Biden.

The trade group's members include grocers, lumber, florists, beer, wine and various other distributors.
You cannot enact a "fire anyone who refuses to get vaccinated" policy without creating staffing problems. You may not like or agree with the unvaccinated, but you probably unknowingly depend upon them in your economic life. Dismissing them leaves businesses and institutions even more short-staffed and with a need to hire and train replacements.
We should expect really lousy GDP numbers for the quarter we're in, and the general consensus is that supply-chain problems are likely to continue into at least the start of 2022 — "almost certainly deep into 2022," in the assessment of Daniel Yergin. Wells Fargo CEO Charles Scharf thinks it will take another six months to a year to solve the problems facing the supply chain.
Federal Reserve chair Jerome Powell said Friday that "Supply constraints and elevated inflation are likely to last longer than previously expected and well into next year, and the same is true for pressure on wages." So at least the first quarter of 2022 is probably going to be bad — and maybe the second and third quarters, too.
What is it called when the gross domestic product declines for two quarters in a row? A recession.
The Biden administration's preferred spin right now is that the worsening supply-chain issues are a sign of how well the economy is doing because demand is so high. (Actually, demand is high because we've had our economic lives artificially constricted by lockdowns and pandemic restrictions since early 2020.) But even if you want to argue that the supply-chain problems are an indicator of a good economy, if these problems get bad enough, the economy stops doing well.
Wait, I haven't even gotten to the really bad news yet. (And today's newsletter isn't even about the COVID-19 pandemic or Afghanistan!)
Really bad news number one: For what it's worth, Twitter co-founder Jack Dorsey tweeted a few days ago that "Hyperinflation is going to change everything. It's happening." And when one respondent referred to how Nigerians experienced 16 percent inflation, Dorsey responded that, "It will happen in the US soon, and so the world."
Sixteen percent inflation? The U.S. inflation rate was only at 5.4 percent in September. For inflation to skyrocket like that, someone would have to dump tons of money into a U.S. economy that already had too few goods and services to purchase — something like . . . er, $2 trillion in a "Build Back Better" bill and a separate $1 trillion in an infrastructure bill?
Then again, Dorsey refuses to give us an edit button for our tweets, so maybe he's wrong.
Really bad news number two: Tight, strained supply-chain systems make really tempting targets for hackers — because the consequences of disruptions are much worse at a time like this than during "normal" times:
Microsoft Corp. said the hackers behind the SolarWinds cyberattack are engaged in a fresh campaign to compromise global networks by targeting the tech supply chain, including resellers and providers of cloud technology. Microsoft attributes the coordinated attack, which was first observed in May, to a group called Nobelium, the same state-sponsored Russian hackers who used sophisticated intrusion techniques in 2020 to infect with malware as many as 18,000 customers of Texas-based software company SolarWinds Corp.
Good thing President Biden told Vladimir Putin to cut it out back in June!
Really bad news number three: You know what happens when you leave lots of cargo ships sitting around off the coasts of ports or going around in circles while waiting for a slot to open up? A lot more accidents:
The more stuff people buy, the more ships ply the Pacific Ocean loaded to the brim with containers. Combine rough weather, the occasional human error and way more chances to get it wrong, and you inevitably get more accidents at sea.

A record number of containers fell overboard from ships into the Pacific last winter, coinciding with the import surge. A leading theory on this month's oil spill off Southern California is that a container ship dragged its anchor over a pipeline during a severe storm in January, and months later, the pipeline finally gave out.

The container ship Zim Kingston lost around 40 containers in heavy seas on Friday. The next day, containers aboard the ship caught fire.

To the south, off the ports of Los Angeles and Long Beach, there is an armada of container ships in the queue. The Marine Exchange of Southern California said Friday, "For the wind event Monday, the Marine Exchange requests vessels voluntarily to go sea . . . for the safety of their vessel and other vessels. This [has been] common practice in the past."
Add it all up, and you have a Dagwood sandwich of economic problems that are going to be felt by American workers, businesses, and consumers: worker shortages, higher prices, limited supplies in stores, idled factories, hacked systems, and shipping containers floating or sinking in the Pacific. Oh, and school districts such as the ones in Iowa that are running low on "beef, chicken, breakfast pizza and waffles, bread, fruit and vegetables and paper products."
So no, Jen Psaki, this isn't just a matter of delayed treadmills.
Notice that this morning, the CNN Business page is entirely focused upon "The Facebook Papers."
I suspect that large swaths of the mainstream media are about to eagerly declare that the internal deliberations and arguments within Facebook are the biggest story in the U.S. business world right now. It's an easy way to avert their eyes from the possibility of a recession hitting in the lead-up to the 2022 midterm elections.
ADDENDUM: I will be joining Michael Brendan Dougherty for this month's NRPLUS conference call! The call will take place Thursday, October 28, at 1:00 p.m. EDT. If you're a member of NR Plus, please join us and leave your questions in the comments section of the announcement post. If you're not a member of NRPlus, right now it's just $69 for a year's subscription — nice! — and for another six dollars, they'll throw in a year's subscription to the print magazine.