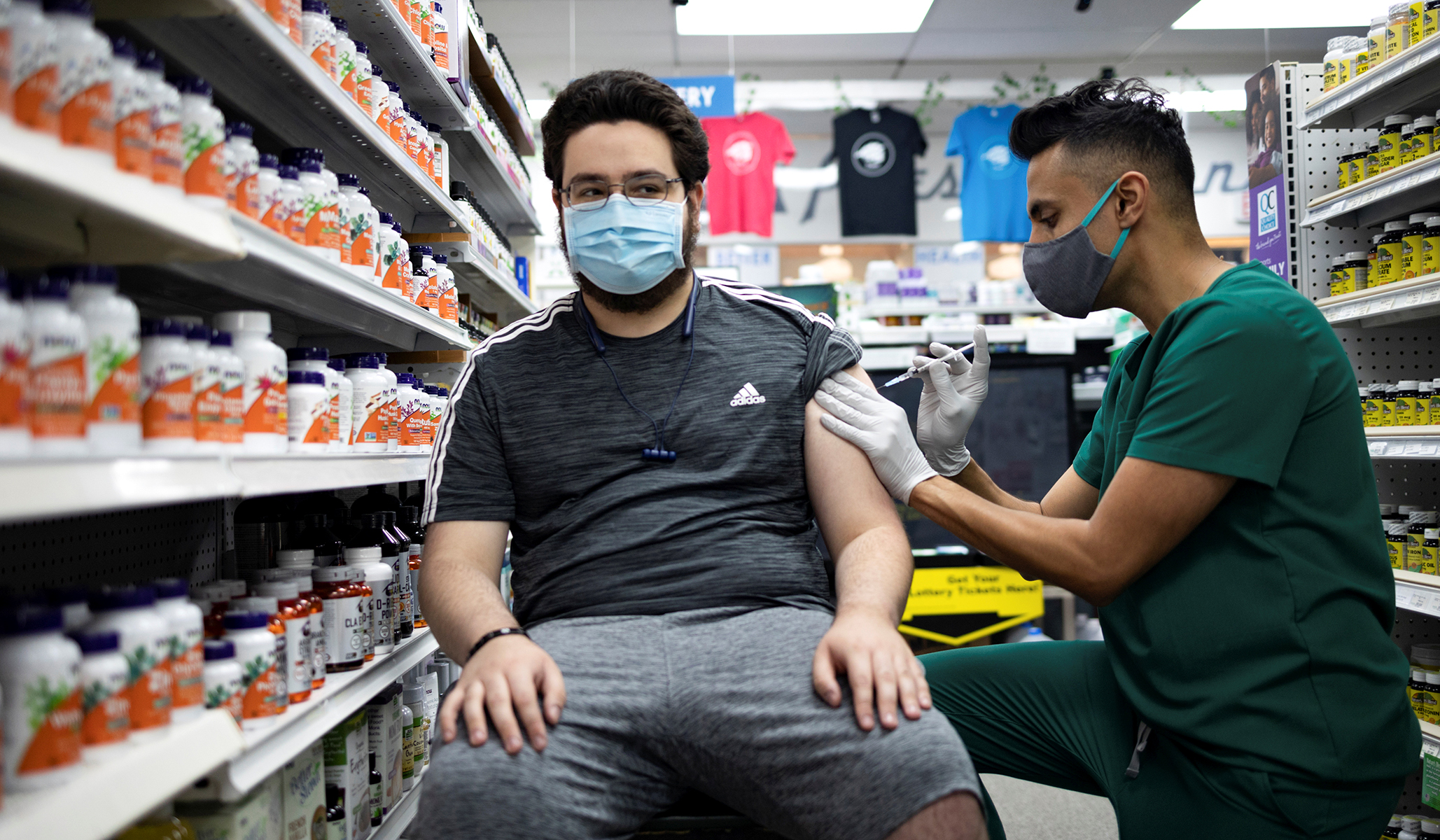 On the menu today: The FDA recommends boosters for the elderly, the immunocompromised, and those who are at high risk of exposure to COVID-19, but not to the general public . . . raising the question of how and why President Biden told the country last month, "Just remember, as a simple rule, eight months after your second shot, get a booster shot." Also, America's businesses are still waiting for any specifics about the much-touted, much-debated employee vaccine-mandate rule. And a reminder that yes, there are still Americans trapped in Taliban-controlled Afghanistan.
Who Told Joe Biden to Announce the Need for Boosters for All American Adults?
One of the great problems during this pandemic has been the lack of clarity about why certain public-health decisions have been reached.
Experts famously claimed that masks were not necessary for what was initially nicknamed the "Wuhan Flu." On March 8, 2020, Dr. Anthony Fauci told 60 Minutes, "Right now, in the United States, people should not be walking around wearing a mask. There's no reason to be walking around with a mask." Former FDA commissioner Scott Gottlieb recently told CBS News that the CDC's six-foot-distancing recommendation was "arbitrary" and "a perfect example of sort of the lack of rigor around how CDC made recommendations." Oregon still requires fully vaccinated people to wear masks outdoors, even though a study in the Journal of Infectious Diseases concludes that the proportion of COVID-19 infections that are occurring outdoors, even with the Delta variant, is likely less than 1 percent.
And now we have the U.S. government's sudden about-face on booster shots, going from a mid August presidential announcement that "The plan is for every adult to get a booster shot eight months after you got your second shot," to the current FDA recommendation that boosters are only needed for the immunocompromised, the elderly, or those at high risk for exposure to COVID-19.
"After considering the totality of the available scientific evidence and the deliberations of our advisory committee of independent, external experts, the FDA amended the EUA for the Pfizer-BioNTech COVID-19 Vaccine to allow for a booster dose in certain populations such as health care workers, teachers and day care staff, grocery workers and those in homeless shelters or prisons, among others," acting FDA commissioner Janet Woodcock declared in a recently released statement. "This pandemic is dynamic and evolving, with new data about vaccine safety and effectiveness becoming available every day. As we learn more about the safety and effectiveness of COVID-19 vaccines, including the use of a booster dose, we will continue to evaluate the rapidly changing science and keep the public informed."
On August 18 President Biden went before the country and announced that, "Our medical experts announced a plan for booster shots to every fully vaccinated American — adult American." While that August press conference will not go down in history as ignobly as Biden's July 8 press conference about the withdrawal of all troops from Afghanistan, Biden's emphatic declarations that Americans would need, and be getting, boosters in September should bring tough questions, if the president ever felt obligated to answer questions again.
"If you got your second shot on February 15th, you're eligible to get your booster shot on October 15th," Biden declared. "If you got your second shot on March 15th, go for your booster starting on November 15th. And so on. Just remember, as a simple rule — rule: Eight months after your second shot, get a booster shot. It will make you safer and for longer. And it will help us end the pandemic faster."
Which medical experts told Biden that these boosters would be necessary for the general public? Was it just based on the Israeli studies?
It seems unlikely that the recommendation for nationwide boosters came from Marion Gruber, the director of the FDA's Office of Vaccines Research and Review, and Phil Krause, the deputy director of the same office, who announced their departure from the agency and wrote in The Lancet that, "Although the benefits of primary COVID-19 vaccination clearly outweigh the risks, there could be risks if boosters are widely introduced too soon, or too frequently, especially with vaccines that can have immune-mediated side-effects (such as myocarditis, which is more common after the second dose of some mRNA vaccines, or Guillain-Barre syndrome, which has been associated with adenovirus-vectored COVID-19 vaccines). If unnecessary boosting causes significant adverse reactions, there could be implications for vaccine acceptance that go beyond COVID-19 vaccines. Thus, widespread boosting should be undertaken only if there is clear evidence that it is appropriate. . . . Current evidence does not appear to show a need for boosting in the general population, in which efficacy against severe disease remains high."
When I first wrote about Gruber and Krause on September 16, I noted that there were three possible explanations for their actions. The first was that Gruber and Krause were wrong, they had lost the internal debate within the FDA, and they chose to go out with a bang; the second was that they were right but were getting overruled by an administration desperate to look like it was doing something about a lingering pandemic; the third was that the data were inconclusive, and that this was a good-faith disagreement among bright doctors who wanted to help people but couldn't agree on the best course of action.
Option number two is looking stronger, as it turns out there wasn't that much internal division within the FDA after all. The FDA's vaccine advisory committee voted 16 to two against recommending boosters for the general population, and 18-0 in favor of recommending boosters for people 65 and older or at high risk of severe COVID-19: "The FDA then polled the panel members for advice on other groups of people who might be considered for a booster. Though not an official vote, the panel members unanimously supported authorization of a Pfizer booster dose for health care workers or others at high risk of occupational coronavirus exposure."
If very few vaccination experts at the FDA thought boosters were necessary for the general public, who told Biden to go out and make that mid August announcement? This administration is constantly boasting about how it "follows the science." Was it "following the science" in that August press conference? Did the science change over the course of a week or two? Or does "following the science" really mean "following the advice of whichever government health official gets to the president's ear first?"
Hey, Whatever Happened to That Workplace Vaccine Mandate?
There's another aspect of the Biden administration's pandemic response that is a mysterious "black box." On September 9 President Biden announced a directive to the Labor Department to develop a temporary emergency rule for businesses with 100 or more employees that would require workers to be fully vaccinated or be tested at least once a week. Biden declared that, "We're going to protect vaccinated workers from unvaccinated co-workers. We're going to reduce the spread of COVID-19 by increasing the share of the workforce that is vaccinated in businesses all across America."
And yet, two weeks later, OSHA has not yet issued the regulations. Almost immediately, businesses had a lot of questions about how this new mandate was going to work. What is considered documentation for proof of vaccination and how will booster vaccinations be factored into compliance? Must an employee be "fully vaccinated" in order to work? How will the requirements address natural immunity? Will individuals that have contracted COVID-19 be required to be vaccinated or submit to testing requirements? Will the requirements only apply to vaccines that are fully approved by the FDA? (The other day in my local pharmacy, a guy said he had gotten one shot of the Oxford AstraZeneca vaccine in the United Kingdom and wanted to know whether Pfizer or Moderna was compatible with it.) What are the consequences of falsifying one's vaccination status and does responsibility rest with the individual or employer? If an employee takes a COVID-19 test but the results are not yet available, is the employee allowed to continue to work pending the results? Should employees choose not to vaccinate, is the company or employee responsible for securing and paying for testing? Will paid time off be required for weekly tests?
As of this morning, no one has any answers to these questions, leaving us to wonder if the Biden administration wanted the announcement of the policy more than the policy itself. Or maybe this administration just doesn't have much follow-through on its announcements.
There Are Still Americans Trapped in Afghanistan
Because it should be repeated every day until it is resolved, more than three weeks after the last U.S. soldier departed Afghanistan, an unknown number of American citizens, an unknown but considerable number of U.S. green-card holders, and more than 100,000 Afghan allies who qualified for Special Immigrant Visas remain trapped in Afghanistan, despite the president's promise that, "If there's American citizens left, we're gonna stay to get them all out."
ADDENDUM: Hey, remember when the end of news coverage of Afghanistan was supposed to lead to a rebound in Joe Biden's approval ratings?
Coverage of Afghanistan has declined considerably, and Biden's approval ratings haven't rebounded at all.