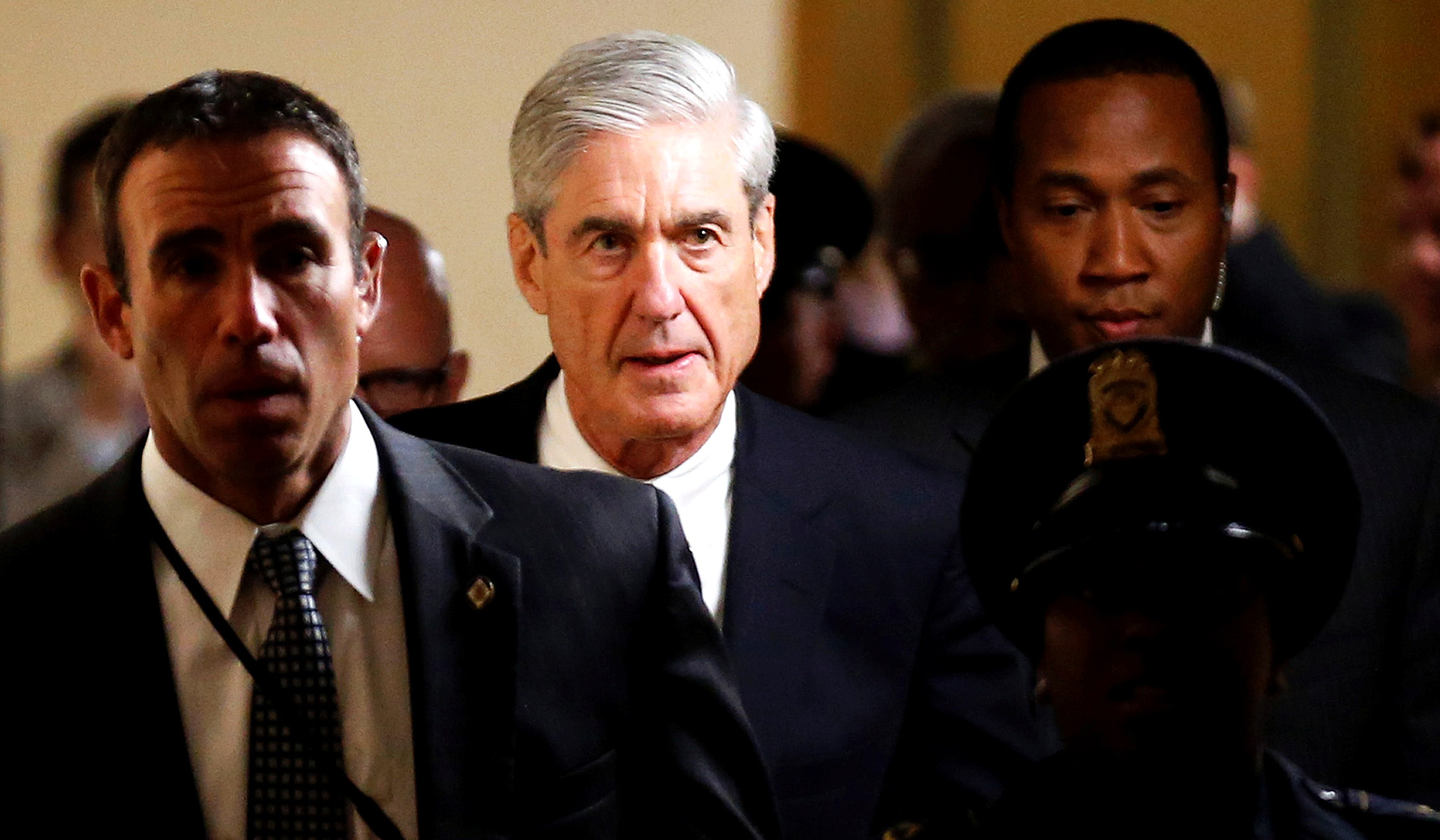 Making the click-through worthwhile: asking just how much reassurance President Trump should feel after special counsel Robert Mueller said he's a subject, not a target, of his investigation; China retaliates on America's tariffs, hitting farmers in a slew of Trump states; and an attempted mass shooting that just doesn't warrant the front pages of the nation's biggest newspapers.
Mueller to Trump: Relax, You're a Subject of My Investigation, Not a Target
Most of Washington is reacting with surprise to this revelation in this morning's Post:
Special counsel Robert S. Mueller III informed President Trump's attorneys last month that he is continuing to investigate the president but does not consider him a criminal target at this point, according to three people familiar with the discussions.

In private negotiations in early March about a possible presidential interview, Mueller described Trump as a subject of his investigation into Russia's interference in the 2016 election. Prosecutors view someone as a subject when that person has engaged in conduct that is under investigation but there is not sufficient evidence to bring charges.
Is this really a bombshell, though? If Mueller had said Trump was a target of the investigation, the president's lawyers would be more likely to succeed in persuading him not to testify, concluding that the request to testify was a perjury trap. According to the Post's sources, John Dowd, Trump's top attorney dealing with the Mueller probe, resigned last month "amid disputes about strategy and frustration that the president ignored his advice to refuse the special counsel's request for an interview."
From the manual for U.S. Attorneys:
A "target" is a person as to whom the prosecutor or the grand jury has substantial evidence linking him or her to the commission of a crime and who, in the judgment of the prosecutor, is a putative defendant. An officer or employee of an organization which is a target is not automatically considered a target even if such officer's or employee's conduct contributed to the commission of the crime by the target organization. The same lack of automatic target status holds true for organizations which employ, or employed, an officer or employee who is a target.

A "subject" of an investigation is a person whose conduct is within the scope of the grand jury's investigation.
But look deeper in the manual for what it says about notifying individuals that they are targets of the investigation:
Notification would not be appropriate in routine clear cases or when such action might jeopardize the investigation or prosecution because of the likelihood of flight, destruction or fabrication of evidence, endangerment of other witnesses, undue delay or otherwise would be inconsistent with the ends of justice.
Trump isn't a flight risk, but could Mueller think Trump will destroy or fabricate evidence, endanger witnesses, or take more steps to interfere with the investigation?
For what it's worth, I doubt Mueller was ever likely to recommend charges and criminal prosecution of the president. He may, however, lay out whatever evidence he finds of criminal actions and then let the House and Senate decide whether it warrants impeachment.
What probably ought to unnerve fans of the president is the description of Trump's reaction:
The president has privately expressed relief at the description of his legal status, which has increased his determination to agree to a special counsel interview, the people said. He has repeatedly told allies that he is not a target of the probe and believes an interview will help him put the matter behind him, friends said.
It was just March 18 when Trump was arguing that Mueller was leading a partisan witch hunt, tweeting, "The Mueller probe should never have been started in that there was no collusion and there was no crime. It was based on fraudulent activities and a Fake Dossier paid for by Crooked Hillary and the DNC, and improperly used in FISA COURT for surveillance of my campaign. WITCH HUNT!" and "Why does the Mueller team have 13 hardened Democrats, some big Crooked Hillary supporters, and Zero Republicans? Another Dem recently added…does anyone think this is fair? And yet, there is NO COLLUSION!"
Now Trump's eager to sit down with Mueller, in a situation where any lie could be interpreted as obstruction of justice? If so, you just can't save this man from himself.
Those Retaliatory Tariffs the White House Insisted Wouldn't Happen . . . Are Happening.
White House National Trade Council director Peter Navarro, discussing the potential impact of the U.S. imposing tariffs on aluminum and steel imports, on Fox Business, March 2: "I don't believe any country in the world is going to retaliate for the simple reason that we are the most lucrative and biggest market in the world. They know they're cheating us and all we're doing is standing up for ourselves."
China announced tariffs on U.S. products worth $50 billion on Wednesday, retaliating against American tariffs on Chinese high-tech goods and sharply escalating a trade war that could damage the global economy.

The Tariff Commission of China's powerful State Council plans to impose a 25% tariff on 106 U.S. products including soybeans, cars and chemicals, according to an announcement by China's state broadcaster CCTV. Beijing will also target U.S. corn, cotton, beef, orange juice, whiskey, tobacco, and several lubricants and plastic products.
And here's how the tariff conflict is playing the Trump-won state of Pennsylvania . . .
"China is a top-five market for Pennsylvania's producers," said William Nichols, spokesman for the Pennsylvania Department of Agriculture. "The agriculture community is concerned about trade and the direction of the nation's trade policy, and this week's news of retaliatory tariffs on American goods being traded with China is further cause for alarm."

Pennsylvania exports $413 mil­lion a year in agricultural and related products to China, Nichols said.
And in the Trump-won state of Wisconsin . . .
The Chinese government suggested the tariff last month and originally planned to wait 60 days before it was enacted, but the process was accelerated and the tariff went into effect early Monday morning, said Bob Kaldunski, the president of the Ginseng Board of Wisconsin, based in Wausau. China is the largest consumer of American ginseng.

Kaldunski said he was surprised by China's quick implementation and believes that the tariff will have detrimental consequences for Wisconsin's industry. Wisconsin is home to 95 percent of the American production of the plant.
And in the Trump-won state of Michigan . . .
"The timing of this comes when we have a lot of product, a lot of hogs coming. And so strategically the timing of this to affect our markets is at a bad time," says Bob Dykuis, of Dykuis Farms Inc. "When about 25% of the product is exported, you kind of live and die by that as far as your markets. The Chinese announcement has affected the last couple of days dramatically on the futures."

David Williams says if a soybean tariff goes into effect it wouldn't be long before soybean farmers in Michigan started feeling the pinch. Soybeans are also used for animal feed, including pigs, so they would have an impact on each other.
And in the Trump-won states of Missouri and North Carolina . . .
Processed foods like pork products are the third-largest export for the Kansas City area and China is the area's third-largest export partner, so the recent announcement of China implementing a 25 percent pork tariff is bad news for the Kansas City area.

The Kansas City area is home to two of the nation's largest pork producers: Smithfield Foods Inc. and Seaboard Corp.

Smithfield Foods, which has an operation in Kansas City employing 948 people, is the world's largest pork producer. Its largest plant, which can process up to 32,500 hogs a day, is in Tar Heel, N.C. It also has operations in the northern Missouri town of Milan; Clinton, N.C.; Crete, Neb.; Denison, Iowa; Gwaltney, Va.; Los Angeles; Monmouth, Ill.; and Sioux Falls, S.D.
And in the Trump-won state of Nebraska:
"We want to sell more product to China not less," said Nebraska Pork Producer Association Executive Director Al Juhnke.

He said the Nebraska exports about $16 million in pork to China every year.

"If it goes on long term, it's going to affect our rural economies here in Nebraska and the upper mid-West," Juhnke said.  There is also a ripple affect according to Juhnke.

There are three pork processing plants in the state and hogs consume a lot of soybeans. Soybean growers are also concerned they may be targeted next.

"We have heard directly from the Chinese government that soybean imports are a prime target for retaliation," said Nebraska Soybean Growers Association Executive Director Lori Luebbe.
Nice call, Navarro. I'll bet his mock draft is really inaccurate, too.
Beware Those Angry Vegan Activists Who Are Upset with YouTube.
Beware those angry vegan activists.
YouTube, where millions turn to watch news of the world unfold, became the subject of its own trending video feed Tuesday after its headquarters turned into a shooting ground for a woman who critically wounded an employee and injured two others in a courtyard before killing herself . . .
With the name Nasim Agdham, some wondered if there was a terrorism-related motive. But at least according to initial reports, she had a different intention.
A law-enforcement source told the Bay Area News Group late Tuesday afternoon that the shooting may have been fueled by a domestic dispute and that the suspect was targeting a boyfriend, not others who were injured. But in an interview Tuesday night, her father Ismail Aghdam told this news organization his daughter was a vegan activist who was angry with YouTube because the company stopped paying for her content.
USA Today offers more details:
In a video posted on YouTube on Jan. 28, Aghdam alleges she's "being discriminated (against) and filtered on YouTube and I'm not the only one."

In an Instagram post dated March 18, Aghdam claims that all her YouTube "channels got filtered by Youtube so my videos hardly get views. . . This is the peaceful tactic used on the Internet to censor and suppress people who speak the truth and are not good for the financial, political. . . gains of the system and big businesses."

Aghdam described herself on her Instagram account as "Athlete Artist Comedian Poet Model Singer Host Actor Director Producer" and the videos she made appear to mix satire and dark humor to rail against authority, capitalism and popular culture. She posted videos in English, Turkish and Farsi, the official language of Iran.

In one section of her website that also includes a quote attributed to the German dictator Adolf Hitler she alleges: "There is no equal growth opportunity on YOUTUBE or any other video sharing site, your channel will grow if they want to!!!!!"
Compared to the Florida school shooting, this shooting was considered . . . mid-range in news importance at most by the country's biggest papers. This morning's New York Times story on the shooting appeared on page . . . A11; there was a photo of the shooting's aftermath in the bottom right corner of the front page. The Washington Post ran its story on page A3; it also had a small photo on the bottom of the front page. USA Today put it in the inside section as well.
It is because there were fewer casualties? Or is that the shooter doesn't fit the familiar narrative?
Or is there fear that reporting that a 39-year-old Iranian immigrant attempted a mass shooting might fuel Islamophobia?
ADDENDA: As noted on the Corner, I think the journalism profession attracts more than its share of individuals who are, to use the technical psychological term, "cuckoo for Cocoa Puffs."