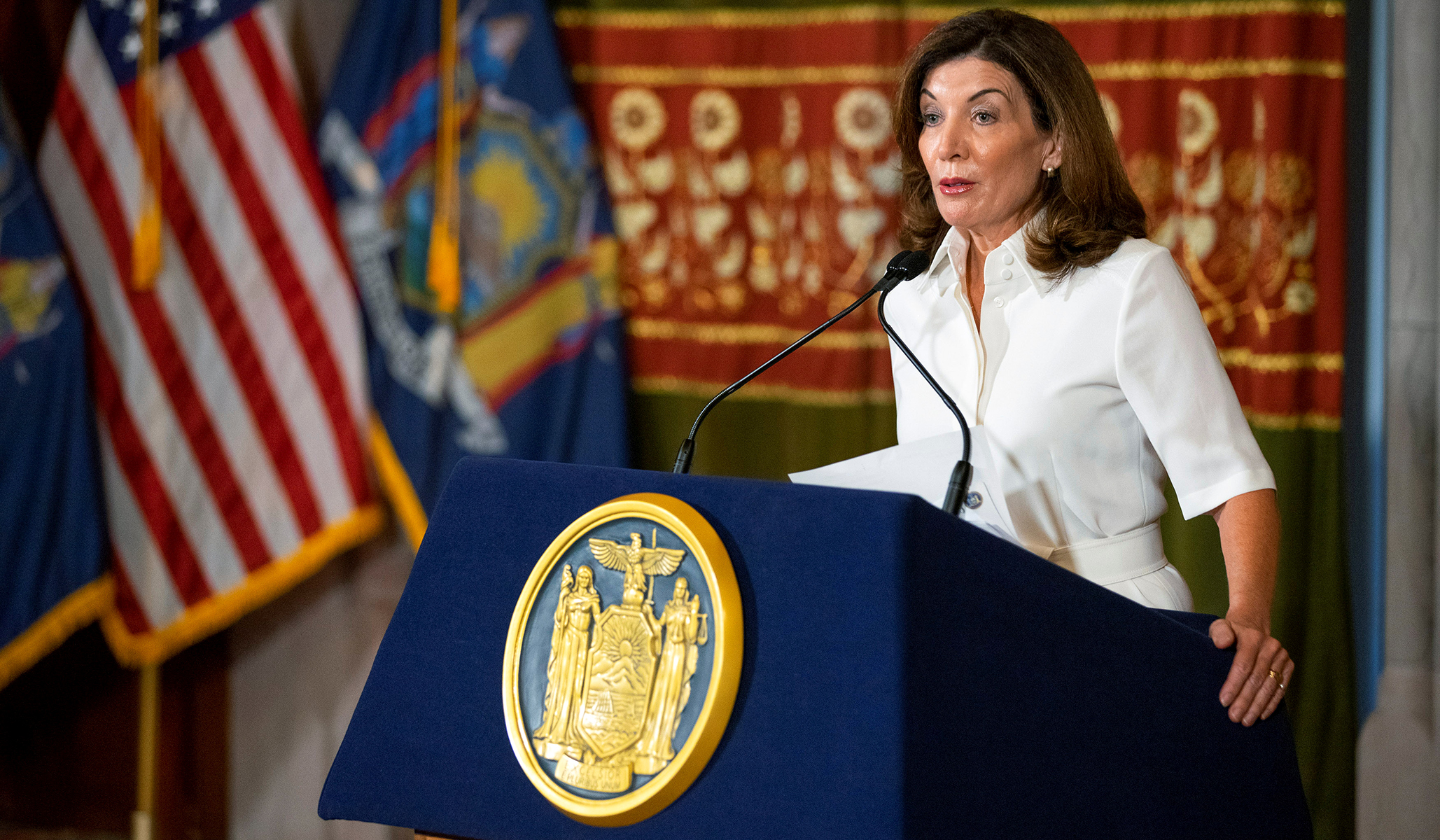 On the menu today: New York state's new mandate that hospitals, nursing homes, and long-term care facilities fire all unvaccinated workers is going into effect — leaving some hospitals suspending elective inpatient surgeries and declining transfers of intensive-care patients from other hospitals. As we watch a policy designed to alleviate pandemic-driven strain on hospitals and nursing homes suddenly exacerbate the problem, it seems fair to ask: Does this policy really get us where we want to go?
Does Firing New York Doctors and Nurses Really Help Us at This Moment?
I want everybody who is medically eligible to get vaccinated — although if someone has caught and fought off an infection from COVID-19, they can reasonably argue that their natural immunity from past infection will protect them from any severe reactions to reinfection for a while. (Getting vaccinated on top of natural immunity wouldn't hurt, though!)
But proposals to fire those who refuse to get vaccinated strike me as penny-wise and pound-foolish, particularly if the concern is the pandemic's strain on hospitals, nursing homes, and long-term-care facilities, now stretching well into its second year. Nurses, doctors, EMTs, those who care for the aged and disabled, and support staff have all been through an unparalleled ordeal since 2020. A CDC survey of 26,174 health-care workers this spring found that 53 percent reported symptoms of at least one mental-health condition in the preceding two weeks, including depression (32 percent), anxiety (30 percent), PTSD (36.8 percent), or suicidal ideation (8.4 percent). New York City gave these workers a ticker-tape parade, and they deserved every minute of it. But now, the state is telling them that if they don't get vaccinated, they're fired.
Keep in mind, the American Association of Critical-Care Nurses surveyed 6,000 critical-care nurses and found that two-thirds have considered leaving their jobs because of the pandemic. The state is threatening to fire workers who are largely burned out, exhausted, and who were already thinking of doing something else with their lives. I am not sure that New York governor Kathy Hochul has nearly as much leverage as she thinks she does; a considerable segment of fired, unvaccinated health-care workers may just leave the profession.
It's tough to argue that these remaining unvaccinated health-care workers are nutjobs who don't know anything about human health; it is what they do for a living. Maybe a handful of them are nutjobs who think Bill Gates is secretly putting microchips in people. (Do you notice that the conspiracy theorists always focus all their attention on Bill Gates, and nobody ever asks whether Melinda is behind it all?) But it is likely that most of the unvaccinated health-care workers are just plain wary — in part because they're probably used to watching vaccines being developed over a ten- to 15-year span. Others probably resent some government or professional authority telling them that they have no choice but to get one of these particular vaccines.
The mandate has undoubtedly had some effect; the governor's office has released figures indicating that the percentage of nursing-home staff receiving at least one COVID-19 vaccine dose increased to 92 percent as of Monday evening, up from 82 percent on September 20. The percentage of adult-care facilities staff receiving at least one COVID-19 vaccine dose increased to 89 percent as of Monday evening, up from 85 percent on September 20. The percentage of hospital staff receiving at least one dose is 92 percent, as of Monday evening based on preliminary self-reported data.
But . . . barring some additional last-minute vaccination rush, the state's edict is going to force hospitals and nursing homes to fire 8 percent of their staff and adult-care facilities to fire 11 percent of their staff.
Mitchell Katz, the head of New York City's public-hospital system, told the Associated Press that his system brought in 500 nurses to fill in for nurses who were not on the job after the mandate kicked in. He said both public and private hospitals in the city were fully operational.
But the decision to fire unvaccinated workers is inevitably going to put at least a little additional strain on other corners of New York's health-care system, in places such as Albany:
Albany Medical Center President and CEO Dennis McKenna said 204 out of more than 11,000 employees across the hospital system failed to get their first shot of vaccine or seek an exemption to the mandate by the Monday night deadline. Those employees have been suspended without pay and have seven days to comply or face termination, he said. More than 20 percent of the unvaccinated are nurses, but there are also 10 physicians who have not gotten the shot. McKenna said some of the doctors are "voluntary staff" who are in the community but not on the medical center's staff.

Of the 204 employees who failed to meet Monday's deadline, 48 were nurses, 29 were patient care associates, 10 were physicians and six were students, he said, noting that other departments had a handful of unvaccinated employees as well.

At Glens Falls Hospital, 44 unvaccinated employees were placed on 90-day unpaid administrative leave Tuesday, spokesperson Ray Agnew said. That's down from over 200 employees who were unvaccinated just two weeks ago, he said. About 70 percent of those suspended Tuesday were staff who worked around patients, he said.

"Thanks to an incredible dedicated, professional, loyal team that is picking up extra shifts, extra call duty, etc. along with agency staff we have the bases covered," he said.
And Buffalo:
The Erie County Medical Center (ECMC) in Buffalo has suspended elective inpatient surgeries and will not accept intensive-care patients from other hospitals as it prepares to fire about 300 unvaccinated employees, a spokesperson said.

Catholic Health, one of the largest healthcare providers in Western New York, had said it would postpone some elective surgeries on Monday as it works to boost its vaccination rate, which reached 90 percent of workers as of Sunday afternoon.
And Syracuse:
St. Joseph's Health has suspended 122 workers who did not get vaccinated against Covid-19 by the state's deadline Monday. The workers will be fired if they don't get vaccinated by Oct. 8, St. Joe's said.

The unvaccinated workers received suspension letters today. They've been suspended without pay. As of today, St. Joe's said 96.8 percent of its 3,810 employees are vaccinated.
Note that 96.8 percent vaccination figure, and turn your attention to a curious comment President Biden made Monday as he got his booster shot:
Q How many — how many Americans need to be vaccinated for us to go back to normal? Like what is the percentage of total vaccinations that have to be deployed?

THE PRESIDENT: Well, I think — look, I think we get the vast majority — like is going on in so many — some industries and some schools — 96, 97, 98 percent. I think we're getting awful close. But I'm not the scientist.
Biden notes that he's not a scientist, and he's speaking off the cuff. But getting vaccinations into the arms of 96 percent of Americans or more is going to be an astronomically tall order. That would put the threshold for herd immunity against COVID-19 even higher than that of measles, which is 95 percent.
As of this morning, 75.3 percent of all Americans who are eligible, 77.1 percent of all U.S. adults, and 93.5 percent of all U.S. seniors have received at least one shot. Only 64.4 percent of all Americans have received at least one shot, but that figure includes roughly 50 million American children who are not yet eligible for COVID-19 vaccination.
A goal of 96 percent vaccination is astoundingly high. For comparison, in 2019, only 92.6 percent of American children two years and older had been vaccinated against polio, and the percentages were about the same for other major vaccinations — 90.8 percent for measles, mumps, and rubella; 90.6 percent for Hepatitis B; 90.2 percent for chickenpox.
So, if Saint Joseph's Health System in Syracuse has 96.8 percent of its workforce vaccinated — a bit higher than Biden's off-the-cuff guess at what would be needed for the country to return to normal — does the system really need to fire that remaining 3.2 percent of workers? Is a 100 percent vaccination rate the only safe operating threshold for a hospital system? (Hospitals worked their butts off with a zero percent vaccination rate for the first year of this pandemic!) Is there any job in a hospital where the state of being unvaccinated is considered a manageable risk? Janitors? Cafeteria workers? If a hospital's best brain surgeon, the kind of person who can save a life with his hands, refused to get vaccinated, would it be worth it to let him go?
This has turned into a contest of wills between two resolute — some would say "stubborn" — groups of people. The governor, public-health officials, and hospital employers are fed up with the holdouts; refusing to get vaccinated after all this time strikes them as insane, reckless, and selfish. They dismiss the concept of religious objections as nonsensical excuse-making.
The remaining unvaccinated have had it with government officials telling them what to do, point out that the average survival rate for the unvaccinated is higher than 98 percent and is considerably higher for the young and healthy, and are not reassured by the exhortations of a governor who goes to a church in Brooklyn and declares, "I need you to be my apostles." (Say, who is the governor in this metaphor again?) And that's not even getting into the people who have natural immunity from a past infection.
New York state is the epicenter for this fight, but you'll hear about similar fights elsewhere soon. California health-care workers must be vaccinated by tomorrow. In North Carolina, Dr. David H. Priest, the chief of safety for Novant Health, said at a briefing that his health system had fired about 175 staffers who did not comply with the system's vaccination deadline. A group of about 190 Minnesota health-care workers filed a lawsuit against that state's mandate:
"You're talking about people who held the hand of people dying of COVID," said Minneapolis attorney Greg Erickson, who filed the case. "These folks risked their lives to help these patients and now they're being terminated because their religious beliefs won't allow them to take the vaccine? It's really sad."
Even if you're really mad at unvaccinated health-care workers, does laying them off really improve the overall situation and care for patients?
ADDENDUM: In case you missed it yesterday, President Biden's toughness against Vladimir Putin has been greatly exaggerated, and while the simplest explanation for his generals contradicting him is that Biden was just lying in his interview with George Stephanopoulos . . . what if Biden genuinely doesn't remember what he was told in briefings earlier this year?