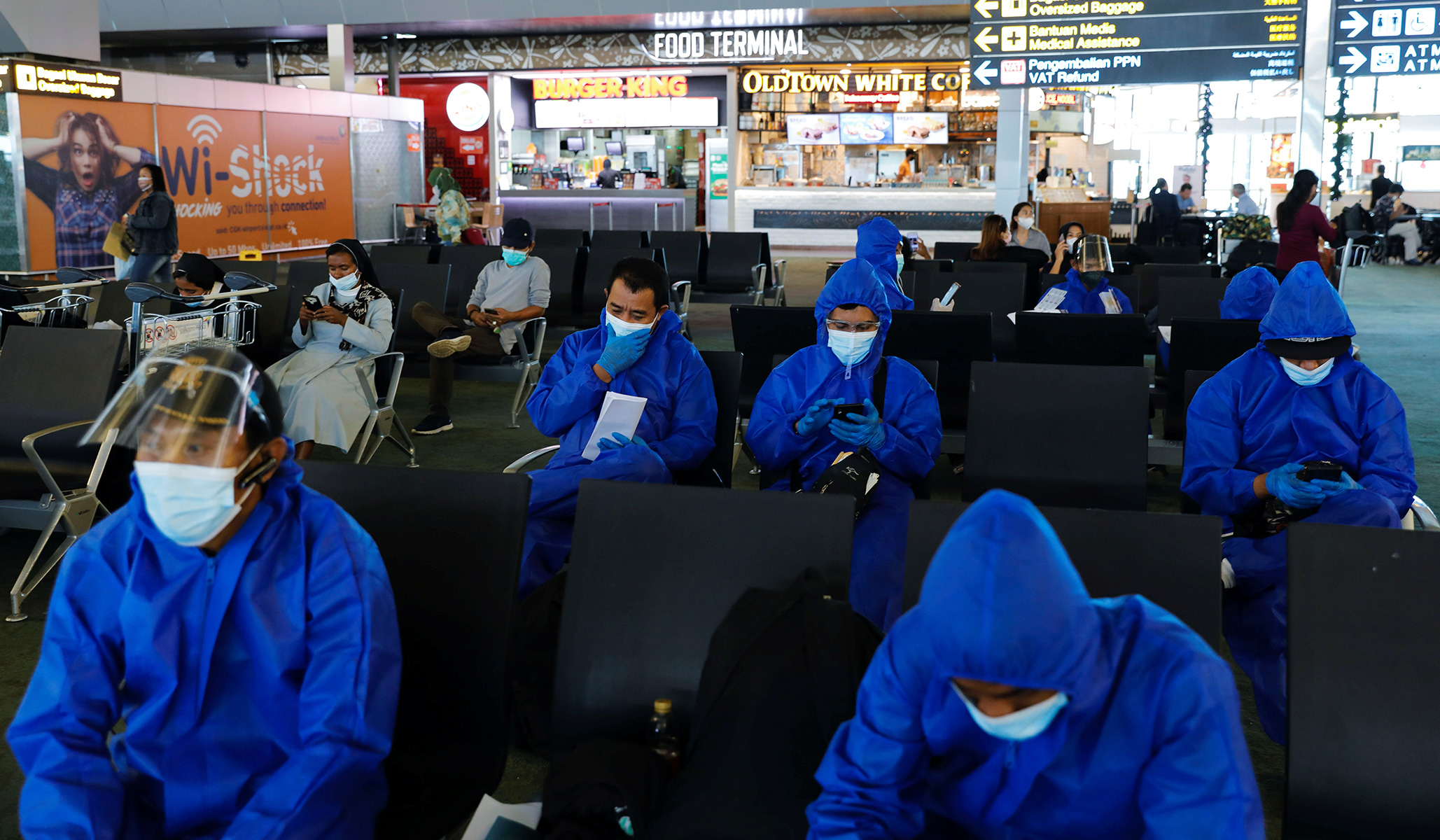 On the menu today: Suddenly, the national and international media rush back to the pandemic emotional equivalent of DefCon One, warning viewers and readers about the potential menace of Omicron, who sounds like a villain from a Transformers movie*. But there's a lot that scientists don't know about this particular variant, and there are a few indications that it could be like the Delta variant — more contagious, but not more virulent. Also, notice which big story disappeared from the news cycle with surprising speed.
Omicron Rises
There is not a lot any of us can do about the mutation rate of SARS-CoV-2. Around the world, doctors and nurses and volunteers have administered more than 7.9 billion doses of the various COVID-19 vaccines, and more than 4.2 billion people have received at least one dose. This is the largest, fastest, and most far-reaching vaccination effort in world history. (Keep in mind, some vaccines are more effective than others.) So far, the U.S. has shipped 264 million COVID-19 vaccine doses to other countries. Stateside, 231 million Americans have received at least one shot, which is 74 percent of the eligible population. More than 80 percent of all Americans over age twelve have received at least one shot, as have more than 82 percent of all American adults and 99.9 percent of American seniors.
SARS-CoV-2 is going to keep jumping from human being to human being for a long while — years, probably. The good news is that as more people get vaccinated, the virus will kill and sicken fewer and fewer people. Despite more than 261 million diagnosed cases all around the world — and no doubt many millions more undiagnosed asymptomatic cases — no variant of SARS-CoV-2 has emerged that is resistant to the effective vaccines.
It is worth keeping in mind that the overwhelming majority of mutations in a given virus do not mean anything significant to us human beings. Once our bodies know how to fight off one kind of virus, our immune systems can usually adapt to whatever minor differences are in the new version.
Here in the United States, you hear arguments that the unvaccinated are offering themselves as walking petri dishes, giving the virus more opportunities to mutate and become more dangerous. But the different variants of SARS-CoV-2 can infect the vaccinated as well, and theoretically could have one of those significant mutations inside a vaccinated person. A consequential mutation is somewhat less likely to occur inside the body of a vaccinated person because vaccinated people fight off the virus quicker. Less time in the body means fewer opportunities to mutate.
If you're worried that some unvaccinated American will give the virus the opportunity to become more dangerous, you can probably worry about that scenario less and instead worry that even with this unprecedented global vaccination effort, 44 percent of the world's population is still waiting for their first shot. The potential risk from the vaccine hesitant here in the U.S. is very minor compared to the several billion people around the world who are not vaccinated because they have no access to any vaccine.
More than two years after SARS-CoV-2 first appeared, about a half million people per day are being diagnosed with COVID-19. There are about 20 million active cases around the world. Yesterday, about 4,550 people around the world died from COVID-19; the day before that, 6,000 people died from it. (With 127 deaths reported Saturday, the U.S. ranked 13th in the world for COVID-19 deaths that day, behind Russia, India, Ukraine, Poland, Brazil, Turkey, the Philippines, Germany, Mexico, Romania, Vietnam, and the United Kingdom.) Since the start of the pandemic, COVID-19 has killed 5.2 million people around the globe.
Life may be gradually getting back to normal here in the U.S., but the pandemic continues overseas. And to quote the ubiquitous Game of Thrones meme, "Winter is coming." People spend more time indoors closer together, and the virus spreads faster.
Since Thanksgiving, you've probably seen a lot of coverage of "The Omicron Variant," which sounds like the title of a Robert Ludlum novel. The WHO issued a directive yesterday declaring that, "Omicron is a highly divergent variant with a high number of mutations, including 26-32 in the spike, some of which are concerning and may be associated with immune escape potential and higher transmissibility. However, there are still considerable uncertainties."
That sounds really ominous. But a more contagious virus is not necessarily a more virulent virus, and so far, some top health officials think that Omicron might spread faster but have a milder effect on the body:
According to the South Africa Medical Association, people infected with the omicron variant have shown only mild symptoms. Angelique Coetzee, SAMA's chairwoman, told the BBC that the cases identified so far are not severe. However, she noted that research on the omicron variant is still in its initial stages. As of Sunday, only 24 percent of the people in South Africa have been fully vaccinated, she added.

Prof. Dror Mevorach, head of the coronavirus department at Hadassah University Hospital Ein Karem, said the preliminary reports on the clinical condition of people infected with the new variant are encouraging. "If it continues this way, this might be a relatively mild illness compared to the delta variant, and paradoxically, if it takes over, it will lead to lower infection rates," and it will be easier to deal with globally.
And the report that the Omicron variant quickly displaced the Delta variant in South Africa might be a misreading of testing data that was looking for new variants:
One reason for concern about Omicron is that sequenced samples indicate it has rapidly replaced other variants in South Africa. But that picture might be skewed. For one, sequencing might have been focused on possible cases of the new variant in recent days, which could make it appear more frequent than it is. PCR data provide broader coverage and a less biased view, but there too, samples with the S gene failure indicate a rapid rise of Omicron.

But the rising frequency could still be due in part to chance. In San Diego, a series of superspreading events at a university resulted in an explosion of one particular strain of SARS-CoV-2 earlier this year, [Kristian Andersen, an infectious disease researcher at Scripps Research in San Diego] says: "It was thousands of cases and they were all the same virus." But the virus wasn't notably more infectious. South Africa has seen relatively few cases recently, so a series of superspreading events could have led to the rapid increase of Omicron. "I suspect that a lot of that signal is explained by that, and I desperately hope so," Andersen says. Based on a comparison of different Omicron genomes, Andersen estimates that the virus emerged sometime around late September or early October, which suggests it might be spreading more slowly than it appears to have.
Omicron could turn out to be the next Delta . . . or it could turn out to be a footnote in the history of this pandemic.
As WebMD summarized, the Mu variant made a splash, and then disappeared without a peep:
Mu made headlines because its specific mutation meant it could evade vaccine immunity — spiking a new fear among the immunized. But then an interesting thing happened — the prevalence of Mu in circulation in the U.S. dropped off quickly over a matter of weeks.

The robust transmissibility of the Delta variant allowed it to remain the dominant coronavirus strain, despite the risk from Mu, some experts believe.
Similarly, in late summer, some scientists warned that the Lambda variant had a better chance than the Delta variant to escape vaccines . . . but Lambda never "caught on," so to speak; as of earlier this month, 99 percent of the identified strains of COVID-19 were the Delta variant.
Responsible news media must walk a tightrope, alerting the public to the potential risks of new variants without overhyping them and sounding like Chicken Little. Alas, this is not an era known for nuance.
And those in government, who are now effectively addicted to demonstrating how cautious they are in matters related to the pandemic, now have incentives to overreact. This past Friday, New York governor Kathy Hochul announced that, in part because of the threat of the Omicron variant, "The Department of Health will be allowed to limit non-essential, non-urgent procedures for in-hospitals or systems with limited capacity to protect access to critical health care services" starting Friday, December 3, and continuing until January 15.
The Omicron variant has not yet been detected in the United States. Does the current situation call for delaying nonessential, non-urgent health-care procedures?
And if the circumstances are indeed so dire, could New York's health system use those hundreds or thousands of nurses, doctors, and other employees laid off because of the state vaccine mandate?
Xi Blinded Me with Science
The WHO skipped two letters of the Greek alphabet when it named this variant "Omicron." It chose to skip the letter "Nu," because of the likelihood of Abbott-and-Costello-like confusion over "the new variant" and "the Nu variant," and it chose not to call it the "Xi variant" because it's afraid of Chinese ruler Xi Jinping.
Oh, I'm sorry, the WHO's official explanation is that it skipped "Xi" because Xi is a common surname. Taiwanese news organizations noticed that "Mu" is actually a much more common surname, and the WHO didn't see any reason to skip that letter.
But when you consider how this pandemic was greatly exacerbated by the pervasive lies of the Chinese government during its crucial early weeks, I suppose you could say they're all Xi variants.
*Yes, I know that Unicron was the villain in the 1986 Transformers movie, not Omicron.
ADDENDUM: Meanwhile, back in Waukesha, Wis.: "Six people were killed and 62 injured. Children are included in both of those numbers. . . . Dozens gathered at Veteran's Park, several shedding tears and sharing grief. After songs and prayers, the residents and city leaders took a moment of silence at 4:39 p.m."
That news story certainly disappeared from the headlines quickly, didn't it? Still no word on the perpetrator's motive from the authorities?
The national news media couldn't possibly have moved on quickly because they were uncomfortable with the implications of what had happened, right?