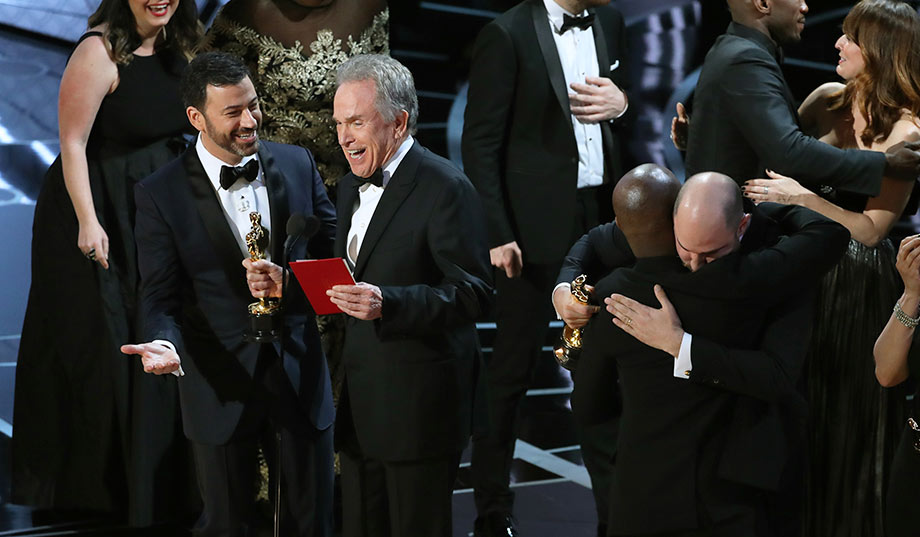 Last night's Academy Awards broadcast was Hollywood's way of addressing the sexual-harassment scandal without really addressing it, discussing it without really discussing it, and assuring the public that all the worst stuff is in the past and that no one needs to worry about it anymore.
Yes, it was nice to see Ashley Judd and Annabella Sciorra again, up on stage alongside Salma Hayek. But no one involved in the ceremony could ever quite come out and say why those three were up on stage.
"It's nice to see you all again, it's been a while," Sciorra began.
That is a really subtle way of alluding to the fact that she was blacklisted, and that she contends Harvey Weinstein had enough influence in the industry to prevent her from working at all for several years. Weinstein's a demon, but how many people in that room acquiesced to his demand that those actresses not be hired anymore? How many people applauding Sciorra, Hayek, and Judd enabled the demon?
My beef is not with Sciorra, but with whoever wrote the watered-down "inspirational talk" she was asked to recite: "It's an honor to be here tonight. This year many spoke their truth and the journey ahead is long, but slowly, a new path has emerged."
This sounds like a fortune cookie. This is not "speaking truth to power."
"The changes we are witnessing are being driven by the powerful sound of new voices, different voices, of our voices, who are joining together in a mighty chorus that is finally saying Time's Up," Judd said. "We work together to make sure that the next 90 years empower these limitless possibilities of equality, diversity, inclusion, intersectionality. That's what this year has promised us."
Changes from what?
The closest we came to mentioning that was when Mira Sorvino, another Weinstein victim, who walked the Oscar carpet with Judd, opened the following video clip, by declaring, "This entire fall, the #MeToo, the Time's Up movements, everyone is getting a voice to express something that's been happening forever, not only in Hollywood but in every walk of life."
No one could bring themselves to say out loud what that "something that's been happening forever" was: sexual harassment, and in some cases, sexual assault.
That led into a video that mostly discussed the joys of diversity in the latest crop of Hollywood films. That's nice, but Ronan Farrow of The New Yorker and Jodi Kantor and Megan Twohey of the New York Times didn't uncover an abominable lack of diversity at the Weinstein company. They discovered that one of the most powerful men in the industry — a man thanked in more Oscar speeches than God — was a serial sexual predator who employed a small army of henchmen to assist and cover up his crimes and who destroyed careers with impunity for decades. And the Weinstein revelations brought about a tidal wave of more claims of predatory behavior flourishing in the studios, audition rooms, and hotel rooms.
This was the first Academy Awards in many years where Hollywood had something serious to talk about, something closer to home than a president they don't like. They chose not to dwell on it, and to quickly turn it into a celebration of itself.
Hollywood's brightest stars came together as one and told us they had stood up to something bad — but never quite defined — and assured us that everything was different now. It was a powerful night for vague euphemisms.
Elsewhere, the founder of #MeToo talked about her desire to work with gun-control activists, demonstrating that the movement is quickly mutating from a broad-based coalition in support of an unassailable cause — stop harassment and assault — into garden-variety progressive leftism.
I wish they had just let Rose McGowan come out and yell at everyone for ten minutes.
Everything You Didn't Know About Devin Nunes but Ought to Read about Now
I spent much of last week working on this 6,200-word soup-to-nuts profile of Devin Nunes, chairman of the House Intelligence Committee. The odds are good that he escaped your attention until after the 2016 election, and a few profiles have asked, "Why is this young-by-congressional-standards farmer chairing the intelligence committee?"
Over the course of several hours, the congressman answered my questions about just about everything: the memo and the FBI, of course, but also his family life; what growing up on a farm taught him; what spurred him to go into politics; the conversation that changed his life's direction and his first almost-accidental race for elected office; the water wars of California; his early friendships with Bill Thomas, Kevin McCarthy, and Paul Ryan; how he snuck out to meet sources in foreign countries; what it's like to drive eight hours along the Indian side of the India–Pakistan border with Representative Mac Thornberry of Texas . . .
Give it a read. You may need to set aside some time for it.
On Trade, the President Grabs the Wheel and Sets Course Straight for the Rocks
Trump's decision on tariffs may be a tipping point in his presidency. He's pushing for a policy that a lot of conservative Republicans don't like. (It doesn't help that it comes after the White House meeting with lawmakers where Trump sounded like an enthusiastic gun-control activist.) The tariffs could end up having significantly bad economic consequences, and the economy had been the shining success story of the Trump presidency so far. The president's defenses of protectionism are incoherent babble that is just factually wrong; Trump insists that "our Steel and Aluminum industries are dead" when the U.S. Department of Commerce figures show that since the beginning of 2009, the six major U.S. steel companies have collectively reported net earnings for 20 quarters.
The president still hasn't figured out that you can't change government policy as quickly and impulsively as you type out and send a Tweet.
By midnight Wednesday, less than 12 hours before the executives were expected to arrive, no one on the president's team had prepared any position paper for an announcement on tariff policy, the official said. In fact, according to the official, the White House counsel's office had advised that they were as much as two weeks away from being able to complete a legal review on steel tariffs.

There were no prepared, approved remarks for the president to give at the planned meeting, there was no diplomatic strategy for how to alert foreign trade partners, there was no legislative strategy in place for informing Congress and no agreed upon communications plan beyond an email cobbled together by Ross's team at the Commerce Department late Wednesday that had not been approved by the White House.

No one at the State Department, the Treasury Department or the Defense Department had been told that a new policy was about to be announced or given an opportunity to weigh in in advance.

The Thursday morning meeting did not originally appear on the president's public schedule.

Shortly after it began, reporters were told that Ross had convened a "listening" session at the White House with 15 executives from the steel and aluminum industry.

Then, an hour later, in an another unexpected move, reporters were invited to the Cabinet room. Without warning, Trump announced on the spot that he was imposing new strict tariffs on imports.

By Thursday afternoon, the U.S. stock market had fallen and Trump, surrounded by his senior advisers in the Oval Office, was said to be furious.
This reminds me of Steve Bannon's "plan" to announce the immigration restrictions without any warning in the first days of Trump's presidency. No one in the rest of the government was prepared to implement them; John Kelly, then the secretary of Homeland Security, learned from television that Trump had signed the order.
Veronique de Rugy, a Senior Research Fellow at the Mercatus Center at George Mason University and a regular contributor in the Corner, tries to spell out in today's New York Times how the tariffs will benefit one smaller group of U.S. employers but hurt other larger groups of U.S. employers:
Like President Bush, Mr. Trump will raise the cost of doing business in steel- and aluminum-consuming companies. In turn, it will make life much harder for the 6.5 million workers those industries employ. Many will lose their jobs — possibly more than the 170,000 workers currently employed in the steel and aluminum producing industries.

Adding insult to injury, the president is comfortable with the knowledge that his import tax will make our cars, infrastructure, soda cans and aircraft more expensive. And he's flat-out wrong when he claims, "Maybe it'll cost a little bit more, but we'll have jobs." As the Department of Commerce's own report shows, the decline of jobs in the steel and aluminum industries predates the competition with China by decades. Industry experts know that this is mostly because of innovation and industry consolidation. The era of labor-intensive metal production is over.
But he's not going to listen until it's too late, will he?
ADDENDA: Bethany Mandel in a terrific, deeply personal essay in the New York Times: "For many, support for gun rights is motivated precisely by our devotion to protecting our kids."