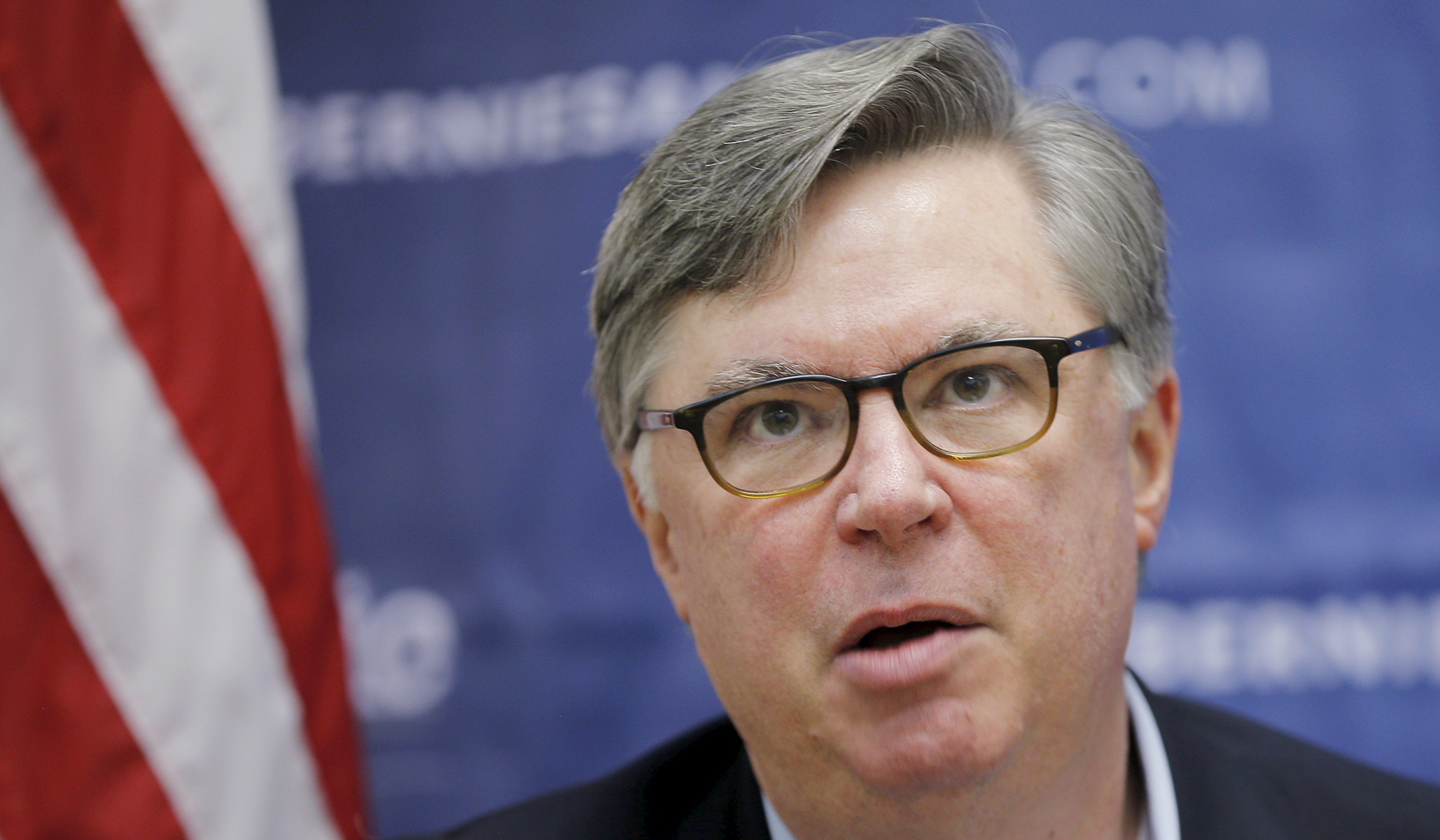 When I knock somebody for being not that different from Paul Manafort, in their eagerness to do the bidding of shady or unsavory overseas regimes for cold hard cash, that's not a defense of Manafort. (It's pretty revealing that some insist it must be that.) It's an attempt to further illustrate that most people's concept of "corruption" aligns perfectly with "political figures and institutions I don't like." Looking too closely at the big-name consultants on their side of the aisle disrupts their reassuring worldview that their party is the good guys and the other party is the bad guys.
The Manafort trial has already produced one bombshell that's hitting an unexpected political source. The New York Times reports this morning:
It also revealed bipartisan largess. One 2014 email presented in court on Tuesday showed the Democratic consultant Thomas A. Devine proposing a "day rate" of $10,000 to do work in Ukraine on behalf of Mr. Yanukovych, the Russia-aligned former president who was a longtime client of Mr. Manafort.

"You would need to make the travel arrangements, and transfer the $50G before the trip," he wrote to Rick Gates, Mr. Manafort's partner for the Ukraine work. "If you want me to come on Monday and leave Thursday it would be $40G."

Mr. Devine, who is known as Tad, went on to become the chief strategist for the presidential campaign of Senator Bernie Sanders of Vermont, a self-proclaimed democratic socialist.
Yanukovych is the Ukrainian leader who fled to Russia with the help of Russian troops in 2014. The entire Democratic party has become born-again Russia hawks, but no one is bothered by the fact that Bernie Sanders's longtime top aide was working for this guy for $10,000 per day?
Remember, Devine is the guy who was saying in interviews in 2016 that the Sanders campaign was about "what is holding a rigged economy in America in place today . . . He believes that and I think he's right." Do those $10,000-per-day contracts with foreign leaders get exempted from the Sanders definition of a "rigged economy"?
Devine has known Sanders for 20 years and considers him a friend. In 2016, the Sanders campaign paid Devine's firm $4.8 million for video and media production services, $438,403 for legal services, and Devine's firm "shared at least $10 million in commissions through the end of May."
The Washington Post's Dana Milbank spits hot fire over Devine's hypocrisy.
[Devine] repeatedly echoed the Sanders message that "our economy is rigged," that "special interests" buy politicians, that "all of the new wealth is going to the top of America," that there is a "corrupt system of campaign finance" of which Hillary Clinton offered an "egregious" example. Sanders, by contrast, "supported the little guy."

Those who heard Devine's interviews and watched his Sanders TV ads therefore may be surprised to know that, in the years and months leading up to the Sanders presidential campaign, Devine was making gobs of money to secure the election of one of the world's most corrupt political figures and then his allies…

Devine produced a memo of advice for Yanukovych's party in 2012, even though by then Yanukovych had thrown the leading opposition politician in jail and had built a $100 million mansion — complete with zoo, helipad, golf course and replica galleon on an artificial lake — while his people were, in Devine's own words, struggling with "joblessness, hunger and the general despair."
The difference between Paul Manafort and Tad Devine is that Manafort allegedly tried to hide all of the money he was making overseas and Devine filed all the right paperwork and paid all the appropriate taxes.
Look, I realize we live in a world where politicians of both parties are going to give speeches denouncing America's corporations as greedy and eager to work with oppressive, exploitative regimes in pursuit of profits. But it's pretty galling when the guy shaping that message is doing the same darn thing behind the scenes.
Oh, and there may be more revelations in this realm:
Mr. Mueller's team pursued three other investigations into lawyers and lobbyists who did work in Ukraine.

The cases involve Gregory B. Craig, who served as the White House counsel under President Barack Obama before leaving to work for the law firm Skadden, Arps, Slate, Meagher & Flom; Tony Podesta, an influential Washington lobbyist whose brother, John D. Podesta, was chairman of Hillary Clinton's presidential campaign; and former Representative Vin Weber, Republican of Minnesota, who joined the lobbying firm Mercury Public Affairs after leaving Congress.

None have been charged with any crimes. Mr. Mueller's referral of those cases several months ago to federal prosecutors in New York was revealed in news reports on Tuesday.
Making Up Stories about Criminal Conspiracies Is Bad, Right?
This QAnon stuff — basically, "son of Pizzagate" — is deranged nonsense on stilts.
And political leaders who spread wild, false rumors and claiming their opponents are involved in vast criminal conspiracies ought to be driven out of leadership for making moves like that. It's morally wrong, toxic to our system of government, and thoroughly un-American.
I just . . . don't remember there being much of a widespread, bipartisan denunciation of this sort of behavior back when Democratic Senate majority leader Harry Reid was spreading the rumor that Mitt Romney hadn't paid taxes for ten years.
Is the idea that the governor of Massachusetts, two-time presidential candidate, and one of the richest guys in the country could escape scrutiny by the Internal Revenue Service for not paying any taxes for a decade really that much more farfetched than the vast celebrity criminal conspiracies alleged by the QAnon crowd?
But Harry Reid didn't suffer any real consequence for telling that shameless lie. Sure, there were a few tsk-tsk columns, but no Democratic party figure spoke out against him. Barack Obama and Joe Biden certainly didn't speak out against him — never mind all that talk about inspiring people and how the American public deserved better. No Senate Democrat argued that he no longer was fit to lead the party in the chamber. No Nevada Democrat announced a primary challenge, arguing that Reid had disgraced his office and forfeited his right to represent the state.
No, the Democratic party as a whole decided that even if they found the tactic unsavory, Harry Reid was doing what was needed to win — and the end justified the means. When you decide that anything is justified in the pursuit of political victory, don't be surprised when the other side adopts that philosophy, too!
Democratic Clerks For Kavanaugh
Meanwhile, in the confirmation fight over Supreme Court nominee Brett Kavanaugh, the Judicial Crisis Network is launching two new ads — one featuring a Democratic clerk for Kavanaugh, Kathryn Cherry, which will air on MSNBC and the other featuring J.D. Vance, author of Hillbilly Elegy.
Since July 9, JCN has spent $4.3 million highlighting what it calls "Judge Kavanaugh's incredible record on the bench"; $2.1 million of that total spend has been in Indiana, West Virginia, North Dakota, and Alabama.
JCN's chief counsel Carrie Severino: "These ads underscore the fact that those who know Judge Kavanaugh best know him to be a good man, a fair and independent judge with a long track record of basing his decisions on the law and the Constitution. He will be another great justice on the Supreme Court."
ADDENDA: I'm scheduled to talk about yesterday's column with Glenn Beck this morning, around 10:30 a.m. eastern.