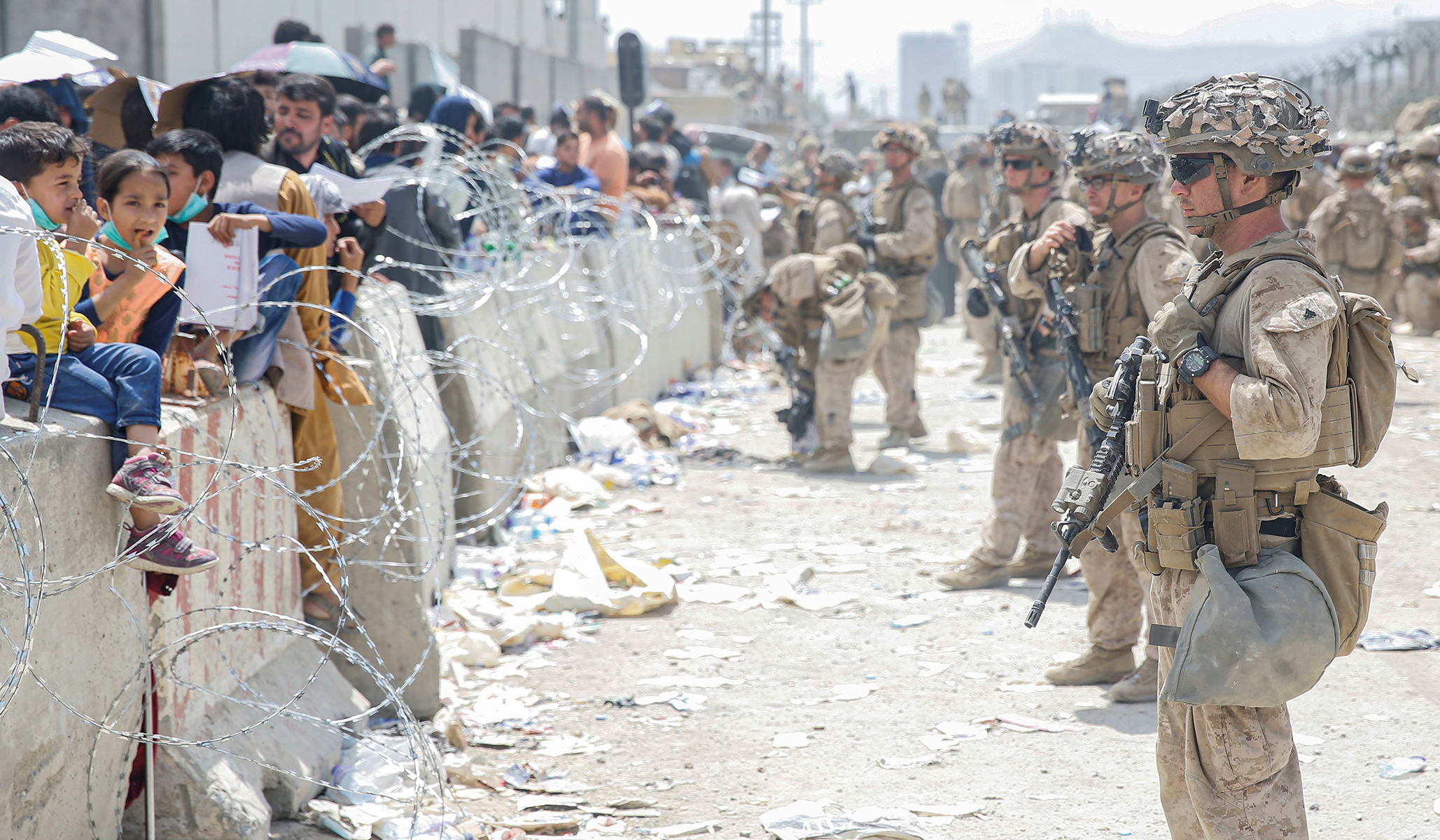 On the menu today: A Marine officer in the brig demonstrates the U.S. government's twisted sense of "accountability" for the calamitous withdrawal from Afghanistan; the new Taliban continue to act just like the old Taliban; the much-touted "over-the-horizon" ability to fight terrorism fails to manifest; and a story about Beto O'Rourke that should never be forgotten.
Our Government's Twisted Sense of 'Accountability' for Afghanistan
The Pentagon is indeed holding someone accountable in connection to the national humiliation in Afghanistan and abandonment of U.S. citizens, green-card holders, and Afghan allies to the Taliban. Unfortunately, that person is . . . a Marine who demanded someone be held accountable for our national humiliation in Afghanistan:
Lt. Col. Stuart Scheller, the Marine officer whose meteoric rise to internet fandom began with a video criticizing military leadership over Afghanistan, is currently in the brig, his father told Task & Purpose.

"All our son did is ask the questions that everybody was asking themselves, but they were too scared to speak out loud," said Stu Scheller Sr. "He was asking for accountability. In fact, I think he even asked for an apology that we made mistakes, but they couldn't do that, which is mind-blowing."

He said that his son is expected to appear before a military hearing on Thursday.

"They had a gag order on him and asked him not to speak," the senior Scheller said. "He did, and they incarcerated him. They don't know what to do with him."

After this story was first published, the Marine Corps issued a statement confirming that Scheller has been sent to the brig.

"Lt. Col. Stuart Scheller Jr. is currently in pre-trial confinement in the Regional Brig for Marine Corps Installations East aboard Marine Corps Base Camp Lejeune pending an Article 32 preliminary hearing," said Capt. Sam Stephenson, a spokesman for Training and Education Command. "The time, date, and location of the proceedings have not been determined. Lt. Col. Scheller will be afforded all due process."
On August 26, Scheller posted on his Facebook page, "I'm not making this video because it's potentially an emotional time," continued Scheller, a veteran of the wars in Iraq and Afghanistan who's held billets as a commander at platoon, company, and battalion levels. "I'm making it because I have a growing discontent and contempt for my perceived ineptitude at the foreign policy level. And I want to specifically ask some questions to some of my senior leaders."
Scheller continued:
The reason people are so upset on social media right now is not because the Marine on the battlefield let someone down. That service member always rose to the occasion and has done extraordinary things. People are upset because their senior leaders let them down and none of them are raising their hands and accepting accountability or saying, 'we messed this up.'

If an O-5 battalion commander has the simplest live fire incident, EO complaint. Boom. Fired.

But we have a Secretary of Defense that testified to Congress in May that the Afghan National Security Forces could withstand the Taliban advance. We have Chairmen of the Joint Chiefs — who the commandant is a member of that — who's supposed to advise on military policy. We have a Marine combatant commander. All of these people are supposed to advise. And I'm not saying we've got to be in Afghanistan forever, but I am saying: Did any of you throw your rank on the table and say 'hey, it's a bad idea to evacuate Bagram Airfield, a strategic airbase, before we evacuate everyone.' Did anyone do that? And when you didn't think to do that, did anyone raise their hand and say 'we completely messed this up?'"
He concluded: "What I'll say is, from my position, potentially all those people did die in vain if we don't have senior leaders that own up and raise their hand and say 'we did not do this well in the end.' Without that, we just keep repeating the same mistakes."
Scheller indisputably criticized his chain of command publicly, and that is no doubt a violation of his oath. A Marines Corps statement released after Scheller was relieved of his command declared that, "There is a forum in which Marine leaders can address their disagreements with the chain of command, but it's not social media." Article 88 of the Uniform Code of Military Justice states that, "Any commissioned officer who uses contemptuous words against the President, the Vice President, Congress, the Secretary of Defense, the Secretary of a military department, the Secretary of Homeland Security, or the Governor or legislature of any State, Commonwealth, or possession in which he is on duty or present shall be punished as a court-martial may direct." Scheller literally said he felt "growing discontent and contempt."
But the larger questions remain: Was what Scheller did morally wrong? Was it a failure of leadership? Turning a blind eye to failure and bad decisions does indeed increase the likelihood that the same life-and-death mistakes will be made twice. Scheller certainly does not appear to be wrong, factually. The entire administration made unrealistically rosy assessments of the state of the Afghan national army and security forces. Either top officials at the Pentagon did not communicate their recommendations to keep troops on the ground until everyone was out, or Biden ignored their recommendations, contradicting his public statements.
Earlier this month, Army general Austin "Scott" Miller, the commander of U.S. forces in Afghanistan from 2018 until his departure in July 2021, "told the Senate Armed Services Committee that before President Biden announced his decision in April to pull out all military personnel, the general had advised superiors to leave a few thousand troops rather than complete a full withdrawal." Miller reportedly warned that the Afghan government could collapse quickly after a U.S. withdrawal, and advised that the violent conditions did not support the continued withdrawal of U.S. troops, and reportedly Secretary of Defense Lloyd Austin, Chairman of the Joint Chiefs Mark A. Milley, and U.S. Central Command commander Kenneth "Frank" McKenzie all agreed, but Biden was unpersuaded.
In an August 19 interview with George Stephanopoulos, Biden claimed that "There was no consensus" on when the Taliban could take over, then declared that, "The idea that the Taliban would take over was premised on the notion that the — that somehow, the 300,000 troops we had trained and equipped was gonna just collapse, they were gonna give up. I don't think anybody anticipated that."
On August 30, Biden insisted that, "It was the unanimous recommendation of the Joint Chiefs and of all of our commanders on the ground to end our airlift mission as planned. Their view was that ending our military mission was the best way to protect the lives of our troops, and secure the prospects of civilian departures for those who want to leave Afghanistan in the weeks and months ahead."
Austin, Milley, and McKenzie are scheduled to testify before the Senate Armed Services Committee today.
Meanwhile, over in Afghanistan, the new and allegedly moderate Taliban are proving indistinguishable from the old and brutal Taliban:
The Taliban hanged a dead body from a crane parked in a city square in Afghanistan on Saturday in a gruesome display that signaled the hard-line movement's return to some of its brutal tactics of the past.

Taliban officials initially brought four bodies to the central square in the western city of Herat, then moved three of them to other parts of the city for public display, said Wazir Ahmad Seddiqi, who runs a pharmacy on the edge of the square.
The education of women and girls is coming to an end: "Tightening the Taliban's restrictions on women, the group's new chancellor for Kabul University announced on Monday that women would be indefinitely banned from the institution either as instructors or students."
Female judges are now hiding from convicted murderers they sentenced, because the Taliban freed them from jail: "They were the trailblazers of women's rights in Afghanistan. They were the staunch defenders of the law, seeking justice for their country's most marginalised. But now, more than 220 female Afghan judges are in hiding due to fear of retribution under Taliban rule. Six former female judges spoke to the BBC from secret locations across Afghanistan. All of their names have been changed for their safety."
Experts in terrorism and national security continue to examine the evolving situation and conclude that the "over the horizon" capability to stop terror groups that Biden touted is minimal: "There remain many logistical questions about how the United States can even effectively combat Islamic State-Khorasan in Afghanistan. Since withdrawing militarily from the country, Washington lacks a suitable full-scale base from which to carry out strikes or listening posts on the ground to gather intelligence. The Biden administration has said it will carry out over-the-horizon strikes from outside Afghanistan, but it's not clear if it plans to use its existing Al Udeid air base in Qatar or rather prefer to establish one more close by in Pakistan or elsewhere in Central Asia."
Finally, on August 27, President Biden said of ISIS-K that, "To those who carried out this attack, as well as anyone who wishes America harm, know this: We will not forgive. We will not forget. We will hunt you down and make you pay. I will defend our interests and our people with every measure at my command."
Since then, the U.S. military has launched a drone strike that accidentally killed a longtime worker for a U.S. aid group and nine other people, including seven children. There have been no other publicly disclosed military actions against ISIS-K.
ADDENDUM: As Greg and I discussed on the Three Martini Lunch podcast, as Beto O'Rourke prepares to run for governor of Texas, please never forget . . . this man tried to trick his wife into eating baby poop by putting it in a bowl and telling her it was guacamole. O'Rourke doesn't belong in the governor's mansion. He belongs in an insane asylum.