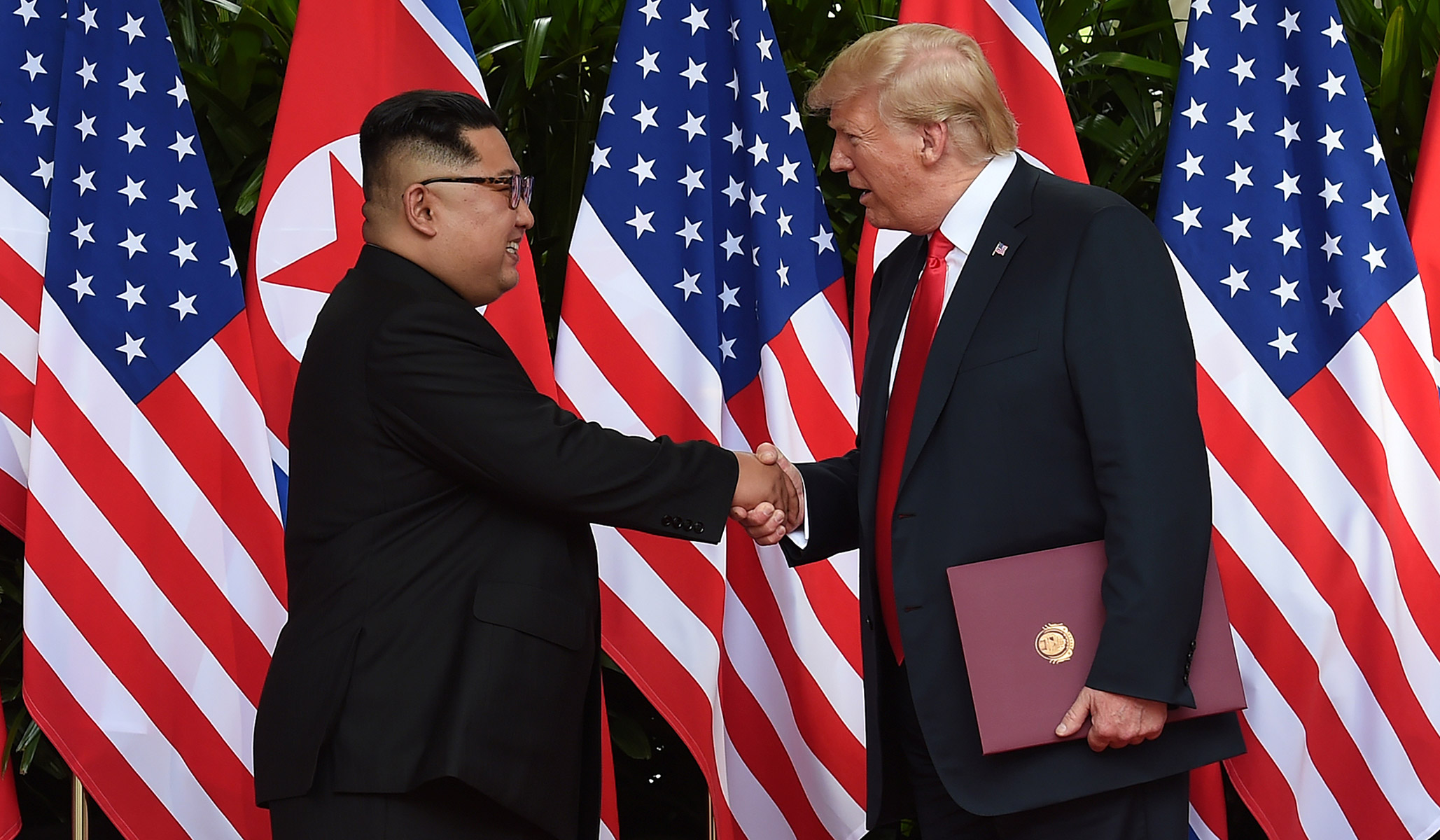 I wanted to give the president and the administration the benefit of the doubt on the North Korean summit. After all, as Winston Churchill said, "to jaw-jaw is always better than to war-war."
Let's start with the positive. If Trump is right, then indeed the North Koreans have made the largest concession we wanted: "They're going to get rid of their nuclear weapons. . . . Now, we're going to see. I mean, they're going to start working on it immediately. We're going to work with South Korea. We're going to work with Japan. We're going to work with China."
The problem is that the North Korean regime has broken its word in the past, many, many times. And denuclearization is extremely tough to verify unless you have far-reaching access within the country:
Analysts agree that the only way to confirm whatever nuclear promises North Korea's might make over time would be "an intrusive monitoring and inspection system," as Frank Aum, a former Department of Defense senior advisor on North Korea, puts it. But Aum notes that any successes from the summit would more likely be broad verbal and written commitments, with specific details still months or years away. …

The crucial difficulty in holding North Korea accountable for anything is that no one knows exact inventories of what facilities and materials North Korea has where. Even if the country were to agree to admit foreign inspectors from the International Atomic Energy Agency or another body, the examiners would only know to ask to see certain sites.
In other words, we don't know what we don't know — meaning that even with our advanced intelligence-gathering resources and amazing technical abilities, we won't be able to know, 100 percent, if North Korea is keeping its denuclearization promises.
The road to the summit yielded a few permanent concessions, in the form of returning detained Americans, and several reversible concessions: The missile test launches have stopped, the nuclear testing has stopped.
But America just agreed to North Korea's top demand.
Trump says, "We will be stopping the war games."
Are we stopping all joint drills and exercises with the South Korean and Japanese military forces?
Trump sounds like he thinks giving up joint exercises with our allies is some sort of win for American interests.
We stopped playing those war games that cost us a fortune. You know, we're spending a fortune, every couple of months we're doing war games with South Korea, and I said, "What's this costing?" We're flying planes in from Guam, we're bombing empty mountains for practice. I said "I want to stop that and I will stop that," and I think it's very provocative.
For a long time, the American national-security philosophy was, "If you want peace, prepare for war." Preparation for a conflict was the most effective way to ensure that no rival was too eager to start a conflict. Trump appears eager to end that tradition in the name of saving money, despite the many painful lessons of history.
The silver lining here is that if the United States or its allies determined North Korea was not living up to its promises, the war games could re-start. This morning, when I appeared on Hugh Hewitt's program, he reminded me that the next joint exercise isn't scheduled to start until next spring — so we've got nearly a year to see if North Korea intends to keep its promises.
Trump said, "They blew up a [nuclear] site, which was the real deal site that was their big site, they've blown it up."
Experts who reviewed the available footage and satellite images think the nuclear-test site tunnels were only partly destroyed, and could be rebuilt if the regime wanted.
Analysis of ground photos and video taken at North Korea's Punggye-ri Nuclear Test Site (courtesy of Sky News) from the recent site closing event can confirm only that the test tunnel entrances were sealed. At most, two other point detonations were carried out (as was claimed) in each of the three tunnels, while the tunnel branches probably remain intact. While the procedures carried out by the North Koreans will make reusing the site difficult in the future, regaining access to the completed test tunnels at the South and West Portals may still be possible. However, enough demolition has been done that, if North Korea chose to reopen the test site, major excavation as well as construction of at least some support structures would be needed, and such activity would almost certainly be detectable via satellite imagery.
Trump appears eager to give the North Koreans full-credit for half-measures — which is exactly what they wanted.
Trump declares, "I trust him." He also says, "I may be wrong. I mean, I may stand before you in six months and say, 'Hey, I was wrong.' I don't know that I'll ever admit that, but I'll find some kind of an excuse."
I suppose we should give the president some credit for unintended honesty. He isn't certain he should trust Kim but feels obligated to say so for the sake of diplomacy. This is why Ronald Reagan used to say, "Trust but verify." But it's hard to feel celebratory about a slate of new promises from a regime you can't trust.
Trump said, "His country does love him. His people, you see the fervor. They have a great fervor."
Remember when we fumed about the international media swooning over the North Korean cheerleaders at the Winter Olympics? Now the president of the United States is buying into their propaganda and repeating it on the world stage. Kim Jong-un runs a prison camp of a country and Trump is gushing about how much the prisoners love the warden.
Trump said that embassies between the two countries could open "hopefully soon," although it's "a little bit early for that," and that he will go to Pyongyang "at a certain time" and that at some point, Kim Jong-un would be invited to the White House.
We're well on the road to "normalizing" relations with arguably the world's most reckless, hostile, and dangerous regime. (I wonder how Otto Warmbier's family feels this morning.) If you can hold smiling, hand-shaking, praise-flowing summits with Kim Jong-un, why not with Ayatollah Khamenei of Iran?
Politically, Trump has an advantage here. In Obama's second term, Republicans objected to Obama's Cuba and Iran policies, but there simply weren't enough Democratic lawmakers who were skeptical of outreach. Today, Democrats may loathe Trump but they probably don't mind the outreach to Kim; in their minds, this beats nuclear brinksmanship. Republican lawmakers may have their doubts about this outreach, but not many want to air their disagreements publicly.
It Just Wouldn't Feel Like a Real International Summit without This Guy . . .
This morning in Singapore, former NBA star and general all-around oddball Dennis Rodman, who has worked with both Trump and Kim Jong-un in the past, met with former presidential adviser on homeland security Tom Bossert. Last night, while wearing a red "Make America Great Again" hat, Rodman gave a tearful interview live on CNN, discussing the death threats he received after one of his previous visits to North Korea.
In other developments, judging from the sentences above, I appear to have taken LSD.
Pity the Deficit Hawks in a Party That No Longer Cares about Deficits
It's primary day in several states, including Virginia and South Carolina.
Two of the GOP primaries that's gotten more buzz in recent days are in my home away from home, the Palmetto State. There are five candidates for the Republican nomination: Governor Henry McMaster — the lieutenant governor who became governor in January of last year when Nikki Haley became U.S. ambassador to the United Nations — and Lt. Governor Kevin Bryant of Anderson, former Lt. Governor Yancey McGill of Kingstree, Mount Pleasant attorney Catherine Templeton, and Greenville businessman John Warren.
I saw Warren speak the last time I was down in Hilton Head, and he seemed like an impressive man with principled conservative stands. If I voted in South Carolina, I would vote for him. Unfortunately for him, I live in Virginia.
There's some talk that incumbent Republican Mark Sanford could lose his primary to state Representative Katie Arrington; one poll had him ahead by less than a full percentage point. Some folks are chalking this up to Sanford's intermittent deviations from Trump-ism, and while that's no doubt a factor, I would throw in a few other points to keep in mind.
Sanford was part of the GOP class of 1994, and pledged to serve only three terms in the House, in keeping with his belief in term limits. He ran for governor and won in 2002; you probably remember the infamous "Appalachian Trail" business. He returned in 2013 for a special House election and out-hustled a crowded GOP primary field and then the much-hyped Democratic candidate, Elizabeth Colbert Busch, sister of comedian Stephen Colbert.
Back in March, Sanford voted against the $1.3 trillion omnibus spending bill, declaring that "it spends more than the country can afford. Instead of trying to offset the increases in military spending with cuts elsewhere in the budget, the bill went the easier route of simply increasing spending on all too many areas of government." But the bill also included $1.6 in funding for the border wall, and Arrington is hitting him as "one of only five Republicans to vote against President Trump's border wall."
Sanford's style of fiscal conservatism — even his plywood-and-spray-paint campaign signs look cheap — is out of style in the Trump-era Republican party. The district elected him in 2013, reelected him in 2014, and again in 2016. (That term limit pledge of 1994 feels like ancient history.) Sanford may hang on tonight, or he may not; if he doesn't, it's a sign that the ground of South Carolina Republicans shifted underneath his feet.
ADDENDA: Have you checked out NRPLUS? It offers a lot more than just a digital subscription. A membership has exclusive content that isn't available on the website or in the magazine, invitations to exclusive NR events, full podcast archives, way fewer ads, a members-only Facebook group, live interviews and conversations with NR writers, editors, and thought leaders across our community, and early access and discounts to select events. It's worth clicking through and checking out.