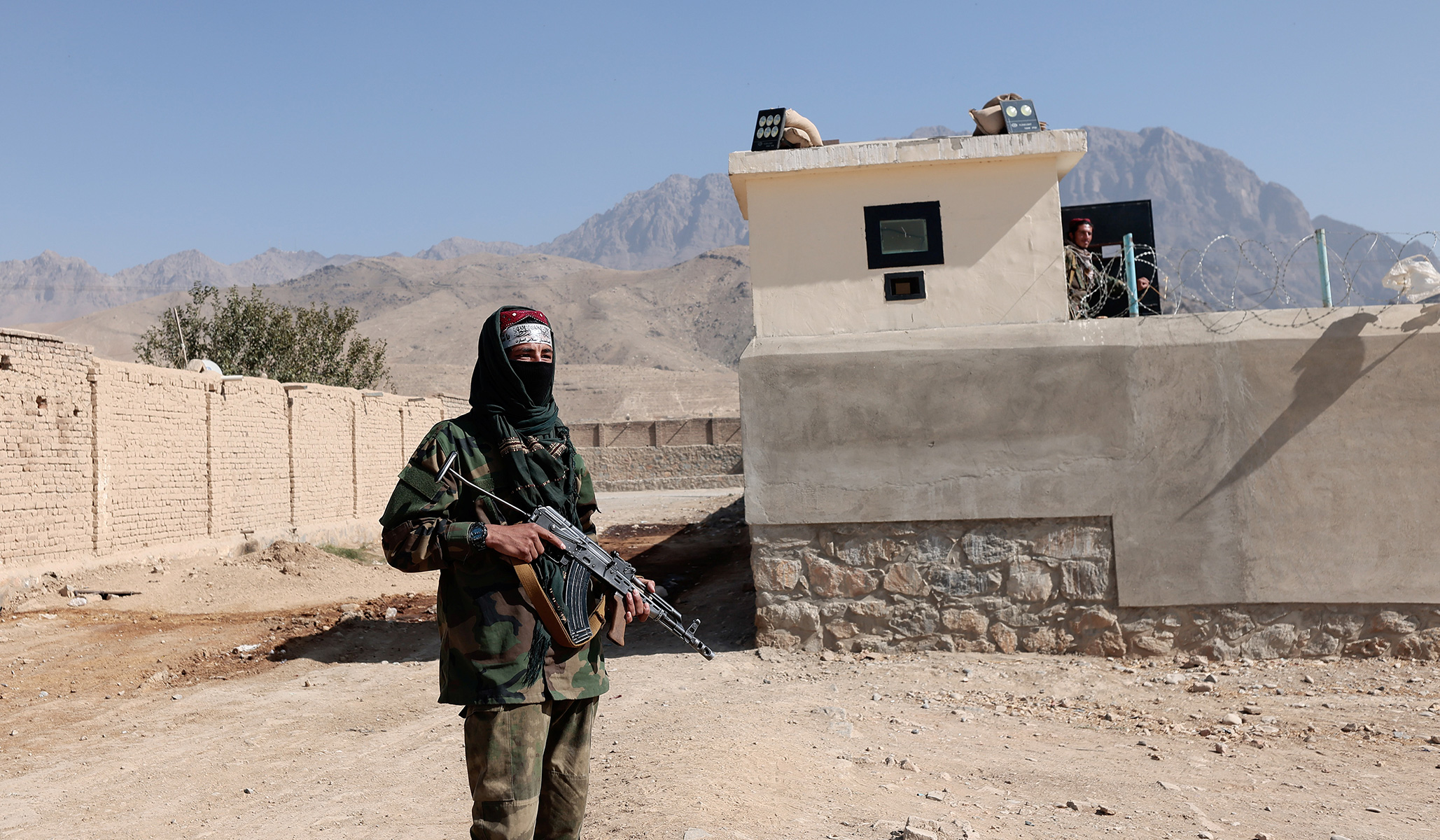 On the menu today: The U.S. State Department announces that since Thursday, it has been contacted by another 76 American citizens in Afghanistan, of whom 20 want to leave the country; families of more than two dozen American hostages held abroad write a letter questioning President Biden's commitment to bringing their loved ones home; and a useful perspective on just what kind of "extremism" worries Joe Biden.
State Department: We Found Another 76 Americans in Afghanistan We Missed Earlier
Last Thursday, the U.S. State Department informed congressional staff that it is in touch with 363 American citizens in Afghanistan, 176 of whom want to leave, according to Jennifer Hansler, who covers the department for CNN.
On Tuesday Colin Kahl, under secretary of defense for policy, testified before the Senate and said in response to questions from Senator Jim Inhofe of Oklahoma that, "In terms of how many American citizens we estimate are currently Afghanistan, the Department of State is in contact with 196 American citizens who are ready to depart, and arrangements are being made for them to do so either via air or over ground, and another 243 American citizens have been contacted and are not ready to depart, either because they want to stay in Afghanistan or are not ready."
Between Thursday and Kahl's testimony on Tuesday, the U.S. State Department found another 20 American citizens in Afghanistan who wanted to leave, and the department's count of American citizens in the country who either do not want to leave or are not ready to leave jumped from 187 to 243 — an increase of 56 people.
Note that this is only a discussion of U.S. citizens and does not include legal permanent residents.
From the perspective of the State Department, the count is steadily increasing because Americans emerged from hiding and contacted the U.S. government, or these individuals initially thought they wanted to stay in the country and have changed their mind. From the perspective of those involved in private efforts such as my reader nicknamed Samaritan, it is a little more complicated. Some Afghan Americans may have a U.S. passport or green card, but their family members do not. One family member can legally leave the country, but he would have to leave his spouse, children, parents, siblings, etc. behind to live under the rule of the Taliban. It is a similar situation for the Afghans who have Special Immigrant Visas. "You can escape this nightmarish land where the ruling brutes have declared they want to kill you, but you have to leave your family behind" is an impossible choice. There are likely very few Americans who don't want to leave; there are likely plenty of Americans who don't want to leave without their loved ones.
We are now two months past the withdrawal of the last U.S. troops from Afghanistan. Kahl also told the Senate that, "Since the end of the [national evacuation operation], since September 1, the State Department documented 240 American citizens who have departed Afghanistan since September 1st, and 157 green card holders. When you account for additional individuals who did not, were not arranged for travel outside Afghanistan by the U.S. government but came out through other private charters, DOD's numbers total out to 314 AmCits total and 266 LPR [lawful permanent residents] total since the end of the NEO."
That would mean that since the end of the U.S. presence in Afghanistan, 580 American citizens and legal permanent residents have departed, and another 196 want to get out, adding up to 776.
The GOP has been keeping track of the estimates of how many Americans are left in Afghanistan. When you add up the Americans who managed to depart and the number of Americans who are still known to be in the country and attempting to leave, the administration's public estimates are about one-eighth to one-quarter of the actual figure:
But the State Department insists that evacuation flights from Kabul International Airport will be resuming soon:
Deputy Secretary of State for Management and Resources Brian McKeon told the Senate Foreign Relations Committee Wednesday that the State Department has coordinated with airline companies to charter flights from the Kabul airport and expects flights to transport "several dozen Americans" out of Afghanistan this week.

"At the current pace, if we continue to have success with these charter flights, I think all of these people who say they are ready to depart will have an opportunity to depart in the next couple of weeks," McKeon testified.
In his interview with George Stephanopoulos, President Biden pledged that, "If there's American citizens left, we're gonna stay to get them all out." That didn't happen.
And apparently families of American hostages being held around the world are starting to think that the Biden administration is giving them nothing but lip service:
Relatives of more than two dozen American hostages and wrongful detainees held overseas told President Joe Biden in a letter on Monday that they questioned his administration's commitment to bringing their loved ones home.

In the letter, obtained by The Associated Press, the family members complained that the administration seemed to be getting "bogged down in burdensome processes or policy debates that keep our loved ones from coming home and keep us uninformed of what you can and cannot do to help us."

"We need to be shown that the promises of your administration to prioritize the return of our family members are not empty. Now is the time for action. Now we need you to bring our fellow Americans home," the letter states.

The letter reflects growing concerns within the hostage community that the Biden administration's foreign policy agenda does not prioritize the release of hostages, and that legal and political actions have complicated rather than advanced efforts to get captives released. In some cases, the letter to Biden asserts, the families feel as if they're in a "worse" situation now than eight months ago.
It is hard to begrudge these families for suspecting that Biden and his administration give speeches and issue statements saying all the right things but fail to follow up with any consequential action. In his address to the nation on August 31, President Biden insisted that, "We'll continue to speak out for basic rights of the Afghan people, especially women and girls, as we speak out for women and girls all around the globe. And I've been clear that human rights will be the center of our foreign policy."
Two months later, according to Amnesty International, members of the Taliban continue to threaten women teachers and girls if they go to school:
Pashtana*, a high school teacher, told Amnesty International she received death threats from the Taliban and had been called to the local court for prosecution due to her prior teaching of co-educational sports.

She received a letter from Taliban members earlier this year, and explained: "It said, 'If the Taliban catch you, they will cut your ears off, and this will be a lesson for others in [your] province'. Now I am in hiding. Even my family thinks I am out of the country."

Efat*, a 22-year-old woman, and Naveed*, her 16-year-old brother, said they were beaten unconscious by two Taliban members on 18 August. They said they were attacked while going to an English class, which the Taliban members called "the language of infidels."
Biden made one brief reference to Afghanistan in his speech to the United Nations in September:
We'll support the people of Afghanistan moving forward, laying out the expectations to which we will hold the Taliban when it comes to respecting universal human rights. We all must advocate for women — the rights of women and girls to use their full talents to contribute economically, politically, and socially and pursue their dreams free of violence and intimidation — from Central America to the Middle East, to Africa, to Afghanistan — wherever it appears in the world.
Beyond that, the president has not discussed Afghanistan at any length or detail. He has not denounced any of the Taliban's actions. He has not demanded that the Taliban stop blocking evacuation flights, permit Afghan special-immigrant-visa holders to leave the country, or open the borders to those who don't want to live under the Taliban's rule.
However, Biden found the time, energy, and motivation to hold a campaign event denouncing Virginia gubernatorial candidate Glenn Youngkin: "Extremism can come in many forms. It can come in the rage of a mob driven to assault the Capitol. It can come in a smile and a fleece vest."
Glenn Youngkin — former Rice University college-basketball forward, private-equity-firm founder, co-founder of a worker-retraining nonprofit, board member at Rice University's endowment, member of the Dean's Advisory Board at Harvard Business School, director of the Museum of the Bible, member of the Council on Foreign Relations, member of the Business Council and the American Enterprise Institute's National Council, and father of four — is the kind of extremist whom the president of the United States worries about the most.
In his inaugural address President Biden declared that:
History, faith, and reason show the way, the way of unity. We can see each other not as adversaries but as neighbors. We can treat each other with dignity and respect. We can join forces, stop the shouting, and lower the temperature. For without unity, there is no peace, only bitterness and fury. No progress, only exhausting outrage. No nation, only a state of chaos. This is our historic moment of crisis and challenge, and unity is the path forward.
Some unity, huh?
ADDENDUM: It's really early, but a disparity such as this in a voter-intention survey is eye-popping: "A full 92 percent of self-identified Republican voters said that they planned to vote in the 2022 elections, with just 4 percent saying they did not plan to. By contrast, just 70 percent of self-identified Democrats said they planned to vote, and 29 percent said they did not plan to." That is a formula for a midterm blowout on par with 2010 and 2014.