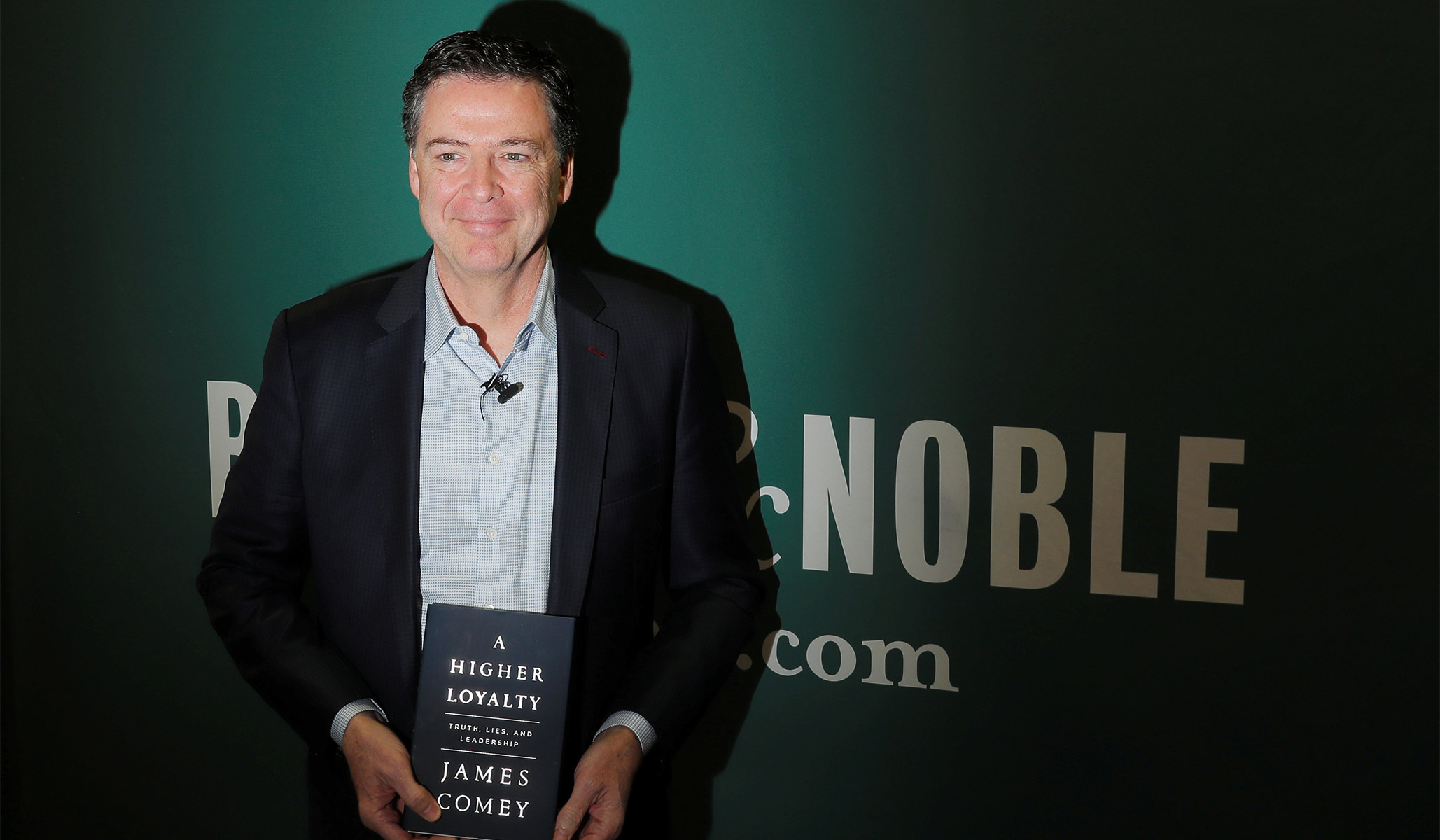 Making the click-through worthwhile: the book James Comey had wanted to write, Facebook starts to feel useless to some writers, an infamous D.C. city councilman manages to make everything worse, and Hillary Clinton's campaign finds its wish granted.
What Did James Comey's First Draft of A Higher Loyalty Look Like?
My lengthy review of A Higher Loyalty is up on NRO this morning. I found myself with a different reaction than I expected, and a different focus from most early reviews. (Let's face it, today most people perceive Comey through the lens of President Trump. If you like Trump, you probably hate Comey; if you hate Trump, you probably like his criticism of Trump but might still blame him for the outcome of the 2016 election.)
Here's the thing: if you're a pro-Clinton, pro-Democrat partisan hack, you don't mention the unprecedented nature of Clinton's pardon of Marc Rich, and the criticism from the New York Times. If you're a pro-Clinton, pro-Democrat partisan hack, you don't lay out the potential threat to national security that Hillary Clinton's private email server represented. If you're a pro-Clinton, pro-Democrat partisan hack, you don't write about Hillary Clinton's interview with the FBI with statements like, "There was nothing in her comments that we could prove was a lie beyond a reasonable doubt . . . Whether we believed her or not, we had no significant proof otherwise."
But Comey never quite comes out and says, "I didn't believe her." He doesn't share his personal opinion about her much at all, and it's extremely difficult to believe he didn't develop some strong opinions about her character, ethics, and judgment after all of this. The closest we get is a reference to "the deeply flawed choices put before voters in the 2016 election."
By comparison, the former FBI director doesn't hold back at all when it comes to President Trump, calling him "a threat to much that is good in this country." He declares that Trump is "unethical and untethered to truth and institutional values. His leadership is transactional, ego-driven, and about personal loyalty. We are fortunate that some ethical leaders have chosen to serve and to stay at senior levels of government, but they cannot prevent all of the damage from the forest fire that is the Trump presidency."
(Yesterday in an interview with Jake Tapper, Comey said, "I definitely don't hate him.  There are things he does that make me uncomfortable and I think are inappropriate that are, in some ways like — a bully-like behavior. But I don't hate Donald Trump. I don't even dislike Donald Trump." I don't know, if you think a guy is a threat to much that is good in the country and compare him to a forest fire, there's no additional harm in saying that you dislike him.)
I've got a theory that I can't prove: James Comey wanted to write a couple of different books — one on leadership for the business market, a personal memoir, and finally a score-settling account of his decisions in 2016 and 2017. Somewhere along the line, either he or his publisher concluded that there was enormous appetite for a literary indictment of Trump. Check out the New York Times bestseller list right now: Fascism: A Warning by Madeleine Albright is number one, Russian Roulette by Michael Isikoff and David Corn is number two, and Fire and Fury is still at number ten after fifteen weeks. If you want an instant bestseller, you take a relatively well-known name, offer some juicy tales of Trump "behind the scenes," and denounce the president any way you can imagine.
Call me crazy, but I think if you loaded James Comey up with sodium pentathol and assured him that none of the preordered copies of A Higher Loyalty could be returned for a full refund, he would offer a pretty scathing assessment of Hillary Clinton as well as Trump. But the millions of Clinton voters who are enraged about the 2016 election, and who still blame Comey in part, wouldn't give him the time of day, much less $29.99, if he reminded them that their candidate was only marginally better, if at all better, than Trump. And if Comey had dared conclude that Hillary Clinton was worse in some way — say, by observing that for all of his flaws, Trump had been a purely private-sector slimeball, whereas the Clintons had figured out how to leverage Hillary's powerful government job into big-money donations from all manner of shady characters — well, that would be the final nail in the coffin of Comey's reputation. Democrats would forever contend that this Bush-administration official, who donated to John McCain and Mitt Romney, had abused his power in order to sway the election and elect Trump.
That's how you end up with a tell-all that strangely lacks much to tell on some of the biggest figures in the drama of 2016: Bill and Hillary Clinton, Andrew McCabe, Loretta Lynch . . .
What Is Up with Facebook's Algorithm Lately?
This morning, Matt Lewis offers an observation about Facebook that I'll bet will leave a lot of writers and publications nodding in agreement: "My beef w/ Facebook is that it's a waste of time for me as a content creator. Here's an example: I have about 13.4K total page 'likes.' Yet, this post (which is substantive, but/and not provocative or flashy) reached just 328 people."
Jonathan Franks offers a cynical thought: "I think the real problem is you don't write the kind of content Facebook's algorithm wants — if you were to write something irresponsible like 'Pelosi operates heroin den in pizza parlor' it would go nuts, and therein lies the problem!"
Author Christi Daugherty offers a perhaps-exaggerated example that suggests the social-media site is algorithm-ing itself into uselessness: "All authors are having this right now. Facebook won't even show our content to people who have specifically followed us and asked to see this content. Followers are saying 'Show me things from this author' and Facebook is like 'How about a Nazi meme from your cousin instead?'"
Yes, I too have a Facebook page for work. No, not many people check it out. If you want to like my page, go ahead, but based upon these comments, you may end up not seeing much that's posted there!
Heck of a Job, District of Columbia Voters. Heck of a Job.
Wow. That Washington, D.C., city councilman who got in trouble earlier this year for contending that wealthy Jews control the weather visited the U.S. Holocaust Memorial Museum on Wednesday and . . . somehow managed to make everything much worse.
The photo, taken in 1935, depicts a woman in a dark dress shuffling down a street in Norden, Germany. A large sign hangs from her neck: "I am a German girl and allowed myself to be defiled by a Jew." She is surrounded by Nazi stormtroopers.

D.C. Council member Trayon White Sr. (D-Ward 8) studied the image. "Are they protecting her?"

Lynn Williams, an expert on educational programs at the U.S. Holocaust Memorial Museum and White's tour guide for the day, stared at the photo.

"No," she said. "They're marching her through."

"Marching through is protecting," White said.

"I think they're humiliating her," Williams replied.
At this point, we can only conclude that the councilman has some weird interpretations of just about all matters related to Jews, and/or he's just plain dumb.
ADDENDA: Who wanted Donald Trump to win the Republican presidential primary in 2016? Hillary Clinton's campaign.
From early on, the Clinton camp saw Trump as an enemy to encourage, Chozick writes. During the campaign, as had been previously reported, there was an effort to elevate Trump into a so-called Pied Piper in order to tie him to the mainstream of the Republican Party.
"An agenda for an upcoming campaign meeting sent by [Campaign Manager] Robby Mook's office asked, 'How do we maximize Trump?'" Chozick writes, describing a time when the GOP primary was still crowded.
I think we can consider Trump maximized now.
Be careful what you wish for!