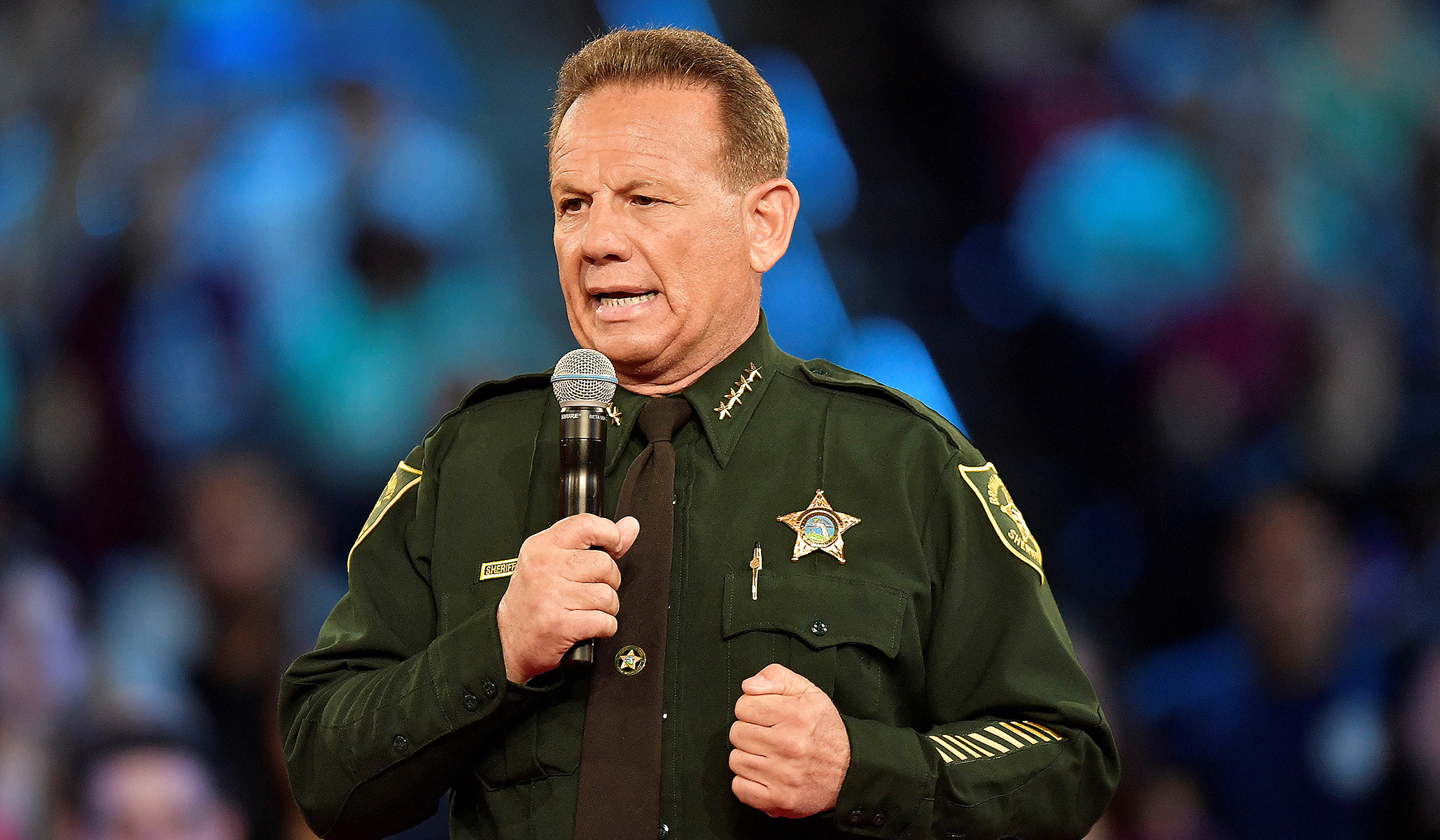 Making the click-through worthwhile: There's a clear theme this Monday — why you shouldn't trust Broward County sheriff Scott Israel, why you shouldn't trust big corporations, why you shouldn't trust Elizabeth Warren, and why you shouldn't trust Richard Wolff.
You can trust me, though.
'If Ifs and Buts Were Candy and Nuts,' the Sheriff of Broward County Would Be Coherent
The moment on CNN's State of the Union when all of America realized that the Sheriff's Department of Broward County, Fla., had been run by a lunatic since 2012:
TAPPER:  The last question, sir.  Do you think that if the Broward Sheriff's Office had done things differently, this shooting might not have happened?

ISRAEL:  Listen, if ifs and buts were candy and nuts, O.J. Simpson would still be in the record books.

TAPPER:  I don't know what that means. There's 17 dead people, and there's a whole long list of things your department could have been done differently.

ISRAEL:  How could — listen, that's what after-action reports are. That's for — lessons-learned reports are for.
Watch the whole interview or read the whole transcript.
"If ifs and buts were candy and nuts"? What the hell is this, Dr. Seuss? I never thought we would see an elected official actually attempt the "Chewbacca defense" from South Park — a counter-argument so nonsensical and confusing that it distracts from the original accusation.
The shooting was on Valentine's Day, twelve days ago. Here's Sheriff Israel's answer to the report that three more deputies waited outside the school instead of engaging the shooter.
We have not taken statements yet from the Coral Springs officers. We found out, I believe, five or six days ago from their police chief that he told one of our colonels about the — about the information. We're going to be taking statements from those Coral Springs police officers. Then we're going to be speaking with our deputies. If any deputies are alleged to have dereliction of duty, we will look into that.
Israel later added that he had not yet listened to the radio recordings of his officers during the shooting.
Again, it's been twelve days since the shooting. What has he been doing, besides these television appearances?
Tapper, who hosted that awful pep rally of a town hall, asked Sheriff Israel when he learned that at least one of his deputies had waited outside for at least four minutes during the shooting instead of engaging the shooter. I think the sheriff's answer was unintentionally revealing.
ISRAEL:  Not for days.  We — our investigators looked . . .

TAPPER:  How many days? 

ISRAEL:  I'm not sure. 

TAPPER:  Because you spent much of the Wednesday night town hall on CNN, with the entire Stoneman Douglas community, students and teachers and parents, attacking the NRA, saying that police need more powers, more money to prevent future tragedies. You didn't disclose any of this to the crowd then, to the Stoneman Douglas High School community. Did you know it then? Did you know it Wednesday night?

ISRAEL:  It was spoken about during that — earlier during that day. I'm not on a timeline for TV or any news show. We need to get it right. We need to get it accurate. We're talking about people's lives. We're talking about a community. We need to corroborate, we need to verify.
Can we all agree that if the sheriff had not known the night of the CNN town hall, he would have said so during yesterday's interview? One of my unofficial rules of life is skepticism that people withhold their own exculpatory evidence. Instead of owning up to his department's failure, the sheriff turned the crowd's ire towards Dana Loesch and the NRA.
More comments from the sheriff yesterday: "Leaders are responsible for the agency, but leaders are not responsible for a person. I gave him a gun. I gave him a badge. I gave him the training. If he didn't have the heart to go in, that's not my responsibility."
With a guy like this overseeing their protection, those kids didn't stand a chance.
Glenn Reynolds, writing in USA Today:
The chief problem facing America today is the decline of its institutions, coupled with the denial of that decline by the people in charge of its institutions. The latest example of this problem is the Parkland school shooting in Florida. From the FBI, to local law enforcement, to the schools, everyone failed. There was failure early, there was failure in the middle, and there was failure late. And no one has taken responsibility.
Broward County commissioner Michael Udine, whose daughter attends Stoneman Douglas, to the Sun-Sentinel: "Everybody who had a chance here failed our kids and our community."
A Changing 'Social Compact' That Only Turns to the Left
Over in the Axios newsletter, Mike Allen wrote Sunday about how corporate executives are leading policy changes at their companies over global warming and gun control and concludes "corporations, under intense social pressure, are filling a void left by governmental gridlock or avoidance."
Wait a second. It's not "governmental gridlock or avoidance" that is setting federal policies here or maintaining the status quo. It's the elected officials, who are a reflection of the preferences of those who have voted in recent elections.
If a majority of Americans wanted to elect members of Congress and a president who prioritized climate change, they would do so. If a majority of Americans wanted to elect members of Congress and a president who prioritized gun control, they would do so. Or perhaps they would like to see a climate-activist, pro-gun-control Congress and president, but prioritized other stances on other issues more.
Allen writes, "The social compact between private enterprise, government and citizens has permanently changed." That's one way of putting it. When New York Times columnist Andrew Ross Sorkin calls for credit-card companies to make it impossible to purchase certain legal weapons, he is calling for your choices to be limited by corporations. If Visa, MasterCard, and American Express decide retailers must drop a product or stop working with them, on a consumer level, it's hard to distinguish that action from former New York City mayor Michael Bloomberg banning flavored tobacco products, trans fats, sodium levels in processed foods, sodas larger than 16 ounces, any taxicabs besides Nissan NV200s, black roofs, cigarette in-store displays, and dancing in a bar without a license. Except the voters of New York always had the option of voting Bloomberg out of office.
Voters try to push policies in a rightward direction; social-media mobs and activist shareholders try to use corporations as leverage to push in a leftward direction. The Left is now willing to embrace corporatist model of government if that generates the policy outcomes it wants.
Elizabeth Warren's Cultural Misappropriation
Politico checks in on Elizabeth Warren's efforts to neutralize claims that she's made sketchy-to-unfounded claims of Native American heritage:
Elizabeth Warren's surprise address this month on her disputed Native American heritage was just one piece of a concerted campaign by the Massachusetts senator and potential 2020 hopeful to put the controversy behind her.

Derisively nicknamed "Pocahontas" by President Donald Trump over allegations that she used claims of Native American heritage to get a head start in her job search — a claim she and former colleagues strongly deny — Warren has met with close to a dozen tribal leaders and prominent activists recently.

She has also signed onto at least six bills directly related to Native American policy. It's clearly an organized effort: Four of those co-sponsorships came within two days of her speech, and Warren endorsed two bills around that time even though they'd been introduced months earlier.
Warren defenders are quick to insist she never benefitted from claiming to be Native American, but that's not quite so easy to prove.
In 1984, she contributed five recipes to a Native American cookbook entitled "Pow Wow Chow: A Collection of Recipes From Families of the Five Civilized Tribes: Cherokee, Chickasaw, Choctaw, Creek, and Seminole." In the book, which was edited by her cousin and unearthed during her 2012 campaign by the Boston Herald, her name is listed as "Elizabeth Warren, Cherokee."

Warren also listed herself as a minority in a legal directory published by the Association of American Law Schools from 1986 to 1995. She's never provided a clear answer on why she stopped self-identifying.

She was also listed as a Native American in federal forms filed by the law schools at Harvard University and University of Pennsylvania where she worked.

And in 1996, as Harvard Law School was being criticized for lacking diversity, a spokesman for the law school told the Harvard Crimson that Warren was Native American.
You know that if she's the Democratic nominee in 2020 — an outcome I doubt — that Trump will just hold up a box from Ancestry.com to every rally and dare Warren to take the test. Maybe Warren does indeed have some Native American ancestors. But the fact that she hasn't taken a test like that (as far as we know) suggests she's afraid of what it might show. If she did take the test, and it showed Native heritage, she would have already rubbed it in the faces of her critics.
ADDENDA: A television-interview exchange that shows everything you need to know about Michael Wolff, author of Fire and Fury. The interview runs smoothly until the host asks Wolff about his contention that he is "absolutely sure" Trump is having an affair from several weeks ago, a contention that he appeared to back away from in an interview last week.
Host: Do you owe the first lady and president an apology, Mr. Wolff?

Wolff: I can't hear you. … Hello? I'm not getting anything.

Host: You're not hearing me, Mr. Wolff?

Wolff: No- I'm not getting anything.
If Wolff can't hear the host, how does he know to answer the host's question?