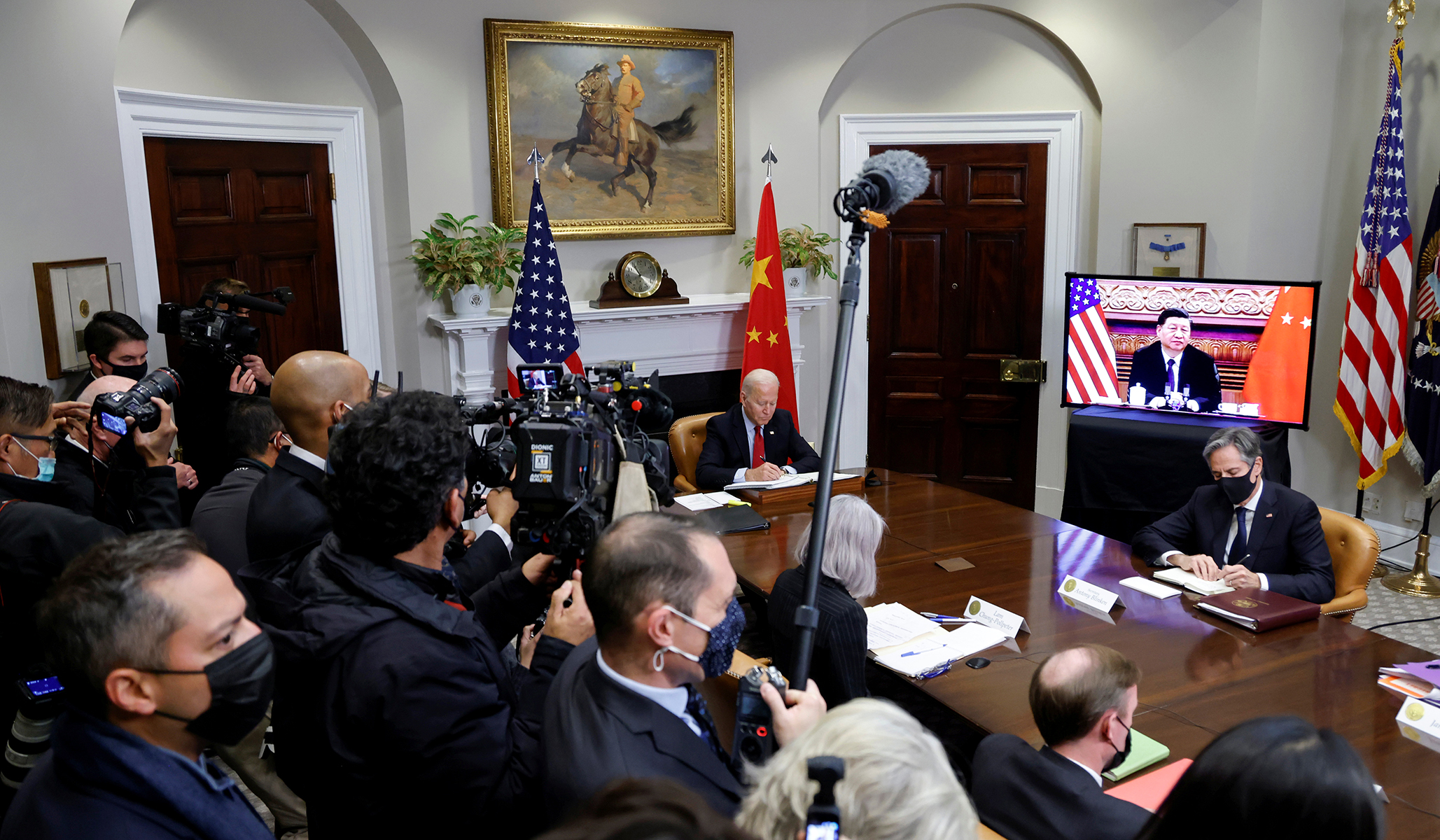 On the menu today: Josh Rogin reveals that the Biden administration is trying to water down a congressional effort to restrict Chinese imports made with Uyghur slave labor; President Biden nominates a strategic adviser to the U.S.–China Heartland Association to be the chair of the U.S. Export–Import Bank; and Beijing is developing plans for state-run Chinese firms to move in and mine Afghanistan's lithium deposits. Are you starting to notice a pattern here?
So Much for Being Tough on China
Josh Rogin delivers an unnerving scoop in the Washington Post:
Administration sources confirmed that in an October call between Deputy Secretary of State Wendy R. Sherman and Sen. Jeff Merkley (D-Ore.), the other co-sponsor, Sherman made it clear that the administration prefers a more targeted and deliberative approach to determining which [Chinese] goods are the products of forced labor. She also told Merkley that getting allied buy-in was critical and more effective than unilateral action.

"To be clear, the Department of State is not opposing this amendment," a State Department spokesman told me. "We share the Congress' concerns about forced labor in Xinjiang."

In other words, while the administration supports the legislation in public, they are asking Democrats to essentially water it down in private. Sherman's specific criticism relates to a part of the bill that would require a presumption that all products coming from Xinjiang are tainted by forced labor unless the importer can prove otherwise. This happens to be the exact provision corporations are also objecting to. Maybe it's a coincidence.

"It isn't partisan or in any way controversial for the U.S. to be unequivocally, resoundingly opposed to genocide and slave labor," Merkley told me. "The Senate passed this legislation in July, and it's time to get it over the finish line."
Watering down congressional efforts to punish China for the Uyghur genocide is not what Joe Biden promised when he was running for office, or when he took office. Through most of 2020, Biden insisted that he was the tough one on China and that the Trump administration only offered "a colossal gap between tough talk and weak action."
Biden, at a Democratic debate on February 25, 2020, said: "I had spent more time with Xi Jinping than any other world leader by the time we left office. This is a guy who doesn't have a democratic bone in his body. This is a guy who is a thug who in fact, has a million Uyghurs in reconstruction camps, meaning concentration camps."
Biden, writing in Foreign Affairs last spring, said: "Companies must act to ensure that their tools and platforms are not empowering the surveillance state, gutting privacy, facilitating repression in China and elsewhere. . . . The United States does need to get tough with China."
Biden, speaking at the U.S. State Department on February 4, said: "We'll also take on directly the challenges posed by our prosperity, security, and democratic values by our most serious competitor, China. We'll confront China's economic abuses; counter its aggressive, coercive action; to push back on China's attack on human rights, intellectual property, and global governance."
And yet, month by month, the Biden administration is proving more and more reticent to confront the Chinese government in substantive and consequential ways. The investigation into the origins of COVID-19 is effectively dropped, and Biden didn't mention China's refusal to cooperate with the WHO's separate investigation in his teleconference summit with Xi Jinping.
Biden did not mention China, the Uyghurs, Hong Kong, or the origins of COVID-19 in his address to the United Nations.
Commerce secretary Gina Raimondo told the Wall Street Journal in September that she thinks "robust commercial engagement will help to mitigate any potential tensions" with China. Biden rescinded Trump's executive orders targeting TikTok, the popular app owned by the Chinese company ByteDance.
In defending his decision to withdraw all U.S. military forces from Afghanistan, Biden kept insisting that China wanted the U.S. to keep its troops in that country and that Beijing saw Afghanistan as a quagmire tying up limited American military resources. But now that U.S. forces are out, China is dramatically expanding its economic ties and diplomatic in leverage in Afghanistan — developing plans for state-run Chinese firms to move in and mine Afghanistan's lithium deposits.
Does the Chinese government look upset that the U.S. no longer has any presence in Afghanistan?
Elsewhere, Biden nominated Reta Jo Lewis to run the U.S. Export-Import Bank. Senator Marco Rubio contends that, "Reta Jo Lewis is currently a strategic advisor for the U.S.-China Heartland Association, which is a conduit for the Chinese Communist Party's (CCP) United Front Work Department (UFWD), which aims to influence key Americans at the subnational level and ultimately undermine America's national interests."
As I noted yesterday, even the proposed diplomatic boycott of the Olympics is moot, because the Chinese government announced that U.S. politicians were not invited before Biden could even officially announce the decision.
It's not that the Biden administration is doing nothing — an upcoming "democracy summit" invited Taiwan but not China, there have been prohibitions on U.S. investment in particular Chinese companies, and a dozen Chinese companies have been blacklisted for helping the Chinese army with quantum computing.
But these are small-ball gestures while the Chinese government sends 18 fighter jets plus five nuclear-capable H-6 bombers into Taiwanese air-defense zone at one time, Beijing wipes out the last of Hong Kong's opposition, and the Genocide Games go on with full U.S. corporate sponsorship. We're attempting minor and symbolic moves while Xi Jinping is attempting big and consequential ones to maximize his leverage over the rest of the world.
It is fair to wonder how much of the administration's heart is in the effort to confront Beijing. Biden's climate envoy, John Kerry, has made it clear that he doesn't think his job includes pressing China about the use of slave labor, declaring last month: "That's not my lane here. My job is to be the climate guy."
Like most worthwhile endeavors, standing up to an increasingly aggressive and extraordinarily economically powerful authoritarian regime requires accepting short-term pain for long-term gain. The benefits of a tougher stance against Beijing will only manifest in the far future, and our children will be the biggest beneficiaries, living in a world where the United States continues to set the standards of behavior and values on the world stage, instead of Xi Jinping or his successors. (Recall the "Chinese professor" ad from 2010.)
The costs of a more confrontational approach are clear in the here and now, particularly economically. Just ask Ray Dalio. The benefits of a conciliatory approach are similarly clear [insert cash register sound effect here] and the costs will be paid by people besides American policymakers — the Uyghurs, the citizens of Hong Kong, the Taiwanese, tennis star Peng Shuai. . . .
When Xi and Biden held their teleconference in November, Xi called Biden "old friend," and the president thanked him — sending White House aides scrambling to insist that Biden doesn't see Xi as an old friend.
Around here, a lot of conservative critics of Joe Biden would point to Hunter Biden's dealings with some powerful Chinese businessmen as an explanation for the administration's reluctance to take a harder line: The work done by his consulting firm, Rosemont Seneca; his meetings with the top executives of China's sovereign wealth fund; his relationship with Jonathan Li and Li's Chinese private-equity fund; and his connections to Chinese energy tycoon Ye Jianming, who gifted him "a 2.8-carat diamond worth anywhere from $10,000 to $80,000. (None of those Hunter Biden connections and deals are from the infamous laptop; all of that was detailed in The New Yorker magazine before the laptop story broke.) And no doubt, all of this stinks to high heaven.
But the "old friend" comment is a reminder that Biden has been dealing with Chinese leaders for decades, and Biden's perspective regarding China was likely set in mental cement when the country was widely perceived among U.S. political and economic elites as an American "partner in prosperity." In a 2012 speech alongside then-vice president Xi, Biden declared that, "I believe that a rising China is a positive development — not only for China but also for the United States and the world. It will fuel economic growth and prosperity, and a rising China will bring to the fore a new partner with whom we can have help meeting the global challenges we all face."
In the first months of his 2020 presidential campaign, Biden contended that the notion of China as a threat was wildly overstated.
Back in May 2019, Biden declared: "China is going to eat our lunch? Come on, man. They can't even figure out how to deal with the fact that they have this great division between the China Sea and the mountains in the east, I mean in the west. They can't figure out how they are going to deal with the corruption that exists within the system. I mean, you know, they're not bad folks, folks. But guess what, they're not competition for us (emphasis added)." Then, a few days later, Biden said, "What are we doing? We're walking around with our heads down, 'Woe is me.' No other nation can catch us, including China. I got criticized for saying that. I've spent as much time with [Chinese President] Xi Jinping as any world leader has."
Biden and his officials say they see a rising threat from Beijing, but they don't really act like it. At least in public, Biden gets a lot angrier at unvaccinated Americans, his predecessor's border-enforcement policies, and Fox News' Peter Doocy than he does at China's leaders or any of their actions.
ADDENDUM: Just breaking, right before I send this off to the editors:
The U.S. economy created far fewer jobs than expected in November, before a new Covid threat created a scare that growth could slow into the winter, the Labor Department reported Friday.

Nonfarm payrolls increased by just 210,000 for the month, though the unemployment rate fell sharply to 4.2 percent, even though the labor force participation rate increased for the month to 61.8 percent, its highest level since March 2020.

The Dow Jones estimate was for 573,000 new jobs and a jobless level of 4.5 percent.
The U.S. has roughly 10.4 million open jobs.