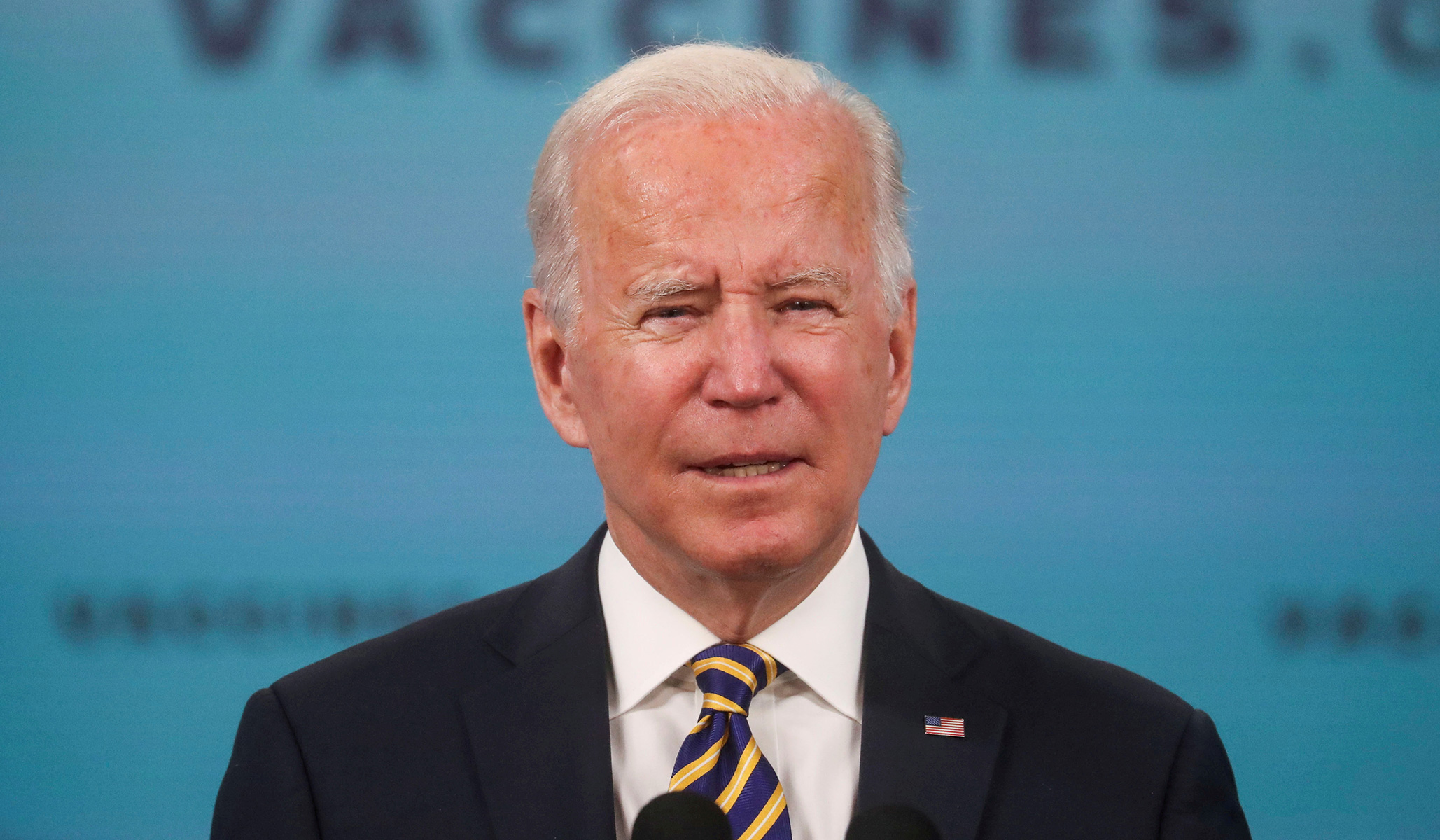 On the menu today: Up until very recently, President Biden used an exceptionally light touch in the negotiations on Capitol Hill over the "Build Back Better" legislation — a touch so light, it almost wasn't there. When you look at the country's worsening problems on the supply-chain crisis, the inflation crisis, the border crisis, the debacle in Afghanistan, and so on, Joe Biden is there, but it often seems like he's not really there.
President Nonentity
It feels as if the current negotiations among Democrats about the "Build Back Better" legislation has been going on for decades. And the latest hint of what Joe Manchin is willing to accept, or Kyrsten Sinema wants, or House progressive leader Pramila Jayapal is demanding, does not seem particularly interesting or engaging. Each one seems certain to be overwritten by new, competing demands and red lines that will emerge next week. The latest proposals and counter-proposals don't feel nearly as consequential as China's new hypersonic missile; the worsening supply-chain crisis and empty shelves; the plight of Americans and Afghan allies left in Taliban territory, what's being taught in our schools; and the argument of how and when Americans can go back to 100 percent mask-free, pre-pandemic normal life in light of the diminishing impact of COVID-19.
But there is one aspect of these protracted negotiations that is somewhat fascinating: how much President Joe Biden has been a relatively quiet and vague bystander during the biggest and most consequential legislative fight of his first year — and perhaps his entire presidency. Maybe that's changing a bit in the past few days; Biden is telling House progressives they're going to have to abandon free community college and a clean-electricity program, and he is talking up reducing the size of the bill to "only" $2 trillion — or maybe "merely" $1.7 trillion to $1.9 trillion!
On paper Biden and his team could be pursuing a deliberate strategy of trying to convince House progressives that they fought hard for their priorities but just didn't have the votes to make them happen. (If you're destined to lose a legislative fight, make sure your allies are convinced you didn't capitulate too easily.) But for weeks, Biden was an afterthought in the negotiations — when he was a factor at all. CNN on Monday:
Privately, Democrats are growing frustrated with Biden's approach.

"The reality right now is that a lot of people are saying, 'Where's Joe Biden? This is his agenda, why isn't he more involved in the negotiations?'" said one House Democrat, reflecting conversations going on among rank-and-file members.
Today, President Biden will travel to Scranton, Pa., to make his sales pitch for Build Back Better. But as I observed when Biden traveled to Michigan, he's holding rallies in support of his legislation in states where the Democratic senators largely already agree with him. Pennsylvania's Democratic senator, Bob Casey, is already on board with Build Back Better, and the state's Republican senator, deficit and spending hawk Patrick Toomey, is never going to get on board. So, who is Biden trying to persuade with this event today? What is the point?
There are two Democratic senators who hold all the cards in the current 50–50 split chamber who can ensure passage or failure of any particular version of the Build Back Better legislation. Check out the updated numbers from Civiqs polling. In Arizona Biden's approval rating is 37 percent, and his disapproval rating is 56 percent. Do you think Sinema feels any pressure to go along with Biden? In West Virginia Biden's approval rating is 19 percent, and his disapproval rating is 76 percent! Manchin would be sticking his neck out by agreeing to any version of Biden's "Build Back Better."
Dan McLaughlin astutely observes that Biden is emphasizing his "inside game" of in-person meetings with lawmakers because he effectively has no "outside game":
Public arguments by this president don't help. They persuade nobody of anything. The bully pulpit has been reduced to a walker. Nine months into his tenure, Biden is already a spent force that nobody listens to. In terms of his influence, he went directly from honeymoon to lame duck. It is still likely that the Democrats will pass something this year — and whatever they pass, Biden will sign, and everybody knows it, so his actual leverage is zero.
The president doesn't talk about the specifics of the legislation, and that's apparently a deliberate strategy. Politico observed this weekend that, "While Biden has held public events around the agenda, he has not done a formal press interview on it since Labor Day." And the same outlet reported this week that the Biden team has decided that the president doing interviews about the bill isn't helpful:
A White House official told POLITICO that the preference for television was in large part because the medium simply reaches more people. But the official also argued that the D.C. press, print included, is too focused on process, which is not the message Biden wants to get to voters. That, combined with Biden's well-documented blooper reel, doesn't give the White House much enthusiasm for extensive sitdowns.
Biden's minimal presence in the negotiations up until now, and his extraordinarily slow movement toward firm positions on the specific provisions in the legislation, might make someone wonder if something is wrong with the president — if not serious age-related health problems, then just a general lack of "energy in the executive." Perhaps realizing the president's liabilities in this area, Jayapal is talking Biden up as the world's most enthusiastic and energetic dealmaker. "The president is the inspirer. He is the closer. He is the convincer. He is the mediator-in-chief," Jayapal said Tuesday after a meeting with Biden. "The president has been working incredibly hard to get everybody to a place where we can move this forward and finish this process."
Do you believe that? Do you see Joe Biden as the inspirer, the closer, the convincer?
Democrats are dancing around the fact that a $1.7 trillion to $2 trillion spending blowout is a solution completely unrelated to the problems the country actually faces right now.
New York Times editorial-board member Farah Stockman observes that in his rally in Michigan earlier this month, Biden used the word "job" or "jobs" at least 19 times. But the U.S. currently has 10.4 million open jobs and a seriously worsening labor shortage. We don't have a crisis of not enough jobs, we have a crisis of not enough workers. Dumping another $2 trillion in federal spending into the economy when inflation is raging feels like a formula to put more gasoline onto the fire.
What's really ailing the country? Besides the aforementioned economic problems of a supply-chain crisis, a worker shortage, unfilled jobs, and worsening inflation, U.S. home-heating bills are expected to skyrocket this winter. (Biden's special presidential envoy on climate, John Kerry, was in Mexico City this week promising, "When we switch from gasoline to electrified vehicles, there are going to be a lot of good-paying jobs here in Mexico because of the connection already of the automobile industry and our two countries." Did he misread some instructions from Biden to tout job creation in New Mexico or something?)
Crime rates are up. Apparently, most of Central America believes the U.S. has an open-door policy and a free day-care center at our southern border. We're going to pay $330 billion in interest payments on our national debt in 2021. Our schools are still trying to make up for a lost year of dysfunctional "distance learning" and outraging a lot of parents along the way by prioritizing critical race theory and far-too-explicit sex education over reading, writing, and arithmetic.
Is it any wonder that 52 percent of Americans think the country is worse off now than it was a year ago?
And oh, by the way, even as the pandemic's impact on our lives starts to fade, lots of people are walking around telling themselves that it is coincidental that a novel coronavirus most similar to those found in bats just happened to first emerge outside a Chinese-state-run laboratory researching novel coronaviruses most similar to those found in bats . . . a novel coronavirus that has yet to be found in any bats in nature.
ADDENDUM: Adopting Kevin Williamson's useful-reminder close to the Tuesday newsletter . . .
My National Review archive can be found here.
My Amazon page is here.
Listen to the Three Martini Lunch here, and the pop-culture-focused Jim and Mickey Show intends to resume in the not-too-distant future.
I'm on Twitter here. My work Facebook page is here. I have an Instagram account, but it's mostly photography, not really all that political.
To subscribe to National Review, which, as Kevin says, you really should do, go here.
To support National Review Institute, go here.