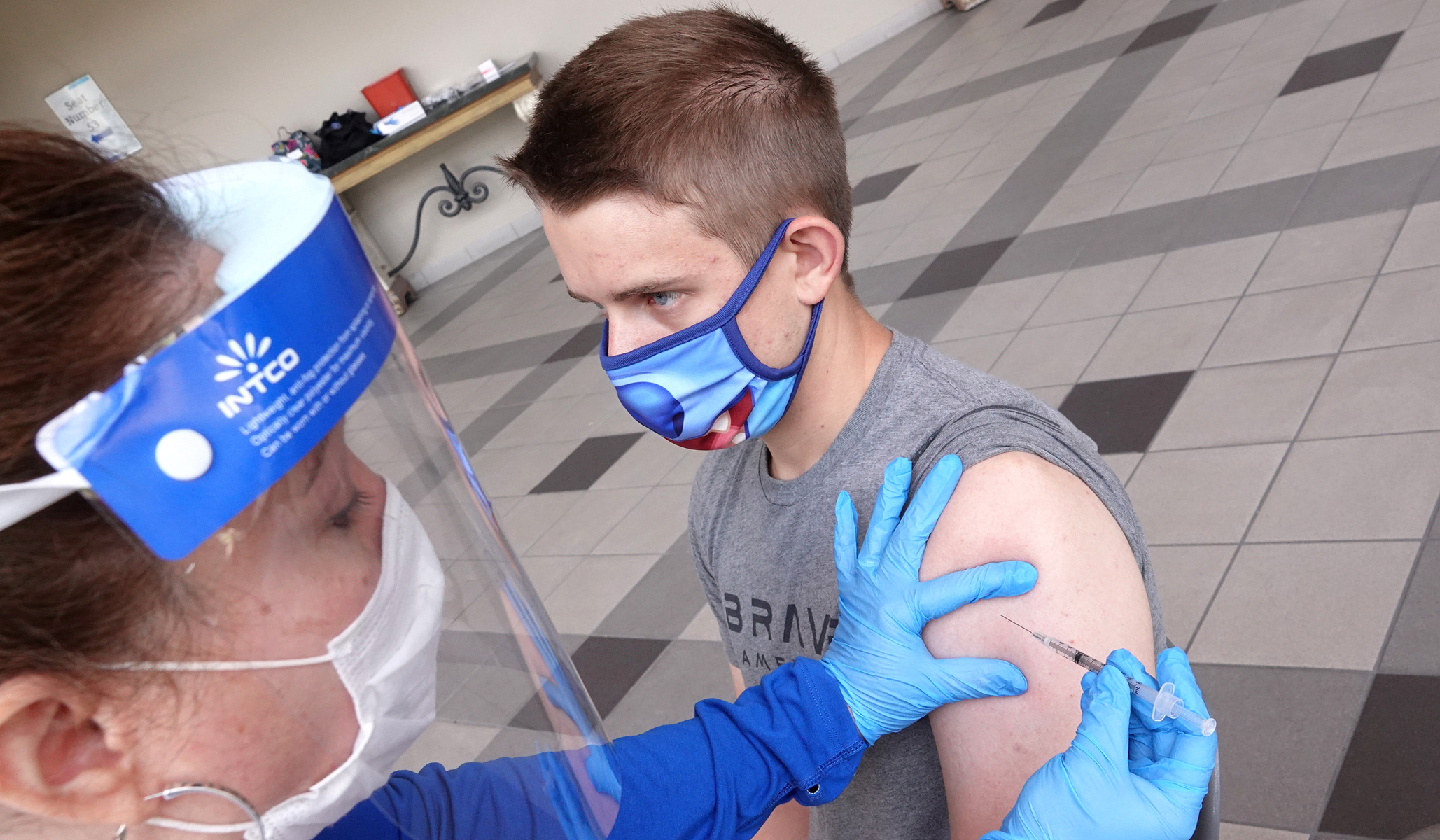 On the menu today: If cities, federal agencies, universities, and the Pentagon are going to mandate COVID-19 vaccination for all employees, shouldn't the vaccines have full FDA approval by now? And are we comfortable with employers' requiring employees to take a vaccine that hasn't been given the final stamp of approval from the FDA? Elsewhere, California aptly illustrates that while Republican-leaning rural counties have much lower vaccination rates, Democratic-leaning urban counties have much higher numbers of unvaccinated residents; New York City public-education employees prove why teachers' unions must be destroyed; and a restaurant irked by pandemic restrictions asks patrons to prove a negative.
Here Come the Vaccination Requirements . . . for Emergency-Use Vaccines
"No one's making anyone get a vaccine!"
No, but if you want to continue working for certain parts of the U.S. Department of Veterans Affairs, for the state government of California, or for the city of New York, you must get vaccinated — or submit to weekly testing to ascertain a person is free from COVID-19.
The Pentagon is likely to make COVID-19 vaccination mandatory for all U.S. troops once the available vaccines receive full approval from the FDA. As of July 16, 70 percent of active-duty troops have received at least one shot of a COVID-19 vaccine. The FDA has issued "emergency-use authorization" for the Pfizer, Moderna, and Johnson & Johnson vaccines, and the final authorization, called the Biologics License Application, is currently in a "rolling review" process. As the companies collect the medical data, they send it along to the FDA.
But this entire discussion dances around the fact that the "rolling review" process of the Biologics License Application doesn't make sense for these circumstances. Yes, we don't want anyone to cut any corners in the standard procedure for reviewing all of the collected medical data. But almost nothing about this process has been standard; the usual review process is designed to examine all of this data before the vaccines go in the arms of the majority of the population. More than 188 million Americans have already gotten one shot! More than 342 million shots have gone into arms! By the time the FDA formally approves the application, the pandemic will hopefully be effectively over in the U.S.
I suppose the FDA's explanation would be, "We can't just give it our Good Housekeeping seal of approval yet; this process usually takes years, and we're still looking at the data." But the average American, vaccinated or unvaccinated, is asking, "Wait, what are you looking for in this data and what do you expect to find? What, are you going to change your mind after more than 340 million needles have gone into arms? This vaccine's already in me. Whatever it's going to do is going to happen — it's not like I have the option of sucking it back out!"
Pfizer completed its rolling submission of the BLA in May 2021 and announced in mid July that the FDA granted "priority review" for the application — meaning that the goal date for a decision is January 2022. In a hearing a week ago, acting FDA commissioner Janet Woodcock wouldn't elaborate on any potential timeline for approval of the application.
(Also, while this isn't the biggest problem facing the Biden administration, it's nearly the end of July and Woodcock is still the acting commissioner of the FDA, with her nomination to formally head the agency held up by opposition from Senate Democrats.)
Our Andy McCarthy lays out why the vaccine requirements are likely to survive court challenges — as well as those at colleges and universities — provided they allow exceptions for religious or medical reasons.
A few hospital systems instituted mandates earlier this year. The Association of American Medical colleges noted that, "In April, Houston Methodist became the first health system in the country to require all its employees to get fully vaccinated. While most complied, the health system suspended 178 workers without pay for missing the June 7 inoculation deadline."
The argument against vaccine skeptics is that medical experts and doctors say the vaccines are safe and necessary to prevent serious complications from COVID-19 infections. The vaccine skeptics can point to the holdouts in the medical community and observe, with some accuracy, that not everyone who works in health care is convinced about the benefits and risks.
California's Not-So-Vaccinated Big Cities
A useful little follow-up to yesterday's post — and thanks to Meredith McGraw of Politico for the shout-out — illustrates how heavily urban and Democratic-leaning counties can have much higher percentages of their populations fully vaccinated . . . and yet still have much larger populations of remaining unvaccinated people than smaller, more rural, and Republican-leaning counties.
As of July 19, out of the ten least fully vaccinated counties in California, only two were won by Joe Biden in 2020 — Merced and Stanislaus counties. But those Trump counties — Lassen, Tehama, Kings, Del Norte, Yuba, Kern, Tulare, and Shasta — are all fairly rural and low in population. The county that ranks dead last, Lassen, is just 26.5 percent fully vaccinated — but the county's population of unvaccinated or partially vaccinated amounts to about 22,400 people. Trump carried Lassen, 74 percent to Biden's 23 percent.
It's a stark contrast to Los Angeles County — which Biden won with 71 percent to Trump's 27 percent. L.A. County ranks 15th in the state, with 52.4 percent of residents fully vaccinated. That sounds pretty good, until you realize that leaves about 4.7 million residents of L.A. County unvaccinated.
San Diego County — which Biden carried, 60 percent to 37 percent — is around the middle of the pack, at 42.8 percent fully vaccinated. But that heavily populated county still has 1.9 million unvaccinated or partially vaccinated residents.
Once-heavily Republican Orange County went to Biden in 2020, 53 percent to 44 percent, and 54.6 percent of Orange County residents are fully vaccinated — and sure, theoretically, almost all of them could be Biden voters. But that still leaves Orange County with roughly 1.4 million unvaccinated or partially vaccinated residents.
Having a million unvaccinated people in a more densely populated county is probably a bigger problem than having about 22,000 in a place such as Lassen County, which averages less than eight people per square mile.
By comparison, San Diego County has 735 people per square mile, L.A. County has 2,419 people per square mile, and Orange County has 3,807 people per square mile.
The county that has the highest vaccination rate in California is Marin County, which Biden carried, 82 percent to 15 percent. Marin has vaccinated 72.6 percent of its residents — but that still leaves about 70,000 Marin residents unvaccinated or partially vaccinated.
You can find the same phenomenon on the other side of the country. My home county of Fairfax County, Va., looks like a success story, with almost 76 percent of those age 18 and above having received at least one dose of a vaccine. But that remaining 24 percent amounts to about 240,000 unvaccinated Fairfax County adults — and we're a densely populated county, with 2,925 people per square mile.
Virginia's least-vaccinated county appears to be Lee County, in the southwest corner of the state, with a mere 32.3 percent of residents having received at least one shot. But the county only has 24,134 residents — so about 16,300 Lee adults are unvaccinated, a sum that is almost one-fifteenth the number of unvaccinated Fairfax County residents — and Lee County averages 59 people per square mile.
America's unvaccinated are a much more urban and suburban problem than most of the news coverage would have you believe.
Destroy the Teachers' Unions and Salt the Earth Where They Once Stood
In case you missed it yesterday, 40 percent of New York City Department of Education employees aren't vaccinated, which indicates that a lot of the "REOPENING THE SCHOOLS AS PARENTS WISH IS GAMBLING WITH THE LIVES OF TEACHERS" rhetoric over the past year was absolute horse manure.
ADDENDUM: A Huntington Beach restaurant that frequently objected to past pandemic restrictions has posted a new notice, "PROOF OF BEING UNVACCINATED REQUIRED."
How, exactly, are people supposed to prove that they're not vaccinated?