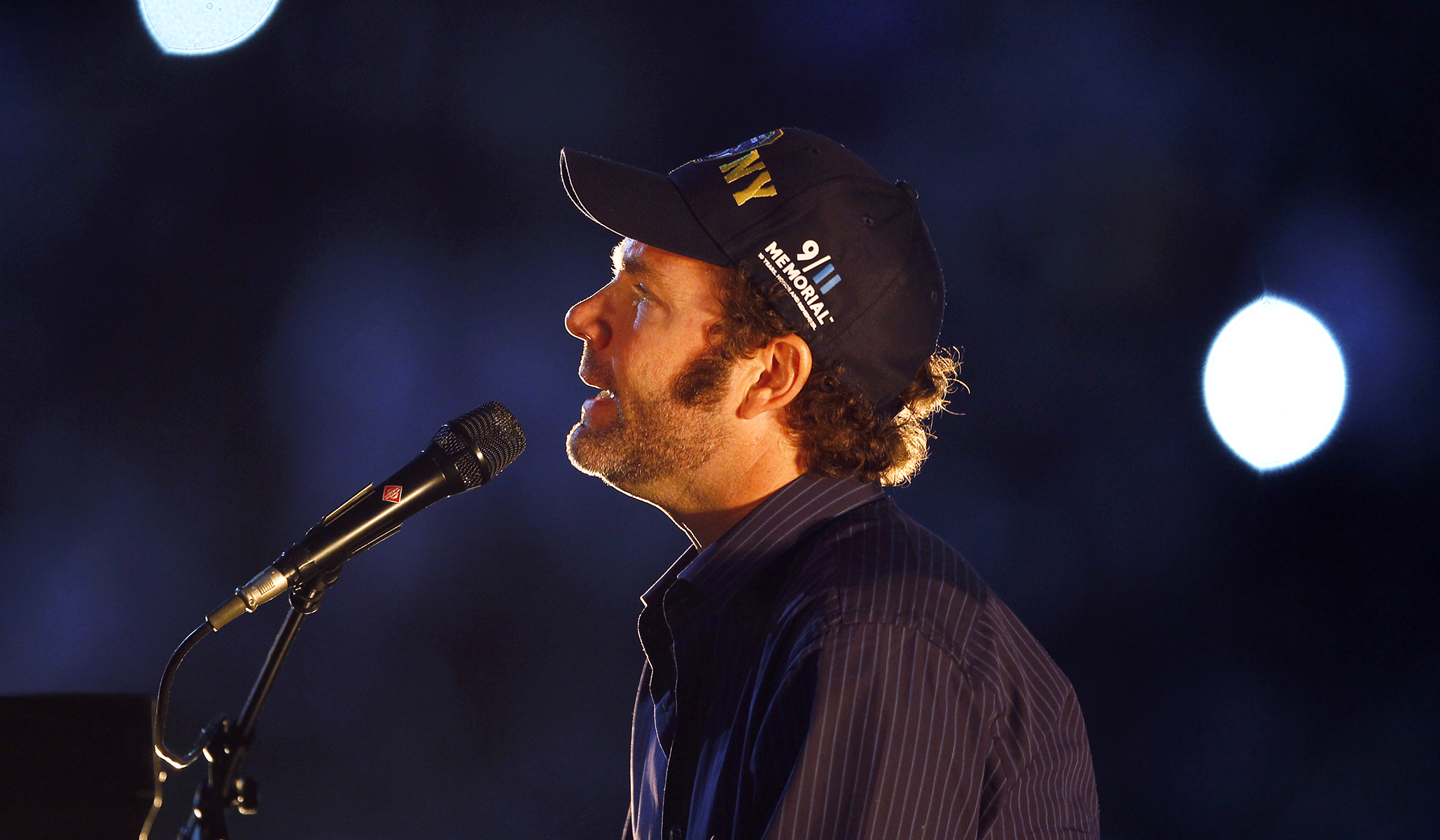 On the menu today: Singer-songwriter John Ondrasik (a.k.a Five for Fighting) is on a one-man cultural crusade to keep the abandoned American citizens, green-card holders, and Afghan allies stranded in Afghanistan in the forefront of the minds of the American public; the U.N.'s secretary-general offers a strikingly different tone in his general remarks than in his meeting with President Biden; U.S. allies in Europe reconsider their options; and a reminder about the persistent threat of home-cooked bioweapons.
A New Protest Song from John Ondrasik
Singer-songwriter John Ondrasik raises a good point about "Blood on My Hands," his new protest song about the plight of Afghans, which criticizes President Joe Biden and the U.S. withdrawal from that country. The pertinent question is not why he's so outspoken about the horrors witnessed in Afghanistan over the past six weeks; the better question is why the rest of the music industry is so uncharacteristically quiet about a brutal regime that is literally killing people for the crime of creating music.
In late August, Afghan folk singer Fawad Andarabi was dragged from his home and killed by the Taliban. One of Afghanistan's most prominent pop singers fled to Istanbul, leaving on a US military-evacuation plane to a base in Doha, Qatar. The Afghanistan National Institute of Music is closed, with no word on whether it will ever reopen. The Taliban are banning music in public again, like the last time they ruled the country, deeming it un-Islamic. Members of an internationally renowned orchestra of Afghan women and girls remain stuck in Afghanistan, after an attempt to get them out through Kabul's airport in the last days of the U.S. war failed. Ondrasik himself has heard from those still in Afghanistan about a music school that was burned to the ground.
"To this day, I don't understand the lack of an outcry, especially from the music community," Ondrasik said in a Monday morning interview. "Where are the benefit concerts? Where are the protest songs, the protests outside the White House? This is why I think tribalism has corroded our souls. . . . Why isn't Fawad [Andarabi] on the cover of Rolling Stone?"
Ondrasik said the inspiration for "Blood on My Hands" came at three distinct points during the early weeks of the crisis in Afghanistan. The first was the horrific sights of the chaotic evacuations in the first days after the fall of Kabul. The second came during a phone call from a friend whom Ondrasik describes as spending her career involved with humanitarian work all around the globe.
"She said, 'I'm organizing evacs for AmCits, LPRs, and SIVs,' and she's spitting out all these acronyms," Ondrasik recalled. "I asked, 'What's an AmCit?' and she said, 'That's an American citizen.' I said, 'You're going to risk your life, and private citizens like you are going to do the same, to rescue Americans we left behind?' And this is a tough person, and she started crying, and she said yes. I thought, 'What is happening? What world are we living in?'"
"The song sort of wrote itself when the president came out and gave his 'extraordinary success' speech," at the end of August, Ondrasik said. "Most of us were insulted. It's hard for someone like me to criticize the military. [Chairman of the Joint Chiefs of Staff General Mark] Milley and [Secretary of Defense Lloyd] Austin, I figured they would say, 'this is not an extraordinary success, but here's the plan.' And then they didn't. They echoed what Biden said, and that was scary. I've always felt that our presidents may not have the greatest intentions, but that the military were the adults in the room. When I saw that, I realized, this is spouting the company line, like some hack in the basement."
Indeed, "Blood on my Hands" calls out members of Biden's cabinet as much as the president himself.
Winkin' Blinken

Can't you look in my eyes?

Willy Milley

Tell me when did you decide

'This we'll defend'

Your sacred motto

Now means . . .

'Never Mind'

General Austin

Is there no honor in shame

Can you spell Bagram

Without the letters in Blame
The fact that Milley and Austin played along with Biden's implausibly rosy assessment "really made me angry, more at Milley, and Austin and [Secretary of State Antony] Blinken than at Biden," Ondrasik said. "To me, it is inexcusable that there have been no resignations, and no one has been fired, the lack of accountability."
Ondrasik said the song has already garnered a strong and supportive reaction, although it is not really a song that can be enjoyed.
"The word I've heard a lot from Americans as they look at Afghanistan is 'ashamed,' not 'angry,'" Ondrasik says. "I didn't want to write this song. I don't want to sing it, but I think we owe it to ourselves, and we owe it to the Afghans. We have to admit our complicity in this."
This week, Ondrasik is going on his first major concert tour since the pandemic hit, backed by a string quartet — and while he will perform "Blood on my Hands," he will perform it alone, after his main set. Ondrasik says he knows the irritation people can feel when an artist not known for politics suddenly gets up on a soapbox.
"This song came in just the last couple weeks, and a lot of people probably don't even know about it," he says. "I have four people with me on stage, so we're going to do my set, and after my show, I'm going to invite anyone who would like to stay, please stay; if you're not comfortable, thank you. . . . And if the venue won't let me do it, then we'll do it in the parking lot."
Ondrasik is involved with several groups attempting to help Americans in Afghanistan and Afghan refugees, including the Nazarene Fund. His concert tour dates can be found here.
Elsewhere, Samaritan's Purse offers an update on the services it is providing to Afghan refugees who are currently in camps in eastern Europe — medical care, haircuts, blankets, kites, balls, and other toys for the children. And Team Rubicon is currently supporting the management of donated goods and setting up the logistics at each donation point for collections and distribution at seven U.S. military bases hosting Afghan refugees.
Meanwhile, over at the United Nations . . .
President Biden will address the United Nations General Assembly today. Yesterday, after an evening meeting with Secretary-General António Guterres of the United Nations, Biden declared that, "And the Secretary-General and I share a strong commitment to the principles of human freedom and human dignity on which the U.N. was founded." Biden did not mention Afghanistan, and the country was not mentioned in the official readout of Biden's meeting with Guterres, but the two men "reaffirmed the strong partnership between the United States and the United Nations which, in particular, is based on common values that include respect for universal human rights, fundamental freedoms, and international law. They discussed the importance of multilateralism and the defense of democracy and the rules-based international order."
Oddly enough, in an interview two days ago, Secretary-General Guterres had plenty to say about Afghanistan.
"The institutions we have, have no teeth. And sometimes, even when they have teeth, like in the case of the Security Council, they have not much appetite to bite," Guterres said. "We see the terrorist groups emboldened by the situation in Afghanistan, the victory of the Taliban." Asked what his message to member states was, Guterres said that, "My main message? It's time to ring the alarm bell. We are on the verge of a precipice and we are moving in the wrong direction. Look at [COVID-19] vaccination, look at the difficulties in bringing together all countries to make sure that we make COP26 [the climate-change conference] a success. Look at the multiplication of conflicts we have witnessed in the last few months. We need to change course, and we need to wake up. So, my message to the leaders? Wake up, change course, unite, and let's try to defeat the enormous challenges we are facing today."
On Friday, the State Department's principal deputy spokesperson, Jalina Porter, said that in total, between the charter flights and the overland crossings, 36 U.S. citizens and 24 lawful permanent residents have departed Afghanistan since August 31. She said that nearly three weeks after the last U.S. forces left the country, the State Department remained unable to provide precise figures on how many U.S. citizens and lawful permanent residents were still in the country because "the situation is very dynamic, and as we have more precise and specific details, we'll be able to provide those."
Porter also declared that, "Defending human rights and democratic values at home and around the world is essential to renewing the United States' national strength and advancing our interests."
This morning, a new report from Amnesty International concluded that, "In just over five weeks since assuming control of Afghanistan, the Taliban have clearly demonstrated that they are not serious about protecting or respecting human rights. We have already seen a wave of violations, from reprisal attacks and restrictions on women, to crackdowns on protests, the media and civil society. . . . Given the prevailing climate of fear, lack of mobile connectivity in many areas, and internet blackouts enforced by the Taliban, these findings are likely to represent just a snapshot of what's happening on the ground."
How About Those Strong Alliances, Huh?
Meanwhile, the president who pledged to restore U.S. alliances has apparently alienated Europe so severely that they are reevaluating their long-term interests.
"There is of course in Europe a growing feeling that something is broken in our transatlantic relations," Thierry Breton, the EU commissioner for internal markets, told the Financial Times. He added that, "It's true that we hear some voices in Europe saying that probably after what happened over the past two months, it may be a good idea to reassess everything we are doing, and our partnership. . . . In this council, there are a lot of things that we can see pretty clearly what we can bring and will bring to the U.S., maybe it's not always clear what the U.S. can bring to us."
ADDENDUM: Elsewhere in the Financial Times, a look at amateur or hobbyist "garage scientists" who are using CRISPR technology to edit and manipulate DNA, and how easily the technology could be used to cook up new biological weapons that could be used for "mass or targeted attacks."
Someone warned you about all this back in November!