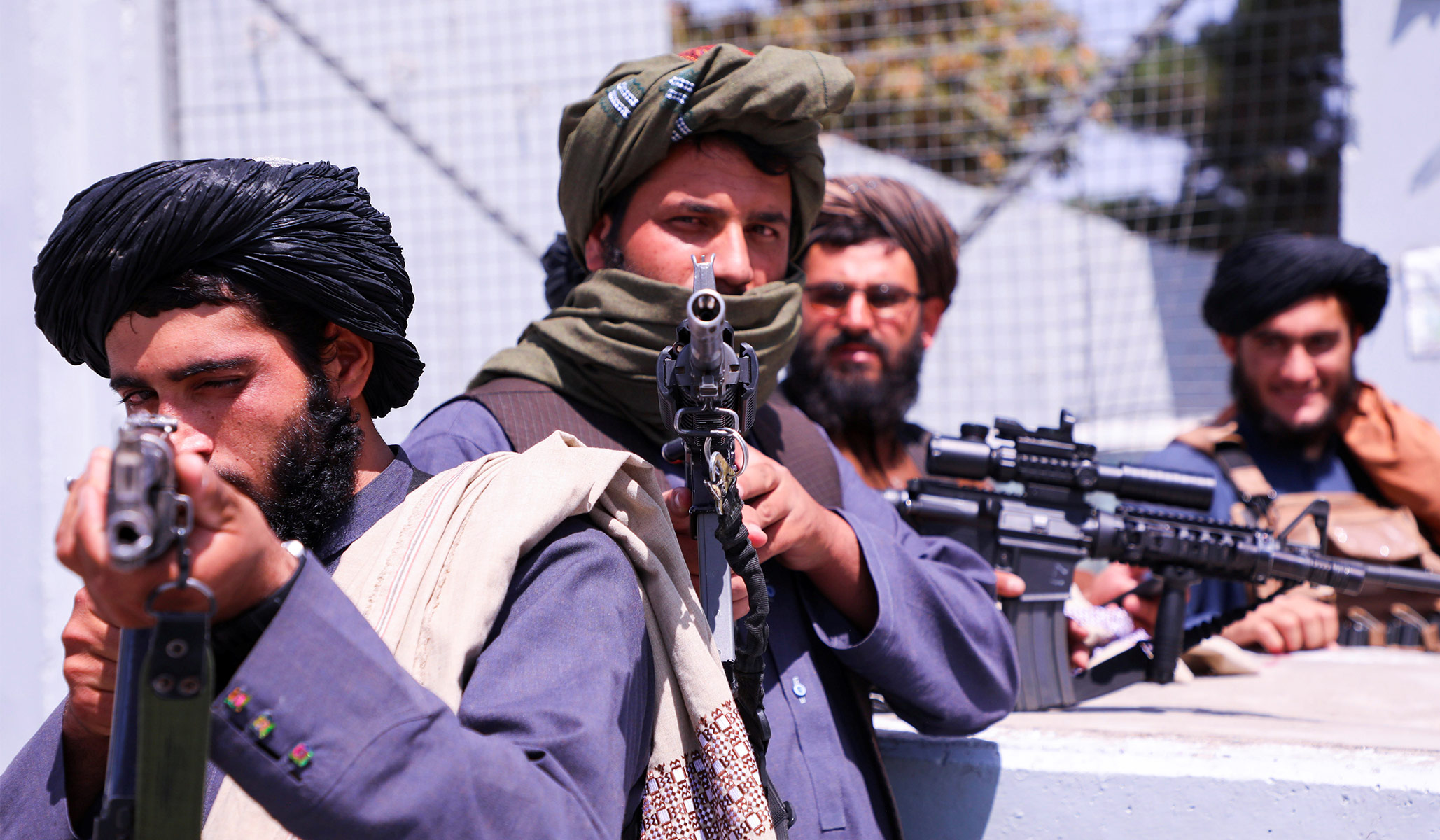 On the menu today: The Taliban are methodically collecting as much information about the Afghan population as possible, looking for anyone who has, in their eyes, been tainted or corrupted by Western influences or values. Hiding Afghan allies of the U.S. are now wondering if it is worth it to try making the dangerous journey to sneak into Pakistan — although that option offers a separate plethora of deadly risks.
Trapped Afghans Are Running Out of Options
Americans who are trying to get Afghan allies out of the country continue to hear horrific stories from those they're trying to rescue. These stories are difficult to verify, but bit by bit, similar accounts from different sources start to align.
A Wednesday press conference by Qari Fasihuddin, the acting army chief in the Taliban regime, barely caused a ripple in the U.S. news media. Fasihuddin was one of three top deputies on the Taliban military commission, the commander of nine northern provinces, and apparently earned the nicknames "Qari the Conqueror" or "Conqueror of the Five Lions." He was considered the "shadow governor" of the region, and in 2015, the Afghan government erroneously reported he had been killed in battle.
But Fasihuddin's comments set off reactions ranging from deep concern to panic among the Afghans in hiding, as the new acting army chief pledged that "those who defend democracy in Afghanistan" and oppose the Taliban would be suppressed, and that a new, regular, strong Taliban army would be taking control and defending the borders.
Many hiding Afghan allies of the coalition and members of the former government interpreted that as an order to execute anyone associated with the old government, the U.S. military or the coalition, Western NGOs, or Western contractors.
One of the Americans involved in the effort to evacuate hiding Americans and Afghans passed along this account: "The Taliban have sent notices out to houses, saying the residents must fill out all the questions on the form correctly or suffer the consequences. The Taliban is calling this a 'house passport.' People living in the house must fill in the information of past positions and work, location of where the work was done, the organization they worked for, etc. They are asking these questions in an effort to implicate people who worked in democracy building, human rights advocacy, or basically any U.S.-financed project that runs counter to the Taliban philosophy."
My reader who's been telling me about his efforts for the past month or so offers a similar account. "Two of my guys reported separately that Taliban outside Kabul are ordering adults to provide their work histories, so the Taliban may determine if they were involved in any 'anti-Taliban' efforts in the last twenty years," he said. "The questioning has not extended into Kabul, but they believe it's only a matter of time and logistics. University lecturers and professors have been ordered to submit their resumes and curriculum vitaes to Taliban officials for review to determine if anyone had been teaching Western culture and ideas. I have three guys on my list who went on to teach at university. One of them told me he is not going to comply, but is unsure of the consequences." (For background on this reader and his efforts, see here, here, here, here, here, here, here, here, here, and here.)
The declaration from the new army chief is forcing some Afghans who are in hiding to consider whether they should try making a run for it, toward the south and east.
"The overnight panic from my crew coincides with the alleged message from Qari Fasihuddin. . . . Some of my guys have been hearing they should make a run for Pakistan as soon as possible," my regular reader says. "My phone lit up overnight with messages from some of my guys asking if they could still make it out with us anytime soon. They can't. The northern borders are still closed and the Taliban [are] not allowing private charter evacuation flights. . . . I've had two university lecturers, a media company employee and two engineers message me urgently in the last 12 hours about whether to run to Pakistan or wait for an evacuation from us. Five different guys all asking the same question within a matter of hours seemed unusual."
Both my regular reader — let's call him "Samaritan," since he's a big fan of Samaritan's Purse — and my newer source — let's call this one "Archangel" — are offering similar accounts of the obstacles for Afghans who want to try sneaking over the border into Pakistan.
Archangel reports that, "Apparently, the corruption index has not improved in Afghanistan, which could be to our advantage. Thirty-day visas into Pakistan are being sold at the moment for $500 USD per person. Certain organizations are telling their Afghan current employees to buy these and get to Islamabad, telling their employees they will reimburse current employees the cost of the visas. I'm hearing some of these organizations will take them on to Albania or North Macedonia from Pakistan."
Samaritan notes that making a run for Pakistan is trading one set of dangers for another. "The trip to Pakistan takes one through at least a dozen checkpoints, a 'maybe/maybe not' border crossing, Pakistan security patrol 'fees' and the lightening of your wallet by several thousand dollars in such 'fees and expenses.'" He continues, "It's hard to hide in the rural areas and small villages, which makes it easier for the Taliban to find Afghans who worked with the U.S. and NATO forces. The adage, 'if you want to disappear, hide in a big city' has been proving mostly true so far. But it can't last forever."
A week ago, The Guardian offered an account of the Taliban executing a pregnant police officer in a province a bit west of Kabul:
Negar Masumi, a female police officer with 15 years of experience, was determined not to flee when the Taliban took control of her home province of Ghor in central Afghanistan.

On Saturday night, gunmen, who called themselves Taliban mujahideen, stormed Negar's home. They took her husband and four of her sons into another room and tied them up. Then they beat Negar with their guns and shot her dead, according to a family member, who spoke on condition of anonymity for fear of retaliation.

Negar, who was eight months pregnant, could not believe she would be killed because of her job.

"She didn't listen to our warnings. Today we buried her bruised and torn body," says her relative.

The Taliban denied responsibility for her death and told local media that they were investigating the killing. However, Hassan Hakimi, a human rights activist from Ghor province, who has now left Afghanistan, has heard reports that this is the Taliban's new strategy to avoid responsibility. "The Taliban order their fighters to kill targets secretly and involve their Talib relatives." That way, he says, the Taliban can argue that it was a family feud.
Meanwhile, Afghans can see that the Taliban are offering a version of a polite and nice face to international journalists, while returning to their brutal methods away from cameras:
Saeed Shinwari, one of the stars of Afghanistan's ToloTV, has not left its headquarters in the center of Kabul for a month. Every day, he wakes up wondering whether the Taliban might take his life, recalling the day the fundamentalists entered the Afghan capital on August 15 and searched his house. A week earlier, the secret services of the now toppled former government had warned him he was on a hit list. "I've assimilated the fact that the Taliban will kill me in the end," he said flatly, further disheartened by the fact that he has no contacts to get him out of the country.

. . . He is aware of the public relations campaign the Taliban have deployed, targeting international journalists. "One thing the [former government] and the Taliban have in common, or actually every government in this country since the mujahideen, is that they love the foreign press, but they hate the local media," he said. "If the Taliban stop you," he told this reporter, "they will treat you with respect; if they stop me, they will most likely beat me up because of my shows and my career."
"The clock is ticking," Samaritan declares. "The U.S. government needs to step up and stop with the milquetoast diplo-speak. The Taliban aren't afraid of us. They should be, but for some reason this administration is not conveying that message."
On Wednesday, State Department spokesman Ned Price announced that, "On September 14th, the department assisted one U.S. citizen and two [legal permanent residents] in departing Afghanistan via an overland route. As we have done in the past with these overland routes, we provided guidance to them, we worked to facilitate their safe passage, and embassy officials greeted them once they had crossed the border. . . . When it comes to the overland routes, a total of seven U.S. citizens and 13 LPRs have departed overland since August 31st."
Asked about the number of Americans and legal permanent residents trying to get out, Price answered, "When it comes to the number of American citizens in Afghanistan who wish to leave, the secretary spoke about this yesterday and on Monday, but this is really nothing more than a snapshot at any given time. And it's a snapshot because this figure is going to be dynamic."
Asked about the United Nations Human Rights Commission's declaring that it had received multiple allegations that the Taliban have been violating women's rights and conducting searches for those who worked with U.S. companies and security forces, Price assured the press that the State Department was on the job.
"We are always watching very closely what is going on inside of Afghanistan," Price said. "Every single one of these reports, including the reports you referenced from the UN, are ones that we take extraordinarily seriously, ones that we will vet to the best of our ability to determine if there is, in fact, a legitimate basis for these claims. And then we have made clear that we will hold the Taliban accountable not only to their own commitments, commitments they have made to us privately, but also they have made to the international community publicly, and those commitments include to forego retaliation, to forego reprisals, to respect the basic rights of the people of Afghanistan."
ADDENDUM: In case you missed it yesterday, an examination of two top officials at the FDA announcing their retirement and declaring in The Lancet that they don't think COVID-19 boosters are needed for Americans at this time, other than for those who are immunocompromised.