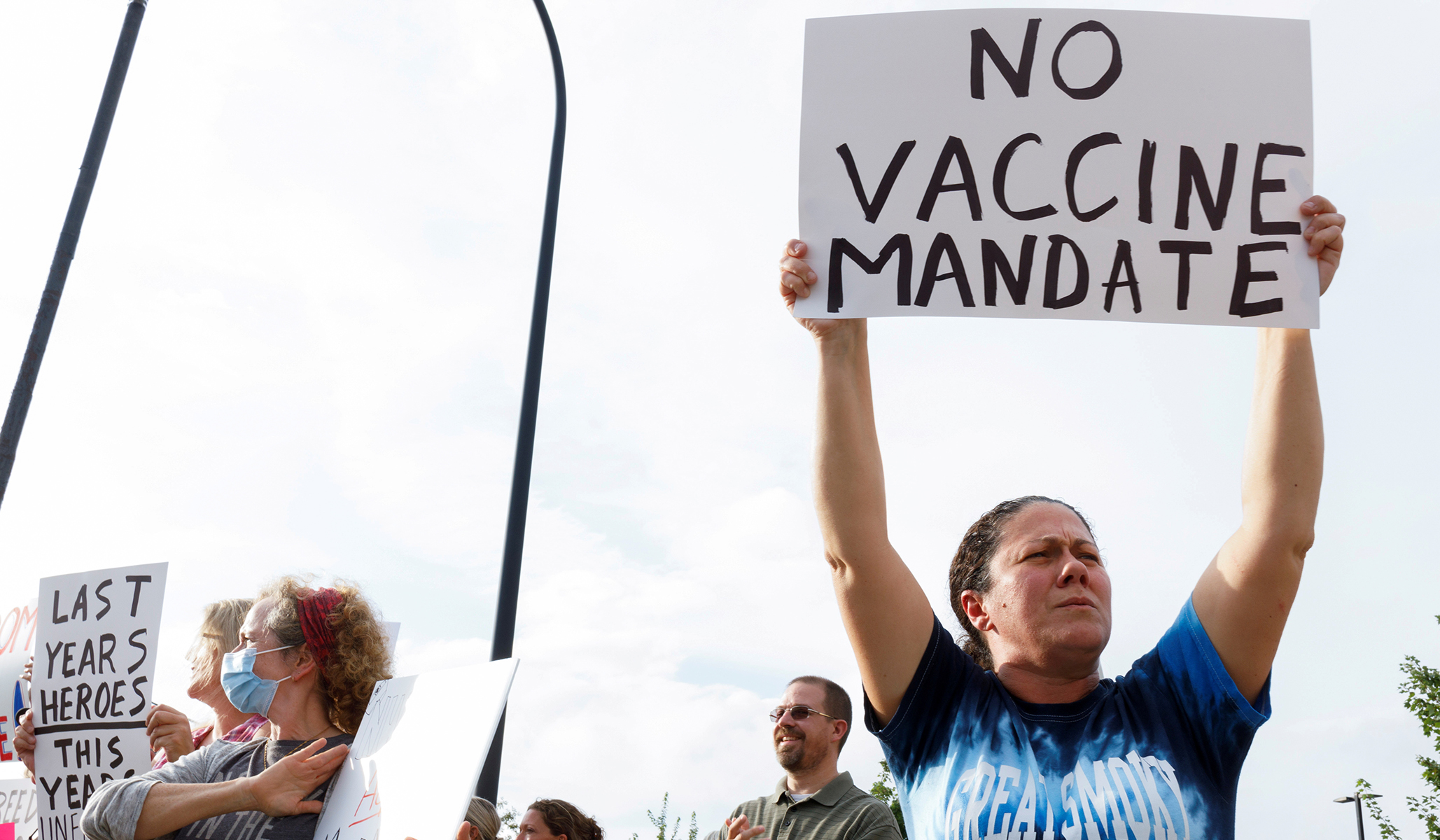 On the menu today: Hospitals, nursing homes, police forces, firehouses, and prisons are left to grapple with the ramifications of the Biden administration's decision to require businesses with more than 100 employees to mandate COVID-19 vaccination or run weekly tests. Also, there's a special opportunity for that exceptionally small demographic of people who can't get enough of me.
The Unions Resisting the Vaccine Mandates
You probably heard about the New York hospital that has paused its maternity services as employees quit instead of getting the COVID-19 vaccine. "Six employees at the Lewis County Health System have resigned, and seven more are unwilling to get vaccinated, meaning Lewis County General Hospital will stop delivering babies for the time being."
Little of the coverage of this hospital has noted that Lewis County has fewer than 27,000 people, the fourth-least populated county in New York, and there's been little follow-up coverage noting that ten other employees have resigned, while another 13 chose to get vaccinated.
No doubt the "get vaccinated or get fired" approach feels good to the vaccinated who, in President Biden's words, want to tell the unvaccinated, "Our patience is wearing thin." But will Americans be as eager to enforce this policy when the people who chose to leave their jobs over their vaccination status have vital duties, especially amidst a shortage of trained workers?
Is the vaccine mandate worthwhile if it exacerbates the pressure on hospitals that it was supposed to relieve?
Many public-health experts paint the remaining unvaccinated as ignorant, paranoid, and uninformed about how vaccines and viruses work. But do those labels apply to health-care workers who don't want to get a COVID-19 vaccine?
For example: "The Michigan Nurses Association remains opposed to mandates, saying they will drive vaccine-hesitant nurses to quit rather than submit to inoculation. The union contends such decisions are 'best decided democratically by health care workers themselves and need to be subject to collective bargaining.' A recent survey by the American Nurses Association found that roughly 13 percent of nurses did not plan to get vaccinated or remained unsure." The Henry Ford hospital system in Michigan can now boast a 98 percent vaccination rate among its staff — but it also just announced it was closing 120 beds across five hospitals because of a staff shortage. The hospital system didn't say the staff shortage is driven by the vaccine mandate, but clearly the world has nurses and medical staff who don't want to get vaccinated.
A survey of University of Cincinnati Medical Center nurses conducted by the Ohio Nurses Association in August found that 136 out of 456 nurses who responded said they would quit rather than get vaccinated. In San Diego, "health care providers have reported over 1,700 requests for exemptions from the vaccine requirement — most of them based on religious objections."
What if those needed workers quit, as some in Alabama fear?
According to Dr. Don Williamson, president of the Alabama Hospital Association, a few hospitals in the state have already opted for mandatory vaccinations, and the hospitals that haven't strongly encourage them.

"Some of them have gotten over 80 percent of their employees vaccinated without going the mandatory route," Williamson said. "So what we want to see is everybody get vaccinated, and we want that to happen in a way that doesn't force people to make a dichotomous choice to either stay in health care and get vaccinated or get out of the health care system."

If some health care workers would rather quit than get vaccinated, it would only further contribute to what Williamson called a "dire" staffing shortage in the state. It would also further exhaust an already overworked and fatigued health care system.

"We are short-staffed in every department," Harris said. "And so it is very draining. It's physically draining, but it's also mentally draining."

Williamson said there may be exceptions for why a health care worker can opt out of the White House's new vaccine mandate, but until we know what those rules and exceptions are, it's premature for health care workers to jump to the conclusion that they are going to have to be vaccinated.

"Rather than getting so invested in the idea that 'I'm going to have to quit because I'm not going to be vaccinated,' pause. Don't make any commitments. Don't make any life plans based on a presidential proposal," Williamson said.
It's also not just nurses. Back when Biden announced that all nursing-home staff would be required to be fully vaccinated against COVID-19, the American Health Care Association and the National Center for Assisted Living warned that, "Industry leaders are deeply concerned that it may cause a mass exodus from the nursing home profession, leaving frail seniors without the caregivers and access to care they need."
And keep in mind, a lot of nursing homes and long-term-care facilities are short-staffed already:
Pete Van Runkle, head of the Ohio Health Care Association, which represents the state's for-profit long-term care facilities, fears staffing shortages in the Buckeye State. A facility in Ohio on average has 19 open positions it can't fill, according to a recent Ohio Health Care Association survey. The mandate could make things worse, Van Runkle said.

"I'm scared to death of what that's going to look like," he said.
In Washington, D.C., certain firefighters and EMTs don't want to get vaccinated:
Will Jones III, a five-year department veteran, and D.C. FEMS Sergeant Christopher Bernhard sent an email to several Advisory Neighborhood Commissioners on Monday asking for their support. The two argued that the vaccine requirement could cause a drastic reduction of the city's firefighter force and impede the department's abilities to respond to emergencies. According to their email, an estimated 900 workers — about 48 percent of the department's total staff — have not received a COVID-19 vaccine.
A local branch of the International Association of Fire Fighters in Washington State told Governor Jay Inslee that, "We are against mandatory vaccinations that strip away our members' right to choose and would also lead to them to be terminated from a career they have worked hard for and served selflessly to our communities, even during this pandemic."
Police unions across the country are also resisting requirements that all staff get vaccinated:
In Newark on Thursday, police and fire unions from across New Jersey protested against the mayor's vaccine mandate outside city hall. Police unions from Chicago to Richmond have pushed back against mandates in their cities. In Portland, Oregon, the local police union got its members exempted from the city's vaccine order and a group of police and firefighter unions are suing Gov. Kate Brown to block the state's vaccine requirement for its workers.
And mind you, in some of these police forces, the percentage of workers vaccinated is significantly lower than in the public at large: "An LAPD spokesperson declined to comment on the suit on Monday, but said that as of September 3, 47 percent of LAPD staff were fully vaccinated, and 54 percent had received at least one dose."
U.S. vaccination supporters want to see as many people vaccinated as possible. But are they willing to fire significant numbers of nurses, nursing-home workers, firefighters, emergency first responders, cops, and prison guards in order to enforce the mandate?
Also, it's worth keeping in mind that while COVID-19 dramatically increased the pressure and stress on nurses, the phenomenon of hospitals needing more nurses predates the pandemic. It will probably not surprise you that dumb regulations are a persistent problem, particularly in places such as California:
California is not part of the interstate nursing compact, which allows licensed nurses from elsewhere to practice here. In 2020, California loosened its "scope of practice" rules for nurse practitioners. It still imposes too many limits on other nursing-related and medical professionals.

That's the right thing to do, although it shouldn't have taken a public health crisis to force the state to waive rules that hinder the public's access to necessary health care. Unions representing health care workers promoted many of these regulations as a way to limit competition and drive up salaries, so it was predictable that they ultimately would result in staffing shortages.

If occupational-licensing rules must be relaxed because of the pandemic, then why shouldn't they be relaxed all the time? In addition to sunsetting unnecessarily burdensome regulations, the Legislature and governor should evaluate the state's education system, which limits the ability of Californians to receive nursing degrees. It's time to reform the health care education system.

For years, the number of qualified applicants to the state's public nursing schools have exceeded the available slots. Yet the California Board of Registered Nursing appears to have limited the number of slots in private nursing programs out of concern that they will displace students from public universities. The state should instead encourage private schools to relieve the training bottleneck.
We have people who want to become nurses and who are qualified to become nurses . . . but whom regulations and nursing schools will not allow to become nurses. In many ways, a society gets the problems it deserves.
ADDENDUM: If you're an NRPlus subscriber, I'll be doing a Zoom call with readers this Thursday at 4 p.m. Eastern. If you're not an NRPlus subscriber . . . what are you waiting for? You can get a year of NRPlus and a year of the print magazine for just $75 right now — that's 42 percent off! (If you're grumbling that we're holding the call on Yom Kippur, that's entirely my fault; I pitched that day of the week and completely forgot it was a Jewish holiday.) The high muckety-mucks at NR are picking 50 NRPlus members to join; if you're an NRPlus member, check your email for the registration information. I think it is highly likely that the topics will be Afghanistan, the COVID-19 pandemic, and the Wuhan Institute of Virology.