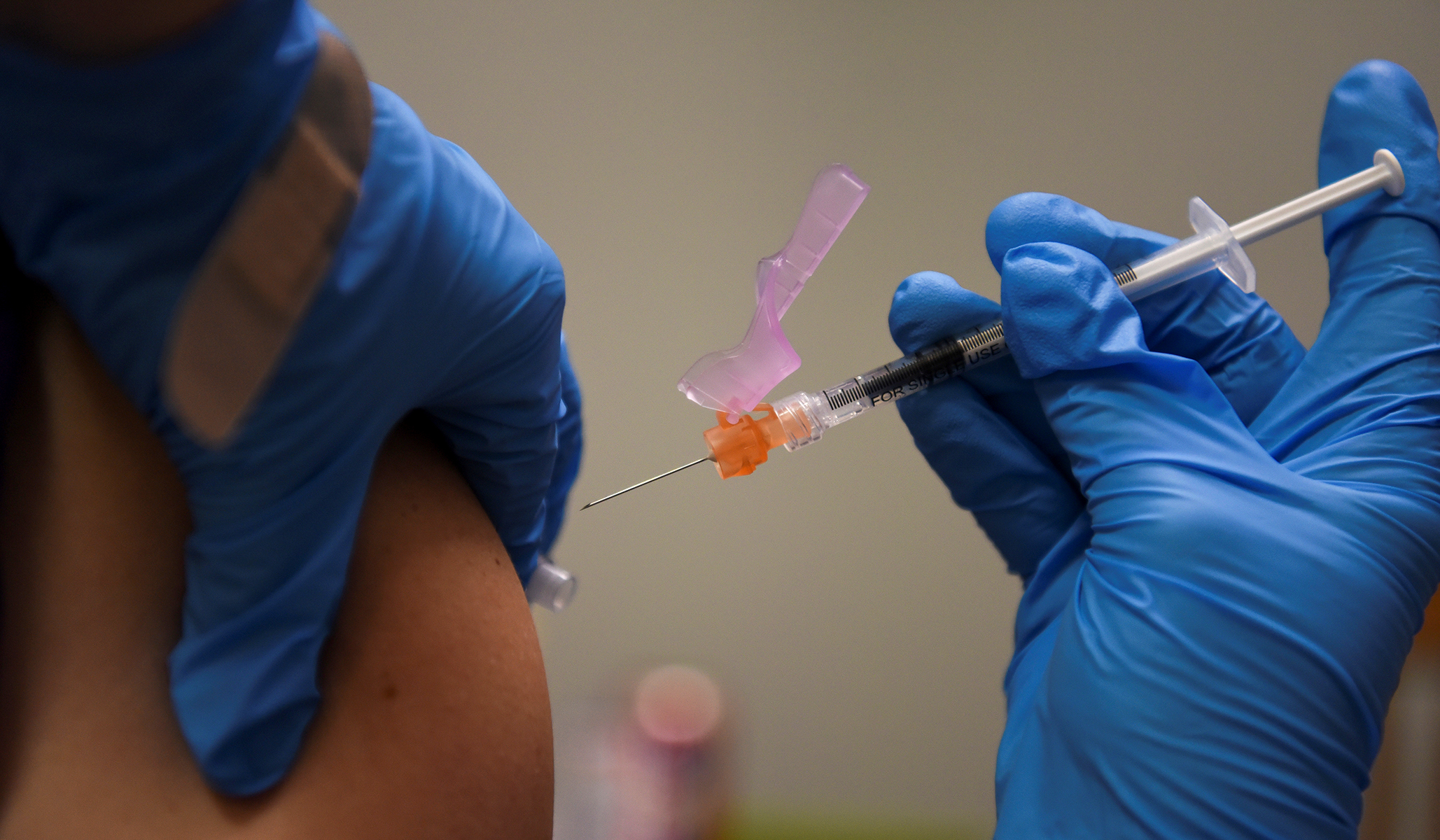 On the menu today: What you need to know about boosters, and sorting through the U.S. government's muddled and conflicting guidance on who needs a booster and when; a bit of spiking the football on the teachers' unions and that big concert in Chicago; and further evidence that the Wuhan Institute of Virology was doing research that it wanted to keep secret from the rest of the world.
How the CDC and FDA Have Made a Mess of the Messaging on Boosters
Nine days ago, the World Health Organization and its director, Tedros Adhanom Ghebreyesus, called for halting the use of COVID-vaccine boosters until at least the end of September. "I understand the concern of all governments to protect their people from the Delta variant. But we cannot accept countries that have already used most of the global supply of vaccines using even more of it."
The problem is that on July 7 — about five weeks ago — the Israeli Ministry of Health announced that, "since June 6th there was marked decline in the effectiveness of the vaccine in preventing infection (64 percent) and symptomatic illness (64 percent). This decline has been observed simultaneously with the spread of the Delta variant in Israel. Nevertheless, the vaccine maintains an effectiveness rate of about 93 percent in preventing serious illness and hospitalization cases."
We knew there was a good chance that the COVID vaccines would lose effectiveness over time. We knew there was a chance that a variant might come along that the vaccines couldn't fight off as well. But it's fair to wonder how many medical experts expected this much decline in effectiveness against symptomatic illness this fast.
Infection or symptomatic illness are not going to be major problems for most people, particularly those who are young and healthy. But for the immunocompromised and the elderly, a reinfection could turn into more serious problems. Yet in the name of global fairness, the WHO was effectively discouraging vaccinations among those most vulnerable to the Delta variant.
Government agencies, public-health experts, and vaccine manufacturers have offered some spectacularly mixed messages over the past six weeks. The day after Israel issued its warning about declining effectiveness, the CDC and the FDA issued a joint statement: "Americans who have been fully vaccinated do not need a booster shot at this time." But the following day, Pfizer Pharmaceuticals issued a statement declaring that, "based on the totality of the data they have to date, Pfizer and BioNTech believe that a third dose may be beneficial within 6 to 12 months following the second dose to maintain highest levels of protection."
Keep in mind that the first vaccinated Americans got their first shot in mid December and were fully vaccinated by mid January — meaning they were hitting the six-month point in mid July. For perspective, six and a half months after President Joe Biden's second shot was July 25.
As July turned into August, the federal government's message was "you don't need a booster" — even though each day, more Americans stepped over that six-month threshold. The folks who were vaccinated first were front-line health-care workers, residents and staffers at long-term-care facilities, and the elderly and the immunocompromised — the ones we least want to see experiencing a breakthrough infection.
Yes, the government mentioned the guidance could change, but it didn't exactly emphasize that the guidance could change to "go get a booster" within a matter of weeks. Biden said on July 29 that, "Many of you are wondering if you'll need a booster shot to add another layer of protection. As of now, my medical advisors say the answer is no. No American needs a booster now."
Yesterday, the FDA ignored the WHO's requests and authorized "an additional dose in certain immunocompromised individuals, specifically, solid organ transplant recipients or those who are diagnosed with conditions that are considered to have an equivalent level of immunocompromise." The agency emphasized that "other individuals who are fully vaccinated are adequately protected and do not need an additional dose of COVID-19 vaccine at this time." (Sharp-eyed readers will notice that the FDA has stopped describing the fully vaccinated as "protected" and is now describing the fully vaccinated as "adequately protected.")
And now a study from the Mayo Clinic offers bad news for those of us who got the Pfizer vaccine. The good news is that both the Moderna and Pfizer vaccines will keep you out of the hospital. The bad news is that, "In July researchers found Moderna's vaccine was 76 percent effective at preventing infection among those fully vaccinated while Pfizer's was 46 percent. Researchers noted that in July, cases of the delta variant became prevalent in states involved in the study."
How safe are those vaccinated with Pfizer going to be in September? By Halloween? By Thanksgiving or Christmas? Will there be a point where the vaccine won't keep you out of the hospital? Even if Delta Plus is just a slightly different version of the "regular" Delta variant, will our vaccinations be sufficiently protective against the Lambda variant or some other future variant?
There are some definitely not-insane-or-quack-ish medical experts who think that the virus is spreading quite a bit among vaccinated people, that a surprising number of vaccinated people are getting sick from breakthrough infections — although thankfully not dying — and that we should be rolling out boosters to the most vulnerable on a massive scale, ASAP. As Harvard epidemiologist Michael Mina said to New York magazine:
Senior citizens, as they age, don't have the cells to retain immunological memory very well. Now, if you keep getting vaccinated over five, six years, maybe they can start to build up a much greater cushion of protection. But so far these senior citizens and elderly people in our country and around the world have only been vaccinated twice. Without boosters, I think we should expect that their immune memory will start to wane by the fall.
If the 44 million American senior citizens who are fully vaccinated are going to need boosters in the fall, it is probably a good idea to start openly discussing this now — instead of mid August FDA statements declaring that "individuals who are fully vaccinated are adequately protected and do not need an additional dose of COVID-19 vaccine at this time."
In this context, it is hardly surprising that at least a million Americans have decided to get ahead of the curve and get a third shot. CDC director Rochelle Walensky is not pleased with this, declaring at the White House yesterday that people getting unauthorized third shots "undermine our ability to monitor safety in these contexts. So, we are asking people to follow our guidance, to follow what [the Advisory Committee on Immunization Practices] will say and the FDA will say in the coming day — several days, and to follow recommendations so we can we can follow safety signals here as well."
We've had nine months of a relentless public-awareness campaign emphasizing that COVID vaccines save lives, and that anyone who is unvaccinated or insufficiently vaccinated is risking the lives of everyone around them. No public-health official should be surprised that some people are going for a third COVID shot.
A lot of the people most concerned about catching COVID-19 can see that the CDC and FDA announce decisions several weeks after other countries' health ministries and departments do. We're just approving a third dose for organ-transplant patients now, while the Israelis administered third doses to 754,000 senior citizens and immunocompromised people so far this month, and now the Israelis are giving a third shot to those 50 years old and up, health workers, and prisoners and prison staff. The Israeli public-health bureaucracy must be the only one in the world capable of sprinting.
I would not argue that the U.S. should outsource its health-policy decisions to the Israeli Health Ministry. But I do think that when the Israeli medical community says, "Hey, we've spotted a serious problem," like it did five weeks ago, we should react as if they're probably right. I don't think the Israelis are vaccination addicts who are just freebasing uncut Pfizer these days.
I'm Often Right, but I'm Right Too Early, Part One
After several weeks of critics' pointing out that their stance was indefensible nonsense built upon dubious statistics, the two largest teachers' unions in the country, the National Education Association and American Federation of Teachers, have dropped their opposition to vaccine mandates for school staff.
I'm Often Right, but I'm Right Too Early, Part Two
On August 9, eight days after the four-day Lollapalooza music festival ended, I wrote that "so far, no one can point to concrete data of a surge of sick Chicagoans caused by the festival." A slew of people on social media argued that it was too early to make that assessment, that we couldn't learn anything from the data four days after the festival ended, that the gathering of 385,000 people was reckless and dangerous even if everyone was vaccinated or recently tested negative, and that I was encouraging reckless behavior.
Then yesterday, two weeks after the festival began, Dr. Allison Arwady, the commissioner of the Chicago Department of Public Health, declared there is no evidence that the city's four-day Lollapalooza music festival was a super-spreader, that a grand total of 203 cases could be traced back to the festival, that four out of every 10,000 vaccinated attendees have reported testing positive, and that as of yesterday, no hospitalizations or deaths had occurred among any attendees. "There's no evidence of substantial impact to the city of Chicago's epidemiology," she concluded.
I am sure that somebody, somewhere, will argue that Chicago has hundreds or thousands of sickened young people and a nefarious conspiracy is just hiding them somewhere. Perhaps the most plausible theory is that because it's Chicago, many of the infected were shot before they could test positive.
The absolute certainty that Lollapalooza had to be a disastrous super-spreader event — an inherent assertion that vaccinations don't work, even among young and healthy people — reminded me a great deal of the confident predictions of the Maskless Texas Apocalypse this spring.
Ben Domenech likes to say, "consider the possibility we are led by idiots." I would add that, "Nine times out of ten, the person shrieking at you on social media is an idiot, bringing full suitcases of their own emotional and psychological baggage to their dispute with whatever you said."
ADDENDUM: If you're not following Alina Chan on Twitter, you really should. She recently observed that the Wuhan Institute of Virology published lots of data about viruses it isolated from mine shafts and caves . . . until 2016, and then it just stopped. "I find it less plausible that such a well-funded lab in its prime would suddenly not have any new viruses sampled or isolated between 2016 and 2019," Chan observes. The more likely answer is that the Wuhan Institute of Virology stopped publishing what it was finding. (The U.S. government kept effectively funding the WIV, through grants to EcoAlliance, through 2019.)
So why would the Wuhan Institute of Virology want to keep its discoveries of new viruses secret?
Why, it's almost as if the Institute's research on viruses was dual-use and could be applied to the development of biological weapons or something.