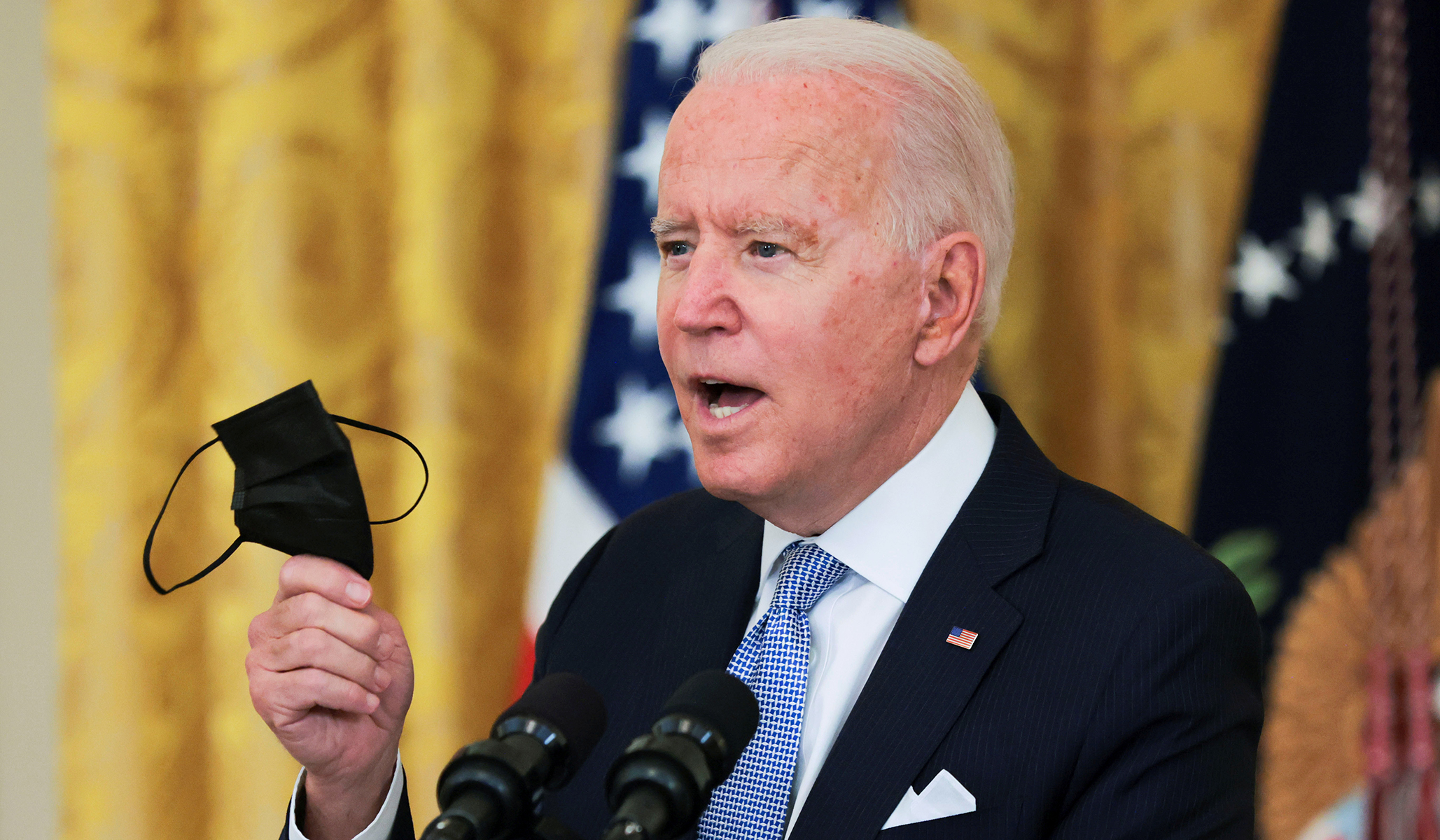 On the menu today: Joe Biden announced his administration's new efforts to increase COVID-19 vaccinations — and gets some things wrong while winging it; the administration's moves effectively protect and subsidize the unvaccinated; why it's not so easy to verify if someone is vaccinated against COVID-19; and wondering if the Biden team is living up to its hype of being the reassuring, experienced, hyper-competent adults in the room.
The Problems with Biden's New Vaccination Plans
Late Thursday afternoon, President Biden strode out to the podium at the White House, held up his mask, and declared that, "In a significant part of the country, you wouldn't have to take one of these off, you don't have to put one on — like in my home state of Delaware, where I lived in New Castle County, [and] where I was yesterday in Pennsylvania — because people got vaccinated. They got vaccinated. They don't need a mask when the majority — the vast majority of people got vaccinated."
That's not quite true; the two counties Biden mentioned aren't much higher than the national average when it comes to vaccinations.
In New Castle County, Del., 49.8 percent of all residents are fully vaccinated, and 56.3 percent have one dose. While the county is far from a crisis, the trend lines for number of cases, hospitalizations, and percent of tests coming back positive are all increasing gradually.
Earlier this week, Biden spoke in Macungie, Pa., which is in Lehigh County. That county's numbers are better, with 55.3 percent of county residents fully vaccinated, and 60 percent having one dose. But much like New Castle County's, Lehigh County's cases, hospitalizations, and percent of tests coming back positive are all moving in the wrong direction, although far from their previous highs.
Across the country, 49.4 percent of Americans are fully vaccinated, and 57.2 percent have received at least one dose. But nationwide, cases have increased 151 percent in the past two weeks.
Biden then announced that despite what he'd just said, in two-thirds of America's counties, people did need to wear a mask, even if they were vaccinated, because the CDC fears that vaccinated people may spread the virus to people who are unvaccinated. Biden likes to ad-lib from the presidential lectern, and he often just blurts out things that sound right to him, regardless of whether they're actually true. It's not the biggest deal in the world when Biden claims, "I used to drive an 18-wheeler," and no one has any idea whether he's remembering, exaggerating, or perhaps imagining past experiences. But the American president is not supposed to just wing it when he's making announcements as important as this one about the pandemic.
Biden warned that, "We're seeing a spike in cases because of this new form, this new variant, called the Delta variant."
Except . . . the Delta variant isn't really that new. It was first detected in the U.S. in April, made up more than 30 percent of new cases in the U.S. by June 19, and accounted for 62 percent of all new infections shortly before the July 4 holiday. You know, the holiday weekend where Biden announced America's "independence from the virus." We would expect a much more contagious version of the virus to become the most common form quickly.
Biden said, "We need to wear masks to protect each other and to stop the rapid spread of this virus as we work to get more people vaccinated." Those of us who are vaccinated are being asked to take additional action to protect people who will not take any action to protect themselves or us. This is akin to telling the public to drive less frequently because a segment of the population drives recklessly. That approach might mitigate the consequences a bit, but it doesn't really address the root of the problem — and it limits the freedom of the responsible to indulge the irresponsible.
The administration, the CDC, the country, and the world have a real problem. The people who are unvaccinated and thus most vulnerable to the virus are also among the folks who are least willing to wear masks to protect themselves — and least willing to obey public-health guidance in general. Because one segment of Americans won't listen to the administration and the CDC, the administration and CDC are asking the rest of us to make further changes to our behavior.
Noam Blum summarized the Biden team's philosophy succinctly: "Making it safer for the unvaccinated to remain unvaccinated in order to pressure them to get vaccinated is the best idea our government could come up with."
When the administration isn't trying to protect the unvaccinated, it's attempting to subsidize them: Biden called on "all states and local governments to use funding they have received, including from the American Rescue Plan, to give $100 to anyone who gets fully vaccinated."
This proposal would be less objectionable if it were more likely to work; if a person hasn't gotten vaccinated by now, eight months after vaccinations began, it is unlikely that their objection was a lack of incentive. Biden is establishing the precedent that if you delay doing something you're supposed to do, the government will reward you with money. A month from now, will some state or local government offer a $200 bonus? $500? The responsible get nothing, while the irresponsible will face ever-increasing incentives.
I suspect many Americans believe that if someone wants to get vaccinated, they should get vaccinated; if someone doesn't want to get vaccinated, they should decline it and be prepared to live with the risks and consequences. But no one should expect a bribe using taxpayer money to do something they should have done months ago. This is almost literally the typical federal-government response of throwing money at a problem.
Biden declared that "Every federal government employee will be asked to attest to their vaccination status. Anyone who does not attest or is not vaccinated will be required to mask no matter where they work; test one or two times a week to see if they have a — they have acquired COVID; socially distance; and generally will not be allowed to travel for work."
But Biden didn't go into any detail about how federal workplaces will go about verifying a person's vaccination status. There is no central database of who has received a COVID-19 vaccination. The CDC made up its version of a COVID-vaccination-record card, while some states and localities and other institutions made their own. Those cards are easily forged, and God knows how many vaccinated Americans have lost them. Based upon what we know so far, Biden's plan will still amount to the honor system.
Testing once or twice a week is not really a great substitute for vaccination. You can get tested on a Monday morning, catch the virus Monday afternoon, and walk around infected until that second test Thursday morning or whenever. And as we know, no testing system is perfect, and rapid tests are usually a little less reliable than the ones shipped off to a lab.
Finally, Biden asserted that, "almost 90 percent of educators and school staff are now vaccinated."
There are two possible sources for that figure. One is surveys by teachers' unions. A survey conducted by the National Education Association teachers' union indicated that 86 percent of its members have received at least one dose of the vaccine, and a similar survey by the American Federation of Teachers indicated that 89 percent of members who responded said they had been vaccinated. The NEA did not release the response rate for its survey. The other possible source is a CDC poll; the agency reported earlier this year that, "Nearly 80 percent of Pre-K-12 teachers, school staff, and childcare workers received at least their first shot of COVID-19 vaccine by the end of March." The accuracy of those surveys relies upon unvaccinated teachers being willing to declare that they're unvaccinated to a stranger.
The high numbers in those surveys are a little difficult to square with the report that just 60 percent of New York City's public-education-department employees are vaccinated. Just as there is no central database of vaccinations, no state is collecting records on which teachers are vaccinated or what percentage of teachers are vaccinated.
White House chief of staff — and, some Republicans argue, the de facto prime minister — Ron Klain declared on Twitter that the administration is prioritizing a mask mandate instead of a vaccine mandate because, "anyone who starts vaccination today isn't fully protected from the virus for six weeks." (Whether he realizes it or not, he's talking down the benefits of the vaccines. Yes, two shots are much better against the Delta variant, but getting one shot gives you at least some protection. Even if it's just 33 percent protection, would you rather have that for the first few weeks or zero percent protection?)
Klain continued, "Also, CDC is concerned that even vaccinated people MIGHT transmit Delta: you are masking to slow the spread." If that sounds familiar, it's because on March 16, 2020, the White House of the previous administration unveiled the slogan, "15 Days to Slow the Spread." One year, four months, and 14 days later, you're being asked to put the mask on again, to "slow the spread."
Recall how Joe Biden and his team were described upon their return to the halls of power in Washington:
The Financial Times: "The grown-ups are back in charge in Washington."
Vogue: "Joe Biden's Cabinet Picks Send a Clear Message: The Adults Are Back in Charge."
Politico: "Ivy League credentials and long Washington experience set the tone for his administration."
The New York Times: "Biden's cabinet is, well, mature."
You don't have to love the outgoing Trump team to recognize that selecting a team of "mature" "experienced" "grown-ups" may just amount to exchanging one set of problems for another.
Biden and Klain and CDC director Rochelle Walensky and the rest don't really seem like reassuring "mature" "experienced" "grown-ups." They seem like befuddled bureaucrats who have just a handful of go-to moves in every circumstance: throw money at the problem, create more paperwork and procedures, and implement new rules upon everyone in hopes that it will alter the behavior of a particular group.
ADDENDUM: Did you ever notice that the same people who doubt the CDC's statistics, and who think hospitals are exaggerating the number of COVID-19 cases and deaths because of financial incentives — a completely unproven assertion — are often the same people who believe everything that is self-reported to the Vaccine Adverse Event Reporting System is God's honest Gospel truth?