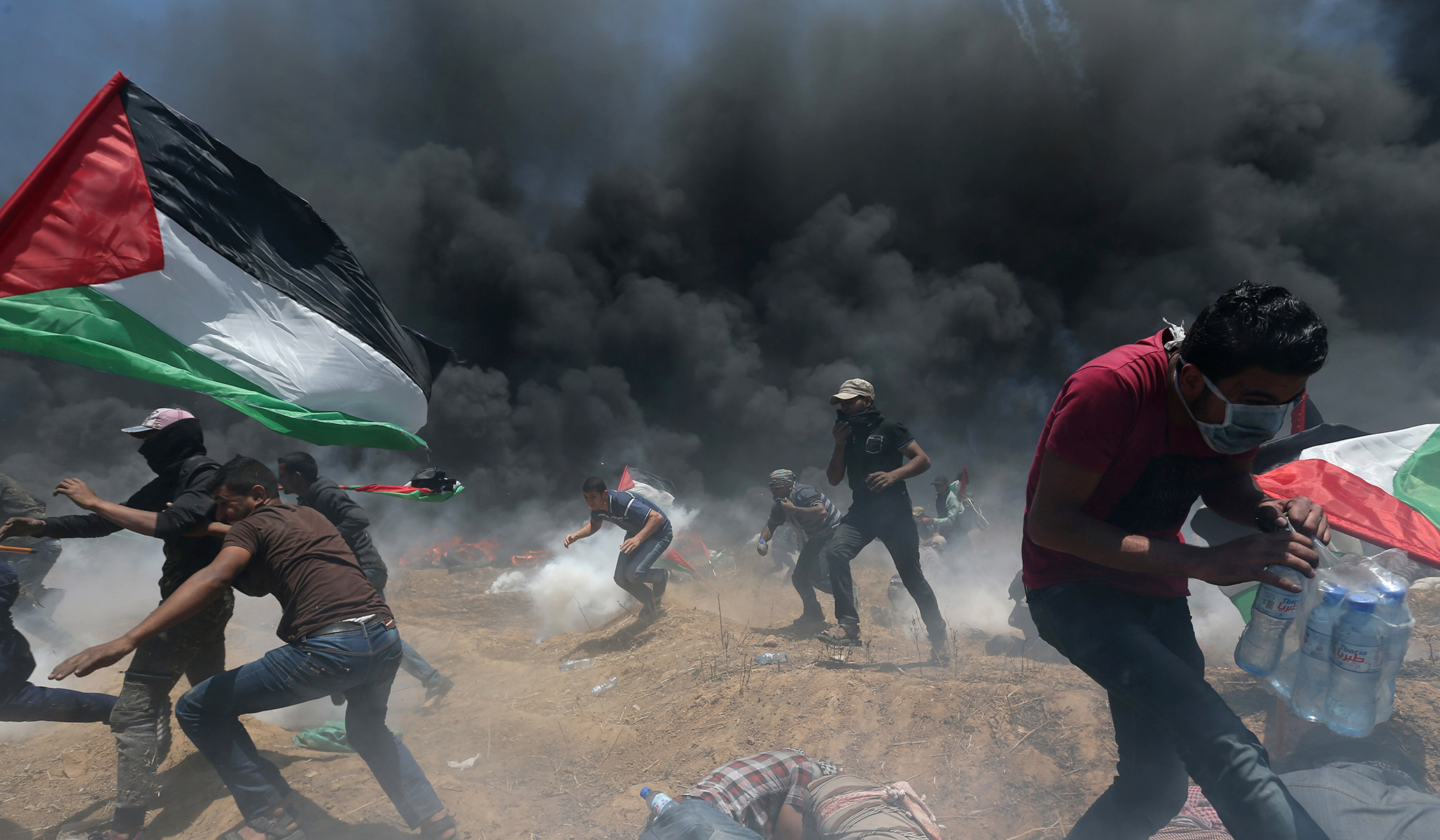 What do you think will happen if you try to cross an Israeli border? Israeli border agents will try to stop you.
Making the click-through worthwhile: This morning brings bloodshed in the Gaza Strip, with a predictable provocation generating a predictable response; the U.S. embassy in Israel moves from Tel Aviv to Jerusalem, thrilling the host country; and a progressive group in Minnesota makes a sudden and surprising change, offering an ominous look at progressives' level of interest in winning back blue-collar whites who voted for Donald Trump.
Today's Deaths in the Gaza Strip Represent More of Hamas Being Hamas
What, exactly, did the Palestinians think would happen if they charged an Israeli border fence?
On Monday and Tuesday, Artema's audacious "Great March of Return" faces what could be its most formidable and perhaps final test: an attempt by hundreds of thousands of protesters to breach the razor wire fence between the Gaza Strip and Israel.

By 7:15 a.m. ET Monday, Gaza's Ministry of Health said 16 Palestinians had been killed by Israeli forces and more than 500 others wounded. The Israeli Defense Forces accused Hamas of "leading a terrorist operation under the cover of masses of people" and warned that troops would "act forcefully" to "prevent attacks on Israeli civilians and IDF soldiers."

Broad buy-in is part of the strategy. Organizers say the "Great March of Return" is financed by small donations and governed by a central committee of about 27 seats populated by representatives from some 18 political and civil society groups — including the dominant West Bank political party Fatah, as well as Hamas and Palestinian Islamic Jihad, both of which are recognized by the U.S. as terrorist organizations.
Just how many people do you have to kill before Western media organizations stop calling you a "civil society group"? Some might find car bombs, suicide bombers, and rocket attacks "uncivil."
We can argue about whether Palestinians should be able to cross that border, but what do you think will happen if you try to cross an Israeli border? That the armed border guards will just politely ask you to turn around? The Israeli military already made clear exactly what they'll do: "open fire on any armed Palestinian up to 300 meters from the border fence." The military reporter also said "the directives included an order to open fire at any Palestinian protester if he comes within 100 meters of the border fence."
Hussein Ibish, a senior resident scholar at the Arab Gulf States Institute in Washington, D.C., writes that provoking a conflict that spurs a lot of Palestinian civilian casualties is the only card Hamas has left to play:
First, it is virtually out of options. The devastation in Gaza caused by the last full-blown war with Israel in 2014 was so extensive, with most of the damage still unrepaired, that it would be difficult to publicly explain to the group's own constituents any choice to deliberately start another major conflict with Israel. The kind of scenario whereby Hamas has previously instigated or cooperated in the development of major armed battles with Israel would now be potentially politically disastrous in Gaza.

Yet Hamas is desperate. The situation in Gaza has become increasingly intolerable. Unemployment is widespread and chronic. Hunger is rampant. Water is undrinkable. Electricity is available for only two to four hours per day. Sewage treatment plants have failed, so the once-beautiful Mediterranean coast is now a repository of human waste. And there's still no way in or out of the territory for almost all of Gaza's close to 2 million people.

Since its violent takeover of Gaza and expulsion of the Palestinian Authority in 2007, Hamas has been adept at blaming others for the wretched conditions in the territory it controls. And because of repeated Israeli bombardments and other attacks, and the virtual lockdown imposed by both Israel and Egypt, finger-pointing at Jerusalem and Cairo has been somewhat effective.
At what point do the Palestinians start holding Hamas accountable for the decisions it makes?
A desalinization plant would cost about $100 million and wastewater treatment options range in cost; as of 2013, Hamas's budget was $700 million. But they spend a lot of that on rockets and arms instead of maintaining the basic services of a functioning society, such as water and sewage and electricity.
Ibish concludes that "if Israel continues to use live ammunition against unarmed demonstrators, even at the border, Hamas will continue to reap the benefits."
How significant are those benefits, though? Bad publicity and international condemnations for Israel? Israeli leaders get denounced 20 times before breakfast. A lot of Europeans are always up for some rhetorical Israel-bashing, but how often do they really take action to improve life for Palestinians? A lot of people have died waiting for Western nations to react to outrages, both alleged or indisputable. The United States and Europe just watched so many people get killed in the Syrian civil war that they lost count of them, and that multi-year conflict created a refugee crisis so bad that it reached Europe, and they still intervened only minimally. Just what does Hamas think the rest of the world is willing to do to Israel?
Meanwhile, Over the Border in Israel . . .
I doubted it would happen, but put this down as a promise made and a promise kept: Today, the United States officially moved its embassy from Tel Aviv to Jerusalem. Or more specifically, embassy work started being done out of the old consulate building, and new signs were unveiled.
And the Israelis know how to appeal to President Trump's ego:
The windy road leading up to the city was decorated with fluttering American and Israeli flags Monday as signs everywhere declared "Trump, Make Israel Great." A popular soccer team even renamed itself: "Beitar Trump Jerusalem."

The inauguration will take place at the site of the new embassy, which is really the existing consulate, just with a spanking new plaque. President Trump will not attend, but he planned to address the high-profile crowd, including his daughter Ivanka, son-in-law Jared Kushner and a host of political, religious and communal leaders, via live video linkup.

"A great day for Israel," Trump wrote in a tweet.

At a celebratory breakfast in Jerusalem, Justice Minister Ayelet Shaked called Trump the "Churchill of the 21st century."

"He has reversed Chamberlain's policy of capitulation and teaches the world that "the landowner has returned," said Shaked at an event attended by members of the visiting White House delegation, making a reference to Britain's prewar prime minister, Neville Chamberlain.

"Europe insists upon not learning from history," Shaked added. "It closed its eyes to the strengthening of the Nazis; today it is choosing to close its eyes to the strengthening of Iran. In such a reality in particular, it is good that the leader of the free world is President Trump."
Where is the new embassy? Oh, it's right near the traffic circle that will soon be renamed "US Square — in honor of President Donald Trump."
Wellstone Action, without the Wellstone
If I cared about the short-term and long-term health of the Democratic party, a story like this would worry me:
Earlier this year, the board of directors of Wellstone Action — an influential training group formed after Sen. Paul Wellstone's death — dumbfounded Minnesota Democrats when it voted the late senator's sons off the governing board.

The ouster came after the sons, Mark and David Wellstone, raised concerns about overspending in areas of the organization's budget — and after a dispute over the direction and priorities of the group.
The issue is less the organization itself, although Politico reports that "in 2016, the last year for which tax filings were available, the group reported providing training to 2,135 data and digital strategists, 723 nonprofit leaders and community organizers, and 854 aspiring political leaders."
No, the bigger concern is that the Wellstone sons apparently wanted to focus on how progressives and Democrats can win back disaffected blue-collar whites, and the rest of the organization seemed to perceive that as a waste of time.
Y'all know Minnesota is 85 percent white, right? Y'all know Hillary Clinton won the state by just 1.5 percent, right? Clinton's vote total was 180,000 fewer than Obama's four years earlier. Maybe it's just personality, or perhaps the progressivism that Clinton represented has a lot less appeal than Obama's version . . . which should worry Democrats that 2016 wasn't a weird fluke.
ADDENDA: The Manchester Union Leader remembers my old saying from Barack Obama's statements and observes that a lot of the president's legislative achievements have expiration dates, too: U.S. involvement in the Iran deal, U.S. agreement to the Paris climate accords, U.S. agreement to the Trans-Pacific Partnership, DACA, the Clean Power Plan, net neutrality, Obamacare's individual mandate . . .