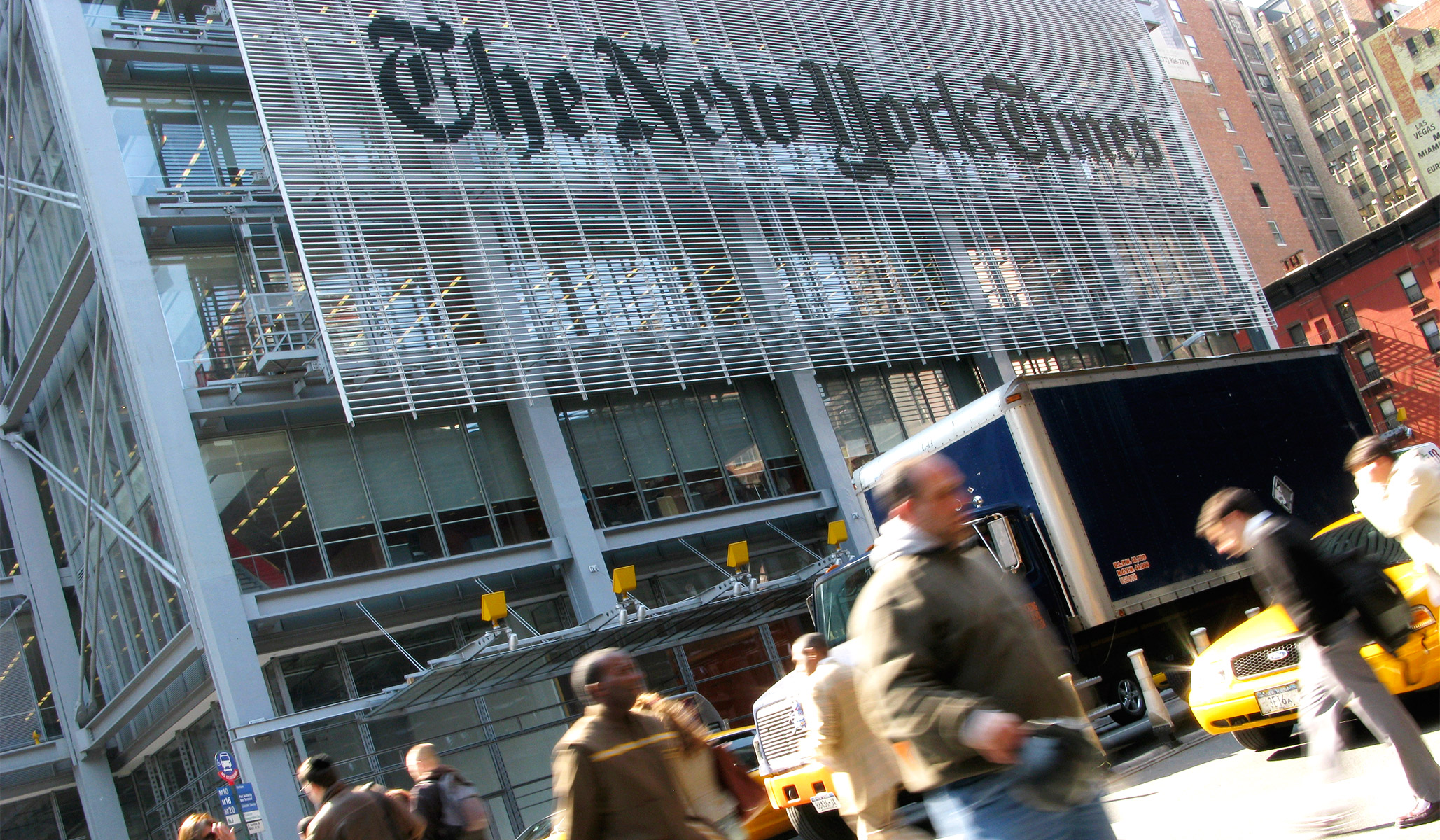 Making the click-through worthwhile: A theory about the author of that instantly infamous New York Times op-ed revealing a "resistance" against the president within his own administration, early market research suggests Nike completely misjudged consumer sentiment, and the big Morning Jolt NFL season preview.
The Mystery Trump-Administration Official Is . . .
We can draw a few conclusions about the anonymous senior official in the Trump administration who wrote the New York Times op-ed about the "stable state" "resistance" within the executive branch.
The writer is a traditional Republican, referring to "ideals long espoused by conservatives: free minds, free markets and free people."
The writer is particularly informed about, and concerned about, the president's views on Russia:
On Russia, for instance, the president was reluctant to expel so many of Mr. Putin's spies as punishment for the poisoning of a former Russian spy in Britain. He complained for weeks about senior staff members letting him get boxed into further confrontation with Russia, and he expressed frustration that the United States continued to impose sanctions on the country for its malign behavior. But his national security team knew better — such actions had to be taken, to hold Moscow accountable.
The writer looked up to John McCain: "Senator John McCain put it best in his farewell letter. All Americans should heed his words and break free of the tribalism trap, with the high aim of uniting through our shared values and love of this great nation. We may no longer have Senator McCain. But we will always have his example — a lodestar for restoring honor to public life and our national dialogue." The writer may well have been compelled to write this op-ed after McCain's passing and the eulogies and reaction at his memorial service.
The writer did not work on the campaign — obviously, he holds Trump in low regard — but he's probably been around the administration a while: "Given the instability many witnessed, there were early whispers within the cabinet of invoking the 25th Amendment, which would start a complex process for removing the president."
The writer must understand that being uncovered would end his career in GOP politics and torpedo any hopes of running for the Republican nomination someday. This is probably the last stop of his career. He probably considers himself to be part of a knowledgeable bipartisan consensus policy establishment and is worried about how his current work for Trump is perceived and will be remembered. This person is probably worried about his reputation and whether or not working for Trump will tarnish his legacy.
Traditional Republican, focused on Russia, inspired by McCain, been around a while, no future ambitions, part of the establishment. There is more than one figure in the administration who fits these criteria, but not many.
But I notice the recent article, "Aside from his father, Huntsman Jr. had 'no greater mentor' than McCain," August 27, in the Desert News:
"Aside from my own dad, there's been no one more impactful in my life," [U.S. Ambassador to Russia] Jon Huntsman told the Deseret News from Moscow after initially declining to comment on his relationship with the Arizona senator, who died Saturday after battling brain cancer.

"It was the highest honor to associate with him. He was a mentor in many ways. Country first and bipartisanship were deeply ingrained due to his influence," Huntsman said of his longtime friend.
Huntsman attended John McCain's memorial service at the Washington National Cathedral. And Huntsman has already addressed calls for him to resign after Trump's summit with Putin.
Huntsman responded:
Representatives of our foreign service, civil service, military and intelligence services have neither the time nor inclination to obsess over politics, though the issues of the day are felt by all. Their focus is on the work that needs to be done to stabilize the most dangerous relationship in the world, one that encompasses nuclear weapons, fighting terrorism, stopping bloodshed in Ukraine, and seeking a settlement of the seemingly intractable Syrian crisis. Their dedication to service to their country is above politics, and it inspires me to the core. It is my standard. (Emphasis added.)

I have taken an unscientific survey among my colleagues, whom you reference, about whether I should resign. The laughter told me everything I needed to know. It also underscores the fragile nature of this moment.
The unnamed official who wrote the New York Times op-ed concludes, "There is a quiet resistance within the administration of people choosing to put country first."
Just a theory.
Did Nike Just Make an Epic Mistake?
I thought Nike did a ton of market research. Did they just completely misread consumer sentiment?
A new report from Morning Consult reveals consumer opinions of Nike have shifted rapidly since announcing their new campaign with former NFL quarterback Colin Kaepernick. Across nearly every demographic, perceptions of Nike's brand have fallen, including among key consumer groups. 

Before the announcement, Nike had a net +69 favorable impression among consumers, it has now declined 34 points to +35 favorable . . .  Among younger generations, Nike users, African Americans, and other key demographics, Nike's favorability declined rather than improved . . .  Before the announcement, 49 percent of Americans said they were absolutely certain or very likely to buy Nike products. That figure is down to 39 percent now. 
If those numbers continue, wouldn't that make the Kaepernick deal the biggest self-inflicted marketing defeat since New Coke?
The Big Morning Jolt NFL Preview
I thought about doing a team-by-team preview, but I'm just not that interested in some teams . . .  and you probably aren't, either. Also, before I go further, as mentioned in the recent video, those of us who are not boycotting the NFL over some players' decisions to kneel don't care if you're boycotting the NFL . . .  which means you don't have to tell us. "I'm boycotting the NFL" has turned into the new "An atheist, a vegan, and a CrossFitter walk into a bar."
When Kirk Cousins signed with the Minnesota Vikings this offseason, I said he could easily be considered a disappointment at the end of his three-year, $84 million deal if the Vikings don't win the Super Bowl. Make no mistake, the Vikings are a good, talent-laden team, and probably have as much chance as anyone of winning at least one of the next three Super Bowls.
But at least at the moment, the NFC is just full of good teams. Yes, the Philadelphia Eagles didn't look terrific in the preseason and have some injuries, but they're still the best team in the league until someone else proves otherwise. The Los Angeles Rams are loaded with talent, aiming to win now, and are my guess at who will represent the conference in the Super Bowl this year. The New Orleans Saints came within a fluke play of beating Minnesota in last year's playoffs. Atlanta is just a year away from their Super-Bowl run, and Carolina had to be the quietest 11-win, two-years-away-from-a-Super-Bowl team ever.
Minnesota's going to be good, but they played the Packers without Aaron Rodgers for seven of the eight quarters they played Green Bay last year. Winning the division is going to be much tougher with a healthy Rodgers leading the Packers and the Chicago Bears probably aren't going to be the pushovers they once were with Mitchell Trubisky developing — and now with Khalil Mack at linebacker!
The exceptional play of Jimmy Garappalo in the last few games of last season heralds the return of the San Francisco 49ers as a serious force to be reckoned with.
In the NFC, a team like the Seattle Seahawks is technically in the "middle of the pack," and they still have the mobile, improving quarterback that took that team to two Super Bowls. Dallas and Detroit both won nine games, although apparently the Lions looked uninspired in the preseason. According to D.C. sports radio, Alex Smith is going to lead the Washington Redskins to victory in at least the next three Super Bowls, and the trophy cases have already been built and polished. (You can color me extremely skeptical about the Redskins.)
The point is that the Vikings could easily be a very good, playoff-caliber team that just happens to fall short against tough competition in the next three years, and if that comes to pass . . . was the $84 million to Cousins worth it?
Over in the AFC, a long era of a three-team race for conference supremacy (the New England Patriots, the Pittsburgh Steelers, and the Indianapolis Colts when their quarterback is healthy) is finally getting some variety, with the Jacksonville Jaguars now built to be a top competitor for years to come. The Tennessee Titans went from "on the verge" of being playoff-caliber to being capable-of-winning-a-game-in-the-playoffs caliber. The Kansas City Chiefs are either going to look like geniuses for making Patrick Mahomes the starter or fools for letting Alex Smith go after such a good season.
With Josh McDaniels suddenly turning down the Colts head coaching job to return to the New England Patriots as offensive coordinator, this means this season is probably Bill Belichick's last year as head coach, right? And while it's not certain that when Belichick goes, Tom Brady leaves as well . . .  what does Brady have left to prove? Rob Gronkowski reportedly contemplated retirement as well this offseason. In two years, the Patriots could look dramatically different, and different will almost inevitably mean "worse." Perhaps the mood of "one last ride" spurs the Patriots beyond their usual superiority.
The Steelers also look like they're on the tail end of a long dynasty — ten playoff appearances in Ben Roethlisberger's 13 years. Rarely has a team looked so good in the regular season and then looked so stunningly hapless in their first playoff game as the 2017 Steelers, and I think that chip on their shoulder — and the sense of a ticking clock on Roethlisberger's career — lead them to be the team that represents the AFC in the Super Bowl.
Yes, I'm optimistic about the Jets, so that translates out to about an 8-8 season. They're in a weird situation where going 6-10 and having Sam Darnold develop into a high-quality starting quarterback is probably better for the team in the long run than a 10-6 season where Darnold gets injured or is developing slowly.
There are gripes that the league is too obsessed with quarterbacks, but the lesson of the past few decades or so is that if you have an elite quarterback, you're almost never going to be bad, and if you have a lousy quarterback or a revolving door of journeymen and also-rans, you're almost never going to be good. There are a few exceptions on both sides — the Jaguars more or less overcame Blake Bortles in their rise, and you could argue that Eli Manning wasn't the main reason the Giants went 3-13 last year. But those exceptions are rare.
If Brady, Roethlisberger, Andrew Luck, Matt Ryan, Cam Newton, Deshaun Watson, Marcus Mariota, Philip Rivers, Carson Wentz, Aaron Rodgers, Kirk Cousins, Matthew Stafford, Drew Brees, Jared Goff, Garappalo, or Russell Wilson are healthy for 16 games, none of their teams are doing any worse than, what, 7-9 or 6-10, right? I'm sure some fans will argue that I've left out their favorite underrated QB like Dak Prescott or Andy Dalton on that list. I figure everyone in Baltimore is itching for the Lamar Jackson era to start. It's fair to wonder if we're seeing a new blueprint for team building: stink, pick a good quarterback early in the draft, hope he develops, enjoy good quarterback play on a salary-cap-friendly rookie contract, and load up on free agents in that four or five-year window.
This is a weird spot for Buffalo, isn't it? Usually the team that gets into that sixth playoff spot is on the rise, but the Bills look awfully shaky, starting Nathan Peterman as quarterback, the guy who threw so many interceptions in his NFL debut that he appeared to be the most effective deep-cover saboteur since Nicholas Brody. Josh Allen was my least favorite of the highly touted quarterbacks in this year's draft class, but at least he's got the strong arm and flashes of greatness to make Buffalo football interesting to watch, deep into the season.
This is the sixth not-quite-consecutive year in Miami where the chorus among Dolphins fans is, "This is the year Ryan Tannehill is going to turn the corner and really turn into an elite quarterback."
And Oakland . . .  man, what are they doing in the Raiders' front office? Are they trying to make the upcoming breakup with the city and the move to Las Vegas easier on an abused fanbase?
Anyway, I'll keep it conservative, no pun intended, and predict the AFC playoffs will feature Pittsburgh, New England, Jacksonville, and Kansas City as the division winners and Tennessee and Houston as the wild cards, and the NFC playoffs will feature Los Angeles, Philadelphia, Green Bay, and New Orleans as the division winners and Minnesota and San Francisco as the wild cards. And I predict that Super Bowl LIII will feature the Steelers beating the Rams, the same outcome as in 1979.
Other predictions: Roethlisberger wins MVP, the Rams' Jared Goff wins Offensive Player of the Year, Jalen Ramsey of the Jacksonville Jaguars wins Defensive Player of the Year, Giants Saquon Barkley wins Offensive Rookie of the Year (Darnold comes in second), the Broncos' Bradley Chubb wins Defensive Rookie of the Year, Bill O'Brien of the Houston Texans wins Coach of the Year, and Colts quarterback Andrew Luck edges out DeShaun Watson for Comeback Player of the Year.
ADDENDUM: We had a few technical hiccups, but Mickey and I managed to record a special experimental video version of our pop-culture podcast yesterday. I hear some people prefer the podcast version; I understand you can simulate the audio-only podcast experience by not looking at the screen. Mickey's dog Shiloh has a cameo!