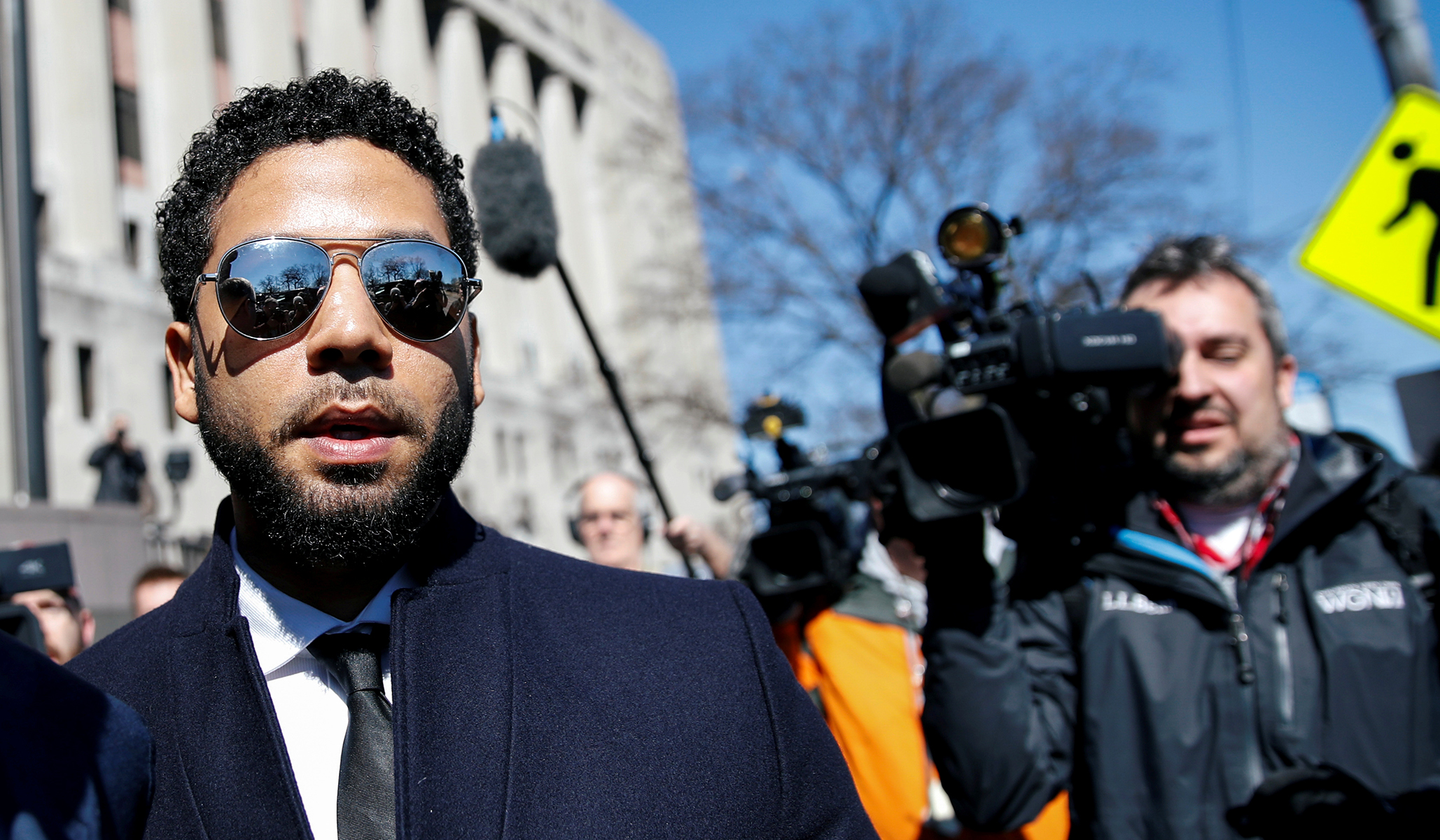 On the menu today: Jussie Smollett is inside a Chicago courtroom again, perhaps finally being held accountable for the supremely implausible tale of a hate crime he told nearly three years ago; An unforgivable and ill-explained decision by Cook County state's attorney Kim Foxx may be corrected in the coming days; And we now learn that TV anchor Chris Cuomo is an even worse human being, and CNN an even more disgraced television network, than we thought.
Why Jussie Smollett's Trial Matters
The Jussie Smollett hate-crime hoax occurred nearly three years ago. From the first reports, the vast majority of Chicagoans figured out his story sounded fishy at best — among other oddities, the alleged MAGA-hat-wearing Trump supporters who recognized him from his TV show Empire chose to perpetuate their attacks at 2 a.m. on the city's coldest night in many years (it was nine degrees below zero, without the wind chill).
Because the first prosecutor to examine the fraudulent claims chose to give him a sweetheart deal, Smollett is only seeing the inside of a courtroom now, and our Ryan Mills is in Chicago covering the story. And this is a bigger deal than it may seem, much more than a has-been or never-was actor filing a false police report.
From the beginning, the hoax was soaked through with politics, a deliberate, if spectacularly implausible, attempt to manufacture an event to advance a narrative as well as a not-so-successful actor's career. Jussie Smollett wanted the world to believe that America — even the streets of Chicago at 2 a.m. on the coldest winter's night — is full of hateful, racist, homophobic, Donald Trump-supporting thugs who will violently ambush and attack people just because of who they are, carrying nooses and menacingly chanting, "This is MAGA country!"
Now, I have no doubt that in a country of 329 million people, if you looked hard enough, you could find people who fit the description in Jussie Smollett's imagination. We have hateful people in this country, as well as people who are racist and homophobic. But we do not have a commonplace problem of hateful, racist, homophobic, Donald Trump-supporting thugs, carrying nooses and menacingly chanting, "This is MAGA country!" as they rampage through the streets of our cities, looking for victims . . . or at least these thugs have the good sense to stay indoors in the middle of the night in winter in downtown Chicago.
Things are bad enough in this world, and we have enough real villains. We don't need to make up imaginary new villains and try to fool people into believing that the world is worse than it actually is.
The existence of hate-crime hoaxes does not mean that every report of a hate crime is false, and the existence of actual hate crimes does not mean that every report of a hate crime is true. We live in a world that has genuinely hateful perpetrators, and we live in a world that has people who will make up stories and pose as victims in order to get attention. Our duty as responsible citizens is to sort out what actually happened and resist the urge to jump to conclusions.
It's tempting! Our brains have evolved to quickly come to conclusions based upon incomplete information, to make inferences and generalizations. But American history is full of cautionary tales about the danger of jumping to conclusions. The danger of the public jumping to conclusions about crimes offers a lot of fodder for our popular culture — The Ox-Bow Incident, Twelve Angry Men, The Fugitive. (I guess the lesson is that if you're going to be falsely accused, you had better have Henry Fonda around.)
The first reason the Smollett trial matters is because it showcases a false and dark vision of the world that certain influential people want to be true. Instead of asking, "Wait, does this description make sense?" quite a few powerful figures in politics effectively signed off on Smollett's strange account from the first telling.
Back in 2019, Joe Biden tweeted, "What happened today to Jussie Smollett must never be tolerated in this country. We must stand up and demand that we no longer give this hate safe harbor; that homophobia and racism have no place on our streets or in our hearts. We are with you, Jussie."
Kamala Harris tweeted, "Jussie Smollett is one of the kindest, most gentle human beings I know. I'm praying for his quick recovery. This was an attempted modern day lynching. No one should have to fear for their life because of their sexuality or color of their skin. We must confront this hate."
God only knows if Biden or Harris even read or signed off on those tweets, or whether some 20-something woke campaign staffer wrote them on the candidates' behalf, hoping to seize on a celebrity crime story in a busy news cycle. But the two candidates' rapid, instinctive embrace of Smollett's account revealed something troubling: that they see America as more hateful, more dangerous, and more tarnished than it really is. Harris backtracked a bit a month later, declaring that, "When anyone makes false claims to the police, it not only diverts resources from serious investigations but it makes it more difficult for other victims of crime to come forward."
Their credulity suggests that Biden and Harris find it plausible that racist brutes could or would really rampage through the streets of downtown Chicago in the middle of the night, chanting "This is MAGA country." The president and vice president may love America, but they also instinctively believe the worst things they hear about it.
The second reason the Smollett trial matters is because it features one of the most vivid and unjustifiable politicizations of the criminal-justice system in recent memory:
In a dramatic reversal in the case, Chicago prosecutors dropped all charges against Smollett on March 26, 2019. Revealing little about the reason why, the Cook County State's Attorney's Office said the decision came after reviewing the case and after the actor agreed to forfeit his $10,000 bond. Parts of the case were sealed, one of Smollett's attorneys said.

"After reviewing all of the facts and circumstances of the case, including Mr. Smollett's volunteer service in the community and agreement to forfeit his bond to the City of Chicago, we believe this outcome is a just disposition and appropriate resolution to this case," the state's attorney's office said in a statement.

But Mayor Rahm Emanuel blasted the prosecutor's decision as a "whitewash of justice," and Police Superintendent Eddie Johnson accused Smollett of hiding behind a deal "brokered . . . in secrecy."

In that same month, the city of Chicago said it wanted Smollett to cover the costs of the investigation into his alleged attack — more than $130,000 — and gave him a week to do so, kicking off a legal battle after the actor refused to pay.
Jussie Smollett embarrassed his political allies, and once the implausibility of his story was exposed, his political allies wanted the whole matter to disappear — and Smollett's political allies apparently extended into the office of Cook County state's attorney Kim Foxx. A subsequent special prosecutor's investigation found that for Smollett, established procedure was thrown out the window:
[The] investigation yielded no evidence that would support any criminal charges against Foxx or anyone working at her office.

It did, however, say that it had identified three "substantial abuses of discretion and failures" in the office's prosecution and resolution of the case.

The statement noted, among other points, that the dropping of the charges against Smollett didn't hinge on new evidence and "surprised" or "shocked" lawyers who worked in the state's attorney's office criminal division.

The OSP alleged that Foxx's office "breached its obligations of honesty and transparency" by making false and/or misleading statements to the public regarding Foxx's recusal from the case, the office's subsequent dismissal of the case and the extent of Foxx's communications with Smollett's sister, Jurnee.

The special prosecutor said one false statement was that the relatively easy terms for dropping the charges — including community service and a monetary penalty — didn't represent a new or unusual practice for the state's attorney's office.

The OSP also said its evidence relating to false and misleading public statements "may rise to the level of a violation of legal ethics by State's Attorney Foxx and CCSAO lawyers."

The office of the special prosecutor found sufficient evidence to file new charges against Smollett.
Our Ryan Mills notes that, "For such a high-profile case, the criminal stakes for Smollett are pretty low. The 39-year-old actor and musician faces six low-level disorderly conduct charges. If he's found guilty, he could be sentenced to up to three years behind bars, but he could also receive probation and community service."
But the outcome of this case matters for accountability. If you want people to respect our country's institutions, our institutions must behave in a manner worthy of respect. Foxx's choosing to drop the charges in a high-profile case, with little explanation or a false explanation, undermines faith in the rule of law and the equal application of the law.
ADDENDUM: Sorry, CNN, but in light of this . . .
CNN host Chris Cuomo used his connections in the media business to gather information about the female victims of his brother Andrew Cuomo, who was accused of sexual harassment while serving as governor of New York.

While the TV pundit has admitted to helping his brother navigate the allegations, documents published by the New York Attorney General's Office Monday reveal that Chris Cuomo was much more actively engaged in the governor's damage control efforts than he has previously admitted.
. . . I don't think Brian Stelter, Chris Cillizza, or anybody else over there has any standing to give anybody else any grief about how they cover politics. As I wrote back in May, "Chris Cuomo just verified every accusation of every conservative critic CNN has ever had; the network became the reputational bodyguard of a notoriously corrupt and utterly shameless Democratic official."