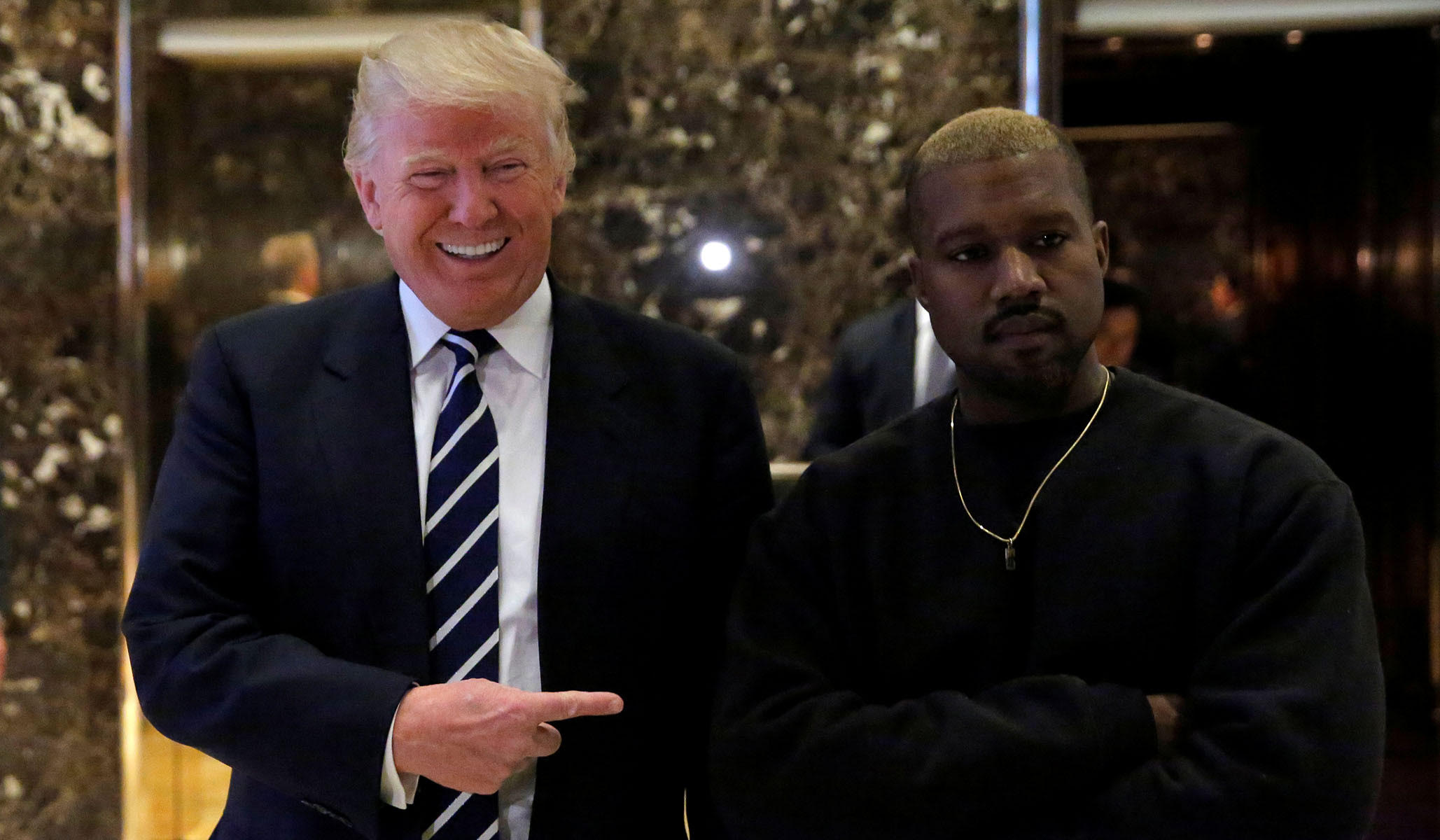 Kanye West is unpredictable and not terribly coherent and has generated his share of infamous and insufferably narcissistic behavior — "Bush doesn't care about black people" and "Imma let you finish" come to mind. Color me skeptical that it's a consequential victory for the Right now that West is declaring that President Trump is his "brother" and that they share "dragon energy," or that he's choosing to wear a "Make America Great Again" hat. It's entirely possible that a month from now, West will fall in love with Bernie Sanders or something.
But there is something hysterical and thrilling in all this. We're watching liberal fans of Kanye West flip out in response to his latest surprise move, and Kim Kardashian defend his right to be a "free thinker," and perhaps most of all, fellow performer Chance the Rapper declaring simply, "Black people don't have to be Democrats." That statement shouldn't be the least bit controversial, and there are quite a few left-of-center African Americans who think that the ethnic group's steadfast loyalty to the party has conditioned some Democratic officials to take their support for granted. Yet Kanye and Chance generated way more outraged objections than NBA star Kyrie Irving's flirtation with the belief that the earth is flat.
You can almost picture the looks of shock and horror on Democratic leaders' faces; right as they're about to enjoy a "blue wave" in the midterms, prominent African-American cultural leaders are asking, "Hey, wait a minute, what's in this for us?"
Dr. Jackson and Mr. Hyde
Breaking news, right as I'm about to send off this newsletter: "Ronny L. Jackson, President Trump's embattled nominee to lead the Department of Veterans Affairs, withdrew from consideration Thursday amid mushrooming allegations of professional misconduct that raised questions about the White House vetting process."
As mentioned yesterday, I don't quite get how Jackson could be the pill-dispensing, drunken, abusive monster that Senate Democrats claim he is while serving as White House physician. Yesterday, Senator Jon Tester's office released a long list of allegations that makes Jackson sound like a cross between Walter White from Breaking Bad and one of the Duke boys from Dukes of Hazzard.
(It's also worth noting they padded their lengthy list with some allegations that are not criminal or even necessarily immoral: "Jackson would prescribe medications when other doctors would not." Doctors have disagreements all the time.)
Jackson's been a White House physician since 2006. He's been physician to the president under both Obama and Trump. When Sunny, one of the Obama family's dogs, bit an 18-year-old friend of the family in January 2017, Jackson was the one who sewed the stitches.
How does a guy with a reputation as "the most unethical person I've ever worked with," "despicable," and privy to "screaming tantrums," as the Democrats claim, end up with one of the biggest medical responsibilities in the entire government? If Jackson really was passed-out drunk on duty at one point, as is alleged, how was he not immediately replaced?
A Morning Jolt reader who worked in a previous administration wrote in, "I think I met him once or twice when I worked in the White House. I worked closely with some of the doctors in his medical unit. They were great. I find this talk about a corrupt and discombobulated med unit foreign to my limited experience. Those doctors were terrific, and the customer service was what you would hope for in private practice."
I have a hard time believing that Jackson's behavior could be so openly reckless and unethical that no one in the White House would call it to either president's attention, and I just don't buy that Presidents Trump and Obama would entrust the health of their families and themselves to a doctor with the reputation the Democrats describe. Why did all of these behaviors not become an issue until 24 hours before his confirmation hearing?
Jim's Big 2018 NFL Draft Preview
This started as something fun and gradually turned into actual research.
Cleveland Browns: There's been a surprising amount of speculation and rumors that the Browns will pick Wyoming quarterback Josh Allen. But (relatively) new general manager John Dorsey has an unparalleled opportunity to build his team's future with the first and fourth overall picks in this year's draft. There's no need to overthink this; if Dorsey plays his cards right, he'll get his franchise quarterback and either arguably the best player in the draft (running back Saquon Barkley of Penn State) or the best defensive player in the draft (DE Bradley Chubb). The Browns choose the safer route and select USC quarterback Sam Darnold.
New York Giants: There have been some rumors that the Giants might try to trade this pick for a king's ransom, but I think after nine minutes of listening to offers, Giants general manager Dave Gettleman will please his fanbase and select Saquon Barkley, thinking they can be a playoff-caliber team again before Eli Manning retires. Picking a quarterback would be a signal that the Giants think Manning is on his way out, and the fanbase feels like Manning got a raw deal last year.
New York Jets: And now Jets general manager Mike Maccagan faces his big decision: Oklahoma's Baker Mayfield or UCLA's Josh Rosen? I'll be pretty pleased with either one. I have a slight preference for Rosen because of the nagging worries about Mayfield's size. Then again, Rosen had a few concussions. I think the Jets select Josh Rosen.
Browns again: Bradley Chubb, defensive end, North Carolina State. Starting around here, the talk about teams trading up will get hot and heavy. I think the Buffalo Bills will be eager to package their two picks in the first round to someone and get their desired quarterback, likely Allen. But I think Cleveland likes what they can get with two of the top four picks.
Denver Broncos: At this point you've got Mayfield and Allen left, and a slew of quarterback-needy teams — Buffalo, Arizona, Miami, and maybe even the Patriots thinking about packaging a slew of picks to move up and get their quarterback of the future. But I think Denver stays put and picks Baker Mayfield. If there's a trade, I think the most likely one is Buffalo moving up and getting Allen.
Indianapolis Colts: A lot of teams want to trade up, but I think the Colts stay put and take the most pro-ready offensive lineman in the draft, Quenton Nelson, guard, Notre Dame.
Tampa Bay Buccaneers: I'd say it's almost certain that you see a trade here if any of the big four quarterbacks are left, but if there isn't, Tampa will get the best defensive back in the draft, Minkah Fitzpatrick of Alabama.
Chicago Bears: With the quarterbacks off the board, the draft shifts from high-stakes trades and drama to "normal" with teams plugging holes with the best player available. The Bears select linebacker Tremaine Edmunds of Virginia Tech.
San Francisco 49ers: A lot of good options, but I think they go with cornerback Denzel Ward of Ohio State.
Oakland Raiders: If Allen is still on the board, the Bills might be desperate to get Allen before he drops to Miami. Otherwise, the soon-to-be-"Las Vegas Raiders" pick safety Derwin James of Florida State.
Miami Dolphins: There had been a lot of rumors about Miami looking for a quarterback and wanting to trade up for several weeks, but those rumors died down in the past week or so. I think Miami concludes linebacker Roquan Smith of Georgia is a better piece of the puzzle than any of the remaining quarterbacks.
Buffalo Bills: If Josh Allen is still here, they'll grab him immediately. Much more likely they swap picks with someone and take him earlier.
Washington Redskins: There are still a lot of good options left for a team that needs a defensive back, and I think Washington goes with Josh Jackson, cornerback, Iowa.
Green Bay Packers: The Packers go with a comparably good cornerback, Carlton Davis of Auburn.
Arizona Cardinals: Quarterback Lamar Jackson of Louisville. Overdrafted? Maybe. But Arizona's probably looking for a better long-term option than Sam Bradford, and Jackson will be an enormously exciting player to watch. But running quarterbacks take a lot of hits, and one has to wonder if Jackson will have an RGIII-like career: dynamic for a few years until an injury changes his playing style. Yes, I realize I'm predicting five quarterbacks selected in the first 15 picks.
Baltimore Ravens: Usually a bunch of offensive linemen go in the top 15 picks. The Ravens have a slew of good options to strengthen their line and select Orlando Brown, a massive tackle out of Oklahoma.
Los Angeles Chargers: They wouldn't mind getting a quarterback of the future, but they probably need a better defensive line, and so they select Da'Ron Payne of Alabama.
Seattle Seahawks: After losing Michael Bennett and Sheldon Richardson, they need to restock the defensive line, and they find a first-round talent close to home: Washington defensive tackle Vita Vea.
Dallas Cowboys: Cowboys fans were heartbroken watching Dez Bryant get released, but the team gets a younger replacement, Alabama wide receiver Calvin Ridley.
Detroit Lions: A lot of analysts don't like taking running backs in the first round, but I think the Lions figure out a way to justify taking LSU's Darrius Guice.
Cincinnati Bengals: Protect the quarterback! Cincinnati selects center James Daniels of Iowa.
Buffalo Bills: It's likely another team is picking here, but if Buffalo gets their quarterback of the future, they need to give him protection. They select Will Hernandez, guard out of Texas El-Paso.
New England Patriots: It's a rare moment when New England could use some help just about everywhere: left tackle, another receiver, another running back, another defensive back, or a quarterback of the future. They protect Tom Brady's blind side by picking Notre Dame's tackle Mike McGlinchey.
Carolina Panthers: This selection could go in a lot of different directions, but after free agency the Panthers now need another guard, so I have them picking Georgia's Isaiah Wynn.
Tennessee Titans: They need an edge rusher, among other things. Boston College's Harold Landry fits the bill.
Atlanta Falcons: Like a lot of teams, the Falcons need more disruptive defensive lineman. Florida's Taven Bryan can play end or tackle and gives the coaches lots of options.
New Orleans Saints: The Saints are looking for a successor to Drew Brees, and it wouldn't be surprising to see them trade up to get Lamar Jackson. But presuming that plan doesn't pan out, they look to the defense. DeMario Davis is not a long-term answer, so the Saints select Leighton Vander Esch, inside linebacker out of Boise State.
Pittsburgh Steelers: The Steel Curtain needs some safeties. They select Eric Reid's younger brother Justin Reid out of Stanford, touted as the kind of player ready to start in the NFL.
Jacksonville Jaguars: A team that's loaded at every position except quarterback and middle linebacker. Inside linebacker Rashaan Evans of Alabama steps into a talented unit.
Minnesota Vikings: The Vikings give Kirk Cousins some help with USC running back Ron Jones. 
New England Patriots: I was tempted to have New England seek out their quarterback of the future by picking Oklahoma State's Mason Rudolph, but I can't see the Patriots using a first-round pick on him. The best player available is probably defensive tackle Maurice Hurst of Michigan.
Philadelphia Eagles: Super Bowl champions rarely have glaring needs and can usually look for depth. The Eagles could use either a safety or a tight end, and in the end select Penn State tight end Mike Gesicki.
ADDENDA: Lot of reading to do. Jonah's book is for sale this week; Salena and Brad's book hits shelves in a few weeks.