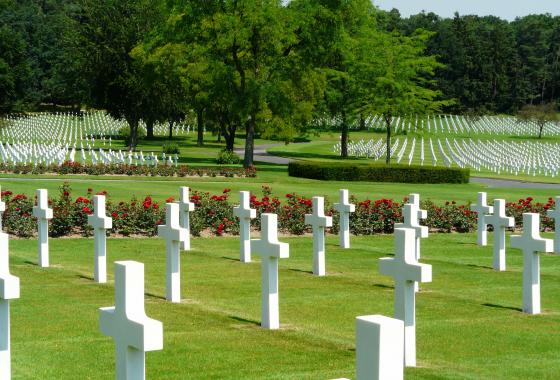 Dear Jolters,
Well, we got the jolt early this week upon learning of the sudden death of our colleague. Mike Potemra, NR's literary editor, passed away at the age of 53 — too young and too soon for us. But not, we pray, for the Almighty.
Phone calls and emails unreturned, we undertook to find out — what gives. In the early a.m. of Tuesday came the grim news that a heart attack had felled him. We are all of us shaken here: Mike was a bold color, part of the dye and pattern of the NR cloth. He was a man capable of boundless wisdom and sincere friendship and gleeful mirth. Pardon the selfishness, but it was bad enough that he left NYC HQ a few years back for the sunnier lands of the City of Angels.
And now, forever? We weep, but hope: more angels.
This will be a truncated Jolt. Let's preempt the usual "editorials" section with a catalogue of Mikey P remembrances.
What's Up, Pussycat!
Really, "puss." That's if you were a woman (uttered with a gentle clawing gesture). If a guy, Mr. Potemra greeted you with a hearty Bill-and-Ted-channeling "Dude!" To me he was Mikey or Mikey P. There was many a 6 a.m. when we talked about all things under the sun and moon at NR's otherwise barren offices (where he would have been making his editorial magic since the wee hours). I'm not sure who here couldn't claim a special relationship with our colleague. Here are some of their wonderful remembrances.
1. What a truly beautiful R.I.P. from Rich Lowry. From it:
Maybe it's most accurate to call him an outgoing introvert. He never drew attention to himself and wasn't a backslapper (the last time I saw him, I jokingly attempted a bro hug, and it didn't come off). But he was genuinely interested in people and loved to laugh. When he had a joke, he'd share it with everyone in the office. He loved to do impressions, particularly making comments about contemporary politics in his Nixon voice. You usually knew he was in the office because you could hear his laughter.
2. Their offices and their love for all things spiritual abutted. KLO recalls Mike's . . .
. . . fearlessness in calling someone up and asking them to lunch. As in: Hello, I just read your book, let's talk about it. Is there anything more an author would love to hear? Pure music from Heaven for most! I think he must have gone to lunch with more people in a year than I have in a lifetime, and from all religions and none and all political persuasions. And not because he was impressed with "important" people but because he was genuinely curious. I'm forever assuming everyone else doesn't have time, because I'm forever thinking I don't have time. We make time. And when we don't, we're missing some of the best of life.
3. I love this passage from Jay Nordlinger's spectacular tribute about Mike:
He was an amazing personality — funny, learned, often dazzling. There was a W. C. Fieldsian quality about him. He was like Fields, if Fields had been an intellectual. Mike had read everything, absolutely everything. And he had seen every movie (though not necessarily of the mainstream type).

Years ago, he gave me a list of books — ones that he especially admired. At the top of the list was Proust. He gave me a list of movies, too. His No. 1 was The Conversation, Francis Ford Coppola's movie from 1974. I watched it and didn't understand it at all, or like it. Mike told me something like this: "It's a parable about privacy, essentially." I said I would give it another try and grow into it. I have never given it another try. I surely should.
4. Mike's humor meant a lot to the debate within NR, especially at the magazine's fortnightly editorial meetings. And he was an imp. Nat Brown nails it:
He had a real talent for making people laugh. Mike's jokes were always a highlight of Monday print editorial meetings. And he'd take his one-of-a-kind sense of humor home with him. He once told me, with an irresistible grin, about how he occasionally liked to bring a review copy of a book on a particularly morbid subject on the subway. As he sat down, he'd begin to "read" the book while holding it upside down and laughing hysterically for effect, taking in the at-times amused, at-times horrified reactions of those around him through the corner of his eye.
5. Rick Brookhiser sees something else in the Prism that was Potemra:
Mike was a contrarian, and a sniper; he liked to lie in wait at our editorial conferences and catch us in pomposities. Once I was going on about the o/u vowel shift in transliterating Arabic, which struck me as capricious and somehow political. Stinging like a bee, he said, "Muhammed Ali?"
6. Former NR literary editor David Klinghoffer explains why Mike "was a rare and a precious person, an absolute original."
7. Before toiling for NR, Mike worked for The Gipper and then a number of senators. A Capitol Hill intern who looked up to him is named Paul Ryan. Cesar Conda profiles the dude who was part cut-up:
His impressions of Reagan, William F. Buckley, Jack Kemp, and George H. W. Bush were spot-on and hilarious. Mike's raspy imitation of Kemp's excitable and often windy way of talking about supply-side tax cuts was especially side-splitting. (Mike was a believer in lower taxes but a skeptic of some of the more fantastic claims made by supply-side enthusiasts at the time. He once asked me: "Hey C, so is it really true that the gold standard can improve sexual prowess?")
8. Former senator Mike DeWine (R., Ohio) was one of those Capitol Hill bosses. And a pal. He found Mike indispensable and unforgettable. From his piece:
Mike was also a complicated soul. He was a searcher, who sought meaning in life through religion, culture, and humanity. I don't know what answers he found, but he remained hopeful. Regarding his own personal struggles, he once wrote, "I have deep, punishing depressions, but that only makes me more grateful for the fact that I am such a lucky man, in general. . . . Wherever you are, pay attention to the good times and be grateful. Yes, the world can be a terrifying place. But that is not ALL it is."
God is good: I got to see Mike in California at an NRI event several weeks back, the first time in three years. I was elated to be with my old pal. After the forum, he and Roman Genn and I drove back to LA and had a wonderful reminiscence and gossip-a-thon. I said goodbye at LAX thinking, "I'll be back soon, and we'll have an encore." I hope there will be one, albeit in a much better place, with Mike waiting for us dudes and pusses.
Editorials
1. Give it up, Mr. President. NR is decidedly against uncanceling the now-kaput North Korea Summit. From our editorial:
President Trump says there's still the chance of a summit at some point. It'd be better to give up hopes for a splashy meeting and instead double down on the maximum pressure campaign. There's still room to tighten up further by, for instance, cracking down on the regime's illicit sources of cash and imposing secondary sanctions on Chinese entities dealing with the North. The longer-term goal would be to crack the regime, or at least its will.
Eight NR Pieces Well Worth Your Attention
1. K-Lo is spearheading a big NR Institute effort on foster-care and adoption reform. She has a most interesting interview with expert Sarah Zagorski, whose own life is a remarkable tale of "the chaos of her biological family and then foster care."
2. Sticking with the theme . . . adoption and foster-care expert Elizabeth Kirk encourages people of faith to become personally involved. From her piece:
Of course, people of faith must push back and insist that faith-based child-welfare organizations are not discriminatory and that protecting them ensures that a diverse group of providers will be available to serve all children. The loss of providers is a loss for children and society, placing greater pressures on fewer providers to respond to a growing crisis. But we also have to recognize that the efforts of faith-based organizations to protect themselves are rear-guard, defensive actions against the encroachment of an aggressive agenda to drive religion out of the public square. Even where we win the battle, as we did when laws protecting faith-based child-welfare organizations were passed in Kansas and Oklahoma earlier this year, our work does not stop there.
3. Oppressive political correctness is ruling the day at Stanford Law School. Martin Salvucci, a third-year student there, tells the sorry story, and here's a slice of it:
At Stanford Law School, no more than three of approximately 110 full-time faculty publicly identify as conservative or libertarian. (By way of contrast, Stanford Law School touts on its webpage 23 full-time faculty under the inartful rubric of "minority.") As a consequence, many of my classmates will graduate having never engaged with a law professor whose worldview and convictions track those of nearly half the voting public.

It would require nothing less than willful blindness to presume this state of play does not affect the education that students receive. Probably for obvious reasons, my classmates demonstrate little willingness to identify publicly with anything associated with conservatism or, God forbid, President Trump, no matter how trivial. By way of extraordinary example, the Law School Republicans will soon cease to exist as a student organization because — after a campaign of intimidation and opprobrium — not one underclassman would volunteer to serve on its board next academic year.
(But hey, you big-buck conservative grads — you keep on with that bequesting of millions to the joint! Your dough is producing generations of lefties but what the hell. Literally!)
4. Heather Wilhelm finds the 2018 edition of Feminism having no room for conservatives. From her piece:
That's why it was puzzling to see this year's commencement address at Barnard College, given by soccer star Abby Wambach. "Women are feared as a threat to our system," she declared, arguing that girls in our society are told to "stay on the path. Don't talk to anybody. Keep your head down hiding underneath your Handmaid's Tale cape. . . . Don't be curious, don't make trouble, don't say too much or bad things will happen." Really? In America today? Or even in 1996, when many of the Barnard graduates were born? Perhaps I am living on Earth 2, and this speech took place on Earth 1, which is still stuck in the 1950s; then it would make sense. (Well, except for the Handmaid's Tale part, but that never really makes sense anyway.)
5. Echo: Alexandra DeSanctis finds "Third-Wave Feminism" to be bullying and very much into devaluing women. Here's how her piece begins:
It takes a special kind of condescension to declare yourself the ultimate authority on being pro-woman, even as you dismiss and denigrate any woman who doesn't agree with your entire political agenda.

That's exactly what feminist writer Jessica Valenti did over the weekend when she wrote a New York Times op-ed on "The Myth of Conservative Feminism." The premise of the piece is that she and her allies are the Gatekeepers of Real Feminism, and thus that she is the arbiter of who may be permitted to call herself a feminist. Unsurprisingly, her criterion for whether one meets the definition appears to be whether a woman embraces the progressive agenda. If you claim to be pro-woman but won't join the #Resistance — well, that's "conservative appropriation."
6. From the magazine, Heather Mac Donald reports on "Rage and Race at Yale." Here's how her piece begins:
Once again, a college president has chosen to fan the flames of racial grievance rather than to calm them. This time, that president is Yale's Peter Salovey. No surprise there, since Salovey has rarely missed an opportunity to signal his racial virtue by declaring that he presides over a campus harboring "hate," "exclusion," and "discrimination." Yale's response to a recent incident of petty dormitory tyranny is a textbook example of how not to lead a university.
7. Mona Charen attends her son's college graduation and has a thing or two or three to say about commencement addresses. From her piece:
But one cliché that dominates many commencement addresses really should be retired, and that's the one that exhorts the graduates to go out and change the world.

High-school and college graduates don't know very much about the world. Maybe before they set out to change things, they should get a good grasp of how things actually work. Ask them the difference between term- and whole-life insurance, or how to change a tire, or how much to save every month, or whether you should call a cop after a fender bender. Ask them if they've ever organized a dance, far less a factory.
8. China's brutal oppression of the Uyghur people is fully exposed by Jay Nordlinger. From his piece:
We should pause for some basic facts. Who are the Uyghurs? (That name is also spelled "Uighurs" and "Uygurs," and is pronounced, essentially, "WEE-ghurs.") They are a Turkic people, mainly Sunni Muslim, living in the XUAR. Those letters stand for "Xinjiang Uyghur Autonomous Region." The word "autonomous" is a joke. The region is ruled with an iron fist by Beijing. Uyghurs themselves don't use the name "Xinjiang," though Chinese do: It means "new territory," "new dominion," or "new frontier." In other words, "It's ours," China's. Uyghurs themselves call their region "East Turkestan."

By the way, if you say "East Turkestan" in East Turkestan, you may be punished severely.
Must-Read McCarthy
Andy has produced a powerful quartet of pieces this week. Titles and a selection from each follow.
1. "In Politicized Justice, Desperate Times Call for Disparate Measures:"
If you or I had set up an unauthorized private communications system for official business for the patent purpose of defeating federal record-keeping and disclosure laws; if we had retained and transmitted thousands of classified emails on this non-secure system; if we had destroyed tens of thousands of government records; if we had carried out that destruction while those records were under subpoena; if we had lied to the FBI in our interview — well, we'd be writing this column from the federal penitentiary in Leavenworth. Yet, in a feat of dizzying ratiocination, Director Comey explained that to prosecute Mrs. Clinton would be to hold her to a nitpicking, selective standard of justice not imposed on other Americans.
2. "At Trump's Urging, Justice Department Expands Investigation of Investigators:"
I am sympathetic to Sessions's obvious desire to restore norms that the FBI and Justice Department resist speaking publicly about ongoing investigations. But here, he needs to be public and vigorous about his determination to get to the bottom of what happened. The Justice Department has stonewalled congressional requests for information in connection with the Russia investigation (from which Sessions recused himself). Sessions needs to assert himself, making clear that the Department will scrutinize credible allegations of political spying and will cooperate with congressional committees. With his top subordinate, Deputy Attorney General Rod Rosenstein, likening congressional oversight to "extortion," the boss needs to do more.
3. "The Real Origination Story of the Trump-Russia Investigation:"
With the revelation last week that the Obama administration had insinuated a spy into the Trump campaign, it appeared that we were back to the original, Page-centric origination story. But now there was a twist: The informant, longtime CIA source Stefan Halper, was run at Page by the FBI, in Britain. Because this happened just days after Page's Moscow trip, the implication was that it was the Moscow trip itself, not the dossier claims about it, that provided momentum toward opening the investigation. Then, just a couple of weeks later, WikiLeaks began publicizing the DNC emails; this, we're to understand, shook loose the Australian information about Papadopoulos. When that information made its way to the FBI — how, we're not told — the "Crossfire Hurricane" investigation was formally opened on July 31. Within days, Agent Peter Strzok was in London interviewing Downer, and soon the FBI tasked Halper to take a run at Papadopoulos.

I'm not buying it.
4. "The Clinton-Emails Investigation Intertwined with the Russia Probe:"
The mistake is often made — I've made it myself — of analyzing the tanking of the Clinton emails case in a vacuum. There are, after all, reasons unrelated to Donald Trump that explain the outcome: Obama was implicated in Clinton's use of a non-secure email system; Obama had endorsed Clinton; many high-ranking Obama Justice Department officials stood to keep their coveted positions, and even advance, in a Hillary Clinton administration; the Obama Justice Department was hyper-political and Clinton was the Democratic nominee.

But the Clinton investigation did not happen in a vacuum. It happened in the context of Donald Trump's gallop through the Republican primaries and, just as important, of the Obama administration's determination to regard the Trump campaign as a Kremlin satellite.
Podcasts
I'm spent. Look 'em up yourself. Right here. I'm deferring this week, except to promote the new episode of The Editors, in which Rich, MBD, Charlie, and Reihan discuss the trade summit with China, the prospects for peace with North Korea, and the latest in the Russia inquiry. You can listen here.
Eternal Father . . .
. . . Strong to Save. A hymn for this Memorial Day Weekend.
A Dios
Many died, or suffered terribly, for our liberties. That comes with an obligation — to remember them, to pray for them, and, as Lincoln exhorted, to "take increased devotion to that cause for which they gave the last full measure of devotion — that we here highly resolve that these dead shall not have died in vain — that this nation, under God, shall have a new birth of freedom — and that government of the people, by the people, for the people, shall not perish from the earth." Sounds like a plan. I'm with you Abe!
And please pray too for the peaceful repose of the soul of Michael John Potemra.
God bless,
Jack Fowler
jfowler@nationalreview.com is the portal to haunting me.
P.S.: Some day, look at the website of the American Battle Monuments Commission, which cares for the final resting place of so many Americans who made the ultimate sacrifice.