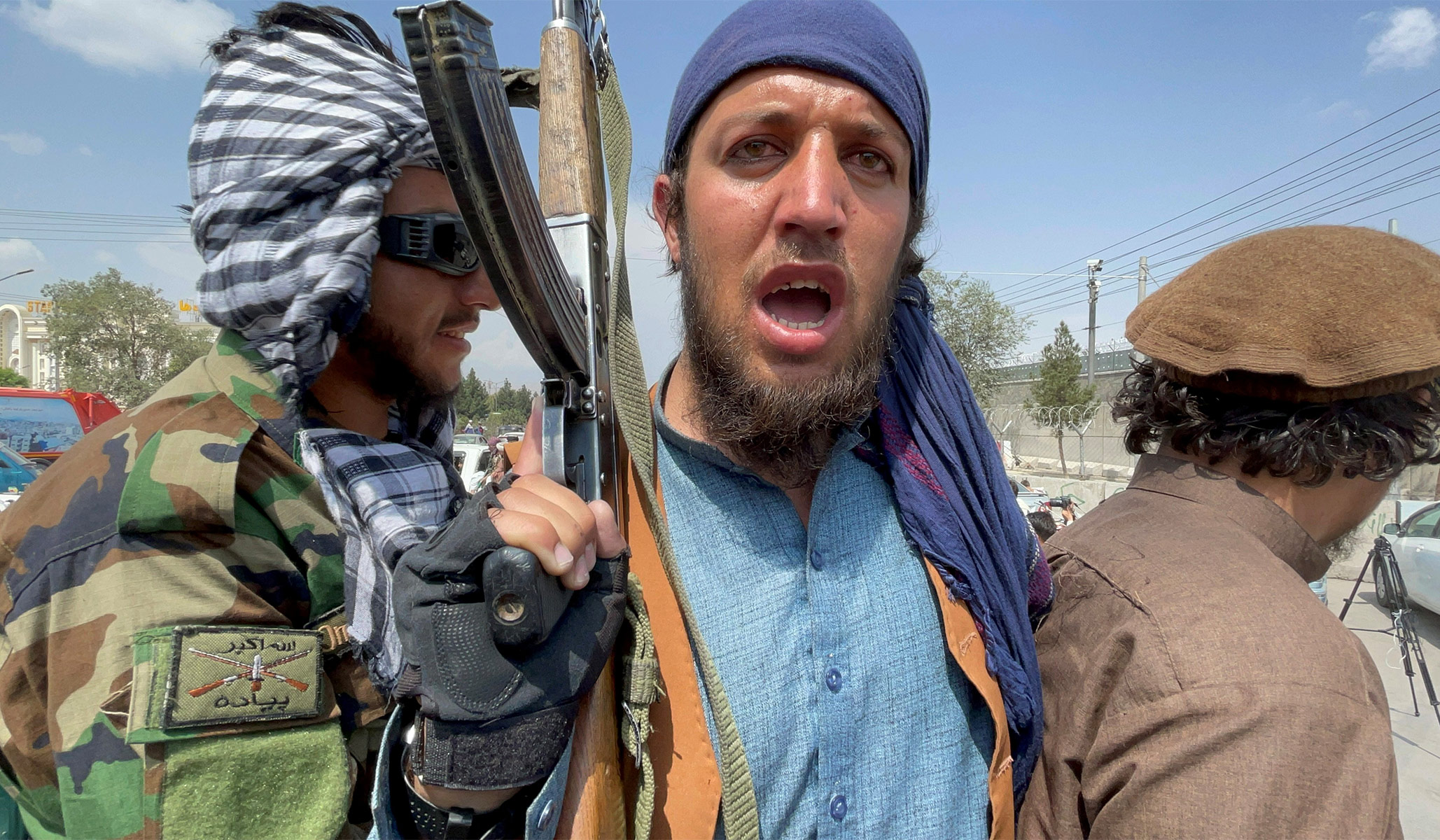 Dear Weekend Jolter,
The Taliban plan to crack down once again on the playing of music in Afghanistan — "but we're hoping that we can persuade people not to do such things, instead of pressuring them," spokesman Zabihullah Mujahid told the Times.
How kind. One slaughtered folk singer evidently did not have the chance to be persuaded first.
The same spokesman dismissed concerns that women would be forced to travel with a male guardian and stressed that this requirement applies only to journeys of three days or more.
Pardon our confusion.
The group says women will be able to work. Why were women told to stay home then? Mujahid explained that some Talibanistas simply hadn't yet been trained on how to not hurt them.
Thoughtful.
Oh, and the same group that has been our purported partner in withdrawal, per NR's Jim Geraghty and the account of a plugged-in reader, has been "taking people's phones and searching through them for English language messages."
Point is, no matter the spin from Taliban spokesmen (and spokeswomen, once that gender-equity program kicks in), hopeful media reports, and wishcasting administration figures, the Taliban are still the Taliban, the same group that once converted Kabul's soccer stadium into a coliseum for stonings and amputations. No, they haven't changed, not in any fundamental way beyond their becoming a bit more PR-savvy.
Isaac Schorr with the news team hit this point earlier in the week, noting how the Biden administration and others were touting Taliban promises to let foreign nationals and Afghan citizens leave after the now-passed August 31 U.S. withdrawal deadline:
Zalmay Khalilzad, the chief U.S. envoy to the Taliban under both the Trump and Biden administrations, called the Taliban's promises "positive." On ABC News' This Week, Secretary of State Antony Blinken explained to Martha Raddatz that "a very senior Taliban leader spoke on television and on the radio throughout Afghanistan and repeatedly assured the Afghan people that they would be free to travel after August 31st." . . .

Reports from lawmakers, journalists, and activists appear to vindicate the skeptics and suggest the Biden administration may be exaggerating the prospects of Taliban cooperation with a longer-term evacuation effort.
For instance, Senator Marco Rubio's office said they and others received reports of women, including U.S. citizens, "being prevented from passing through Taliban checkpoints without a male guardian."
Those guards must still need the HR training.
It is bizarre that weeks into this crisis, no U.S. official has spoken harshly of the Taliban. Instead, it's all hopefulness about the group turning over a new leaf. Blinken noted the Taliban's commitment to prevent terrorist groups from using Afghanistan as a base, even though the Taliban have been in violation of their commitment to separate from al-Qaeda since the time they made it.
To give an idea of how seriously they take that aforementioned promise, here's that same spokesman, Zabihullah, claiming there was "no proof" that Osama bin Laden was involved in the 9/11 attacks.
It's a helluva thing to say to an American news outlet, as 9/11 turns 20.
As if it needs stating, there's little reason to think the Taliban will honor their commitments as they consolidate control. Just remember, for every slick media interview the Taliban give, there's the body of a man with his arm muscles sliced off. The now-complete American withdrawal, coupled with the confiscation of billions of dollars' worth of American military equipment, are likely to make the Taliban feel empowered to commit and enable more atrocities, not banish al-Qaeda and reconcile with old foes. Indeed, Jimmy Quinn flags evidence that reprisal killings already are accelerating.
No wonder so many were desperate to escape. Now, an unclear number of American citizens, green-card holders, and Afghan allies remain behind, and any efforts to extract them (which Biden suggested could be pursued) likely will hinge on Taliban cooperation. Rich Lowry, writing upon the conclusion of the U.S. military withdrawal, notes how the Taliban's conduct does not inspire feelings of hope:
We still don't know how many U.S. green-card holders, to whom we should also feel an obligation, have been left behind. And there have been reports that the Taliban were blocking our most deserving Afghan allies from getting to the airport, meaning the Afghans we got out weren't necessarily the most endangered.

Even if the evacuation had been flawless and complete, the underlying situation speaks of an abysmal failure. After 20 years, we lost a war to a Taliban that now control more territory than they did on September 11, 2001. The Taliban haven't renounced al-Qaeda; indeed, the Haqqani network, a key element of the Taliban that has been responsible for security in Kabul, is closely allied with the terror group.
Will the Taliban leave the international community pleasantly surprised by their commitment to good global citizenship, their elevation of women's rights inside Afghanistan's borders, and their cooperation on letting pass those who wish to escape?
NR's editorial frames consideration of this question simply:
The administration says that it will continue to work to get Americans, legal permanent residents, and our Afghan allies out. Perhaps the Taliban will abide by their promises to allow free passage of those wanting to leave, but this isn't a gamble we should be taking, and presumably no officials in the administration would want to take it with their own lives or those of their families.
You can read more on this and other momentous events from the past week — by scrolling down just a few more pixels.
NAME. RANK. LINK.
EDITORIALS
The deadline for the Afghanistan withdrawal has passed, but the national stain from Biden's execution of it remains: Biden's Disgrace 
The plot thickens on the road to the Court's possible reconsideration of Roe: Supreme Court Gets It Right on Texas Abortion Law
ARTICLES
Rich Lowry: When National Honor Meant Something
Charles C. W. Cooke: The Bitter Truth: There's Still No Rhyme or Reason to COVID-19
Charles C. W. Cooke: Joe Biden Needs to Stop Talking about Beau
Jay Nordlinger: The Afghan Disaster
David Harsanyi: Biden's Afghanistan Speech Was a Dishonest, Incoherent, Contradictory Mess
Victoria Coates: After Afghanistan
Jack Fowler: The Supreme Court Has a Chance to Blunt the Union Scheme to Defy It
Jim Geraghty: U.S. State Department to Green-Card Holders Still in Afghanistan: 'Keep a Low Profile'
Ryan Mills: Indiana School District Segregates Teachers into Race, Gender 'Affinity Groups'
Ryan Mills: Landlords Crushed by Eviction Bans Rush to Sell Properties, Stifling Rental Market
Michael Brendan Dougherty: The Crumbling Justification for Vaccine Passports
John Yoo and Robert J. Delahunty: Why We Failed in Afghanistan
Alexandra DeSanctis: The Texas Heartbeat Bill Is a Preview of a Post-Roe World
Andrew McCarthy: Biden's Phone Call with Afghanistan's President Was Not Impeachable
John McCormack: Biden's Shameful Betrayal of America's Closest Allies in Afghanistan
Philip Klein: Another Looming Disaster
CAPITAL MATTERS
Peter Jacobsen and Brad Polumbo see copious support today for the old adage of how nothing's so permanent as a temporary government program: The Pandemic's Web of 'Temporary' Government Programs
Jordan McGillis sees through the charade of China's climate commitments: Climate Policy with Chinese Characteristics
Steve Hanke breaks down how U.S. aid fueled corruption in Afghanistan: A Poster Child for Foreign-Aid Failure
LIGHTS. CAMERA. REVIEW.
Armond White notices a familiar modern script underneath a horror-classic remake: Candyman Continues a Blood-Money Franchise
Despite the cheesy backstory, Marvel's latest is a joy, says Kyle Smith: Marvel Keeps Going Strong with Shang-Chi
It might get overshadowed by the National Gallery, but Washington's Phillips Collection is well worth the visit. Brian Allen marks its 100th birthday: The Phillips Collection at 100: Heralding the New, Treasuring the Old
AND HERE THEY ARE, EXCERPTS FOR THE WEEKEND JOLTER SOUL
From the closing passages of NR's editorial on the Afghanistan withdrawal:
It didn't have to be this way. Biden could have maintained a U.S. troop presence in Afghanistan that kept the Taliban from taking over the country (they hadn't even captured Kandahar as of about three weeks ago), or, failing that, he could have fashioned a minimally competent withdrawal that didn't put us at the mercy of the Taliban. He did neither. He took an unsatisfactory stalemate and made it a complete rout. He botched our exit, materially harmed our national security, precipitated a humanitarian catastrophe, and betrayed our countrymen and allies.

He has not only made us less safe, he has dishonored us, and that can never be forgotten or forgiven.
John McCormack shines a light on the vow to Afghan allies that was broken by the U.S.:
President Biden withdrew all U.S. forces from Afghanistan on August 30 despite the fact that at least 100 to 200 U.S. citizens remained stuck in the Taliban-controlled territory.

Thousands more legal permanent U.S. residents were left behind.

As for the Afghans who were America's closest allies in the war — and thus face the greatest risk of being slaughtered by the Taliban? It's hard to pin down an exact figure, but the New York Times estimates that the United States left behind "at least 100,000 Afghans eligible for resettlement in the United States for their work with the Americans." . . .

It's hard to overstate the depth of this betrayal.

When the U.S. military recruited Afghans to assist U.S. forces, "part of that pitch when asking Afghans to trust us and put their lives on the line for us was that if this day ever came, we would do right by them and bring them out," Congressman Peter Meijer of Michigan, a veteran of the Iraq War, told National Review in a recent interview. "That was part of that promise — that we will not leave you behind. That was implicit in the legislation [establishing Special Immigrant Visas for Afghan allies], and that was conveyed by [U.S. military] folks on the ground to those who chose to work with us."
Rich Lowry makes important points here about national honor, and uses the example of the Teddy Roosevelt–era Perdicaris Affair to draw a contrast with how President Biden is operating today:
Honor has always had an enormous influence on human affairs and the conduct of governments — until, evidently, the advent of President Joe Biden in the year 2021.

There's no perspective from which his exit from Afghanistan looks good. But abstracting it from any considerations of honor at least takes some of the sting out of a deeply humiliating episode that would have been considered intolerable throughout most of our nation's history. . . .

A counterexample that reflects a more traditional American approach is President Teddy Roosevelt's famous handling of the Perdicaris Affair in 1904, which involved the massive deployment of naval firepower over the kidnapping of one American in a faraway land of which we knew nothing.

Roosevelt's reflexive bellicosity can seem atavistic at a time when national honor has lost a lot of its purchase.
Charles C. W. Cooke offers up a bitter pill — the hard data showing how state-by-state COVID death rates often have little relationship to which party is in power or to how intense the lockdowns and mask mandates are:
Confusing, isn't it? Try as you might, you will not find a plausible way of blaming this on that party or region or policy that you hate. . . .

ABC News reported that there is bad news coming out of Oregon — yes, the same Oregon that's home to Governor Kate Brown, she of the innovative outdoor mask mandate for the vaccinated. "The death toll from COVID-19," the outfit noted, "is climbing so rapidly in Oregon in some counties that the state has organized delivery of one refrigerated truck to hold the bodies and is sending a second one." What, within our Good/Bad dichotomy, can have caused this, one must wonder? Has Governor Brown not frowned enough? Have Oregonians failed to burn a sufficient number of dead radio hosts in effigy? Does the state's health director sport a bad haircut? Or could it be, perhaps, that this is a terrible virus, that it prompts unpredictable results, and that our present political hysteria is as poor a frame for understanding what is happening in New Jersey and Oregon as it is for understanding what is happening in Texas and Alaska?

Israel, which has done everything that the loudest critics on the Left wanted America to do, is nevertheless stuck in the throes of a devastating surge. Israel has instituted repeated and draconian lockdowns (enforced by drone, no less); it has used nationwide mask mandates; it has vaccinated everyone early — and even added booster shots into the mix; and it has even instituted a system of vaccine passports. And, right now? Well, it's getting crushed. Per NPR, despite becoming "the first country on Earth to fully vaccinate a majority of its citizens against COVID-19," it now "has one of the world's highest daily infection rates. . . . Nearly one in every 150 people in Israel today has the virus." I wonder: Is Israel a Red State or a Blue State? . . .

The uncomfortable truth is that, beyond developing, encouraging, and providing inoculation, there's not much that any government can do to guarantee success — and, even when it does what it can, a lot of people are going to resist for reasons bad and good.
A government program that had the opposite of its intended effect? Shocked as we might be, Ryan Mills reports on how the country's eviction bans have prompted owners to sell, in turn hurting would-be renters:
Even though the Supreme Court ended the federal eviction moratorium in late August, rental owners in several blue states still are struggling under a bevy of state moratoria (which often have more teeth), and new tenant-friendly laws and regulations. Local landlords increasingly are cashing in while the housing market is hot.

The United States already has a severe rental housing shortage. In fact, not a single state in the country has an adequate supply of affordable rentals for low-income renters, according to the National Low Income Housing Coalition. Industry leaders worry that a massive sell-off of single-family rental homes driven by record high prices and increasingly burdensome government regulations will make any already dire rental-housing situation substantially worse.

Single-family rentals are "the nation's naturally occurring affordable housing," Bob Pinnegar, president and CEO of the National Apartment Association, told National Review. "If we lose those units and people sell, we're never going to be able to replace that housing stock."
Shout-Outs
Dion Nissenbaum, at the Wall Street Journal: Afghan Interpreter Who Helped Rescue Biden in 2008 Left Behind After U.S. Exit
Ayaan Hirsi Ali, at UnHerd: The media enabled Afghanistan's collapse
Geoff Parkes, at Quillette: As Australia's Politicians Enforce Yet Another Lockdown, Small Businesses Keep Suffering
David French, at The Dispatch: It's Time to Stop Rationalizing and Enabling Evangelical Vaccine Rejection
CODA
Turns out there's a (King) Crimson tide out there. After this newsletter hawker cautiously included a Frippian number in last week's note, reader Meg Phillips approvingly shared a like-minded band that was news to me: Nektar.
So, this scribbler is only five decades behind the curve. A cursory search shows that the English progressive rock group formed in the late '60s in then–West Germany. Must have missed it. Meg helped fill in the blanks — and offered up "A Tab in the Ocean," the song and the album of the same name. It's peak prog, redolent of early Genesis with echoes of "Echoes," and delightful. The title track clocks in at over 16 minutes, so grind some beans, brew a pot, have a leisurely cup, and you'll still have time to do the crossword before Act V.
Got a tune? Want to share? Send a link to jberger@nationalreview.com. Thanks for reading. (And thank you, Meg.)
Programming Note: The Morning Jolt will return on Tuesday, after the holiday.