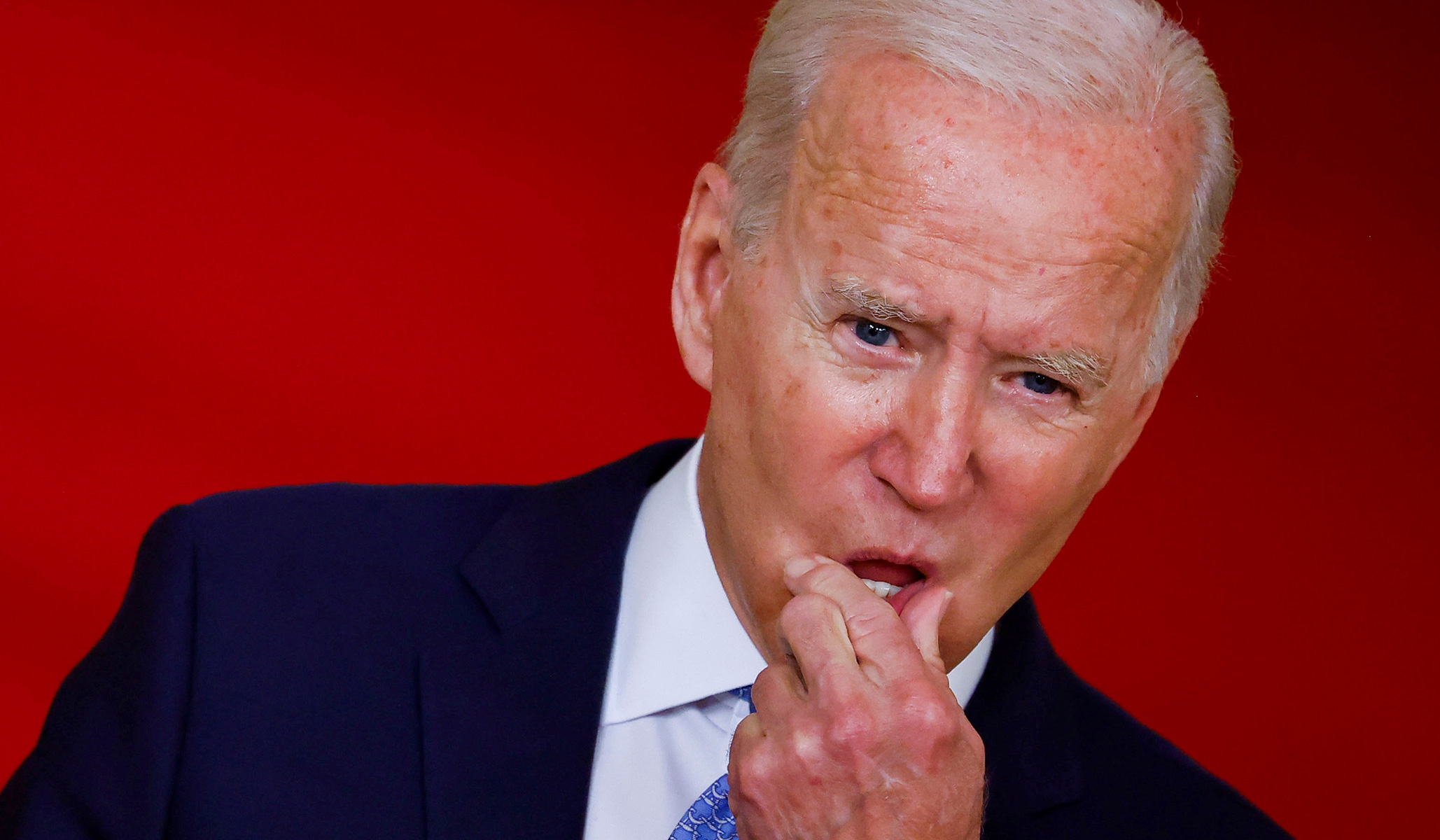 Dear Weekend Jolter,
President Biden has a problem: 'Border Czar' Kamala Harris's portfolio can't fit much more these days. Yet the number of simultaneous crises on the administration's plate — several of them of its own making and, as with the case of Afghanistan, now metastasizing to include their own sub-crises — is growing by the week.
No longer can the president foist the latest quagmire onto his VP's lap and consider it dealt with.
This screen-consuming Daily Mail headline placing Biden's problems end to end about covers it. Better yet, see Jim Geraghty's concise listing of them.
Let's start with the border, a "challenge" the vice president has not resolved despite its being in her supposed remit. The shocking encampment of Haitian migrants that took root along the Del Rio bridge amounts to a humanitarian emergency. The photos capture the tragedy of what's happening there in excruciating detail. And they illustrate how well-meaning immigration policies can backfire. While the Biden administration is now moving to expel Haitian migrants, it's facing protests from Democratic lawmakers and, as Brittany Bernstein reports, releasing thousands into the U.S. "with notices to appear at an immigration court within 60 days" anyway. As Brittany notes, "Migrants aboard one such bus rebelled and managed to escape on Tuesday but were subsequently captured." This is getting ugly, fast.
The Biden administration has a tendency to blame external factors beyond its control for any problems at the border. But NR's editorial explains why that's wrong:
The incredible scenes in Del Rio, Texas, over the last week of the formation of an instant migrant encampment of 15,000 people on U.S. soil are a direct result of the Biden administration's feckless policies at the border.

The administration and its apologists blame the spread of bad information for the decision of Haiti migrants to travel en masse to Del Rio, but it was really the spread of good information — the presumption that they could make it into the U.S. and some significant number of them would be allowed to stay.
As Rich Lowry puts it, "No, the new factor in the equation is President Joe Biden and his determination to blow up Trump's policies that had gotten control of the border." In a follow-up piece, Rich recalls how the Trump administration dealt with the same challenge:
One of the lessons of the border crisis of 2019 was that if people are getting through, they spread the word to other would-be migrants, and it creates an incentive for more migrants to try to come. The number of migrants successfully getting into the United States doesn't have to be high for this dynamic to take hold.

"If they release one single Haitian," former acting commissioner of Customs and Border Protection Mark Morgan explains of Biden's situation now, "one family, that family is calling and it's going to continue to drive more Haitians coming."

The Trump team focused on stopping a surge before it happened.
The Biden administration is now trying to clean up. The team was in the same woeful position after the withdrawal from Afghanistan, a chaotic situation that no doubt contributed to what the U.S. military has now acknowledged was a botched drone strike that killed an aid worker and his family, including up to seven kids. Meanwhile, the effort to extract — or at least keep safe — American citizens and green-card holders and Afghan allies who remain in the country continues, largely taken up by private organizations, as Ryan Mills reports.
While the border and Afghanistan are the most acute crises of the moment, coronavirus is the one that never left. As a political and societal problem, this is "long COVID." Deaths, due in part to the Delta variant, are on the rise again, and the timeline and threshold and strategy for normalcy's true return are hazy still; the administration has been conflicted on booster shots, and the public is conflicted over Biden's legally dubious vaccine mandate (though vaccines remain the most reliable avenue out of the eternal era of double masking — a case the administration must keep making regardless).
Elsewhere, the threat of inflation looms, even if its severity is uncertain. The president's approval ratings, nationally and in key states, are hitting new lows. Democrats' spending bills are running into intra-party problems — an admittedly welcome snafu for those of us who childishly worry that unthinkable levels of spending might have consequences, someday. A China-rattling deal with Australia that otherwise represented a smart foreign-policy move resulted in a brief diplomatic meltdown with France which could have been avoided with some finesse. Oh, and that unnerving energy-ray-sonic-pulse-voodoo-curse-future-weapon that some rival nation or entity might be using on Americans at home and abroad? It's still being deployed, it seems, most recently in India.
Still, it could be worse. ICYMI, Sodom might have been destroyed by a meteor. To Biden's credit, his term has been impressively meteor-free. That's a boast Joko Widodo can't make.
Read on, readers.
NAME. RANK. LINK.
EDITORIALS
The administration can't — or shouldn't — deny its role in the latest border crisis: Biden's Failure at Del Rio
Party divisions have Democrats in a tight spot over their outrageous spending plans. Republicans don't need to offer their assistance: House Republicans Shouldn't Rescue Biden's Presidency
There's more to dislike about the Democrats' $3.5 trillion bill than just its spending (though the Senate parliamentarian has since intervened on this issue): The Immigration Radicalism of the Democratic Reconciliation Bill
ARTICLES
Kevin Williamson: The Question Biden Needs to Answer
Philip Klein: Democrats Can't Hide Their Israel Problem
Tom Cotton: No More Jailbreaks
Michael Brendan Dougherty: We Will Regret Masking Kids
Stanley Kurtz: Noem Must Fix South Dakota Standards Fiasco
Charles C. W. Cooke: Rule-Breaking Elites Let the Mask Slip on COVID Protocols
Charles C. W. Cooke: The ACLU's RBG Tweet Shows Once Again That It Has Abandoned Free Speech
Ryan Mills: Outraged by Horror at Kabul Airport, Civilian Rescue Groups Offer Lifeline to Those Left in Afghanistan
Dan McLaughlin: The Eastman Memo Is a Tragedy of Errors
Caroline Downey: After Altercation at Restaurant, Black Lives Matter Claims NYC Vaccine Mandate Is Being Weaponized
David Harsanyi: The Hunter Biden Email Cover-Up Is a Scandal
Brittany Bernstein: Biden's Approval Rating among Black Voters Falls after Private-Sector Vaccine Mandate
CAPITAL MATTERS
Casey Mulligan runs the numbers and finds that the typical risk to a teacher of running a classroom in-person is comparable to that of driving 18 miles in a car: Did Closing Schools Enhance Health?
No, the job of the Fed is not to address climate change and racial inequality. Here's Tom Spencer with this important reminder: Biden Must Ignore AOC and Reappoint Chairman Powell
Paul Gessing argues that Biden is making Carter look good: Joe Biden Is Worse Than Jimmy Carter
LIGHTS. CAMERA. REVIEW.
Armond White praises Canadian satirist Bruce LaBruce's swipe at gender politics: Saint-Narcisse Satirizes Political Narcissism and Perversity
Kyle Smith did not fall in love with Dear Evan Hansen: Annoying Teens Who Keep Bursting into Song
Brian Allen sounds the alarm about the Met's move to sell its own art for cash: Shame on the Met's Trustees
TOO BUSY TO READ THE FULL ARTICLE, BUT NOT TOO BUSY TO GET THE GIST? YOU'LL LOVE EXCERPTS
Democrats' move to strip Iron Dome funding from a spending bill this week is no small development. Philip Klein takes note:
For the past decade or so, top Democrats have been desperately trying to downplay the increasing size and influence of the anti-Israel wing of the party. But it keeps getting harder to hide what's happening. This week provided yet another stark reminder when a group of progressives banded together to force House speaker Nancy Pelosi to rip $1 billion for Israel's Iron Dome missile-defense system out of a spending bill meant to avert a government shutdown. It's hard to overstate what a radical turn this is for the party. . . .

There is of course a principled stand one could take against foreign aid in general, or against sending more money overseas at a time when the U.S. is facing historic debt. But progressives are not making any sort of consistent argument against foreign aid and have zero concern for the national debt. If current plans being pushed by progressives pass, then Democrats will have authorized $6 trillion in new spending within the first year of Joe Biden's presidency. That's 6,000 times $1 billion.

Nor can the position be justified as an effort to "end the occupation," as this was not about depriving Israel of funding for offensive weapons. Stripping funding for Iron Dome only makes sense if the goal is to help Hamas become more efficient at killing civilians. And progressives were so adamant about depriving Israel of this funding to protect its population that they were willing to shut down the government if the provision was not removed.
NR's editorial urges Republicans not to throw Democrats a lifeline in their intra-party struggle over spending bills:
More moderate Democrats are becoming increasingly alarmed at the price tag of the massive social-welfare bill, while progressives have been insistent that they would not support the smaller infrastructure bill if the larger one doesn't also pass. This conflict, which has been building for months, is about to reach an inflection point. . . .

The back and forth between progressives and moderate Democrats over the past few weeks has underscored the fact that the two bills are inextricably linked. Any Republican who votes for the smaller infrastructure bill is making the passage of the larger reconciliation bill more likely.

In the reconciliation bill, Democrats want the government to pay for child care, universal pre-K, and community college. At a time when the current system is going broke, they want to add dental and vision coverage to Medicare. And they want to use it as a vehicle to advance their destructive Green New Deal environmental policies. They have proposed more than $2 trillion in taxes, but even that won't cover all their spending, likely meaning more debt.

With Biden's approval ratings tumbling and the nation reeling from his botched handling of the Afghanistan withdrawal, the border crisis, and the vaccine-booster rollout, on top of his daily miscues, it is understandable why he is desperate for a win. But there is no reason for House Republicans to help him get it.
Charles C. W. Cooke highlights the absurdity of the distinct sets of COVID rules for thee and me:
Up until this point in the pandemic, the worst examples of elite rule-breaking have been discrete. Gavin Newsom hit up the French Laundry. Gretchen Whitmer popped down to Florida. Chris Cuomo said that he was hiding in his basement, when, in reality, he was out and about in the Hamptons. Now, the habit is being ruthlessly collectivized. If, like me, you tuned in by accident to last night's Emmys and saw a vast crowd of unmasked celebrities embracing one another, you will understand what's changed. No longer are we talking about a hypocrite here and a hypocrite there, but about an entire cast of tartuffes. Falsity, it seems, is a highly contagious disease, and there is safety to be found in numbers.

Remember all those saccharine paeans to the common good? Those Pecksniffian appeals to do the "right thing"? Those badgering reminders that "we're in this together"? Yeah, those couldn't outlast a single letterpressed invitation to the Met. In one hand, our elite class had its longstanding message that masking is crucially important; in the other, it had the chance to go to a really lush party. And the party won in a landslide.

Not for everyone, of course. That would have been gauche. No, the party won for the sort of people who were invited to the party. The staff? They were masked up to the eyeballs, because these days you just can't be too careful around people carrying trays.

In San Francisco over the weekend, Mayor London Breed explained that the video of her enjoying herself maskless at a jazz club doesn't count when you really think about it, because, unlike you, she is really into music. "My drink was sitting at the table," Breed said when pushed on the matter, and "I got up and started dancing because I was feeling the spirit and I wasn't thinking about a mask." Which is an absolutely spiffing excuse if one assumes that the mayor of San Francisco is alone among her fellow citizens in desiring to spend her evenings without a large piece of cloth strapped across her face. Exonerating herself further, Mayor Breed suggested that "we don't need the fun police to come in and micromanage and tell us what we should or shouldn't be doing." Which, again, is a ripping justification if we assume that everyone else in San Francisco is just dying for close supervision.
Ryan Mills details the extent of the operations still being run by U.S. veterans and others to extract people from Afghanistan:
[Bryan] Stern, 41, who served tours in both Afghanistan and Iraq, now works as an international security consultant. He said he's made a career out of not being a spectator. He didn't want to be a spectator now. He called up a few friends with similar mindsets. He wanted to make a play, head to the Middle East to help. It might not work, he said, but he wanted to try.

"Just like at Ground Zero, we dug in the rubble looking for survivors," Stern said. "I didn't find any. But we still dug. It was still worth trying."

Within days Project Dynamo was born, christened after Operation Dynamo, the codename for the British evacuation of Dunkirk during World War II.

Project Dynamo is one of likely dozens of civilian groups that emerged during the U.S. evacuation of Afghanistan with the goal of helping to rescue American citizens and allies from the chaos and from a new reign of Taliban barbarism. Groups with names such as Team America, Pineapple Express, and Commercial Task Force organized to help get people out, according to news reports. Some sent in commandos and military veterans, while some worked statewide. Mercury One, radio host Glenn Beck's charity, organized a mission to rescue Christians, but the Taliban grounded six of their planes in northern Afghanistan earlier this month. Other groups that lack quirky monikers also have been operating quietly, typically out of sight of the public. New groups pop up daily.

It's not just Americans. Civilians from Australia, Great Britain, and Canada have joined the effort. It's been described as a "digital Dunkirk," because for the most part it involves coordinating the movement of people around Afghanistan using chat rooms, social media, and publicly available encrypted messaging services. It's ad hoc and decentralized, though many of the groups work together when they can. They've become a key lifeline for tens of thousands of people still hoping to escape the country.
Lastly, Dan McLaughlin and Ramesh Ponnuru have explained the many holes in Trump legal adviser John Eastman's memo making the case for rejecting Biden electors. From Dan:
Not all of these arguments are unserious, but all of them are wrong, several in multiple ways. The most glaring is the first point.

First, Eastman started off with the premise that "7 states have transmitted dual slates of electors to the President of the Senate," creating a dispute over which slates to credit.

As I detailed at the time, however, there were no alternative slates of electors appointed by any state. A "state" is not just a geographic expression on the map; I could not walk into National Review's offices in Manhattan, round up some people, and declare that "New York has named a slate of electors." A state, in American law, means the government of the state. No state legislature, no state governor, and no arm or subdivision of any state ever purported to appoint any Trump slate of electors in any of the seven states at issue. The entirety of Eastman's legal analysis was, therefore, based on a fantasy.
Shout-Outs
Anna Giaritelli, at the Washington Examiner: Townsfolk dismayed at the dusty war zone Del Rio has become
Jenna Weissman Joselit, at Tablet: The Fall and Rise of the American Sukkah
Helen Dale, at Law & Liberty: America's Dysfunctional Discourse on Race
Emily Crane, at the New York Post: Wuhan scientists wanted to release coronaviruses into bats
Honorable Mention
Did you catch the winning essay from the first William F. Buckley Jr. essay contest? If not, fear not. Michael Samaritano's piece, once more, is here: Conservatives, Don't Give Up on Yale
CODA
After a protracted experience at the pediatrician's office this week that involved a nonstop procession of parents, including yours truly, who were compelled to pay a visit just to adhere to COVID protocols after noticing mild symptoms, this song comes to mind: "Waiting Room"
This, of course, is not the scene or the meaning Fugazi envisioned when that song was recorded in 1988, but COVID-protocol purgatory sure feels like the pediatrician's lobby writ large. Staring at the wall, waiting for something to change . . . Plus the song features one of the all-time great intros and one of the most memorable dramatic pauses since John Cage's "4'33"."
Got a tune? Want to share? Send a link to jberger@nationalreview.com. Thanks for reading.