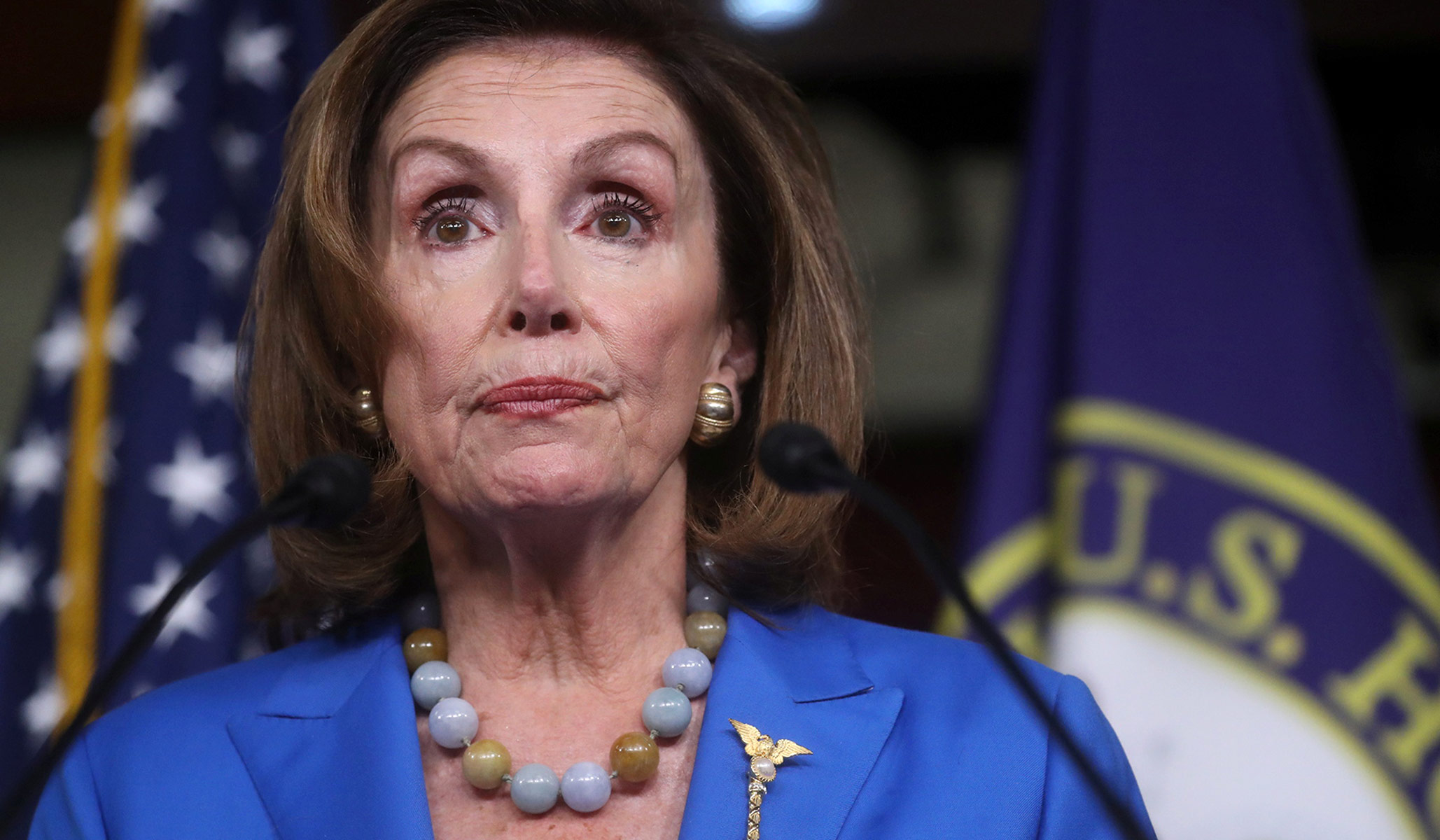 Dear Weekend Jolter,
If you ever get to wondering why a conservative voice like National Review matters, take a look at Capitol Hill right now. The Overton window has — for the moment — shifted so far that the latest "moderate" spending proposal being floated comes in at a cool $2 trillion. Compared with the original $3.5 trillion, sure, this might seem like a (relative) bargain.
Except it's not. Not in any world occupied by prudent and responsible holders of elective office. At a time when it seems those in our political firmament have lost their senses, NR is fighting with every breath to restore fiscal sanity, among other things.
With that in mind, we do hope you'll consider donating to our October webathon.
As we type, Congress is moving closer to locking in a new suite of government benefits that will add to the already crushing weight on the federal books. This is not a one-off, and it will only compound our long-term fiscal misery. Phil Klein noted earlier this week that progressives, should they notch this win, "will have passed $6 trillion worth of spending since the start of the year, which follows trillions spent last year in response to the pandemic and lockdowns."
He continues:
As the Left tries to assert that debt doesn't matter, many of our friends on the right have determined that the spending issue is no longer one worth fighting. Here at National Review, we disagree. Spending trillions we don't have to create new programs when we cannot even finance existing ones is insanity, and we have not been afraid to say so, repeatedly.
That's the pitch. If you share our concerns, please consider tossing something in the NR penny jar. It's better than waiting for Secretary Yellen to drop off a newly minted trillion-dollar coin in the Fed's jar.
Need more reasons?
Rich Lowry kicked off this month's webathon with a thorough retrospective of NR's work over the years on immigration. In it, he notes that while the GOP is in a different place today on the issue, "the same bad ideas are more ascendant in the Democratic Party than ever before."
He adds, most humbly, "I submit to you that other journalistic organizations may do better clickbait than us on this issue, but no one is more substantive and credible."
And here's David Harsanyi on NR's smudgeless record defending the Second Amendment.
We recognize that this probably is not the first webathon you've seen from us (spoiler: it won't be the last). We also recognize that many of you, our loyal readers, have contributed in the past — some of you have contributed already this week, offering financial help and words of encouragement. We thank you.
Know that we will not back down. Your support ensures it.
That donation link, again, is here.
For the week's highlights in coverage and commentary . . . just keep on scrollin'.
NAME. RANK. LINK.
EDITORIALS
Taiwan needs American support and resolve right now, as China menaces the island: We Must Support Taiwan
The administration is pressing forward with the rollback of Trump's Title X policy: Biden's Assault on Life
AG Garland's latest memo amounts to an intimidation tactic: DOJ's Appalling Crackdown on Parents
The Democrats have options on the debt limit. They should choose one: Democrats Are Playing Political Games with the Debt Limit
ARTICLES
Caroline Downey: Vast Majority of Incidents Cited by School-Board Group to Justify Federal Intervention Didn't Involve Threats
John Fund: When Will Someone Hold Human-Rights Hearings on Australia?
Jay Nordlinger: George F. Will, Ever and Always
Kevin D. Williamson: A Small Blow to the Defamation Peddlers
Kathryn Jean Lopez: A Pandemic Priest from New Orleans Wants to Encourage You
Charles C. W. Cooke: Chasing Kyrsten Sinema into a Bathroom Is Not Normal
Charles C. W. Cooke: Americans Really Don't Like This President
Alexandra DeSanctis: McAuliffe Position on Parental Rights Contradicts Virginia State Code
Rich Lowry: We Should Arm Taiwan to the Teeth
Ilan Berman: Why an Israeli Military Option against Iran Is Back on the Table
Jon Gabriel: To Understand Sinema, You Need to Understand Arizona
Andrew McCarthy: The Biden Justice Department's Lawless Threat against American Parents
Isaac Schorr: McAuliffe Sent Kids to Private School with 17 Separate PTA Committees
Dan McLaughlin: Point and Laugh: Bill de Blasio May Run for Governor
Dominic Pino: The Virginia Tech Super-Spreader That Wasn't
Ryan Mills: Border Patrol Morale Plummets as Migrants Surge and Democrats Demonize
Michael Brendan Dougherty: Wokeness Is Weakening Dave Chappelle
CAPITAL MATTERS
Sally Pipes cautions that Senator Sanders is getting ever closer to his ultimate goal by way of the reconciliation package: Bernie's Not-So-Subtle Single-Payer Plot
Christopher M. Russo imagines a macabre scene outside the Fed, and let's hope it's only fantasy: The Thing That Should Not Be
LIGHTS. CAMERA. REVIEW.
Wes Anderson walks a fine line in his films, but The French Dispatch is on the wrong side of it. By Kyle Smith: Wes Anderson's Strange Movie-Magazine
And this just in, also from Kyle: Sand in the Gears: A Gorgeous but Slow Trip to Dune
Tell us what you really think, Armond: The Many Saints of Newark Is Trash
Brian Allen laments what our presidential libraries have become (that is, when they're open at all): Shuttered Presidential Libraries and Blinkered Museum Trustees
THE PARTY DOESN'T HAVE TO END HERE. THE EXCERPTS WILL BE HOSTING VIPS TILL DAWN
With some brutal polling numbers out this week concerning President Biden's job performance, Charles C. W. Cooke makes a fundamental observation:
One wonders if Joe Biden has noticed yet that Americans just don't seem to like him very much?

Yes, yes, yes, they liked him enough to elect him over Donald Trump. But they did so narrowly, and without delivering the sizable majorities he clearly believes he deserved. And, now that he's president, they seem deeply, deeply unimpressed.

Per a Quinnipiac poll released today, Biden's national approval rating is 38 percent. Among independents, it's 32 percent, with 60 percent disapproving of the job he's doing. Biden is nine points underwater among Hispanics, he's six points underwater among women, and he's polling at only 66 percent among African Americans. . . .

And no, it's not "just one poll." In the RealClearPolitics average, Biden is at 44.6 percent approval — the lowest of his presidency thus far. Since the debacle in Afghanistan, Americans have been gradually losing faith in the president in every way that it is possible to lose faith in the president. As Biden gears up to pivot to his absurd, destructive, and thoroughly uncalled-for spending bill, he might do well to stop for a moment and realize that it's not "them," after all.

It's him.
China's incursions into Taiwan can't be ignored. From the editorial:
Taken together, all of this indicates that the heightened threat is the new normal and that Beijing will only be placated by total accommodation of its designs on Taiwan.

For its part, the Biden administration has sounded the appropriate notes. . . .

However, unless the status quo changes, including an urgent effort to arm the Taiwanese with missiles, mines, and unmanned vehicles to make a cross-strait invasion riskier, the People's Liberation Army stands a disturbingly high chance at succeeding at swallowing Taiwan.

Ultimately, the latest intimidation efforts fit with the party's broader effort to isolate Taiwan by picking off its few diplomatic allies, blocking it from all participation at the U.N., launching an economic bullying campaign, and flooding the island with disinformation. This stepped-up military harassment puts the prospect of Taiwan's engulfment by the Chinese party-state front and center. Beijing couldn't be clearer about its intentions, and we need to respond accordingly.
Ryan Mills talks to current and former border agents about morale in their agency, and it's fairly grim these days:
The Border Patrol, part of U.S. Customs and Border Protection, has had longstanding struggles with morale. But morale among the patrol's roughly 20,000 agents has taken an even bigger hit than usual this year due to the combination of pressures, capped off with the threat that agents who choose not to be vaccinated against the coronavirus will be fired in November, said Gil Maza, a 25-year veteran of the agency who retired in March.

Maza maintains a Facebook group for current and former agents where he posts Border Patrol news, line-of-duty deaths, and history pieces. He said that over the last several months he's received a flood of messages from active agents documenting their concerns.

"The agents feel completely abandoned by this administration," Maza said, adding that they also feel let down by management. "They feel like there is nobody out there for them."

Maza said the Border Patrol has always been a political football, and, during his 25-year career, the agency has often gone through cycles of "hero to zero and back again."

"This is completely different," he said. "It's almost like the perfect storm right now."
In a guest column, Jon Gabriel explains for all us outsiders what drives Kyrsten Sinema:
The Beltway's frustration is hugely entertaining for Arizonan conservatives and many of my Democratic neighbors. She isn't an enigma to us locals. But to understand Kyrsten Sinema, you must first understand Arizona.

For years, outsiders considered Arizona to be the reddest of red states. That changed with Sinema's 2018 Senate victory followed by President Biden and Senator Mark Kelly's (D., Ariz.) 2020 wins. Was Arizona turning blue? Not so much.

The state has swung right to left and back again. In the past 45 years, Democrats have held the governorship as often as the Republicans have. That's because Arizona is neither conservative nor progressive. It's contrarian.

My late father, who raised me as a good Arizona boy, provides a textbook example.

His politics were somewhere between Archie Bunker and Ron Swanson, but he would often vote to reelect Democratic governors. His reason? "I never hear about them in the news, which means they aren't bothering me or screwing anything up."
And this is a must-read, from Caroline Downey:
In a memorandum issued this week, U.S. Attorney General Merrick Garland directed the FBI to collaborate with state U.S. attorneys and federal, state, and local law-enforcement agencies to probe and potentially prosecute violent threats against teachers and administrators in school districts nationwide.

The notice comes after the National School Board Association (NSBA) sent a letter to the Biden administration, asking it to investigate and determine whether the increasing number of confrontations between angry parents and school boards qualify as domestic terrorism under the Patriot Act.

"Threats and acts of violence have become more prevalent — during public school board meetings, via documented threats transmitted through the U.S. Postal Service, through social media and other online platforms, and around personal properties," the organization claims, citing what it considers egregious episodes in 23 school districts over the last several months.

However, the vast majority of incidents referenced by the NSBA don't qualify as threats of physical violence, according to local news reports cited in the group's letter — nor is it obvious what the federal government's role would be in responding to them.

Out of 24 incidents cited by the NSBA, 16 consisted of tense verbal exchanges between parents and school-board members that did not escalate to threats of physical violence. In many of these cases, the aggravated parents disrupted school-board meetings by angrily objecting to their districts' mandatory masking policies and/or embrace of critical-race-theory curricula.
Shout-Outs
Steven Malanga, at City Journal: The New Secession Movement
Giles Fraser, at UnHerd: How Labour became the nasty party
Ashley Carnahan, at the College Fix: Wisconsin professor with autism placed on leave for refusing to teach with a face mask
Jeff Sessions, at the New York Post: Blame woke pols for the nation's needless spike in murders
CODA
Béla Fleck . . . the guy was destined to be a world-class musician, having been named after three different European composers (his full name is Béla Anton Leoš Fleck). He was not born into the bluegrass world but essentially became the world's most famous living banjo player, blending that and other styles. His body of work is incomprehensibly vast, but one of the many great things about it is the collaborations with other world-class musicians.
Here's one example: Music for Two, a chunky album of duets with bassist Edgar Meyer. Among them, "Palmyra" captures many moods, beginning with a brooding and spare motif played on piano and banjo, and accelerating into something more joyous after Meyer picks up the bass, with bow, about two and a half minutes into it. Listen for him to swipe the melody from his partner, before gently passing it back, as they wind things down.
Got a tune? Want to share? Send a link to jberger@nationalreview.com. Thanks for reading.