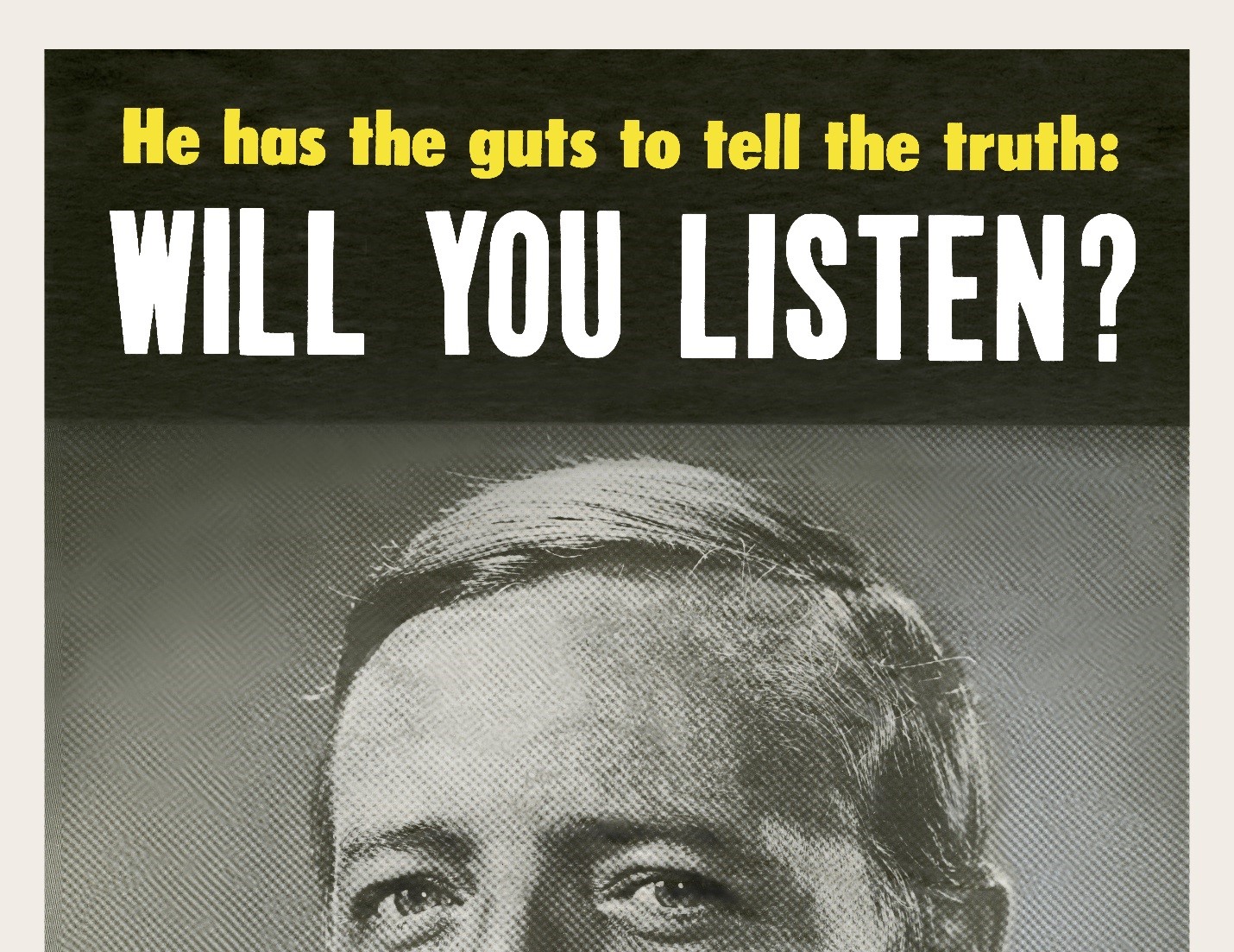 This week, a cadre of remembrances for NR founder Bill Buckley, who passed away ten years ago this month.
Dear Jolters,
We have had quite the week at NR and NR Institute marking the life and legacy of Bill Buckley in various ways. A lot of emerging commentary on Bill deals with his Happy Warrior approach to building a movement, and how he relished discussing and arguing — at length, with adversaries, and — in a way quite foreign to our Twittering world — with principle. He was an (the!) apostle of conservatism, telling truth to an often-hostile, ideologically driven establishment that didn't want to hear this brash guy with the funny accent and big words. And, of course, we made the massive appeal.
The image attending the WJ crops Bill's 1965 NYC mayoral campaign poster — I've given it a touch of Kilroy. Tres cool, oui? Anyway, below, in the "Remembering WFB" section, are some of the many ways which NR and NRI have taken a true melancholy moment and turned it into a deserving remembrance and celebration of a life profoundly lived and a legacy critically bequeathed. Please check it out.
Editorials
As WJ heads to the pneumatic tubes, looking back from the week prior we find two important editorials.
1. The president once again attacks Attorney General Jeff Sessions. NR stands by the AG. From the editorial:
Meanwhile, with vital Justice Department leadership positions already unfilled, the Department's No. 3 official has just resigned after less than a year in office. With a razor-thin majority in the Senate after Republicans managed to lose the Alabama seat Sessions held for two decades, it has become a difficult feat to confirm Trump nominees. Is now really the moment for the president to be trying to drive his attorney general out the door?

If the president does not want "Obama guys" running the Justice Department, he has a strange way of showing it.
2. The public statements and performances of Broward County sheriff Scott Israel, particularly in the face of emerging evidence of how his department performed during the Parkland school shooting, were nothing less than staggering in their chutzpah. NR had something to say about him: Resign. From the editorial:
As for the sheriff, he is a pretty typical politician, hiring friends and political allies, treating his law-enforcement position as a nakedly political fief. His arrogance is astounding: When asked about his penchant for hiring his supporters and looking after his own interests first, the sheriff replied, "Lions don't care about the opinions of sheep." But the people of Broward County didn't hire Scott Israel to be a lion; they hired him to be a sheepdog, a task at which he has failed so completely as to make regaining the public trust impossible. Indeed, it is not clear he ever deserved that trust to begin with. If he has any respect for his oath, his badge, or his community, he should step aside. If his sense of duty does not prevail, he should be forced out.
3. As WJ rushes to the finish line, the big brains formally pontificate, and rightly so, on the Trump Steel/Aluminum Tariffs. Here's the editorial. And the following is a select cut:
The president is in error and, while he undoubtedly has the authority to impose these tariffs, doing so will put us in violation of both the letter and the spirit of our existing trade agreements. To what end? The policy will hurt more American businesses and American workers than it will help, and it will absolutely imperil export-dependent American industries from the farms to the factories. It's a bad idea, conceived and unveiled badly.
Podcastapalooza
1. On the new episode of The Editors, Rich, Reihan, Michael Brendan Dougherty, and Dan McLaughlin discuss the prospects for gun control, the Left's targeting of ostensibly pro-gun corporations, Jared's security clearance, and whether the White House is spiraling out of control. Do give a listen, right here.
2. Earlier in the week there was a special "Remembering Bill Buckley" episode of The Editors, with Ed Feulner and Brent Bozell joining Rich. You'll catch a very rewarding conversation here.
3. On the new episode of The Great Books podcast, John J. Miller is joined by Greg Forster of Trinity International University to discuss Whittaker Chambers's Witness. You won't want to miss it, so listen here.
4.The new episode of The Remnant with Jonah Goldberg asks: Can a president break the law? Is intelligence from the Steele Dossier actionable for FISA warrant? Should we let lawyers make all of our decisions for us? All that and more is answered by former federal prosecutor and National Review Institute senior fellow Andy McCarthy. Ya just gotta hear this, here.
5. Put on your seat belts and take your Dramamine: The new episode of The Jamie Weinstein Show features Anthony Scaramucci. Here's where the action can be heard.
You'll forgive me this one time for not being completely thorough. . . This machine is about to run out of juice and I left the damn charger at home . . . To see/hear all the other available NRO Podcasts go right here.
Five Pieces from Elsewhere that Are Well Worth Your While
1. At CT Viewpoints, my dear old pal Joe Markley, a great state senator, wonders aloud about what goes on in the noggin of Connecticut's tax-oholic governor, Dannell Malloy. From his piece:
Now our current year's budget is $260 million in the red, and the shortfall in the next biennium promises to be the largest yet: over $4 billion. Our state's economy is collapsing before our eyes — and what does Malloy propose? More of the same: increases in the gas tax, the cigarette tax, the hotel tax, and the real estate conveyance tax; new tariffs on tires and non-prescription drugs; reinstitution of taxes on Social Security and pension income; and elimination of property tax and business tax deductions.

On top of all those taxes, the big spenders also clamor for the installation of tolls, which will pick our pocket automatically, every few miles on every limited-access roadway in the state. If they get their way, residents can expect to pay 20 cents or even more for every mile they drive on Connecticut highways.

If that's insanity, it's not confined to Malloy. The left wing of his party demands ever higher taxes on top earners, blind to the exodus of wealth the tax hikes have caused. Yet the numbers are undeniable: our most prosperous residents are moving away, and taking billions of dollars of income out of Connecticut.
2. Writing in the Boston Herald, Michael Graham finds a New Hampshire-based gizmo-repair guy who refuses to serve Republican customers.
3.Wow: pro-life students — aka "probable disruptors" — were banned from Planned Parenthood czarina Cecile Richards' talk at Penn State. Grace Curtis has the story for The College Fix.
4. Raymond Ibrahim has a running series for Gatestone Institute on surveying, on a monthly basis, Muslim persecution of Christians. Just filed: his report for September, 2017, is titled "Don't Dare Sit with Us if You Want to Live." From the piece:
Indonesia: The world's largest Muslim nation "made it clear that the country's dangerously ambiguous blasphemy law is here to stay – which is bad news for beleaguered religious minorities," Human Rights Watch said after the nation rejected the UN's stated recommendations that it "introduce legislation to repeal the blasphemy law." Indonesia further "rejected a recommendation it amend or revoke laws that limit the right to freedom of thought, conscience and religion in the country," Human Rights Watch said. Among those recently to suffer from these laws is Ahok, a Christian and former governor of Jakarta, who was sentenced to two years in prison for blaspheming against Islam. "By rejecting pleas from U.N. member states to abolish the blasphemy law," continued Human Rights Watch, "the Indonesian government is telling the world that it will continue to pander to bigotry and discrimination at the expense of the rights of religious minorities."
5. At The Spectator, Tanya Gold says the upcoming Oscar ceremonies and the expected "Time's Up" stuntery will be a vanity-fair power-grab for hollow celebs. From the piece.
Feminism has been heading this way for a long time: away from serious people using politics to make meaningful changes in women's lives, to an accessory for women who are already powerful. Cinema is a trivial game, and the interventions of its stars are trivial. And so the movement — the cause — becomes trivial. If everyone is a feminist then no one is. It takes more than a pin to be a sister.
Remembering WFB
Here are some of the things NRO served up this week as part of our efforts to mark the 10th anniversary of Bill Buckley's death, to celebrate his life, and to reconsider the lasting importance of his legacy. But first: NR Institute hosted an excellent forum in NYC on the anniversary day — "A Celebration of the Life and Legacy of the Founder of the Conservative Movement" — with panels on Bill the man, Bill's movement, and then on NR's role today. C-SPAN was there to capture the proceedings. We'll post notice on The Corner when it's scheduled to air. OK, from the buffet:
1. A symposium.
2. From the magazine, our editorial, "Ten Years Gone."
3. K-Lo explains with grace Bill's enduring palpable presence and guidance.
4. Curious as to why WFB threw his hat into the NYC mayoral ring in 1965? Then do read his announcement speech.
5. Past Blast One: Bill visited Lourdes, a place of miracles, in 1993, and then wrote this wonderful essay on spirituality.
6. Past Blast Two: Of course, when Bill went to China with President Nixon in 1972, on that infamous "historic" diplomatic visit, he wrote an entirely different kind of report for NR.
7. Past Blast Three: The man loved Bach. Here's a column praising him, on the composer's 300th birthday.
8. Our Remembering WFB slideshow.
By the way, if you're in the Houston area this Wednesday, March 7th, consider coming to NR Institute's Remembering WFB forum at the St. Regis Hotel, which will feature panels and a reception. Lee Edwards, Rich Lowry, Kevin Williamson, David French, and Little Old Me will be on hand to discuss, meet, and greet. Get complete information here. And later in the month, NRI will bring the WFB forum to San Francisco and Newport Beach. Finally, whenever the mood strikes you, check out NRI's Buckley Legacy Project.
Eye Candy
1. John Stossel's latest "Stossel in the Classroom" looks at the deadly -isms.
2. In a terrific new Prager University five-minute lesson, the great historian, Andrew Roberts, explains why Churchill was the man who saved the free world.
3. More from Prager U: Lila Rose exposes the ugly truth and facts about Planned Parenthood.
4. The eulogies at the April 4, 2008, memorial Mass for WFB at Saint Patrick's Cathedral, given by Henry Kissinger and Christopher Buckley. C-SPAN recorded them. You can watch them here.
5. President George W. Bush's 2005 tribute to Bill, on the occasion of NR's 50th anniversary and our founder's looming 80th birthday, at a special White House ceremony. Watch it here.
Follow, follow, follow
Try to remember when life was so tender, that no one wept, except the willow. . . John Stossel, Andrew Roberts, Lila Rose, Joe Markley, Michael Graham, Brent Bozell, Ed Feulner, Raymond Ibrahim, Tanya Gold.
Baseballery
You might not picture Ty Cobb as a power hitter, but the fact is he did indeed lead the American League in home runs one year. 1909 to be exact, when he won the Triple Crown. But get you this: all his dingers were inside-the-park jobs. The evidence is here.
A dios
Your working stiff is on the road with typing-friendly technology elusive. If this missive reaches you in a fit and tidy way then we will have Phil the Wonder Boy to thank. I wish you all a good weekend, even to those knuckleheads who text while crossing 44th and Fifth, thereby creating pedestrian traffic jams.
Best,
Jack Fowler