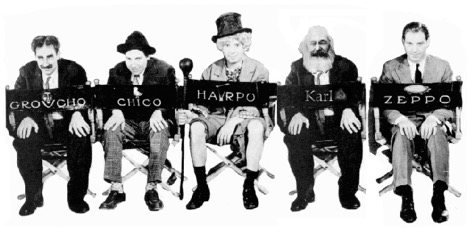 Dear WJer,
We'd all have preferred Gummo in that lineup, rather than the humorless author of Das Kapital and numerous other works that propagated a philosophy of death and mayhem, its hallmark being unprecedented massacres — whether by bullets or deprivation — in the last century.
Speaking of centuries, two have passed since the 1818 birth of the original Commie in Trier, Prussia. A brilliant commentary by Dan Mahoney on Karl Marx's bicentennial is linked below.
Like you, I remain a Marxist, as long as it is of the Groucho / Chico / Harpo / Zeppo variety. And I am most definitely a Louis Marxist, and odds are you are too.
Won't You Let Me Take You on a . . .
Sea Cruise? Join us December 1 – 8 in the Caribbean on Holland America Line's Oosterdam for the 2018 National Review Buckley Legacy Conservative Cruise. For more information or to book your cabin visit www.nrcruise.com.
Editorials
1. Marc Short — named to a one-year senior fellowship at University of Virginia's Miller Center— worked in the Trump White House, which means for many in academia, he has the cooties. The demand is that the fellowship be revoked. We say: Pound sand. From our editorial:
The core message is clear: Anyone who has served in the Trump administration, in any role, is not welcome to a fellowship at the Miller Center. Never mind the perspective that a member of the Trump White House could bring to an institution that both seeks to understand the presidency and aims to provide competing viewpoints. And never mind that Short doesn't face a single accusation rooted in his own behavior.
Fourteen Intelligence-Weaponizing National Review Articles Exploding with Brilliance
1. So we have come maybe to the brink of America's second civil war? How did that happen? Victor Davis Hanson hazards a detailed explanation. High Tech is in part to blame, as described in this slice:
The mass production of cheap consumer goods, most assembled abroad, redefined wealth or, rather, disguised poverty. Suddenly the lower middle classes and the poor had in their palms the telecommunications power of the Pentagon of the 1970s, the computing force of IBM in the 1980s, and the entertainment diversity of the rich of the 1990s. They could purchase big screens for a fraction of what their grandparents paid for black-and-white televisions and with a computer be entertained just as well cocooning in their basement as by going out to a concert, movie, or football game.

But such electronic narcotics did not hide the fact that in terms of economics the lifestyles of their ancestors were eroding. The new normal was two parents at work, none at home; renting as often as buying; an eight-year rather than three-year car loan; fewer grandparents around the corner for babysitting or to assist when ill; and consumer service defined as hearing taped messages of an hour before reaching a helper in India or Vietnam.

High-tech gadgetry and the power to search the Internet did not seem to make Americans own more homes, pay off loans more quickly, or know their neighbors better. If in 1970 a nerd slandered one on the sidewalk and talked trash, he might not do it twice; in 2018, he did it electronically, boldly, and with impunity behind an array of masked social-media identities.
2. Meanwhile, Dov Greenberg explains the thriving BDS-fortified Jew-hate at VDH's academic home of Stanford University. From his article:
In mid July, Hamzeh Daoud, a student at Stanford University, publicly posted on Facebook: "I'm gonna physically fight Zionists on campus next year." If his meaning wasn't clear enough, Hamzeh continued, "And after I abolish your ass I'll go ahead and work every day for the rest of my life to abolish your petty ass ethno-supremacist, settler-colonial state." While not reflective of Stanford's values, the sentiment of this hateful post reveals the state of contemporary life on campuses.Daoud's post is particularly telling, and its damage outlasts his reactive retraction.

A thought experiment: Replace the word "Zionist" with "LGBT" or "supporters of #BlackLivesMatter" in Daoud's post. Almost certainly, the outcry would be universal and deafening. Yet, for some reason, when it comes to threatening physical violence against fellow students who support Israel, the response is indifference or, worse still, support. Somehow, the target of hate becomes the villain and the aggressor becomes the victim. How has this come to pass?
3. Kathryn Lopez marks the 50th anniversary of the controversial papal pronunciamento on birth control, Humanae Vitae, by Pope Paul VI. The anniversary comes at a particularly painful time for the Church. From her piece:
But the story of Humanae Vitae over the last 50 years is not complete without even more reason for repentance and renewal: The June news that former Washington, D.C., cardinal archbishop Theodore McCarrick had credible allegations against him in his past and then some. Not only priests but a cardinal living such a double life, torturing seminarians and priests — and boys younger, along the way — according to what was revealed before and continues to be after the initial news finally broke; it all brings to the surface that "smoke of Satan" Pope Paul VI also warned about during his pontificate. Of course, the world wasn't going to embrace Humanae Vitae, or the Good News of the Gospel it sought to further communicate, when such filth was amidst the sacred at the highest levels.
4. Could Chevron's days be numbered? No, not the oil giant, but the same-named idiotic judicial deference to regulators as law-definers. Jonathan Wood believes a Justice Kavanaugh and an upcoming case (California Sea Urchin Commission v. Combs, and yes, there really is such a commission) provide the opportunity for Chevron's kyboshing. From his piece:
The fundamental principles underlying our Constitution are that government power must be divided up, rather than concentrated, and those who exercise it must be accountable to the people. It's difficult to imagine a greater departure from these principles than the concentration of near-limitless power in the hands of unelected bureaucrats, combined with a lack of oversight from Congress and the courts.

With three sitting justices raising questions about Chevron deference and another on deck, it's time for the Supreme Court to address the issue head-on.
5. Kyle Smith reads Andrew Lloyd Weber's Unmasked: A Memoir, and likes what he sees. From his review:
The whole book is a merry justification for the wisdom of following your own aesthetic compass, especially when it points in what everyone says is the wrong direction. Aged 14, he visited Athens and Rome on a school trip and declared his favorite building was the American Church in Rome, citing its mosaics by the Victorian Edward Burne-Jones. Apoplexy ensued when Lloyd Webber put the case for the pre-Raphaelite in an essay. "How can you write such garbage?" his art teacher screamed at him. "Don't you realize that church is full of Victorian tat?" Merely implied, not stated, is the rejoinder that a taste for tat made Andrew as rich as King Tut.
6. A Scottish university fired a Catholic chaplain because his views were . . . Catholic. Maddy Kearns reports.
7. The expressive Alexandria Ocasio-Cortez bears, in the words of Charlie Cooke, "The Unserious Face of an Unserious Movement." From his takedown:
Given the extent of our polarization, it would be premature to assume that Ocasio-Cortez will suffer consequences for her ignorance. Criticize her and you will be met upon the instant with a barrage of righteous indignation. "Er," her apologists immediately retort, "have you seen the guy in the White House? He's not exactly Thomas Jefferson." Which, of course, is not actually a defense of Alexandria Ocasio-Cortez — what, on that logic might her slogan be? "I'm ignorant, too, but I'm younger"? — but is certainly a preview of the post-rationalizations that she will come to count on from her fans. "They all lie"; "They are all stupid"; "They're just saying that because she's a woman"; "Well, she's better than the alternative"; "Here is what she was trying to say" — these are the sentiments that lead us to embrace mediocrity or worse. Sure, she's a fool. But she's not Donald Trump, and thus . . .
8. Douglas Murray has a thing in for ISIS. Thank God. He has just read Dunya Mikhail's The Beekeeper of Sinjar, and finds it terribly important. From his review:
Rape and modesty might seem an inherently unstable cocktail of beliefs, but it is one that ISIS practiced with considerable success earlier this decade. If it isn't to come back in any of its forms — watered-down or otherwise — then as many people as possible should make themselves familiar with the creed that these men followed. For not only are the scars of their savagery far from healed. The embers are far from out.
9. Since Mexico's new president seems to want to control his nation's southern border, it's imperative the U.S. work with him, argues Dan Crenshaw. From his report:
The need for physical border security is a very real one. But equally important is the need to focus on the source of the problem: mass emigration from Central America. With the Mexican president-elect showing a clear willingness to tackle this problem, the U.S. should show equal and enthusiastic willingness to be a strong partner in such efforts.
10. Theresa May's parade of lies has many Brits wondering — how to save Brexit. John O'Sullivan weighs in with expert analysis of the crisis; from his Corner post:
This extraordinarily comprehensive list of lies is finally prompting those who favor Brexit, including a large majority of Tories, to confront the fact that the May government is seeking to keep Britain in the EU in all but name and that it may well succeed in doing so. There is accordingly a sudden rush of articles asking the question: How can we save Brexit? Naturally, there are several possible answers to this question from leaving the EU without a deal in order to trade under World Trade Organization rules to remaining in one of the half-way houses to Brexit, such as the European Economic Area. (None of these routes, incidentally, include the Chequers deal which only Remainers now support.)

I remain agnostic about which route to take. My opinion is that the WTO route would be the best one in economic terms, providing disruption in the short term but long-term opportunities for greater prosperity in the long term, but politically hard to sell when the Remainers control most of the forums of debate. Unless those politics change, I'll be compelled to accept the argument long made by Andrew Stuttaford (and repeated yesterday in this space) that we will have to accept a Brexit-in-installments, leaving the EU but remaining in the EEA through EFTA. (I write this through gritted teeth, which is no easy task.)
11. Andy McCarthy says the plot by House conservatives to impeach Rod Rosenstein is wrong in so many ways. From his piece, here's one example:
As for disqualification, while I believe the deputy attorney general has conflicts of interest, his decision not to recuse himself is not an impeachable offense, even if it is wrong. Government lawyers have considerable leeway in determining whether they are conflicted in a given situation. Further, recusal is more of an issue in judicial proceedings than in congressional inquiries. Congressional committees are political bodies, and conflicts abound in their investigations. (Note that no one is suggesting that the sponsors should recuse themselves as fact-finders because they support President Trump and, like committee Democrats, are not objective arbiters of the contested FBI and Justice Department conduct.) It is not typical for a government lawyer whose conduct is at issue in a congressional investigation to recuse himself from his official responsibilities.
12. David French explains through the shouting what the "3-D Printed Gun" controversy is really about.
13. Kyle Smith says The Originalist, a new play about Justice Antonin Scalia, is a must-see. Kyle's review is a must-read.
14. Trump's impeachment is coming, writes Jim Geraghty, à la Godot. For the liberal faith, impeachment and criminalization is a doctrine, and inevitable. Here's a slice of Big Jim wisdom:
I wonder how many people — particularly the not-tuned-in Trump haters — think that is how this is going to work. Mueller enjoyed a long and distinguished career at the FBI, taking over the bureau a week before 9/11, but he barely permeated the public consciousness in that role. Now he's being portrayed as the ultimate no-nonsense tough guy by Robert De Niro on Saturday Night Live. How many Americans think that once Mueller issues his final report, this will be resolved quickly and neatly like a Scooby-Doo episode, with a mask being pulled off and everyone gasping, "It was Old Man Putin all along!"
Podcastapalooza
1. Hiatus kaput: Mad Dogs and Englishmen is back. In the new episode, Kevin and Charlie discuss the freakout over 3D-printed firearms, the price tag for Medicare for All, and whether the president should be the avatar of the nation. Get your long-awaited dose of woof-woof Cheerio here.
2. Sonny Bunch joins The Remnant with Jonah Goldberg to discuss "Star Wars" revisionism, the "Golden Age" of (too much) TV, Marvel vs. DC, and more. To the Batcave, here!
3. On Episode 103 of The Editors, Rich, MBD, Charlie, and Reihan discuss Bernie Sanders's 'Medicare for All' idea, the unwarranted backlash over 3D-printed guns, and the theatrical mess of Trump v. the press. Here now, hear now.
4. It's another super-duper episode of The McCarthy Report, in which Andy and Rich ponder recent Trump tweets, continue to follow the Manafort trial, and discuss some dubious goings-on at a Trump Tower meeting. Court is in session, hear ye.
5. On the new episode of The Great Books, our dear old pal and colleague Tracy Lee Simmons joins John J. Miller to discuss Marcus Aurelius' Meditations. Lend me your ear!
6. The Bookmonger's JJM is joined by Oanh Ngo Usadi to discuss her book, Of Monkey Bridges and Banh Mi Sandwiches, the story of a young girl's path from Saigon to Texas. Do listen, right here.
7. Put anortha steak awn the barbie and listen to Jonathan Swan dive into the new episode of The Jamie Weinstein Show. The Axios journalist opens up on what has surprised him about the Trump presidency, who holds influence in Trump world, how he achieved his rapid success, and much more. You'll find the fun here.
8. In Episode 11 of Projections, Ross and Kyle take a break from the multiplex and hunker down with some home-viewing options available on demand or on streaming services: A Quiet Place, Chappaquiddick, The Death of Stalin, and Blade Runner 2049. Lights! Camera! Podcast!
9. On the new episode of Jaywalking, Brother Nordlinger speaks of Kim Kardashian — and of Kim Kashkashian, a distinguished violist, as well as Reagan, Trump, Ed Schultz, Serena Williams, and others — including the Gabors, the pre-Kardashian cool sisters. Wander over here and listen.
10. On Reality Check with Jeanne Allen, our hostess sits down with Mike McShane, who is currently the director of national research for EdChoice in Indianapolis, to discuss educational options and the effects the newest Supreme Court justice nominee might have on school choice. Strap on the earphones and pay attention.
11. David and Alexandra break down the bizarre attack on Catholic hospitals for daring to be Catholic on the new episode of Ordered Liberty. Sister says you have to listen.
And Now, a Commercial about My Kind of Gala in My Kind of Town
And that is what Chicago is, if we are to believe Old Blue Eyes. And we do! And believe you too this: On Thursday, October 18th, there will be a humdinger of a gala in the Windy City — namely, National Review Institute's fifth annual William F. Buckley Jr. Prize Dinner, to be held at The Cultural Center in Chicago. We will bestow the Buckley Prize on our close friends, Edwin J. Feulner (for Leadership in Political Thought) and Karen Buchwald Wright (for Leadership in Supporting Liberty). Now, especially if you live in the Midwest, we want very much for you to join us at this swell and important affair, and even possibly to join the gala's host committee (now in formation). To register as a sponsor, please click hereor contact Alexandra Zimmern Rosenberg by email (alexandra@nrinstitute.org) or phone (212-849-2858).
The Six
1. Professor Daniel J. Mahoney, the pride of Assumption College, marks Marx's bicentennial in Law & Liberty with this takedown of one of history's most consequential fines. From his piece:
Economist, prophet of capitalism's doom and an inevitable and blissful communist future, and revolutionary agitator par excellence, Marx hated the world as it was. His goal was "revolution" — not merely political revolution or "political emancipation," but a wholesale change in the order of things: the aforementioned "human emancipation." For the German ideologist, there was no human nature or "natural order of things" that needed to be respected even as one worked to promote humane and salutary change. It is a mistake to apply categories such as "eternal justice" to Marx's political reflection. As he put it in 1845 in his "Theses on Feuerbach," "the philosophers have only interpretedthe world, in various ways; the point however is to changeit." This comes from the young Marx but it remained a profound sentiment of his until his death in 1883. Marx was not an advocate of reform, however radical. He did not work for "social justice" like a good humanitarian. Instead, he advocated something like "metaphysical rebellion" against the human condition. His humanism — and historicism — were distinctively inhumane and entailed something like a "gnostic" revolt against reality. Eric Voegelin and Alain Besançon have demonstrated as much and they have yet to be refuted convincingly.

For those looking for a humane alternative to the consumer society, and to the excesses of "late capitalism," Marx does not in any way challenge the established view that the modern project ought to culminate in the thoroughgoing "conquest of nature." He praised capitalist globalization as its most noble and desirable feature and had no quarrel with a materialist cornucopia as the final goal of human existence (even if the young Marx — the one attractive to the New Left — sometimes prefers "being" to "having"). In his early years, Marx sometimes preferred "authenticity" to material prosperity. But that is not the conclusion of mature Marxism.
2. More from Law & Liberty: Jessica Hooten Wilson reviews Elizabeth Amato's The Pursuit of Happiness and the American Regime: Political Theory in Literature.
3. Writing in Bloomberg, Ramesh Ponnuru levels some criticism at erstwhile free-traders who now claim President Trump's protectionism policies re truly free-trade efforts, just in disguise. From his column:
It is of course always possible that tariffs or the threat of tariffs will lead other countries to drop their own trade barriers or reduce their use of abusive practices such as the theft of intellectual property. So far Trump's tactics — his tariffs on washing machines, solar panels, steel and aluminum, and Chinese imports — have yielded almost no such reform. The one exception: South Korea has raised the number of cars it will allow American companies to sell. But that is a fairly theoretical gain, since American companies have not been hitting today's lower caps.

What isn't theoretical are the higher costs for American consumers and companies Trump's tariffs have imposed, or the retaliatory tariffs they have provoked.

It would be nice if the administration had put as much intelligence and ingenuity into setting its trade policies as Trump's defenders have put into devising rationales for them.
4. More Mahoney: For City Journal, he discusses a new book (en français seulement, quel dommage) by French political philosopher Pierre Manent on natural law and human rights. From his piece:
Manent's latest work is above all an effort to reactivate the perspective of the citizen or religious believer who truly acts in the human world. In the second chapter, "The Counsels of Fear," Manent challenges a widely held belief that Machiavelli and other early modern political philosophers liberated a salutary practical perspective against the one-sidedly contemplative emphases of classical and Christian thought. This is to turn everything upside down, Manent believes. It was the classics and the Christians who defended "reflective choice" and "free will," the preconditions of all meaningful action.  By contrast, Machiavelli, writing at the dawn of modernity, substituted a theoretical perspective on action that eclipsed the agent's point of view. The rationale for this assault on practical action shows up most revealingly in chapters 15 and 18 of Machiavelli's The Prince. Machiavelli could not abide the gap between "what men do" and "what they ought to do." This distinction, so central to practical action and reflective choice, becomes, for Machiavelli, an unbridgeable chasm that confuses and enervates human beings. The chasm, he contended, must be closed once and for all. Machiavelli counsels subduing fortuna, but he has no place for reflective choice or moral prudence — the crown of the virtues, according to Aristotle.
5. More City Journal, with this from Matt Hennessey (author of the forthcoming Zero Hour for Gen X: How the Last Adult Generation Can Save America from Millennials), who worries that TechDaddy doesn't know best.
The visionaries of Silicon Valley seem, at best, ambivalent about the social implications of calling into existence an omniscient, self-aware technium; at worst, they are so eager to see it happen that they can barely contain themselves. Call it delusions of grandeur, the God complex, or plain-old ordinary lust for power, but the celebrated geniuses of tech seem to have one thing in common: they think that they know better than the rest of us how society should run. They envision a pyramid-shaped political economy, with themselves and the super-productive Silicon Valley workforce at the top and the rest of us spanning out below in a massive, obedient — and grateful — base. The bad news is that they have the means to try to make this happen, and the implicit support of many of the soon-to-be governed, which derives from more than a decade of supplying everyone with things that we didn't know we wanted until we got them.
6. On the Fox News website, a beautiful farewell by Judge Andrew Napolitano of his dad.
BONUS: Turkey, the land of . . . child brides. Burak Bekdil has the disturbing story for Gatestone Institute. From his piece:
Where would you like your daughter to be when she is 13? In school, or in bed with a grown man? The answer to this question is largely beyond argument in much of the world. In Islamic societies, however — including non-Arab and theoretically secular Turkey — the answer is anyone's guess. Usually in such states, the police power of the government does not fight the patriarchal tradition; instead, it supports it.

Turkey's former president, Abdullah Gül, incumbent Islamist strongman Recep Tayyip Erdoğan's former ally and co-founder of the party that has ruled Turkey since 2002, was a 30-year-old man when he married his wife Hayrünnisa when she was 15. Gül, nominated for the presidency by Erdoğan, was Turkey's first Islamist president.
Baseballery
May 1933 was the absolute nadir of the Great Depression, as unemployment spiked to 25.49 percent. Baseball barely survived the gloom, yet soldiered on, often in near-empty ballparks. On Monday, May 15, the month's ides and America's economic low point, just two MLB games were played. In the AL, at Shibe Park (attendance unknown), the Philadelphia A's beat the Cleveland Indians 1-0, with Sugar Cain getting the eight-hit shut-out win, and scoring the game's sole run. In the Senior Circuit, at Forbes Field the first-place Pittsburgh Pirates beat the last-place Philadelphia Phillies, 5-4. The Bucs' ace, Heinie Meine, who sported royal backup nicknames "The Count of Luxemburg" and "The Duke of Luxemburg," went the distance, getting future Hall of Famer Chuck Klein to fly out in the top of the ninth with two on, ending a Phillies' rally (Klein would win the Triple Crown that year). One-time Phillies' ace Jumbo Elliott — who had no backup nickname — took the loss. The Pirates' lineup featured five future Hall of Famers: Freddie Lindstrom, brothers Lloyd Waner and Paul Waner, shortstop Arky Vaughan, and Pie Traynor. What a day.
Eye Candy
1. The lunacy over plastic straws gets trashed by Reason TV. View the video here.
2. Oldie but goodie: Jay Leno exposes geography ignorance of America students. Watch and cringe here.
3. Comedian Owen Benjamin appears n the new Prager U video to discuss "The Strange Death of Politics." Watch it here.
4. WFB et al in 1994 debate the death penalty. Watch it here.
5. The Gipper tells jokes.
A Dios
And to Rose, sweet soul, always there, with a smile bigger than her heart, now with all the other girls at that big Coffee Klatch in the Sky, ("Aunt Helen! Coffee time!!"), keep the pot warm for us. We hope to get there eventually. To all the rest of you, slather on the sunscreen and wear a hat in the sun, get that strange freckle checked out, and steer clear of cigareets, whusky, and wild, wild women.
God's blessings on you and yours,
Jack Fowler
P.S.: Umbrage, dudgeon high and low, and brickbats may be heaved at jfowler@nationalreview.com. I will offer up unfair slights for the redemption of the souls in Purgatory.