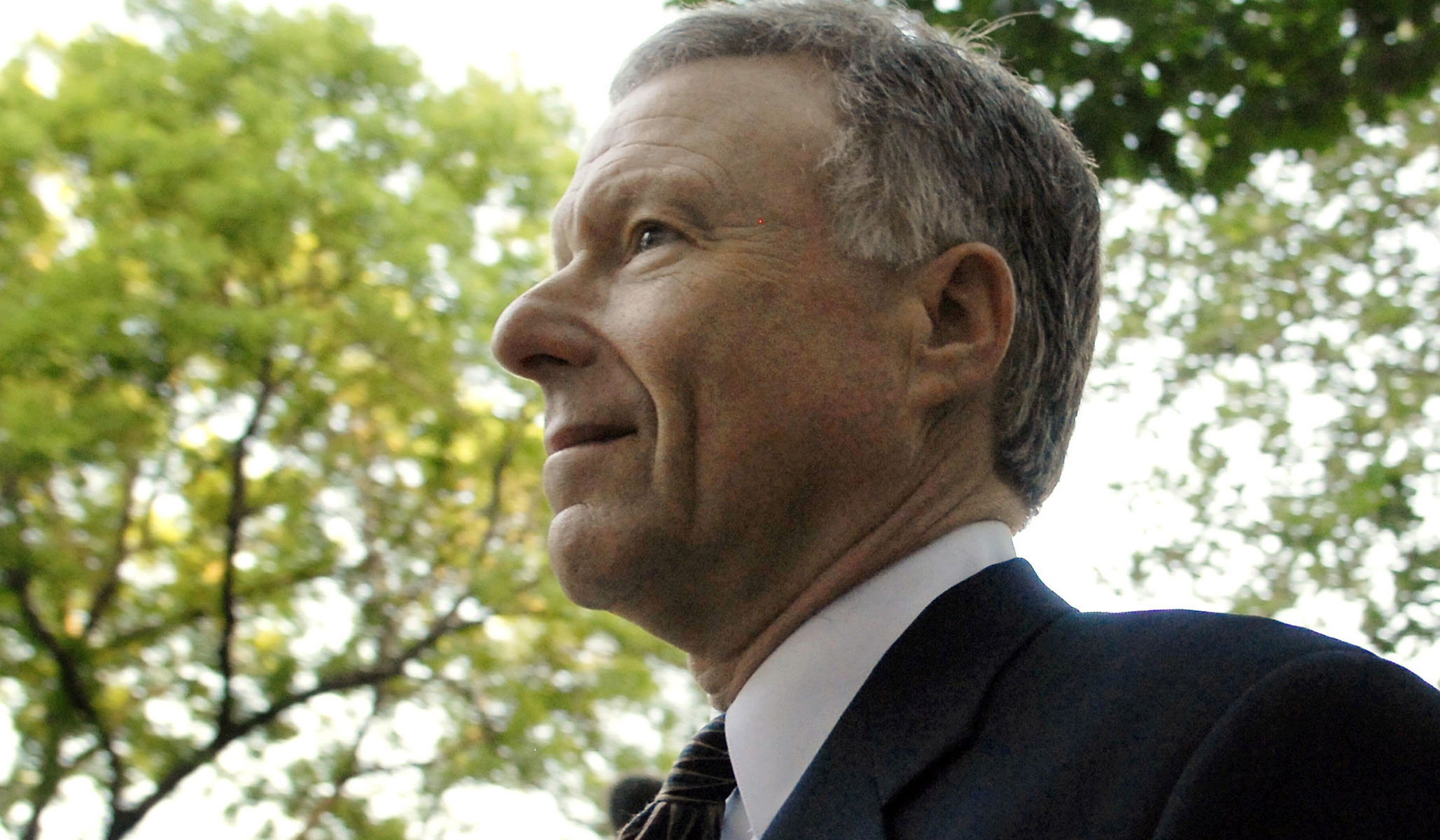 Democrats accused President Trump of hypocrisy Friday for considering a pardon of former George W. Bush White House official Scooter Libby, given Trump's harsh criticism of former FBI director James Comey.
In what is likely a shot at Comey, President Trump may pardon Libby, former chief of staff to Vice President Dick Cheney, who was convicted of four felonies including perjury in 2007. Libby's conviction resulted from a grand jury investigation into the leak of C.I.A. officer Valerie Plame's identity, which was led by Comey-appointed special counsel Patrick Fitzgerald.
"On the day the President wrongly attacks Comey for being a 'leaker and liar' he considers pardoning a convicted leaker and liar, Scooter Libby," tweeted Representative Adam Schiff (D., Calif.). "This is the President's way of sending a message to those implicated in the Russia investigation: You have my back and I'll have yours."
Virginia Democrat Don Beyer also slammed the president for what he sees as a double standard.
You just signed off on a pardon for Scooter Libby, who leaked the covert identity of a CIA officer and was convicted of obstruction of justice and lying to investigators. https://t.co/YQs3jszvzl

— Rep. Don Beyer (@RepDonBeyer) April 13, 2018

The rumors of a pardon for Libby come amid the release of headline-grabbing excerpts from Comey's upcoming book, A Higher Loyalty, in which the former FBI director compares the president to a "mob boss" who is "untethered to truth."
In a pair of tweets Friday morning, Trump hit back at Comey's criticisms, calling him an "untruthful slime ball" and suggesting he be prosecuted for leaking classified information.
James Comey is a proven LEAKER & LIAR. Virtually everyone in Washington thought he should be fired for the terrible job he did-until he was, in fact, fired. He leaked CLASSIFIED information, for which he should be prosecuted. He lied to Congress under OATH. He is a weak and…..

— Donald J. Trump (@realDonaldTrump) April 13, 2018
….untruthful slime ball who was, as time has proven, a terrible Director of the FBI. His handling of the Crooked Hillary Clinton case, and the events surrounding it, will go down as one of the worst "botch jobs" of history. It was my great honor to fire James Comey!

— Donald J. Trump (@realDonaldTrump) April 13, 2018

Senator Dianne Feinstein (D., Calif.) had tough words for the president after his jabs at Comey.
Yet another instance of Donald Trump proving he's utterly incapable of being presidential. Stop with the name calling. Stop with the bullying. And stop with your Hillary Clinton obsession. You're not being paid to tweet. Do your job! https://t.co/YiEbbybX62

— Sen Dianne Feinstein (@SenFeinstein) April 13, 2018
Update 1:40pm:
President Trump signed the pardon of Scooter Libby on Friday.
"I don't know Mr. Libby, but for years I have heard that he has been treated unfairly. Hopefully, this full pardon will help rectify a very sad portion of his life,"  Trump stated.
The White House pointed out that one of the main witnesses against Libby backtracked in 2015 on her testimony. President George W. Bush commuted Libby's sentence of 30 months in prison but did not pardon him.
Libby has paid $250,000 in fines, worked 400 hours of community service, and served two years of probation.
Nancy Pelosi joined other Democrats in condemning the pardon, tweeting that it shows the president's "contempt for the American tradition of the rule of law."
Trump is clearly trying to send a message with his pardon of Scooter Libby – he has no issue with rewarding those who lie under oath. But it does not change the facts: neither @POTUS or his allies are above the law.

— Nancy Pelosi (@NancyPelosi) April 13, 2018
Send a tip to the news team at NR.