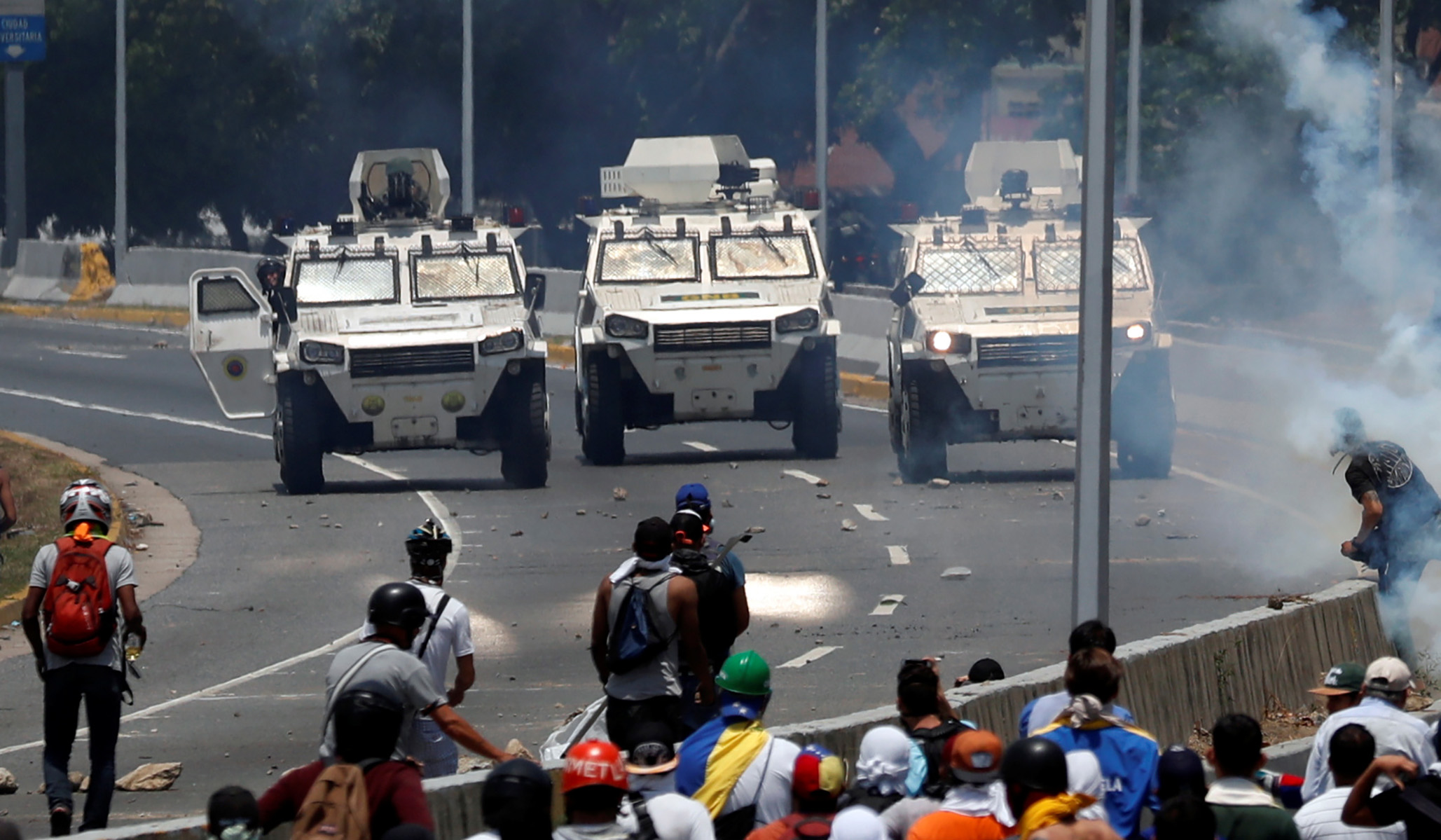 Protesters loyal to Venezuelan opposition leader Juan Guaidó were crushed under armored cars driven by pro-government forces during a violent uprising that racked the streets of Caracas on Tuesday after Guaidó launched a push to end socialist president Nicolás Maduro's regime.
Violent clashes ensued Tuesday morning after Guaidó, who declared himself interim president of the nation earlier this year, finally called on his supporters to take to the streets in response to the starvation and poverty that have taken root under Maduro.
One video of the violence showed pro-government forces in an armored car accelerating into a crowd of protesters who had breached a barrier surrounding La Carlota air base, where soldiers rebelled to join the opposition Tuesday morning.
🇻🇪 | REBELIÓN EN VENEZUELA: Tanquetas militares arrollan a grupo de manifestantes en Caracas: pic.twitter.com/BLirOAoFkP

— Alerta News 24 (@AlertaNews24) April 30, 2019
Local authorities have not yet reported any fatalities, but many are said to be injured.
Maduro and his defense minister, Vladimir Padrino, have stated their intention to put down the rebellion by force. They remain in control of much of the country's military leadership, though initial reports suggested more rank-and-file soldiers had begun defecting as the day went on.
"A mediocre coup d'etat attempt has failed," Padrino said Tuesday on a local radio broadcast.
Guaidó declared himself the rightful president of Venezuela earlier this year after being chosen to lead the opposition by the National Assembly. He took to the streets Tuesday with his top deputy, Leopoldo Lopez, who had just been freed from house arrest, to march with anti-government protesters.
Guaidó's spokesman disputed the regime's claims that the day's events amounted to a coup attempt, casting the rebellion instead as an effort to implement the will of the Venezuelan people.
"This is not a military coup. This is a constitutional process led by the Venezuelan people under the leadership of a civilian, the interim president of Venezuela Juan Guaidó," he said.
Secretary of State Mike Pompeo and Vice President Mike Pence expressed the Trump administration's enthusiastic support for the protesters in a series of statements released Tuesday morning.
Send a tip to the news team at NR.