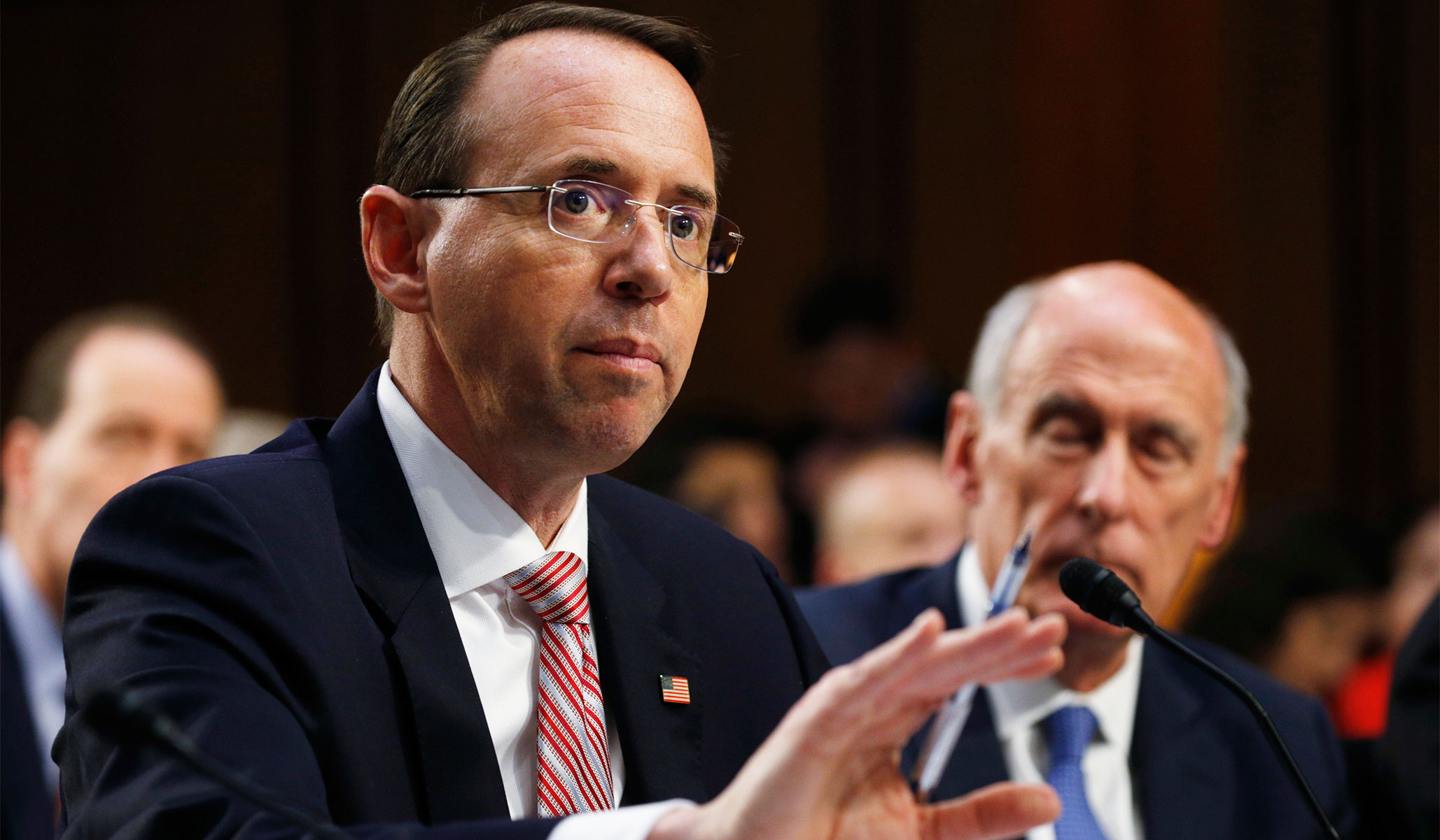 A group of House conservatives is preparing to file impeachment charges against Deputy Attorney General Rod Rosenstein over his lack of cooperation with their efforts to investigate political bias in the FBI.
House Freedom Caucus chairman Mark Meadows had the impeachment document with him when he spoke to reporters on Capitol Hill and plans to file the charges as soon as Monday, Politico reported Friday afternoon.
Meadows, Freedom Caucus founder Jim Jordan (R., Ohio), and their conservative colleagues have attacked Rosenstein for months, accusing him of refusing to turn over documents purportedly related to allegations of bias within the FBI. Rosenstein, who began overseeing Special Counsel Robert Mueller's investigation after Attorney General Jeff Sessions recused himself, has vigorously defended himself in congressional hearings, assuring lawmakers that he has devoted extensive resources to processing their document requests.
It's not clear that House speaker Paul Ryan and his leadership team will support Meadows's efforts, as they've thus far been reluctant to join in directly criticizing Rosenstein — a trend that will likely continue given the indictment Rosenstein handed down on Friday. Ryan did however support a measure last month condemning Rosenstein for being unresponsive to Congress's requests and demanding the release of thousands of FBI documents by July 6.
Democrats, meanwhile, have cast the GOP-led probe into bias within the FBI as a cynical attempt to distract from Mueller's probe into Russian interference in the 2016 election and potential collusion with the Trump campaign.
Discord between the two parties over the issue of FBI bias was on full display during FBI agent Peter Strzok's public hearing on Capitol Hill Thursday. Strzok, who was dismissed from Mueller's team after his anti-Trump text messages were revealed, strenuously denied that his political views biased his professional conduct.
While announcing the indictment of twelve Russian intelligence officials Friday, Rosenstein cautioned the public against placing too much stock in the conclusions drawn about Mueller's ongoing investigation by the press and lawmakers.
"We do not try cases on television or in congressional hearings. Most anonymous leaks are not from the government officials who are actually conducting these investigations," he said. "We follow the rule of law, which means that we follow procedures, and we reserve judgment. We complete our investigations, and we evaluate all of the relevant evidence before we reach any conclusion. That is how the American people expect their Department of Justice to operate, and that is how our department is going to operate."
Update 6:53p.m.: The headline of an earlier version of this article suggested the House Freedom Caucus was responsible for the impeachment effort. While many members of the caucus serve on the oversight and judiciary committees and are supportive of the effort, it has not been endorsed by the caucus collectively.
Send a tip to the news team at NR.