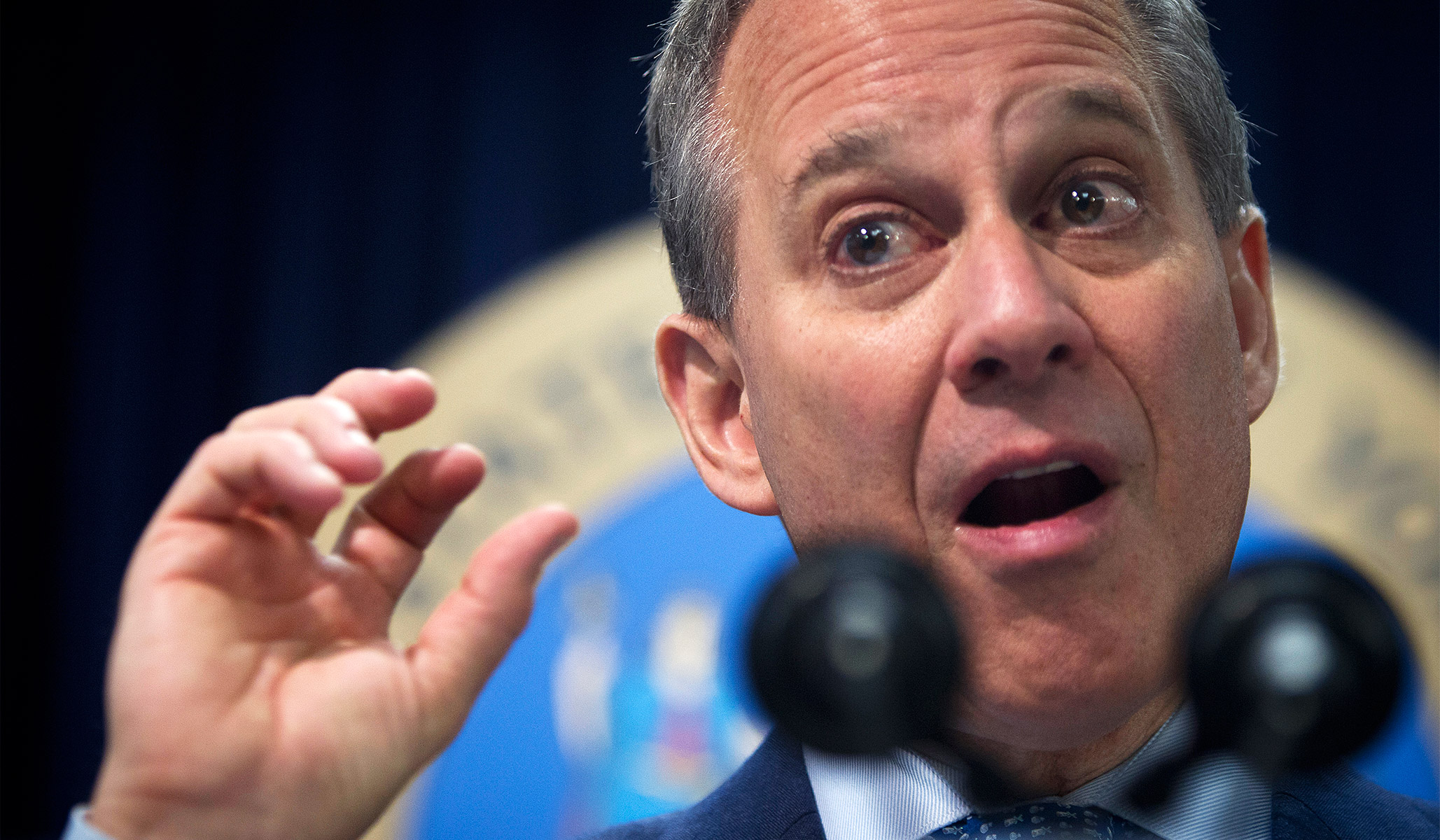 Update 9:58p.m.: New York attorney general Eric Schneiderman resigned effective at close of business Tuesday, hours after a report emerged indicating he physically abused four former romantic partners. He denied the veracity of the allegations and cited his inability to continue to perform his professional duties in explaining the resignation.
Four of Eric Schneiderman's former romantic partners have accused the New York attorney general, and liberal resistance icon, of physically abusing them, the New Yorker reported Monday night.
Schneiderman has vigorously praised women who have come forward in the last year to expose their powerful male abusers and even sued disgraced Hollywood producer Harvey Weinstein for civil rights violations stemming from his sexual abuse of his female employees. But the troubling new allegations brought by four women, two of whom spoke on the record, reveal Schneiderman may have engaged in physical abuse against women himself.
Michelle Manning Barish and Tanya Selvaratnam, both of whom had romantic relationships with Schneiderman, claim they eventually sought medical attention after he repeatedly struck and choked them. They further allege that he threatened to tap their phones and have them followed; and even threatened to kill them if they broke up with him.
A third former partner of Schneiderman's told Manning Barish that he was physically violent with her as well, but she declined to speak out for fear of retaliation. A fourth woman, who declined to go on the record but showed a photograph of her injury to the New Yorker, said Schneiderman forcefully slapped her across the face after she rejected his romantic overture.
"In the privacy of intimate relationships, I have engaged in role-playing and other consensual sexual activity. I have not assaulted anyone. I have never engaged in nonconsensual sex, which is a line I would not cross," Schneiderman said in his initial statement, issued immediately after the allegations surfaced.
Manning Barish and Selvaratnam, both of whom are self-described progressive Democrats, said that although they did not report their abuse to the police at the time, they were motivated to come forward due to the hypocrisy inherent in Schneiderman's feminist activism.
"His hypocrisy is epic," Manning Barish, who claims the abuse occurred when she dated Schneiderman in 2013, said. "He's fooled so many people."
Selvaratnam, who dated Schneiderman in 2016, says his abuse occasionally took on racial overtones.
"Sometimes, he'd tell me to call him Master, and he'd slap me until I did," the Sri-Lankan born Selvaratnam said. "he started calling me his 'brown slave' and demanding that I repeat that I was 'his property.'"
New York governor Andrew Cuomo called for Schneiderman's resignation immediately after news of the allegations became public.
"I do not believe it is possible for Eric Schneiderman to continue to serve as attorney general, and for the good of the office, he should resign," Cuomo said in a statement.
Schneiderman protested the allegations in a statement announcing his resignation, released hours after his initial denial.
"It's been my great honor and privilege to serve as attorney general for the people of the State of New York," Schneiderman said in a statement. "In the last several hours, serious allegations, which I strongly contest, have been made against me."
"While these allegations are unrelated to my professional conduct or the operations of the office, they will effectively prevent me from leading the office's work at this critical time. I therefore resign my office, effective at the close of business on May 8, 2018," he added.
Send a tip to the news team at NR.